Hello my lovelies!
Are hungry? You're going to be served with deliciousness… A dessert combining my two favorite things: crêpes and tiramisu!!
I'm pretty sure you're interested…
Let's see the recipe, Chef!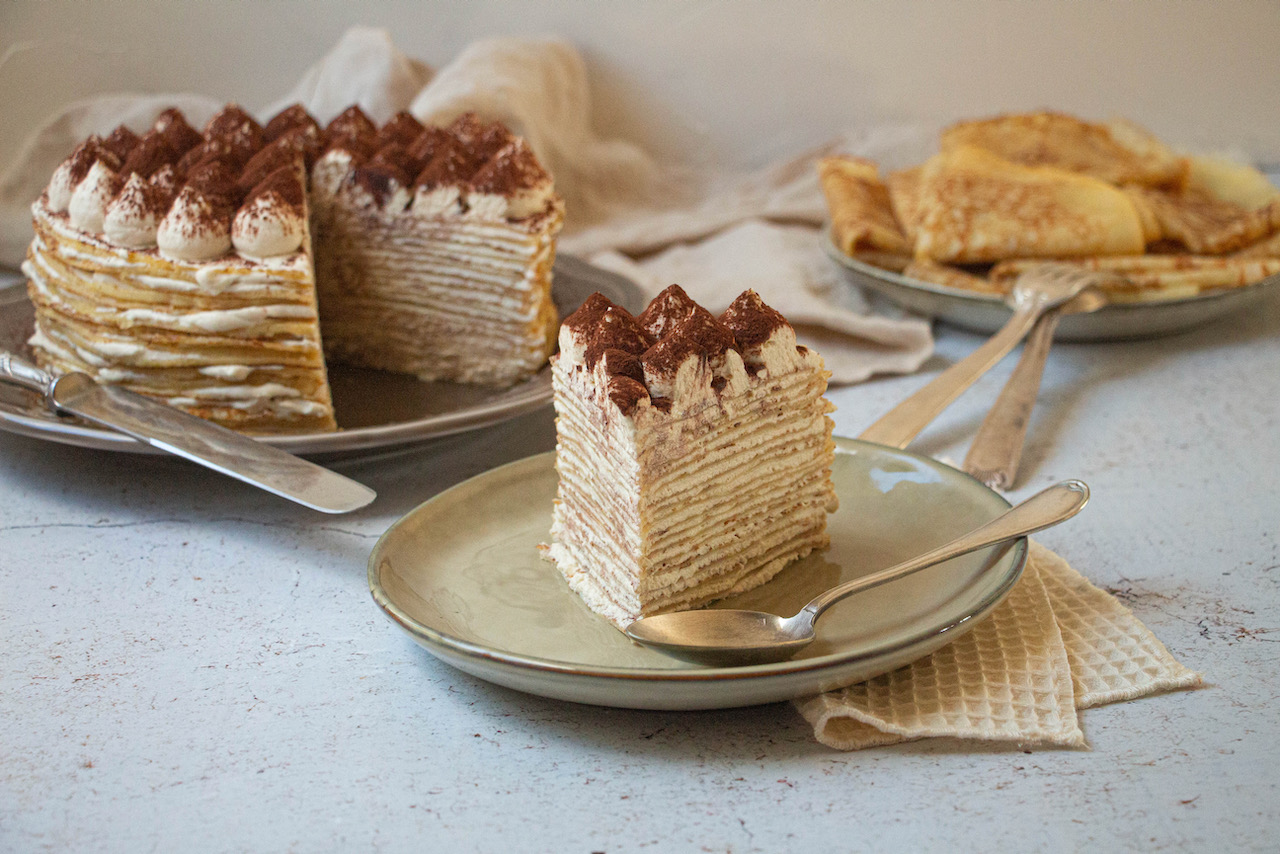 Print Recipe
Ingredients
Crêpes batter

80 g butter

400 g flour

25 g sugar

1/2 tsp salt

4 large eggs or 5 medium ones

0,8 l milk

Oil for the pan

Tiramisu cream

4 g gelatin

70 ml espresso (70 g)

750 g mascarpone

310 g liquid cream (30% fat)

125 g sugar

Decoration

1-2 tbsp unsweetened cocoa
Instructions
1
Melt gently the butter in a pan.
2
In a large bowl or in your food processor bowl, pour the powders (flour, salt and sugar).
3
Add the eggs and combine until homogeneous.
4
Add slowly the milk while still whipping.
5
Add the melted butter and combine.
6
Set aside in the fridge for 1 hour.
7
Heat the frying pan with 1/2 tbsp oil, pour a ladle of batter. Once golden underneath, flip the crepes over and cook some more.
8
Start over until you cook all the batter.
9
Soak the gelatin in cold water.
11
Add the gelatine, combine.
12
Pour the mascarpone in a mixing bowl and whisk until it softens.
13
Add the cooled coffee (whisk it if it has started to congeal). Combine
14
Set aside in your fridge.
15
Whip the cream, adding the sugar little by little, when the cream begins to thicken.
16
Gently fold the whipped cream into the mascarpone mixture using a spatula.
17
Place the first crêpe on your serving dish.
18
Add a tablespoon of tiramisu cream and spread with a small spatula.
19
Place a second crêpe on top and spread a tablespoon of tiramisu cream on top.
20
Repeat this until all the crêpes are used.
21
Pipe the rest of the tiramisu cream on top of your cake.
22
Refrigerate until it's time to serve.
23
Before serving, spread unsweetned cocoa.