Hello my friends,
Here's another Ottolenghi recipe that I'm sharing with you. This recipe is a must-try, believe me…
And this amazing recipe is Ottolenghi's chicken sofrito. Be ready to ask for more…
Let's see the recipe, Chef!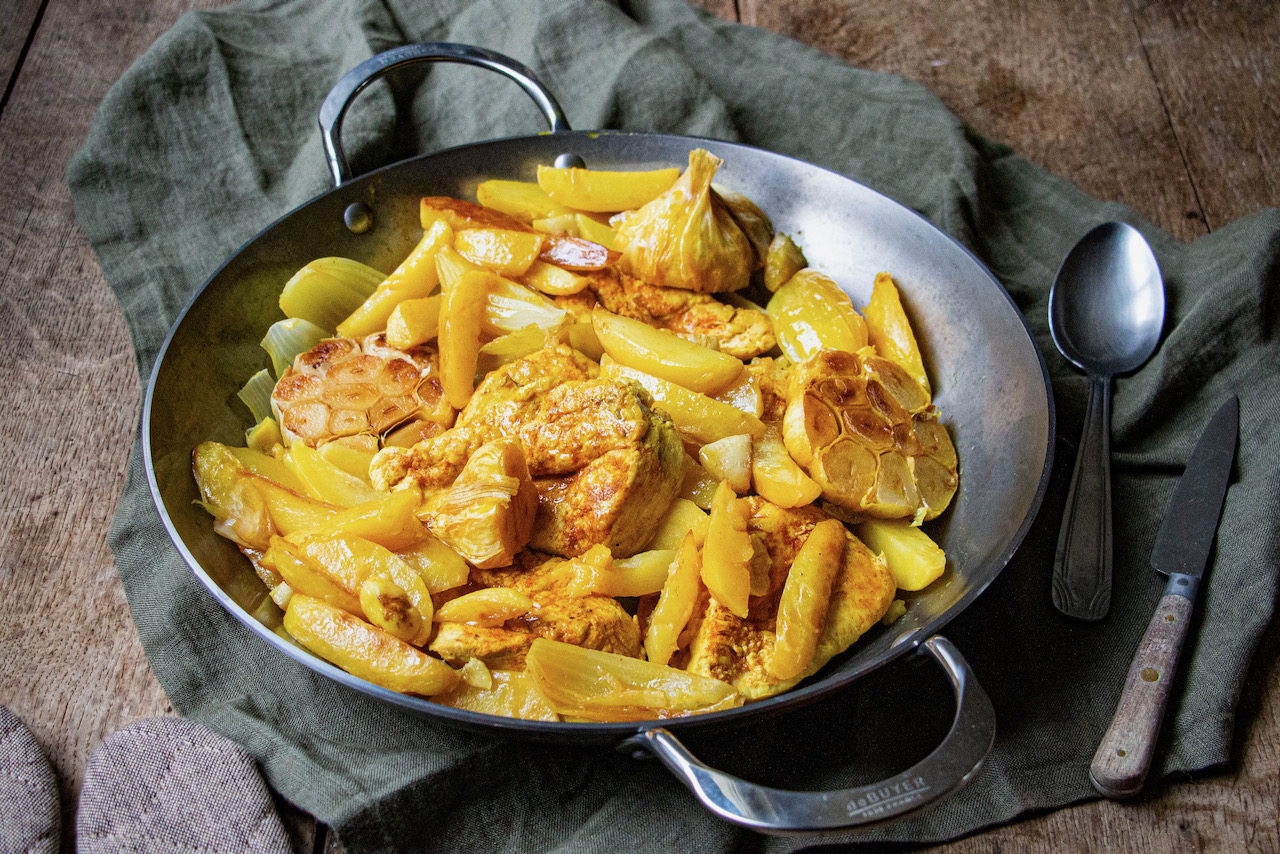 Print Recipe
Ingredients
1 tbsp sunflower oil

800 g chicken filet and/or thighs

1 tsp sweet paprika

¼ tsp ground turmeric

¼ tsp sugar

Salt and black pepper

2½ tbsp lemon juice

1 large onion, peeled and quartered

Sunflower oil, for frying

25 garlic cloves, unpeeled

750g charlotte potatoes, peeled, washed, patted dry and cut into 2cm dice
Instructions
1
Pour the oil into a large, shallow pan or casserole and place on a high heat.
2
Lay the chicken bits in the pan, skin-side down, and sear for four to five minutes, until golden-brown.
3
Season all over with the paprika, turmeric, sugar, a third of a teaspoon of salt, some pepper and a tablespoon and a half of lemon juice.
4
Add the onion and cover the pot with a lid. Reduce the heat to low and leave for 30 minutes, occasionally checking the amount of juice at the bottom of the pan: add a little water, if needed, so there's always around 5mm.
5
After the chicken has been cooking for 30 minutes, add enough sunflower oil to a medium, deep-sided saucepan to come 3cm up the sides.
6
Bring up to medium-high heat, then carefully fry the unpeeled garlic cloves and cubed potatoes in batches for about six minutes, until they take on some colour.
7
Use a slotted spoon to transfer them to a paper towel, to drain, sprinkle with salt, and repeat with the remaining potatoes and garlic.
8
After the chicken has been cooking for an hour, lift the bird from the pan and stir the potatoes and garlic into the cooking juices.
9
Put the chicken on top of the potatoes and cook for another 30 minutes, by which time the meat should be falling off the bone.
10
When serving, drizzle with a little fresh lemon juice.