It's my first Yule Log… I never was a real fan of this kind of Christmas dessert, probably because the ones I used to eat when I was a kid were made with heavy butter cream.
It was a challenge for me to give you this recipe of vanilla pear and chocolate Yule Log.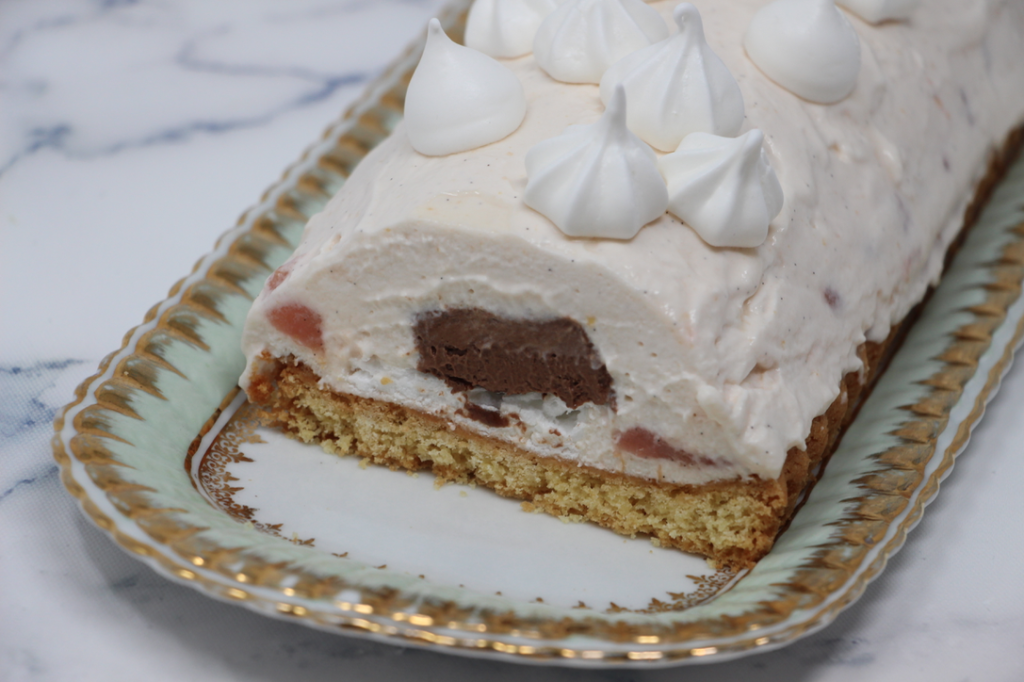 Challenge because I like light dessert after meals like Xmas ones, challenge because I never used a Yule Log mold before and that I am not a pro as far as inserts are concerned.
So if you feel you are in a similar situation, you can try this recipe, you will manage it!!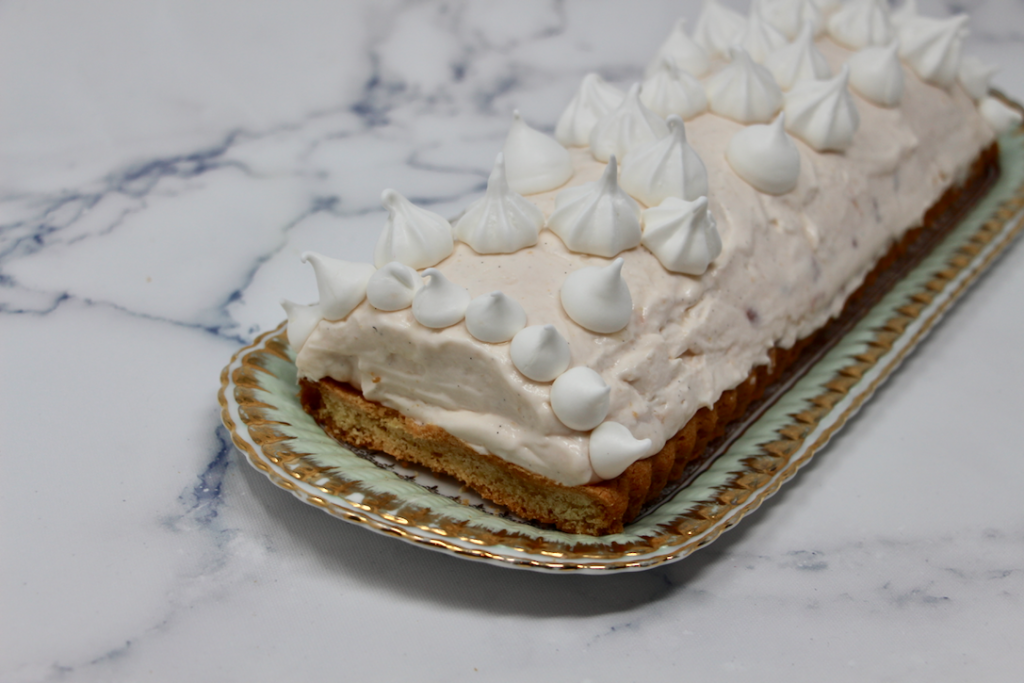 I won't lie to myself, there is room for improvment in terms of aesthetic… I couldn't get my log out of the mold once frozen and I had to switch to masonry: understand that I took my spatula and reshaped the whole thing.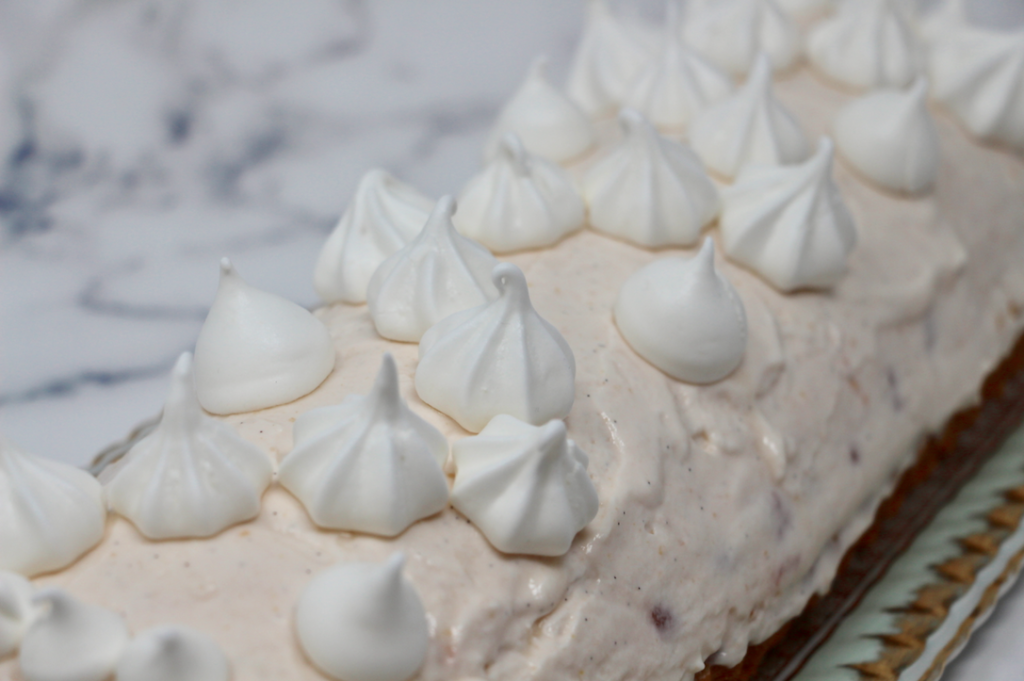 But that's okay!
You can avoid such issue if you use a decor sheet that you will place in your mold before filling it. You will unmold easily afterwards. We learn from our mistakes…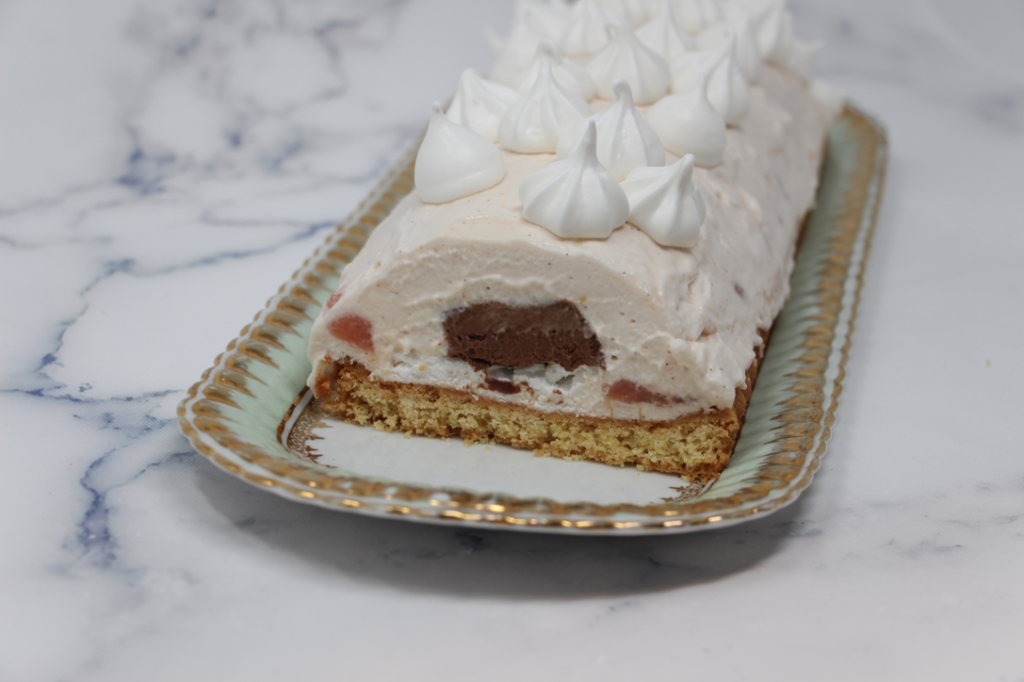 Regarding preparations, you will make a chocolate insert, a vanilla pear mousse and meringues. Count 2 days to proceed with this recipe (one night in the freezer is mandatory), take your time, there's nothing really complicated here.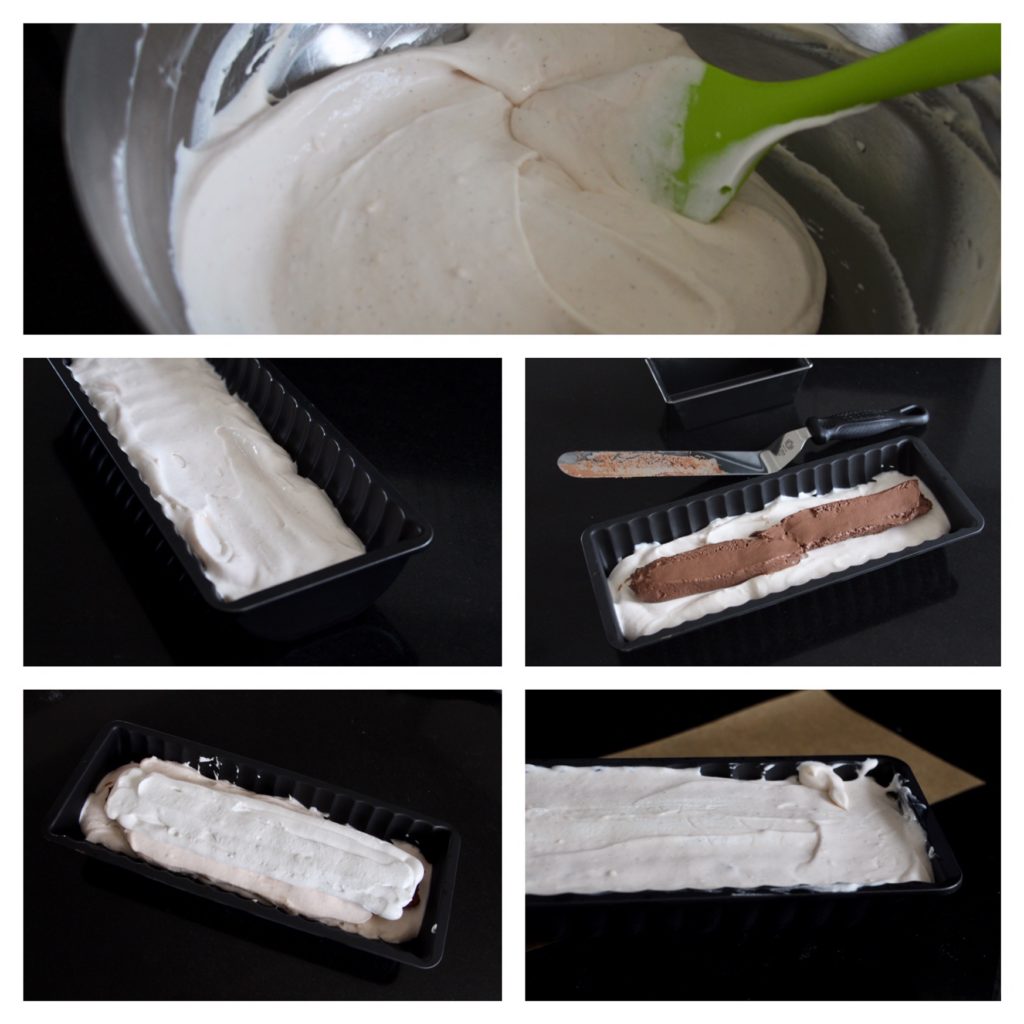 And if you want something even better, you can make a palet breton for the base of your Yule Log. It was my choice. You can also poach one more pear and keep it in pieces to put in the mousse, my choice too…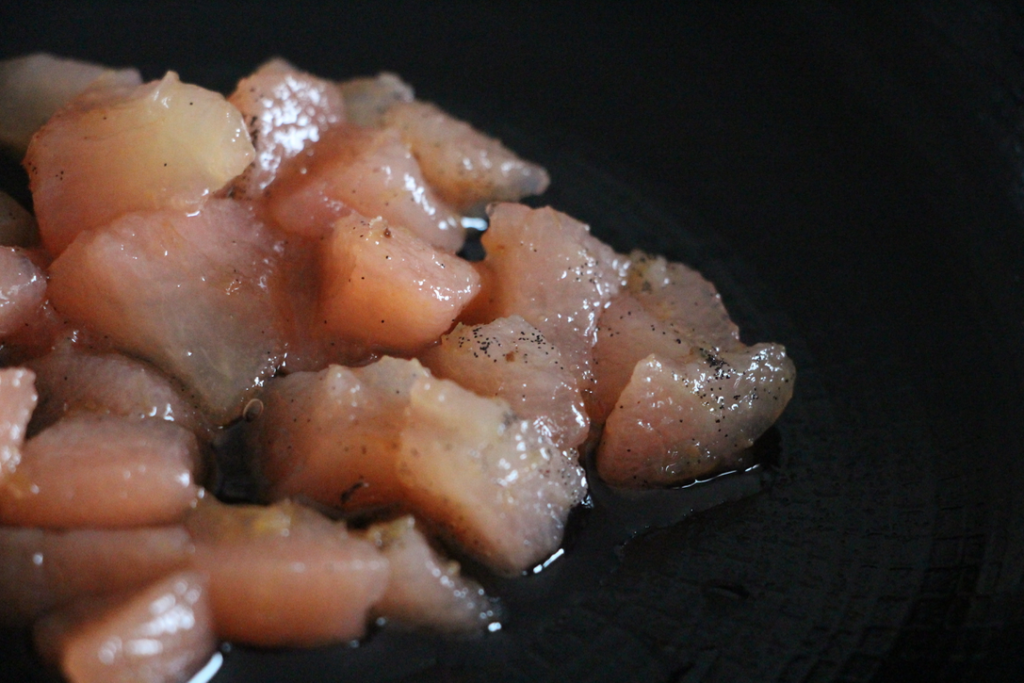 More from December 2019…
Here is an upgraded version with a lime Savoie biscuit (recipe that you will find in my pear and praline yule log).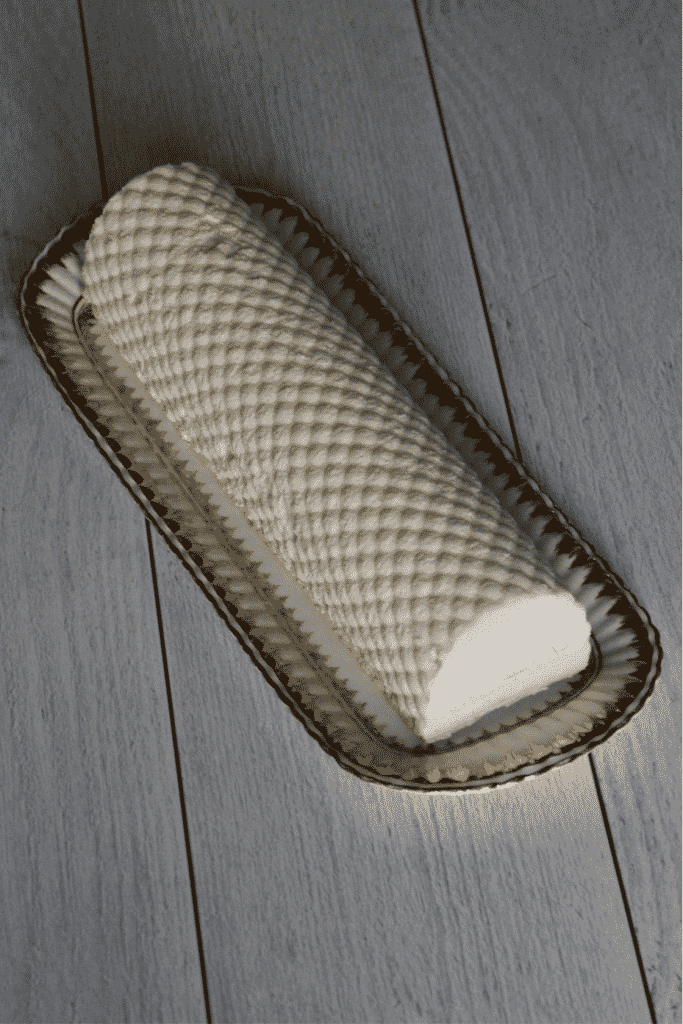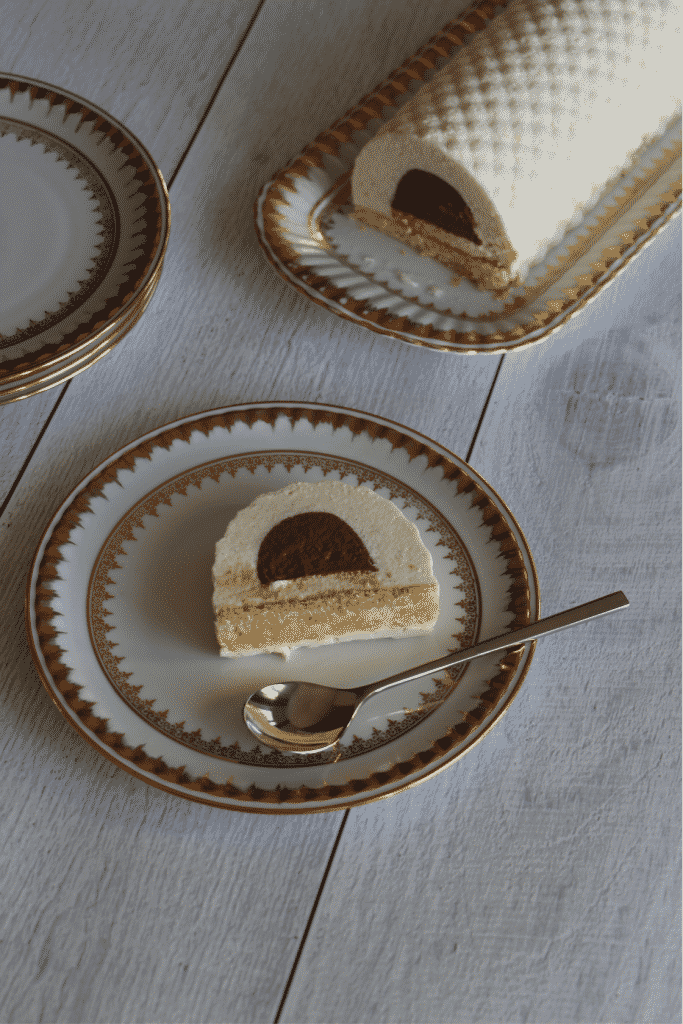 Shall we?
The recipe, Chef!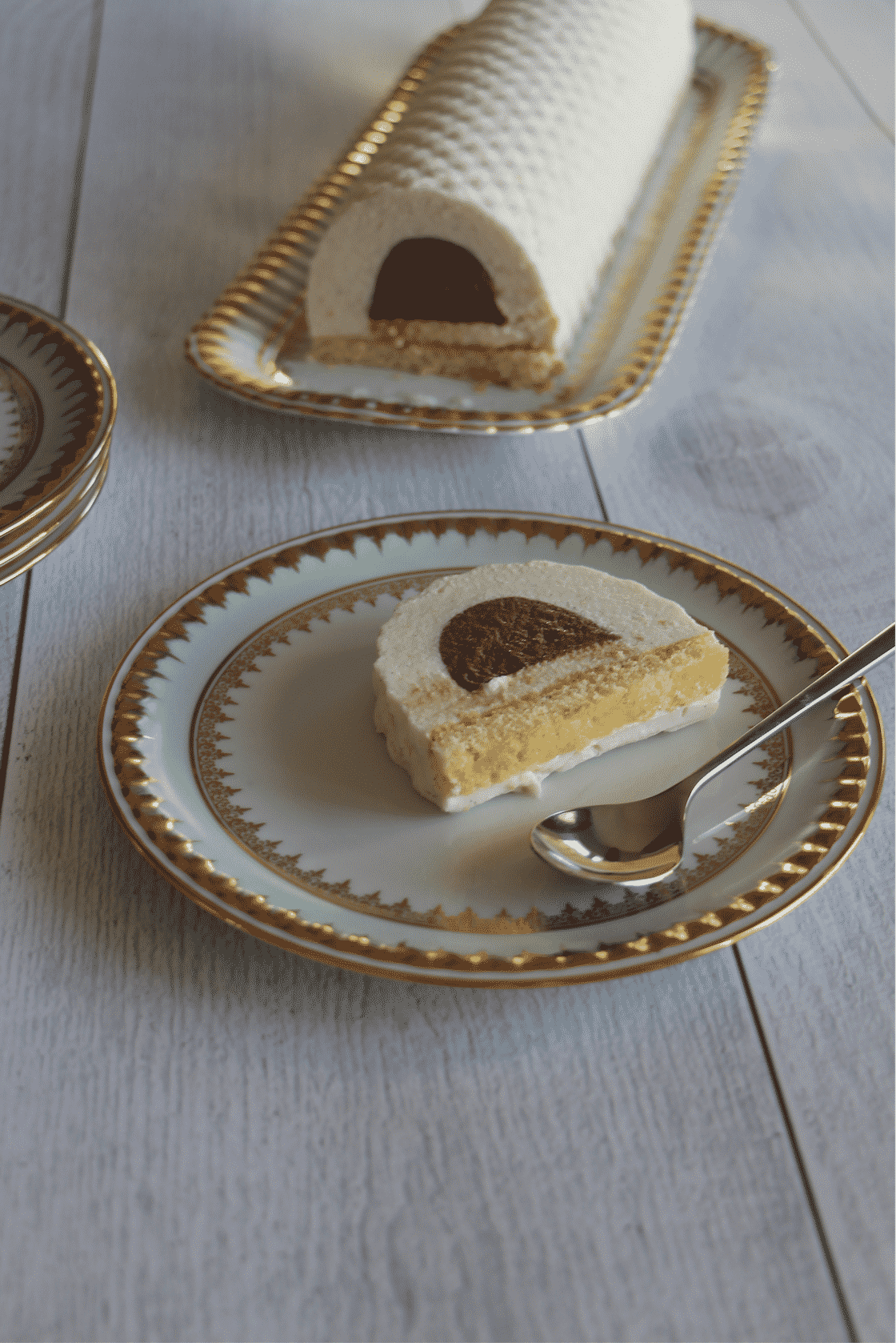 Print Recipe
Vanilla Pear and Chocolate Yule Log
Ingredients
70 g egg whites (2 whites) (for the meringue)

70 g caster sugar (for the meringue)

70 g icing sugar (for the meringue)

2 egg yolks (40 g) (for the creamy chocolate)

20 g sugar (for the creamy chocolate)

100 g cream (30% fat minimum) (for the creamy chocolate)

100 g milk (for the creamy chocolate)

80 g dark chocolate (for the creamy chocolate)

1 gelatine sheet (for the creamy chocolate)

150 g sugar (for the mousse)

1 pear (for the mousse)

60 g water (for the mousse)

1 pinch vanilla powder (for the mousse)

One lemon zest (for the mousse)

1/2 lemon juice (for the mousse)

2 sheets of gelatine (for the mousse)

125 g mascarpone (for the mousse)

125 g liquid cream (30% fat) (for the mousse)
Instructions
1
Preheat your oven at 100 degrees.
2
Whisk the egg whites. When they get foamy, add the sugar in 3 times.
3
When you have a very firm mixture, add the icing sugar with a spatula. Mix gently.
4
Pipe two rectangles of meringues: one with the size of your cake mold, another one a little smaller. Make little meringues too.
6
Make the creamy chocolate. Put the gelatine sheet into cold water.
7
Mix the 2 egg yolks with 20 g sugar, do not whiten.
8
Boil milk and cream in a sauce pan.
9
Pour on the egg yolk and sugar mixture.
10
Pour back in the sauce pan and cook at medium heat and keep whisking. (if you have a thermometer, keep the mixture at 85 degrees).
11
When you mixture gets thicker but is still liquid, remove from the heat. Add the soaked gelatine sheet.
12
Pour on the chocolate cut in pieces. Wait for the chocolate to get soft and mix.
13
Mix with your hand mixer and try not to put air in the mixture.
14
Set aside in your fridge in an insert mold, cover with a cling film. That's your chocolate insert.
15
Make a syrup: boil in a small saucepan the water, sugar, vanilla powder, the lemon juice and zest.
16
Add one pear peeled and cut in pieces.
17
Let cook at low heat with cover for 40 minutes.
18
5 minutes before the end of syrup cooking, place the gelatines sheets into cold water.
19
Mix the syrup and cooked pear cubes with a hand mixer and add the gelatine sheets. Mix a little.
20
Let cool down at room temperature.
21
Check the consistency from time to time. When the syrup gets more compact, mix it gently with the mascarpone. Set aside in your fridge.
22
Whisk the cream until you get a chantilly cream (do not add sugar here).
23
Add the chantilly cream to the mascarpone/syrup with a spatula.
24
Set aside in your fridge for 10 minutes.
25
Proceed with the Yule Log mounting: pour half of the mousse in your mold.
26
Place your chocolate insert right in the middle. Press gently.
27
Place the smallest rectangular meringue.
28
Cover with the remaining mousse and place the larger rectangular meringue. Press gently.
29
Set aside in your freezer at least one night.
30
4 hours before eating, remove from the freezer. Place on your serving plate (and on your palet breton) and set aside in your fridge.
31
When time to serve, add meringues for decoration.