Hello my friends!
I'm back after a short break for the Christmas holidays. And I'va made a praliné frangipane and pear King's cake!
Let's see the recipe, Chef!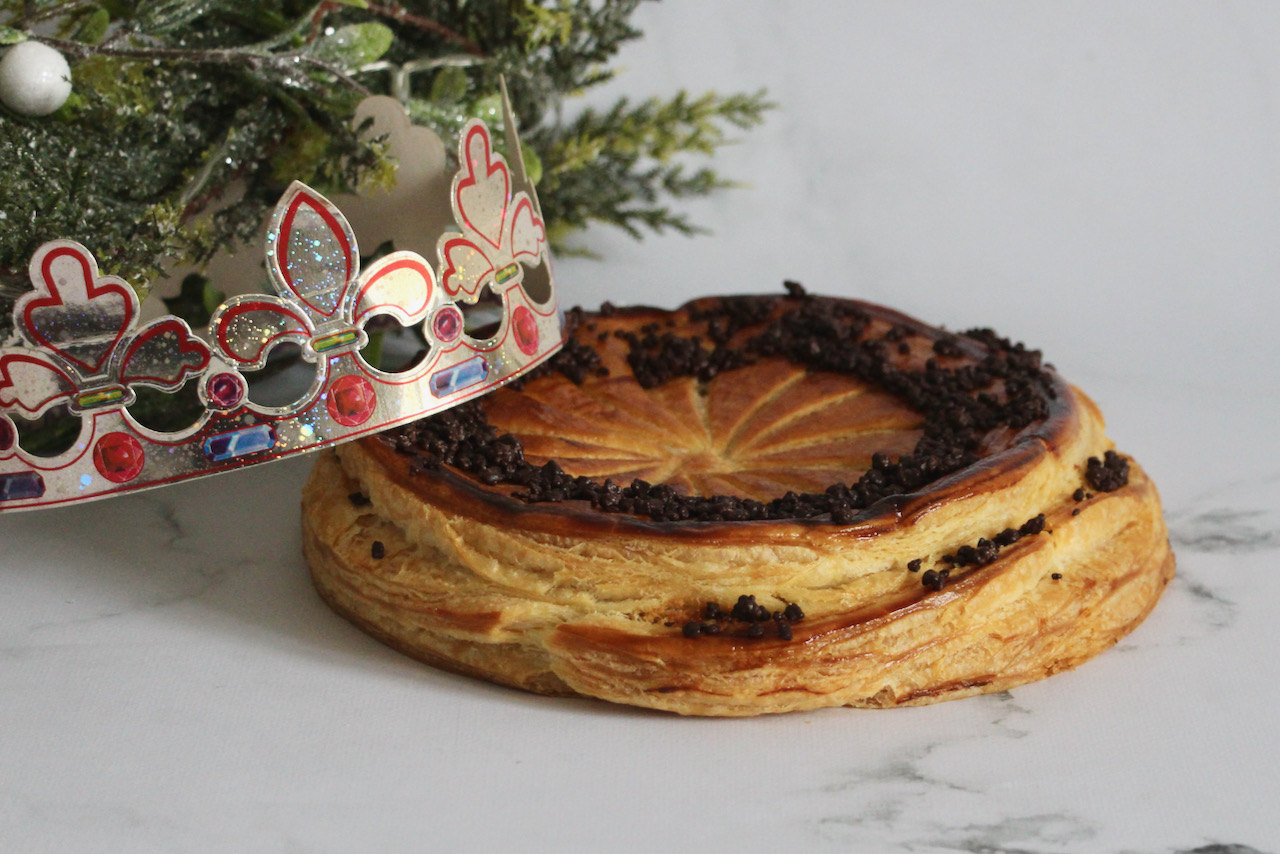 Print Recipe
Praliné Frangipane and Pear King's Cake
Ingredients
Inverted puff pastry

300 g flour

125 g liquid cream 30% fat

300 g butter at room temperature

3 g salt

5 g water

Vanilla curd

125 g milk

1 egg yolk

10 g sugar

12 g flour

1/2 vanilla pod

Candied pears

2 pear

20 cl water

1 tbsp lemon juice

1 cm ginger root

80 g sugar

Frangipane

1 large egg

35 g butter at room temperature

38 g almond praliné

73 g almond powder

73 g iced sugar

Assembly and decoration

1 egg yolk and 1 tbsp milk

A little bit of iced sugar for the final glazing
Instructions
1
Pour 200 g flour with the salt in your food processor bowl. Add the cream and water while mixing at low speed (2 on a scale from 1 to 6).
2
Remove the pastry, shape a ball and place into a clingfilm. Set aside in your fridge for 2 hours.
3
Place the butter and the rest of the flour in the bowl, mix for 2 minutes at low speed (2 on a scale from 1 to 6) in order to get an homogeneous mixture.
4
Mix 2 more minutes at medium speed (3/4 on a scale from 1 to 6).
5
Place the pastry on a baking mat or baking sheet.
6
Spread in order to get a rectangle of 17 cm x 32 cm (you should get a 7-8 mm thickness).
7
Set aside in your fridge for 2 hours with a baking sheet on top.
8
Spread the first pastry and make a 17 cm x 17 cm square.
9
Place it in the center of the other one and fold both sides.
10
Spread until you get a 35 cm length.
11
Fold the left quarter on the next one, the right quarter on the previous one. Then fold the two left quarters on the right ones. You have a 4 layer folding. That's the first round.
12
Turn your pastry by 90 degrees, spread again until 35 cm and make the same folding. That's the second round.
13
Place into a clingfilm and set aside in your fridge for 30 minutes.
14
Start again and make a third and fourth round.
15
Place into a clingfilm and set aside in your fridge for 30 minutes.
16
Start again and make a fifth and sixth round.
17
Place into a clingfilm and set aside in your fridge for one hour at least before using it.
18
Pour the milk in a saucepan with the vanilla pod cut in half.
19
Boil and remove immediately from the heat. Set aside for 15 minutes.
20
During that time, whip the egg yolk with the sugar until it gets white.
21
Then add the flour and whip again.
22
Remove the vanilla pod from the milk. Pour half of the milk on your mixture and mix. Pour the other half, mix again.
23
Pour the whole mixture in your saucepan and boil for 2 minutes while whipping with energy (otherwise your cream will cook too much at some point). (I do that at medium heat)
24
When the cream has the right consistency, pour it in a plate and cover with a clingfilm to avoid having a thick crust.
25
Pour the water in a sauce pan with the lemon juice, the peeled sliced ginger and sugar.
26
Heat to a boil then cook at low heat.
27
Add the peeled pears cut in slices.
29
Remove the pear slices from the pan, set aside on a plate.
30
Mix the butter with almond praliné, almond powder and iced sugar in your food processor.
31
When you get an homogeneous mixture, place the whip in your food processor and add the egg.
32
Add the vanilla custard and keep whipping slowly (speed 2 on a scale from 1 to 6).
33
Set aside in your fridge for 15-20 minutes so that the cream thickens.
34
Spread the puff pastry with a rolling pin.
35
Cut a 22 cm diameter disc and a 23 cm diameter one.
36
Dorez la galette avec le mélange jaune d'œuf+lait.
37
Réservez au réfrigérateur pendant 45 minutes.
38
Au bout de 35 minutes, préchauffez votre four à 175 degrés.
39
Sortez votre galette du réfrigérateur, passez une seconde couche de dorure.
40
Réalisez les motifs sur le dessus avec la partie non tranchante d'un couteau.
41
Cuisez 40 minutes environ.
42
Mound the frangipane cream in the center of the 22 cm pastry, do not get closer than 1,5 cm form the border.
43
Place the pear slices and the rest of frangipane on top.
44
Cover with the second pastry.
45
Make sure not to leave air bubbles between the cream and pastry. Press gently the edges together.
46
Make 5 cuts to help the steam get out of your galette during baking.
47
Beat the egg and milk and brush the cake.
48
Set aside in your fridge for 45 minutes.
49
After 35 minutes, preheat your oven at 175 C / 345 F degrees.
50
Brush again the cake with the egg and milk mixture.
51
Decorate with the tip of a paring knife.
53
At the end of the baking, remove your galette from the oven, and turn the oven on 250 C / 480 F degrees.
54
Sprinkle the cake with iced sugar.
55
Place the galette back in the oven for one minute.