Thanksgiving is coming and I think it's time for pumpkin cupcakes!! Yay!!
Let's make them with caramel frosting! Casserole & Chocolat style… 😉
Please let me know what you think of them. Let's see the recipe, Chef!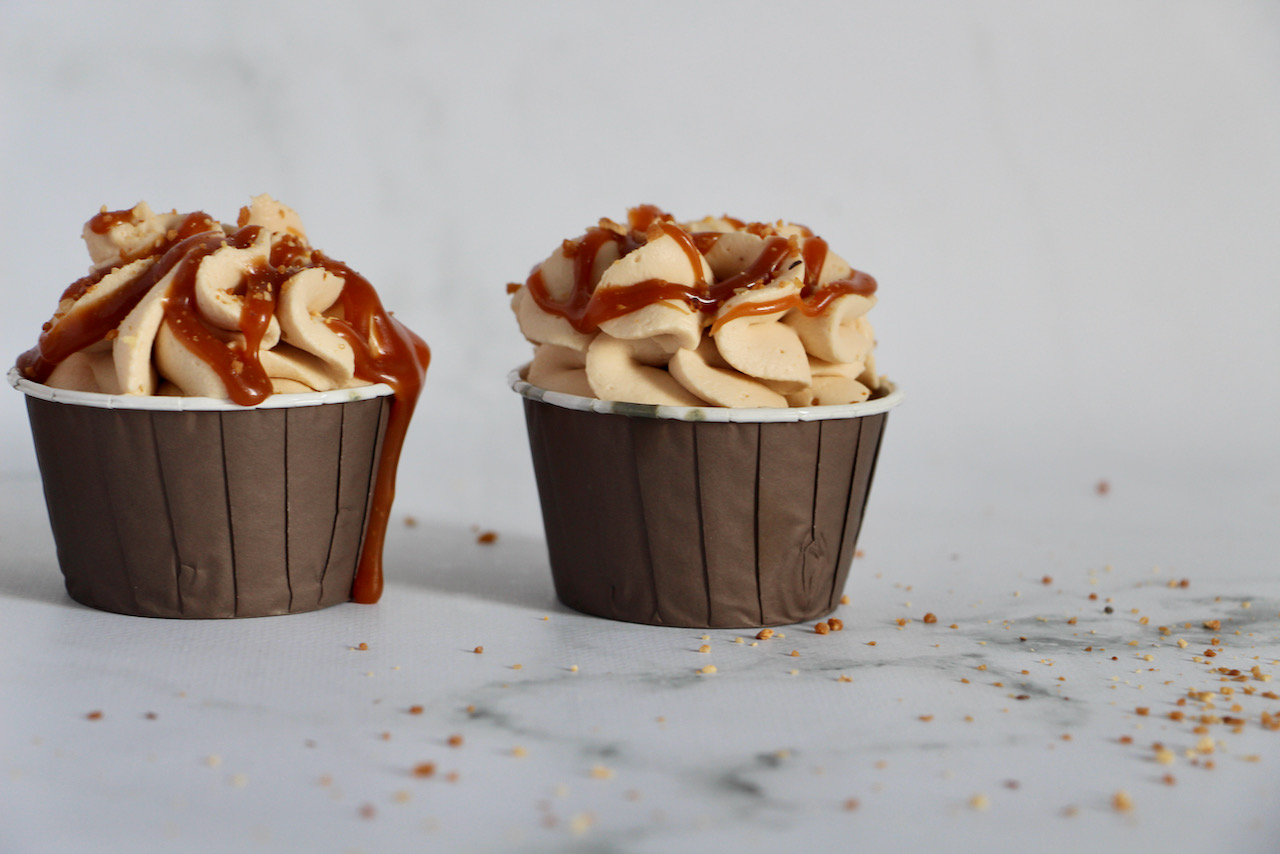 Print Recipe
Pumpkin Cupcakes with Caramel Frosting
Ingredients
Cupcakes

45 g soft butter

60 g brown sugar

120 g butternut squash

1 egg

30 g milk

1 tsp baking soda

1 tsp pumpkin spice

90 g flour

Ganache

100 g liquid cream (30% fat)

40 g white chocolate

50 g salted butter caramel

Decoration

1 tbsp salted butter caramel

1 tsp crushed hazelnuts (optionnel)
Instructions
1
Pour 30 g of cream in a saucepan.
2
Heat until it boils. Stop heating immediately.
3
Add the white chocolate and caramel.When it's melted, mix.
4
Add the 70 g of cream, combine.
5
Place a clingfilm directly on the mixture so that there's no air remaining.
6
Set aside in your fridge for at least 4 hours.
7
Preheat your oven at 175 C / 350 F degrees (static heat).
8
Whisk the butter and brown sugar for a minute.
9
Add the egg, milk, baking soda, butternut squash and pumpkin spices. Combine.
10
Pour the flour, combine until homogeneous.
11
Fill in your cupcakes molds leaving 1/2 cm to the top of the mold.
14
Place the bowl and whisk in your freezer for a few minutes.
15
When the bowl is cold, pour the ganache inside and whisk for a few minutes. You should get a firm and compact ganache.
17
Add a bit of caramel and spread with crushed hazelnuts.