Hello my friends,
Did you ever dream of making your own Santa's sleigh? One that could be good looking, fun to bake and really delicious?
Now it's possible!! Yay!!
Let's see the recipe, Chef!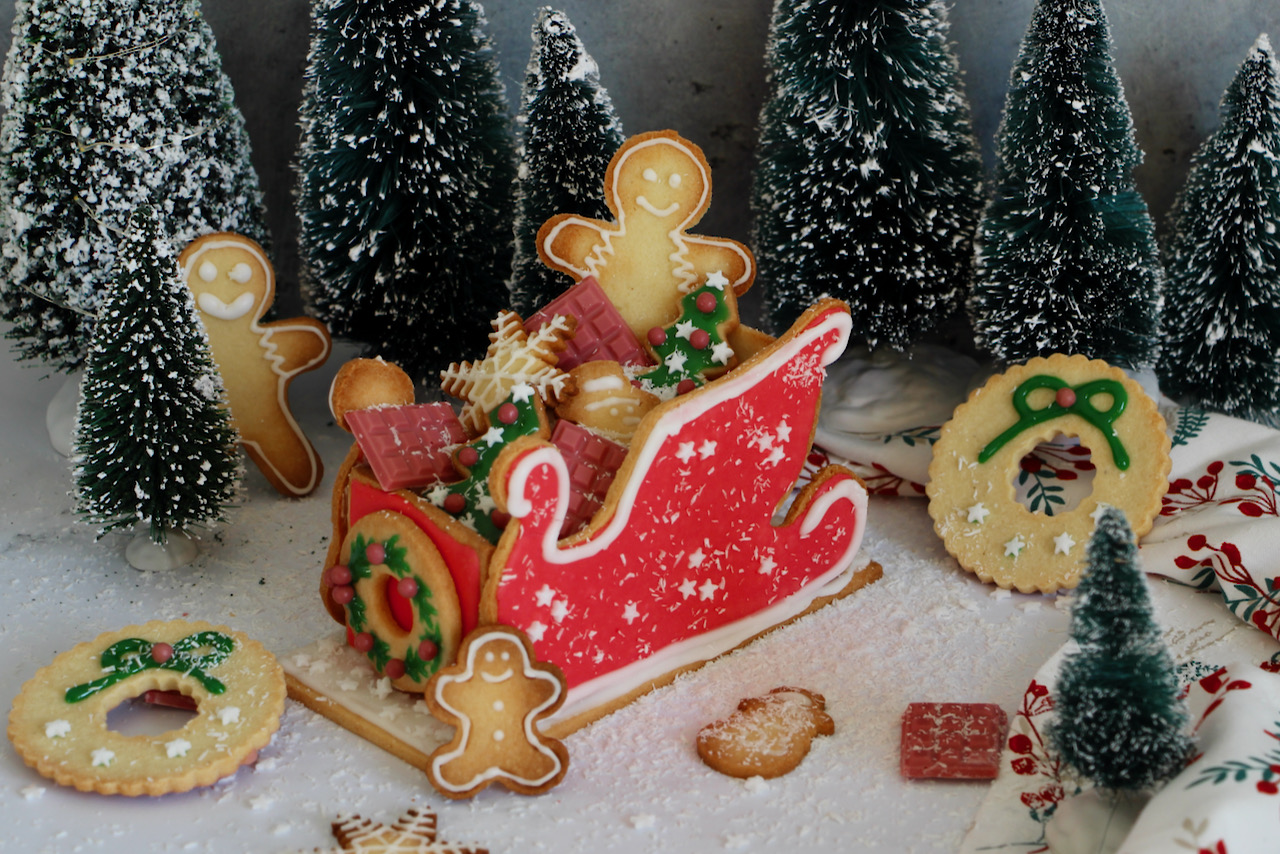 Print Recipe
Ingredients
Shortcrust pastry

230 g flour

2 tbsp milk

130 butter at room temperature

50 g ground almond

1 pinch of salt

125 g iced sugar

2 egg yolks (approx 40 g)

Icing

1 egg white

200 g icing sugar

3-4 drops of lemon juice

Food coloring
Instructions
1
Combine the flour, salt, ground almond and sugar in your food processor bowl.
2
Cube the butter and mix medium speed until it resembles breadcrumbs.
3
Add the egg yolks and milk until it comes together.
4
Wrap it in clingfilm and set aside in your fridge for 2 hours.
5
Preheat your oven at 180 C / 355 F degrees.
6
Spread the pastry. Make shapes with the templates and shapes you want.
7
Place them on a baking mat and cook for 15 min.
9
Whisk the egg white for 30 seconds.
10
Add the icing sugar and whisk 2 minutes. You should get a shiny white mixture with a rather firm texture.
11
Add the lemon juice drops. Whisk.
12
Pour the icing in as many bowls as many colors you want. Add the food coloring in each one, whisk and cover with cling film the ones that you won't use right away.
13
Pipe icing on your cookies as you want them. (keep some white icing to glue your pieces later on)
14
Let dry for at least one hour.
15
Reshape the cookies with grater in order to have straight edges.
16
Check if the icing is dry enough with a gentle press of the finger.
17
Proceed with mounting: place the 4 pieces of the sleigh on the large rectangle and pipe the remaining white icing to glue.
19
Finally add cookies and all kinds of sweets.