Hello there!
I'm not going to lie, it's freezing in France right now. A few days ago, I strongly believed that Spring was finally here, that I could throw away my boots and coats. Can you believe it ? -1 degree yesterday morning and 4 degrees this morning ?? I want my sun back !!
Immediate effect :  I put my apron on and start a nice and cosy recipe. Today, it will be chocolate cake day !! Yay !
It took me a while to find the right recipe. Most of the time, the ones I tried were too dry with little taste of real chocolate.
Until … Tadaaa ! I finally discovered the recipe I'm sharing with you today !
Scrumptious, pleasure, sweetness are the right words here to qualify what you'll get in your plate. I'm not going to lie, it is not the lightest this is why I like to bake it in individual moulds. This way, you can change the shapes and make it more fun  : bundt cake, muffin or  mini almond cake shape. You can also bake it in a standard cake mould (round or rectangular), you will just have to adjust the baking time.
You can make up to 15 to 18 mini cakes or a big one (approximate size 25×20 cm, 10×8 inches). Be careful, if you don't have enough mixture in your mould, your cake won't be soft enough and that would be a real shame !!
On the side, I you plan to serve it to your guests, I recommend to put slightly acid fruits (like strawberries or raspberries to balance the high sugar level), or a vanilla or yogurt ice cream with low sugar amount.
Anyway, let's bake now ! I will wait for your comments. Once you've baked it, I'm pretty sure you'll do it again !
Enjoy now !!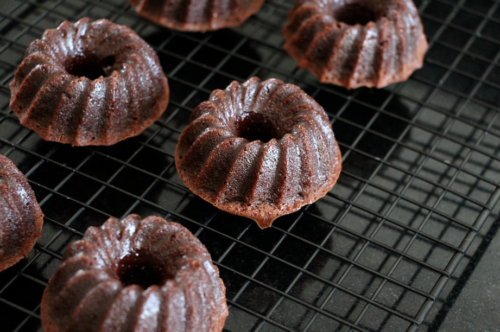 Print Recipe
Ingredients
200 g dark chocolate
200 g butter
200 g sugar
4 big eggs (approx 220 g)
1 tablespoon flour
Instructions
1
Start with melting gently the chocolate and butter in a double boiler.
2
Remove form your stove, and add the sugar and whisk until you get an homogeneous mixture.
3
Then add the eggs one by one, whip vigorously.
4
Finally, pour the flour through a sifter and whip again.
5
Pour your mixture into mould(s) that you will have buttered.
6
If you use little moulds (like muffin ones), fill in up to the 2/3. Bake for 10 minutes approximately at 185 degrees. (check with a knife, the inside should be very soft).
7
If you use a regular mould, bake for 19 minutes at 185 degrees.
Notes
You might have to adjust your baking time depending on your mould size or your oven. Anyway, enjoy my friends !! You're going to love it !