Hello, hello!
So today, I am going to share the recipe of one of my best sellers !! My lemon pie with meringue, made with Thermomix !
If you don't have a Thermomix, no need to worry. The withouth version is right here !
We just love the bitterness of the lemon curd, the sweetness of the meringue and the crunchy of the shortbread pastry. It is the best tasting combo ! With this recipe, it will be hard to disappoint your guests : it is definitely a masterpiece of the French pastry !
You can make it in individual portions or not. It's up to you !!
So let's do this ! and enjoy !!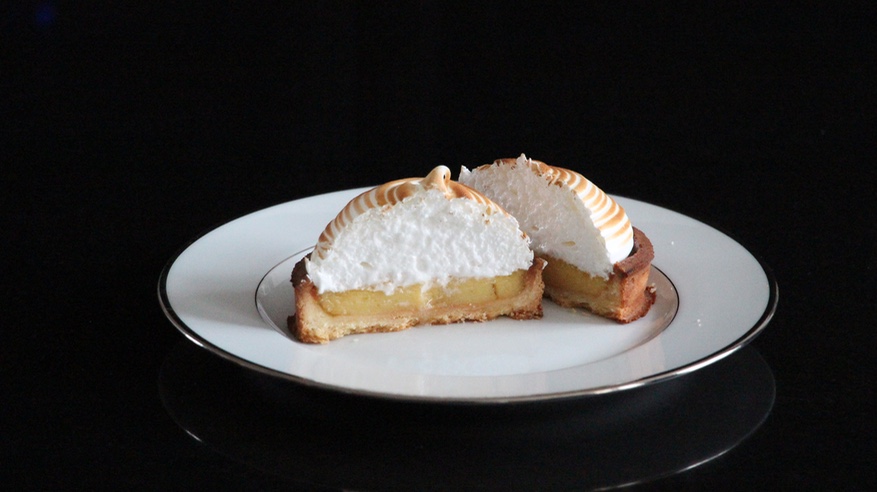 Print Recipe
Ingredients
1 Shortbread pastry (see recipe on the blog)
3 lemons
60 g butter
2 eggs
1 egg yolk
150 g sugar
1 sheet of food gelatin
3 egg whites
200 g iced suger
a pinch of salt
Instructions
1
Put the gelatin sheet in cold water.
2
Put in the bowl the lemon juice, the lemon zests, the sugar and butter. Set 2 minutes at 60°C speed 4.
3
Add the 2 eggs and the egg yolk. Set 1 minute 30 sec at 80°C speed 5.
4
Add the gelatin sheet (that you will have quickly dried with a paper towel). Mix for 5 seconds speed 5.
5
Let your lemon curd cool down.
6
Make a shortbread pastry, spread it, cover with baking paper and ceramic balls, other wise your pastry shell might rise during baking.
7
Bake for 20 minutes at 200°C.
8
Remove the balls (carefull they are super hot !!) and put your pastry back into the oven for anoter few minutes until you get a nice golden color.
9
Once your pastry has cooled down, pour the lemon curd into the shell.
10
Whip the egg whites with the salt until foamy. Then add the iced sugar gradually and keep whiping until stiff peaks form.
11
Spread your meringue over the pie with a piping bag for a nice shape.
12
And torch the meringue until it gets gloden brown.
Notes
If your lemon curd isn't stiff enough after cool down, you can put it 5 minutes into your oven at 220°C. And you'll know that for your next pie you'll need an extra 1/2 gelatine sheet ...