Hello everyone !!
Today, let's be lazy … It's May 1st, a good day off, let's enjoy ! In France the tradition is to buy and offer lily flowers. Casserole&Chocolat(e) offers a pastry session instead !! Is that ok for you guys ??
So today will be about Parisian apple tart. A simple, quick and cheap recipe that will be perfect for your lunch dessert or the afternoon teatime.
You can find this tart in any good bakery or pastry shop in France. Very often, it will be baked with puff pastry. My recipe is based on a shortbread pastry, and that's amazing news since you can find the recipe right here !
It can be also a little show off moment for you since, if you do it right, it will have the shape of a flower. Poetry moment … Isn't it wonderful ?? Besides, it is the perfect last minute dessert ! Most of the time, we have all the ingredients in our kitchen. Unexpected friends coming over? Easy ! Let's bake a Parisian apple tart ! Thank you Casserole&Chocolat(e) !!
Okay, enough talking, let's put our apron on, pre-heat the oven and bake !!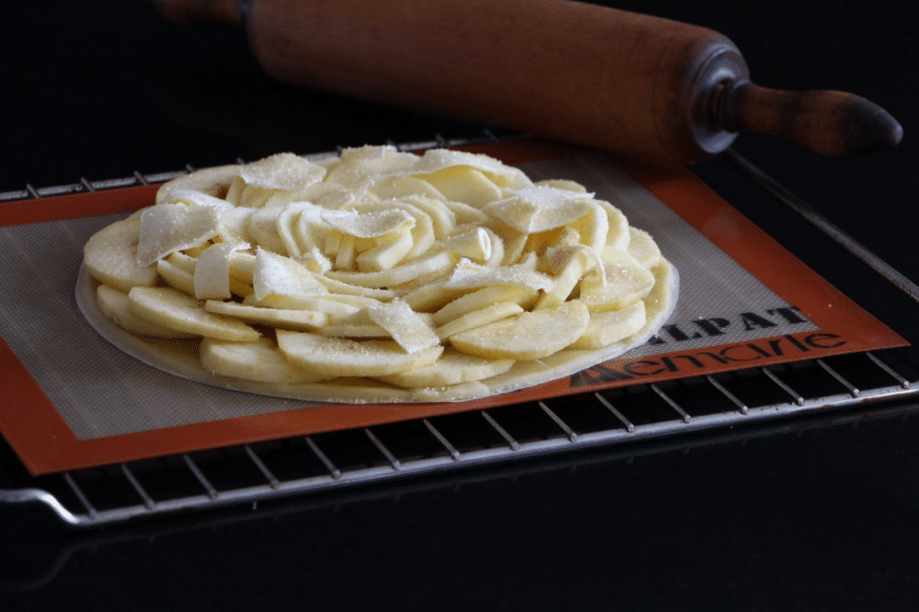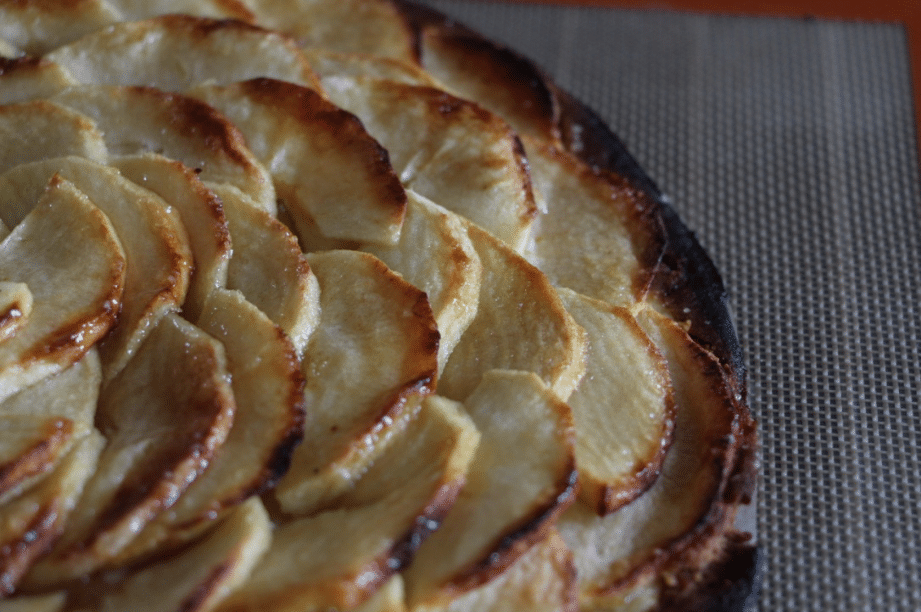 Print Recipe
Ingredients
1 shortbread pastry
3 or 4 apples
50 g butter
40 g de brown sugar
4 or 5 tablespoons of quince jelly
Instructions
1
Pre-heat your oven at 200 degrees.
2
Roll out your pastry. With a pie mold or circle, cut a round shape. You can of course let your imagination up and running for the shape. Heart, triangle, square, etc.
3
Peel and cut your apples in thin slices.
4
Place the slices on the pastry starting from the border of it towards the center.
5
Cut the butter in pieces and places them on your tart. Sprinkle the sugar on top.
6
Then put in the oven for 25 minutes.
7
When you remove from the oven, put smoothly the jelly right away with a tablespoon.
Notes
You can enjoy this apple tart still warm with vanilla iceream. It's so good ! If you don't have quince jelly, you can put any kind of jelly or jam (avoid if you can red fruits jelly because of the color).
Enregistrer