Hello my friends!
No recipe today but a few good ideas to put in your Christmas wishlist!! Interested?
So let me get this straight first: I get no share on the sales! 😉
You know me now, I only share products that I love, that I use on a daily basis in my kitchen.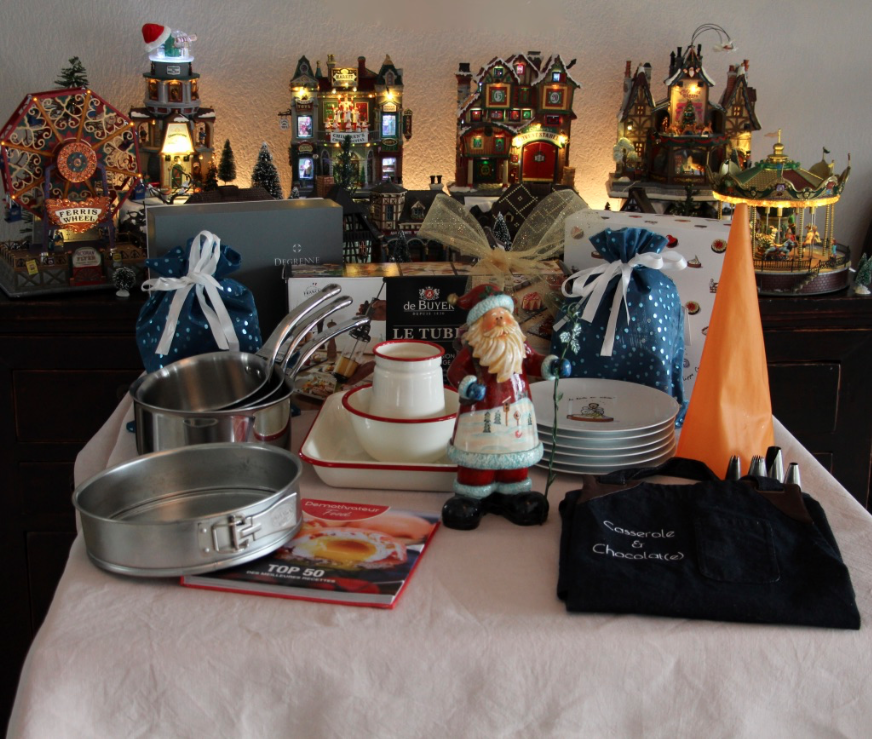 No price or like ranking in this post, I leave it to you to pick ideas here and there…
Let's start logically with a lovely apron, that's the first thing I take when I get in my kitchen: my "Casserole&Chocolat(e)" apron by Atelier TB. Suited for men and women.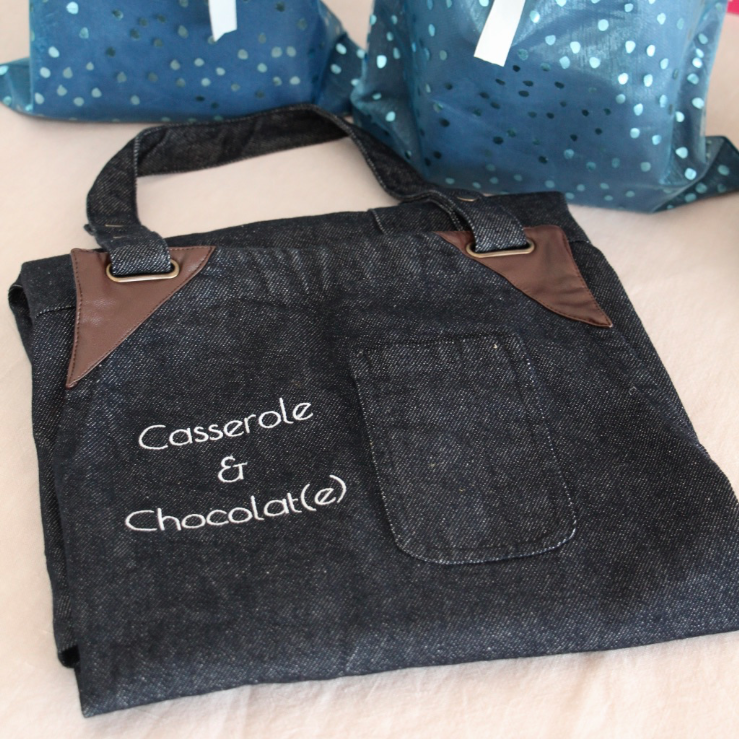 And because Christmas is coming, let me give you the special code CCNOEL18 to get a free embrodery on your apron! "Best pastry chef ever", "Cook in training", "I'm the Chef!", … Be creative!!
Prices start at 49,99 euros.
For a delivery before Dec 23rd, place your order before Dec 15th 😉
Just click here
Once you're wearing your apron, take a cookbook or go on your favorite blog!! 😉
Here are the best 50 recipes by Demotivateur Food. Easy, super delish, for any kind of hunger!!
And since Demotivateur Food likes my recipes, I also have a discount code here to get 15% off the saling price: CASSEROLE-DEMO when you click here.
Now we can start!!
If you say Christmas or New Year's Eve, you think about shellfish!! Wouldn't a shellfish kit be a great idea for Daddy??
De Buyer has one, what do you think?… Classy for less than 50 euros.
Also I can't stop using my enamel Zenker items by Fackelmann France. Roasting pan, mixing bowl or utensils pot, I love their style so much!!
For great piping I have two solutions for you:
Either the "Le Tube" package by De Buyer, for a super easy use. For around 130 euros, you get the tube, a replacement piston, a baking mat and 8 nozzles.
Or the traditional polyurethane piping bag by De Buyer and a few nozzles. Prices start at 20 euros for one piping bag with 2 nozzles.
Or the Tritan 12 nozzles set for less than 30 euros…
Obviously I have to suggest my Dr Oetker round cake mold by Fackelmann France now very famous thanks to my  apple and mascarpone cake!! 18 euros.
Christmas is often a good time to change sauce pans, because it's a little budget if you want high quality.
I'm working with the Affinity range by De Buyer for more than a year now, and believe me, it makes a difference!! You can get 3 sauce pans (16 cm, 18 cm and 20 cm) for around 300 euros.
Finally, you will need nice plates to serve your delicious meals. I fell in love with the Degrenne x Conticini collection. Elegant, modern and fun! 6 dessert plates will cost you 66 euros.
Of course, you will find many others beautiful items on Degrenne e-boutique!!
This is it! I tried to be reasonable…
Merry Christmas to you all! And say hi to Santa if you see him!!