I'm a member of a Facebook group in which people share their tips or recipes for sweet and savory dishes. A while ago, someone posted a pic of a lamb stew with white beans. Obviously, I couldn't resist…
So I found my inspiration through Murielle's recipe (Thank you Murielle !!!) and I'm pretty sure you are going to love it…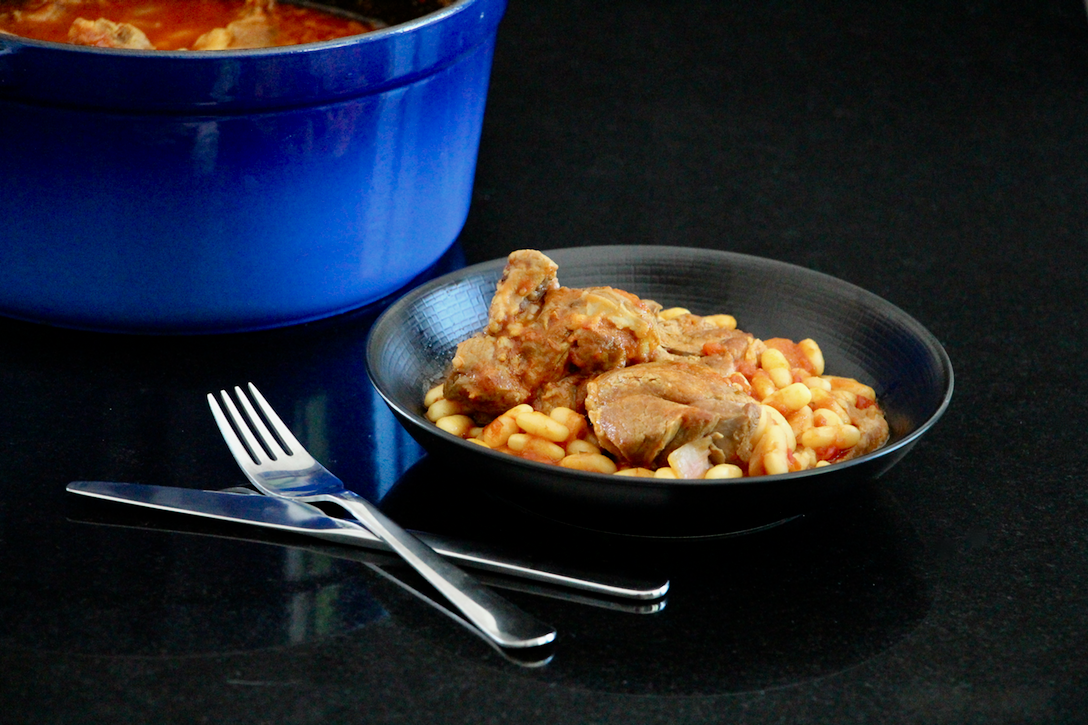 Lamb? I love lamb!!  And I had a bag of dry white beans in my kitchen from a local producer, cultivated according to the rules of organic agriculture. I had to try them! A tin can of tomato pulp by Mutti, my Albert Ménès spices, a stock cube by Maggi… I'm ready!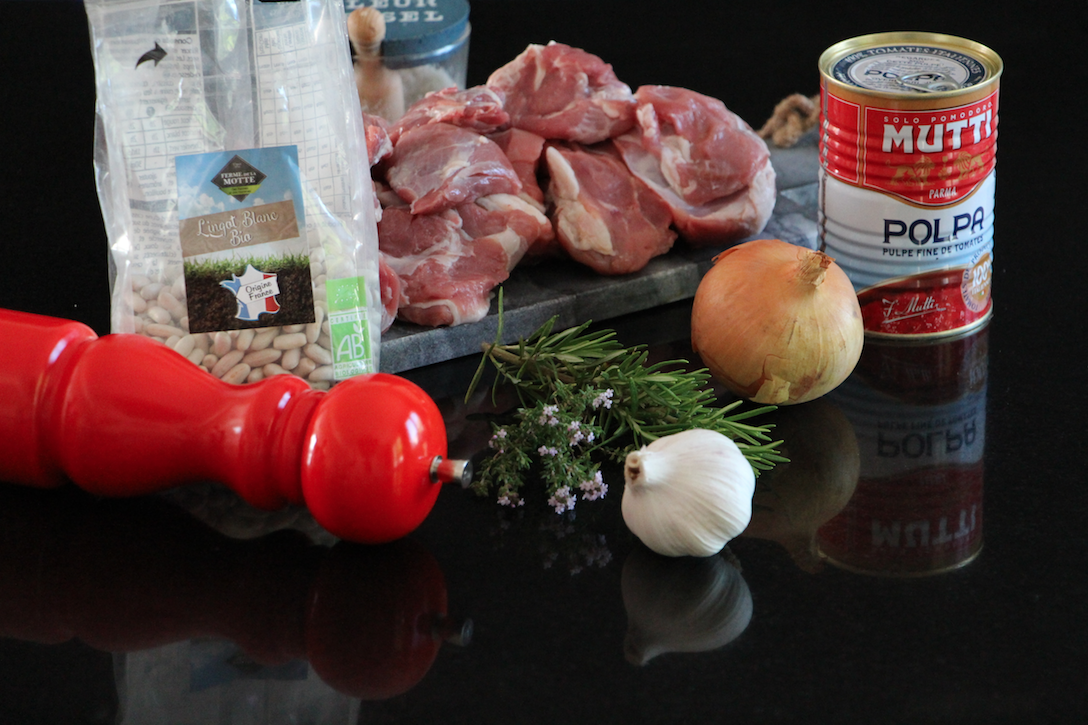 Once again, nothing is very complicated in this recipe. Choose well your ingredients, follow the steps (in particular make sure to follow the soaking time for the white beans) and you will get a delicious meal to share with friends or family.
Even if this is already a complete meal, I served it with white zucchini steam cooked to bring more veggies on the table. It was delish!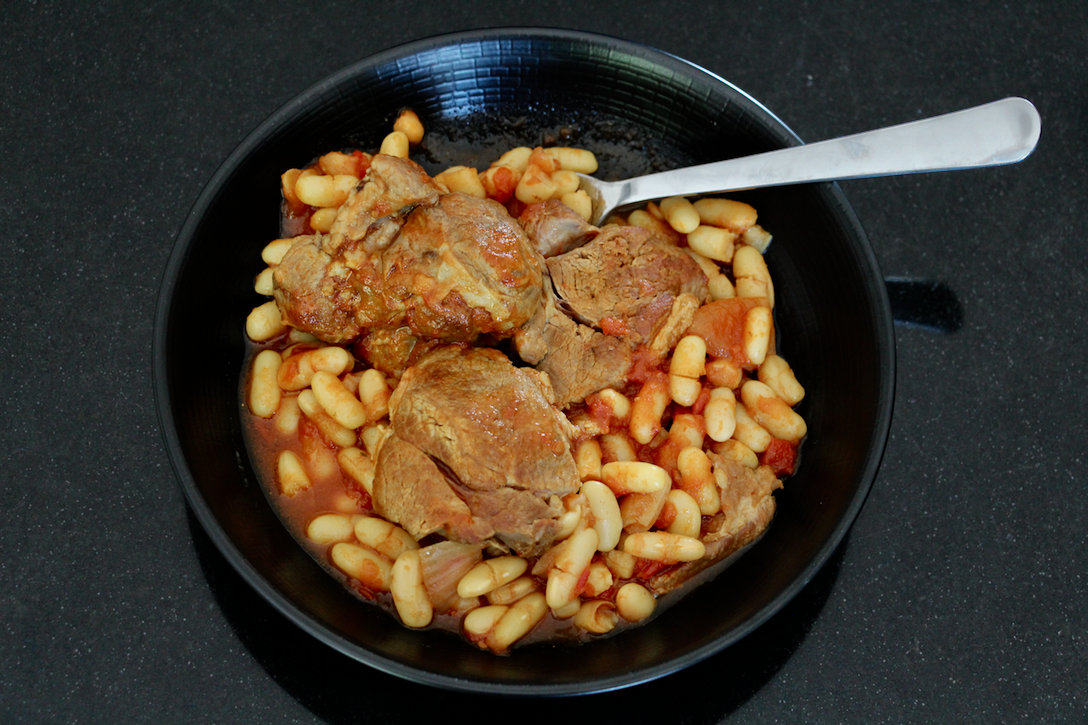 As any stew, you can re-heat it easily, it will even be better! So here is an idea: why not make a little bit more and save some for another lunch or dinner later in the week? More pleasure without extra work…
Last remark: I cooked my lamb stew with white beans in my Staub cast iron cocotte. It the best!!
Shall we now? The recipe, Chef!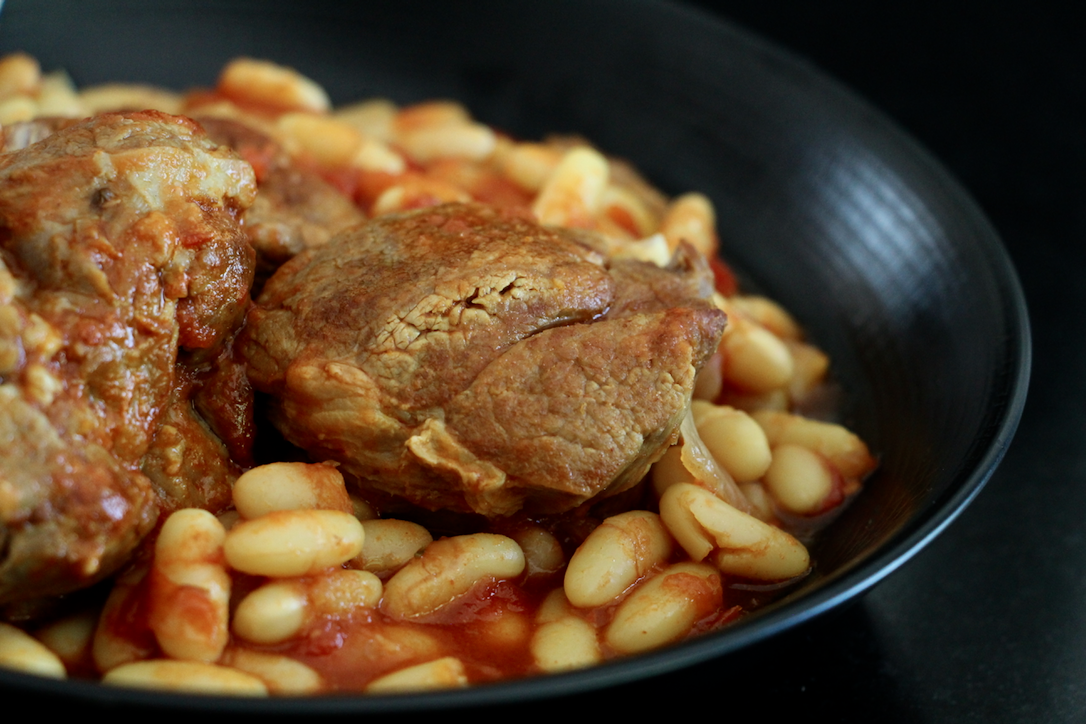 Print Recipe
Lamb Stew with White Beans
Ingredients
250 g dry white beans
1,2 kg lamb cut in big cubes
1 onion
4 garlic cloves
1 tin can of tomato pulp
4 tablespoons olive oil
1 chicken stock cube
Thyme
Rosemary
Salt
Pepper
Paprika
Espelette pepper
Ground ginger
Red mild pepper
Instructions
1
Soak your dry white beans in water according to the paquet instructions (in my case 2 hours).
2
Then cook them for 40 minutes in a large unsalted volume of water with thyme and rosemary (wrapped in a gauze to prevent having all the leaves mixed with the beans).
4
Heat the oil in the cocotte. Roast the lamb cut in cubes until golden on each side.
5
Set aside on a plate. Fry the onion in the cocotte.
6
Add the grated garlic, then the tomato pulp. Cook at medium heat for 2-3 minutes.
7
Add the lamb cubes and the juice that you may have in the plate.
8
Lower the heat and cook 20 minutes.
9
Prepare 1 liter of broth with the chicken stock cube. Pour in your cocotte.
10
Add the drained white beans, the spices and seasonings.
11
Do not add salt at this point (the broth is salted), do not add pepper either.
12
Let cook slowly for 1 hour with cover.
13
Mix gently during cooking.
14
When cooking is over, adjust the seasoning with spices, salt and pepper.
Notes
I do not recommend to have canned beans since they might disintegrate during cooking.