Hello, hello!
Today my friends I will suggest more a pastry workshop than a recipe so to speak. As you may have understood, we are going to make Easter eggs, Casserole&Chocolat(e) style.
Something to do with your family, your children are going to love it!
I won't use my usual recipe template, but you will have the step by step and you will see how simple it is. Especially since the two recipes needed to make this one are already on the blog.
You will have enough to make at least 40 to 50 eggs with the icing quantity here. And you will have pastry leftovers.
So you are going to make an almond shortbread pastry or a hazelnut one. You can also make the standard shortbread pastry, but I think it's a good idea to bring a bit of flavor with the almond or hazelnut since the recipe is so simple.
As reminder, here is the almond shortbread pastry recipe:
230 g flour
2 tablespoons of milk
130 g butter at room temperature
50 g almond powder
1 pinch of salt
125 g iced sugar
2 egg yolks (approx 40 g)
Mix the flour, salt, almond powder and sugar.
Cube the butter and mix medium speed until it resembles breadcrumbs.
Add the egg yolks and milk until it comes together.
Spread your pastry with a 4-5 mm thickness and shape your eggs: either with an egg shaped cutter or with a piece of cardboard, cut as an egg and covered with clingfilm. That's what I did here and made 2 sizes of eggs.
You get it, this recipe will be perfect for Christmas too or any kind of celebration.
Then you will bake your eggs at 180 degrees during 13 to 15 minutes. They should be golden but not too dark.
Let them cool down on a grid after baking. If you wish, grate the eggs to have clean sides.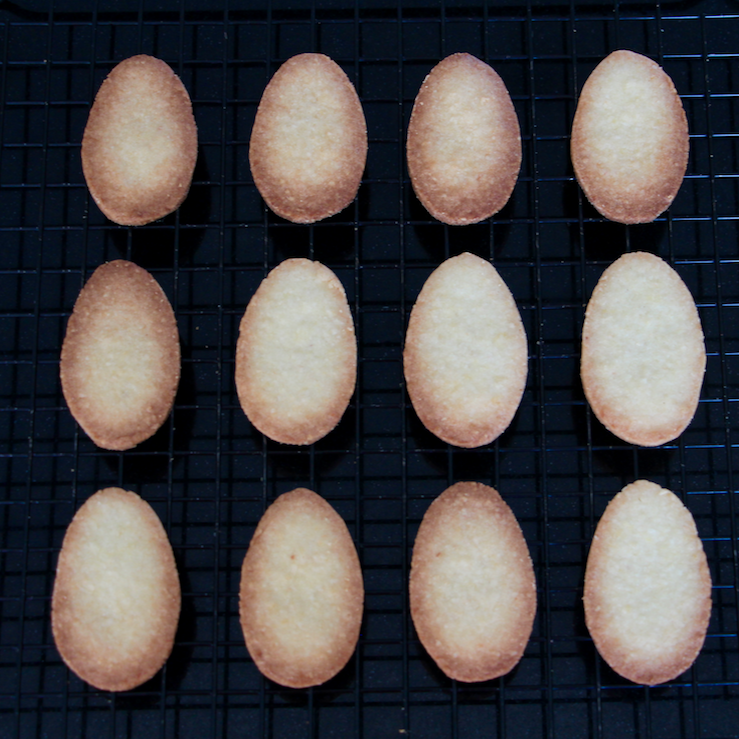 Then you will make a royal icing mixed with a bit of water:
2 egg whites (approx 70 g)
400 g iced sugar
A few drops of lemon juice if you wish
2 tablespoons of water to get the appropriate consistency and still be able to use it with a piping bag
Food coloring.
Whisk the egg whites for 30 seconds then add the iced sugar and lemon drops. Whisk for 2 minutes. You will then add the water.
According to what you have planned, share the icing in as many bowls as colors you have decided to make. Add the food coloring little by little.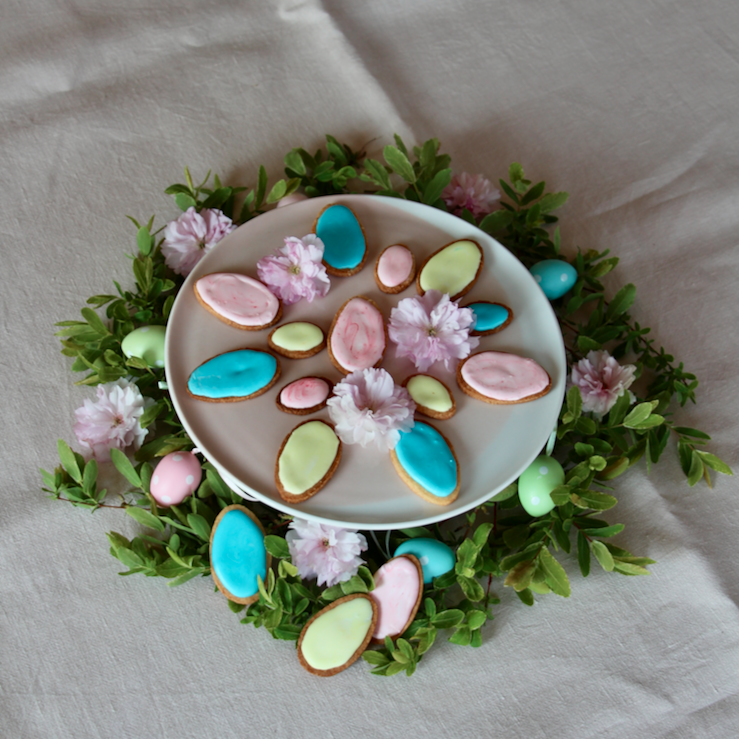 Then you will have to be fast since the icing will freeze quickly.
My advice: pipe the icing on the boarder of the egg (with a 4 or 6 mm nozzle or even with a freezing bag with a corner slightly cut). Then fill in the center.
Let the icing freeze for at least 20 minutes.
It's done! Your Easter eggs are ready!