Hello food lovers!
I know how you deal with cooking vegetables but I tend to turn in the same loop over and over again. Always the same recipes, a slow inspiration, a real lack of fun.
Today I will give you a recipe that answers all those issues at the same time: my roasted green aspargus with almonds and coriander.
This recipe is really super easy to make, prepared in no more than 5 minutes (and I swear I'm not exagerating!!) and so delicious. Certified by 100% of my gourmet team, kids included!! 😉
Those roasted asparagus with almonds and coriander will be the perfect side dish for a healthy lunch or dinner: with meat, grilled fish or a vegan meal.
And it does change from the usual veggies we cook!! The grilled almonds will be a delicious crunchy touch, completed by the delicate flavor of the fresh coriander. You can replace the coriander with dill if you prefer, which is the case in Ottolenghi's recipe from where this recipe comes from.
And timing is perfect since aspargus season is just getting started here in France. Everything is really thought trough!! I always try to cook seasonal products!! Isn't it fantastic?! 🙂
Before explaining the recipe in detail, let me give you a chef's advice in order to peel correctly your asparagus. It works for both white and green asparagus. Before peeling the asparagus, hold the end of the stalk as on the picture below (that's my 9 year old daughter in action, you should be able to do it too!!).
Bend the stalk until it breaks. You will throw away the end, it's a rather dry and stringy part. Then you can peel the rest of the stalk (not too much with the green asparagus that requires less peeling).
So you will have the impression to throw away quite a lot, it's true. But, trust me here, this part of the asparagus isn't very good to eat like this. Yet, you can make a soup (just drain it in order to avoid stringy parts…).
(Presentation : Zenker enamel roasting dish by Fackelmann
Back to our roasted asparagus with almonds and coriander recipe…
The utensils:
An oven dish
A peeler
A small sauce pan.
Shall we now?
The recipe, Chef!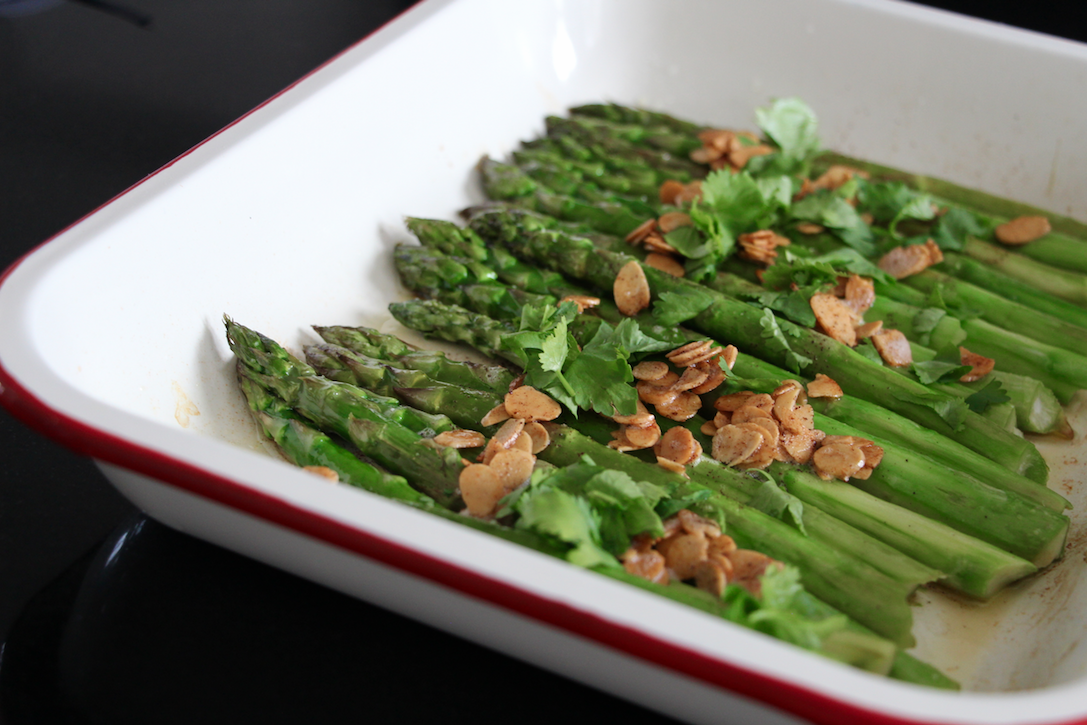 Print Recipe
Roasted green Asparagus with Almonds and Coriander
Ingredients
500-600 g green asparagus
1 tablespoon olive oil
12 leaves of fresh coriandre
20 g butter
30 g flaked almonds
1/2 teaspoon salt
Pepper
1/2 teaspoon ground ginger
Instructions
1
Preheat your oven at 200 degrees.
3
Place the oil, saltn pepper and ground ginger in your oven dish.
4
Roll the asparagus in the dish in order to cover them with the oil and salt/pepper/ginger.
5
Cook for 10 to 12 minutes in the oven depending on how you like your asparagus to be cooked.
6
Heat the butter in a sauce pan at medium heat.
7
Add the almonds and cook 3 minutes while whisking. Your almonds should get golden.
8
Spread the almonds on the asparagus, add the chopped coriander and serve.