Hello my lovelies!
It's my birthday and I decided to combine my two favorite flavors of the season to make a delicious dessert: pear and chocolate!
I also wanted a recipe that could be made the day before… Here's my pear and chocolate bavarois!
Let's see the recipe, Chef!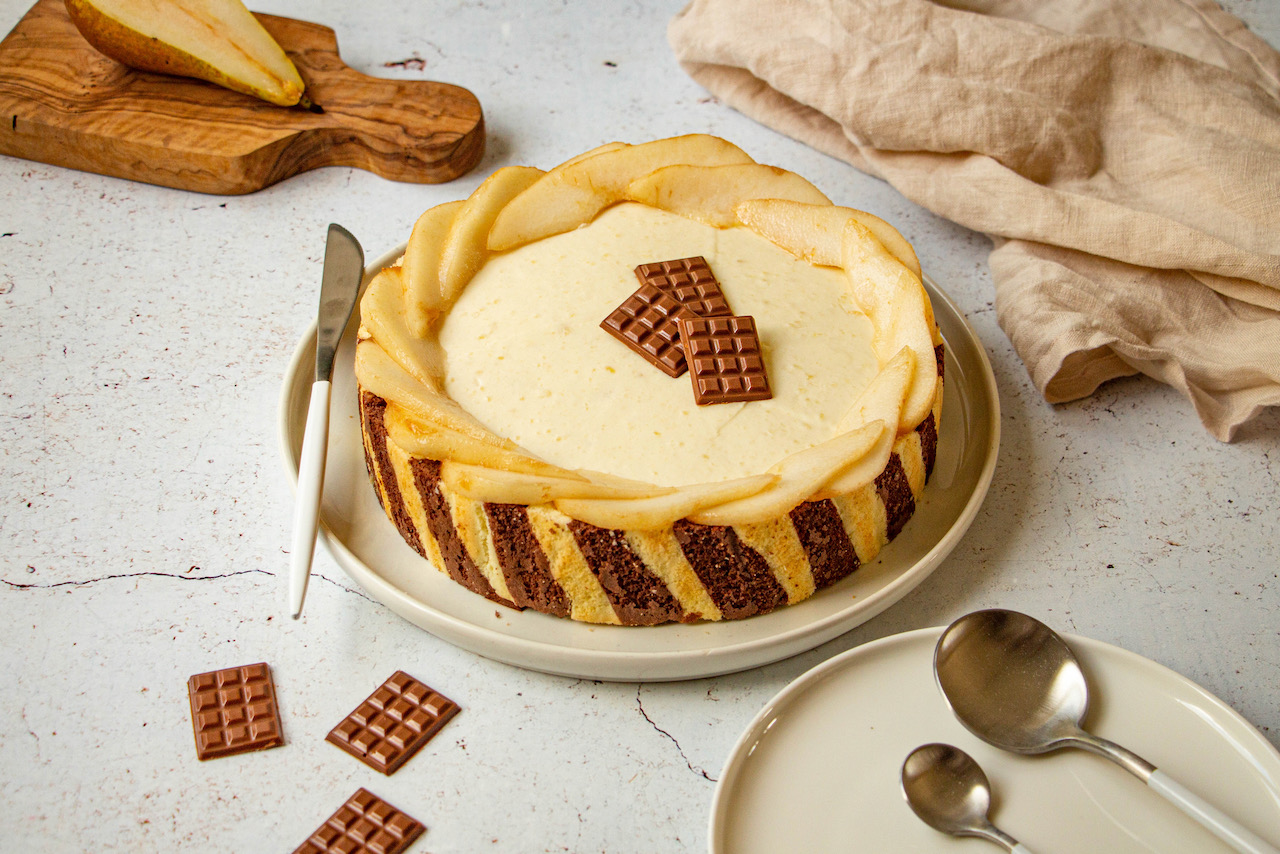 Print Recipe
Pear and Chocolate Bavarois
Ingredients
Pear mousse

225 g peeled pears

45 g sugar

4 g gelatine

95 g liquid cream 30% fat

40 g mascarpone

Chocolate cream

2 g gelatine

2 egg yolks

20 g sugar

100 g cream (30% fat minimum)

100 g milk

80 g dark chocolate

Genoise Cake

4 large eggs

135 g sugar

45 g corn starch

82 g flour

1 tbsp unsweetened cocoa

Finish

1 pear
Instructions
1
Soak the gelatine into cold water.
3
Place them in a sauce pan and add the sugar.
4
Cook at medium heat for 10 minutes.
5
Remove from the stove and mix with a hand mixer.
6
Add the drained gelatine, combine.
7
Place a cling film on top and set aside in your fridge until completely cold.
8
Whisk the cream into chantilly.
9
When the cream thickens, add the mascarpone and whisk some more until firm.
10
Add the pear sauce and combine.
11
Set aside in your fridge.
12
Soak the gelatine into cold water.
13
Mix the egg yolks with the sugar, do not whiten.
14
Boil milk and cream in a sauce pan.
15
Pour on the egg yolk and sugar mixture.
16
Pour back in the sauce pan and cook at medium heat and keep whisking. (if you have a thermometer, keep the mixture at 85 degrees).
17
When you mixture gets thicker but is still liquid, remove from the heat.
18
Pour on the chocolate cut in pieces. Wait for the chocolate to get soft and mix.
19
Add the drained gelatine, combine.
20
Mix with your hand mixer and try not to put air in the mixture.
21
Set aside in your fridge with a cling film until use.
22
Preheat your oven at 190 C / 375 F degrees.
23
Whisk the eggs and sugar in your large bowl. Place it over a sauce pan with boiling water (double boiler) and whisk with your electrical whisk until you get a white mixture and a 50 C / 122 F degrees temperature. (the mixture should triple in volume)
24
Remove from the double boiler and keep on whisking until the temperature goes down to 25-30 C / 77-86 F degrees (you should be able to touch the bowl without heat sensation).
25
Add the flour and corn starch in 2 times, mix gently with a spatula.
26
Take 1/4 of the batter and add the cocoa, mix gently with a spatula.
27
Pipe a 38x15 cm rectangle, one white stripe then a brown stripe and so on, on a baking tray covered with parchment paper.
28
Pipe a 20 cm diameter and a 18 cm diameter disc, on a second baking tray covered with parchment paper.
30
At the end of cooking, place the zebra genoise cake immediately on a humid linen. Remove the parchment paper and roll the genoise with the linen.
31
Let cool down on a grid with the roll shape.
32
Place the 2 round genoise cakes on a cooling rack.
33
Place a 22 cm pastry ring on your serving plate. Add clingfilm on the boarders.
34
Cut two 5 x 34 cm rectangles into your zebra genoise cake.
35
Place them against the boarders of your pastry ring.
36
Place the 20 cm diameter genoise cake at the bottom.
37
Pour the chocolate cream. Flatten the surface with a spatula.
38
Place the 18cm diameter genoise cake on top.
39
Pour the pear mousse. Flatten the surface with a spatula.
40
Set aside in your fridge for at least one hour.
41
Just before serving, cut the pear in slices and place them on your bavarois cake.