Hello breakfast lovers!!
Now that I have confirmed it works, I keep using butternut in pastries again and again…
Please applause my butternut babka brioche!
Yes! Switching mashed butternut with some of the eggs and butter you usually put in a brioche is definitely an amazing idea. And don't get me wrong: the taste and texture are fantastic too, moist and less rich than the average 100% butter brioche (I still love this kind of brioche though!!!).
I already introduced my pumpkin shaped brioche with butternut, here is another super yummy version!!
I  found my inspiration (mainly for the two crumbles) on an American blog The Bojon Gourmet, Alanna's posts are extremely mouthwatering!! You should have a look!!
I made a few modifications (I would say "mandatory" to our French tastes), meaning for the main part having less sugar. The special something here is the chocolate crumble which you will find inside the butternut babka brioche. It's really to die for!! You will also get a delicate taste of sea salt ( in both crumbles) which bring a very interesting contrast in your mouth while tasting. Do not avoid this ingredient, it would be too bad!
As far as making the brioche is concerned, it's more or less the same process as a regular brioche.  The shaping and swirling makes this butternut babka brioche really nice…
The utensils:
A food processor with kneading accessory,
A pound cake mold,
A sharp knife to cut the dough
And a rolling pin.
I'm pretty sure you're ready to make some babka brioche!!
The recipe, Chef!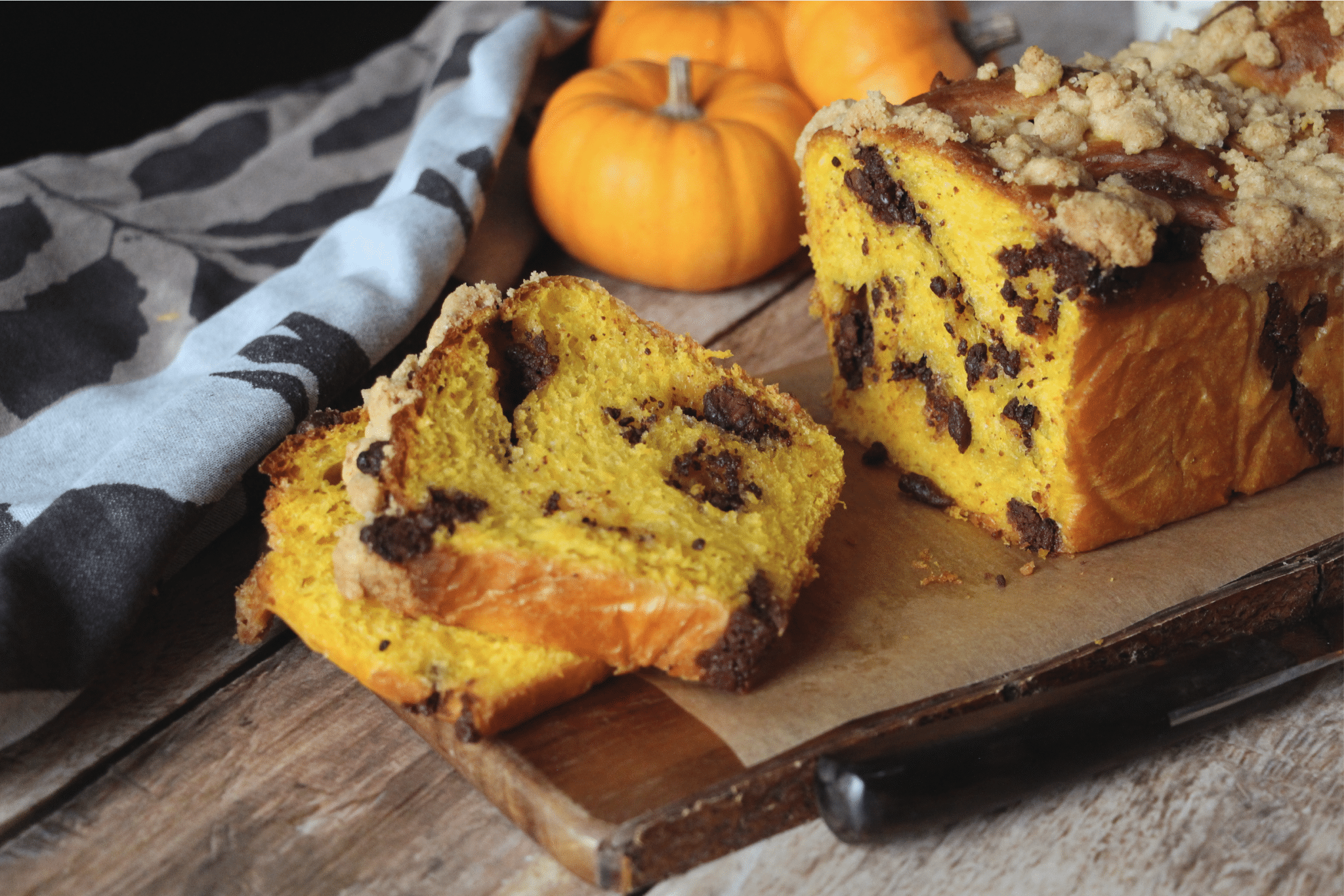 Print Recipe
Ingredients
300 g butternut (for the dough)
10 g butter (for the dough)
85 g milk (for the dough)
7 g dehydrated yeast or 14 g fresh one (for the dough)
1 large egg (for the dough)
60 g butter at room temperature (for the dough)
30 g sugar (for the dough)
3 g salt (for the dough)
280 g flour (for the dough)
50 g flour (for the crumble)
40 g brown sugar (for the crumble)
1/4 teaspoon sea salt (for the crumble)
50 g cold butter (for the crumble)
200 g coarsely chopped chocolate (for the chocolate crumble)
1/2 tablespoon ground cinnamon (for the chocolate crumble)
1/4 teaspoon sea salt (for the chocolate crumble)
40 g cold butter (for the chocolate crumble)
1 egg
1 pinch of salt
Instructions
1
Peel the butternut and cut it in cubes.
2
Stir fry in a large pan with 10 g of butter for 5 minutes, then put your lid and cook at low/medium heat for 30 minutes.
3
After that time, mix with your hand mixer.
4
Take 140 g when slightly cooled down, mix with egg and butter.
5
Heat the milk 30 seconds in your microwave oven and add the yeast. Mix.
6
Pour in your food processor bowl the butternut mixture, flour, sugar, salt and milk/yeast.
7
Knead for 3 minutes at low speed (2 on a scale from 1 to 6), then higher speed (4 on a scale from 1 to 6).
8
The dough shouldn't stick to the bowl. If not, add 20 g flour and knead some more.
9
Let rise with a humid linen on top in a rather warm and humid room.
10
When your dough is twice the initial size (after approx 2 hours), flatten it with your rolling pin and make a rectangle.
11
Mix the chocolate, cinnamon, salt and 40 g of cold butter.
12
Spread this chocolate on the dough.
13
Roll the dough lengthwise, and cut it lengthwise too.
14
Swirl the two braids and place the brioche in your mold.
16
In the meantime mix the 50 g flour, brown sugar, salt and 50 g cold butter to make a crumble.
17
Preheat your oven at 180 degrees.
18
Brush the brioche with the beaten egg and salt.
21
Check with a knife and bake some more if needed.