Hi everyone!! If, as I am, you're often challenged to be mum or dad of the year, this recipe will be for you!!
My son was having friends at home, and I left him the choice of the menu. Guess what… Burgers !!
And bam! Here I go for homemade buns!
Obviously I could have found a bakery making buns, I could even have gotten some at my supermarket (I'm not judging here, when you don't have time, you don't have time!). But homemade buns are so much better!!
This recipe isn't complicated at all. If you have already made brioches or breads, you'll see that there is very little amount of work here. Your food processor with its kneading accessory will do all the hard tasks, you will just need to be careful about the timing since the recipe requires two rising times.
After that, it's just a piece of cake!
This recipe is for 10 buns, depending on how many burgers you're planing to make, you can freeze a few for the next time. That's what I always do… You freeze your buns once they have just cooled down and on D day you leave them to defrost at room temperature, and put them in the oven 2 minutes at 150 degrees. They will be good as fresh !
You get it, you can prepare them in advance, especially if you're planing them as mini burgers for a buffet ! In such case, I recommend a different shaping method: spread the dough after the first rise with 1 cm thickness and make your buns with a round cutter.
Then it's up to you to fill them as you wish!
The utensils:
A food processor with kneading accessory,
A baking mat or a baking sheet
And a brush to spread the egg on the buns.
That's all!!
(Presentation: pastry tray by De Buyer)
Let's start this burger party!!
The recipe, Chef!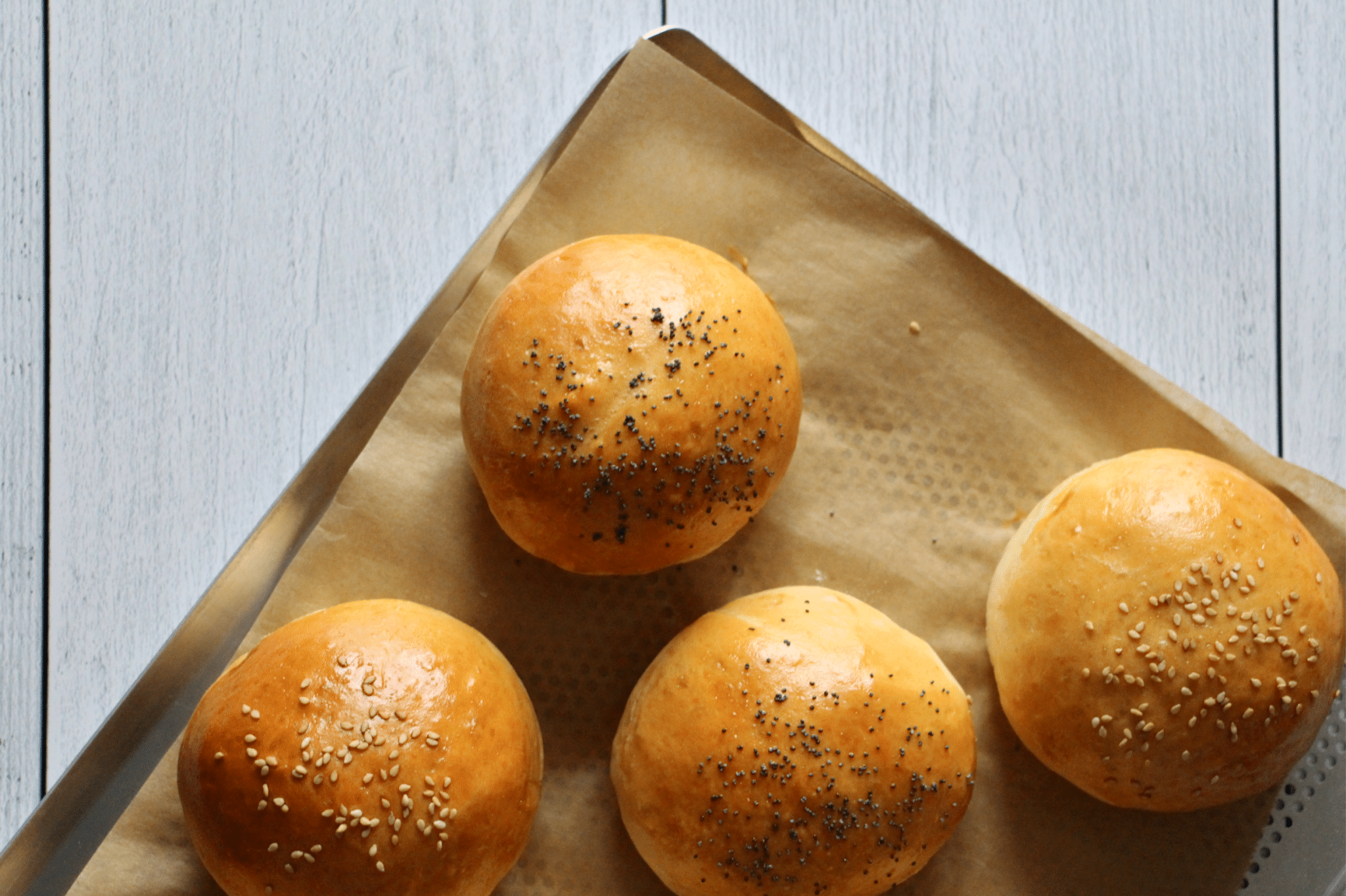 Print Recipe
Ingredients
500 g flour
5 g salt (a bit more than a teaspoon)
12 g sugar (3 teaspoons)
7 g dehygrated yeast or 14 g fresh
1 egg
30 g butter at room temperature
100 g milk
150 g water
1 egg
Sesame seeds
Poppy seeds
Instructions
1
Place the flour in your food processor bowl. Add the salt and sugar on one side of the bowl, the yeast on the other. Pour the milk and water little by little while kneading at low speed (2 on a scale from 1 to 6).
2
Add the egg and knead for 5 minutes.
3
Add the butter then increase the speed (4 on a scale from 1 to 6) for 5 more minutes.
4
The dough shouldn't stick to the bowl.
5
Make a ball and cover with a humid linen. Let rise for 1 hour.
6
Flour your workplan and cut the dough in 10 pieces. Make 10 balls.
7
Brush with the beaten egg and a pinch of salt.
8
Spread sesame seeds and/or poppy seeds.
10
Preheat your oven at 180 degrees with a large tray at the lowest position.
11
When the oven is warm, pour 5 cl water on the tray and place your buns at medium height.
12
Cook around 18 minutes (the buns should get golden) and let cool down on a grid