Eating seasonal vegetables… That's not always an easy task during winter, we often lack inspiration. We keep making the same recipes, over and over again.
A good idea for a change: roasted Brussel sprouts.
A few days ago I bought Brussel sprouts at my green grocer.
I have to be honest, they spent a few days in my fridge, giving me this look each time I opened it: now, what? time for cooking or what?
I could have cooked them with bacon as I usually do, but I wanted to try something different, something lighter, a rather diet recipe.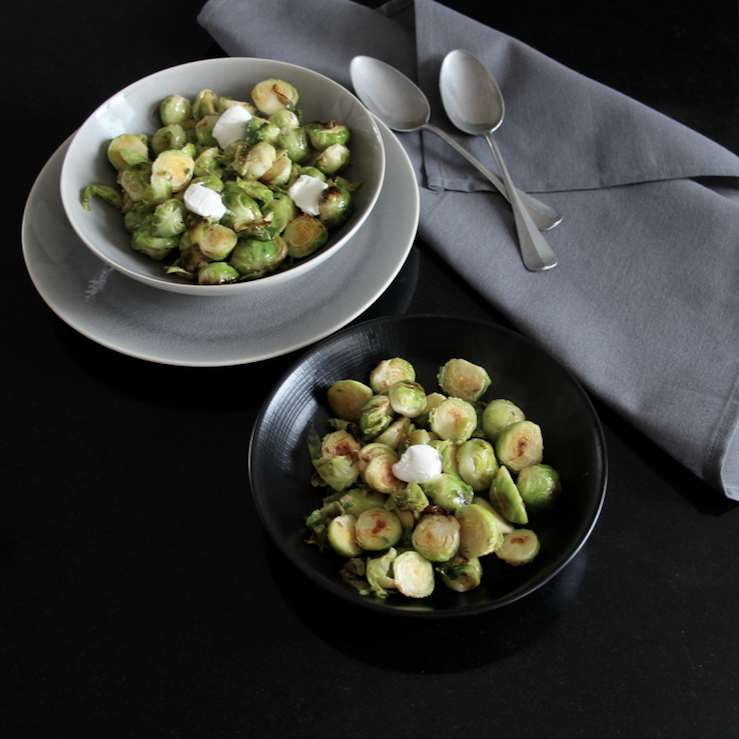 And bam! A few pics and recipes taken on Pinterest, and I'm cooking roasted Brussel sprouts!
With this recipe, your Brussel sprouts will be quite firm after cooking. If you prefer to eat them well done, add a little bit of water at the end of the recipe and keep cooking 2-3 minutes more.
The utensils:
An oven tray
A 22 cm diameter iron cast sauce pan
My Zenker grater by Fackelmann for the garlic.
Let's do this!
(Presentation: balck Modulo plate by Degrenne)
The recipe, Chef!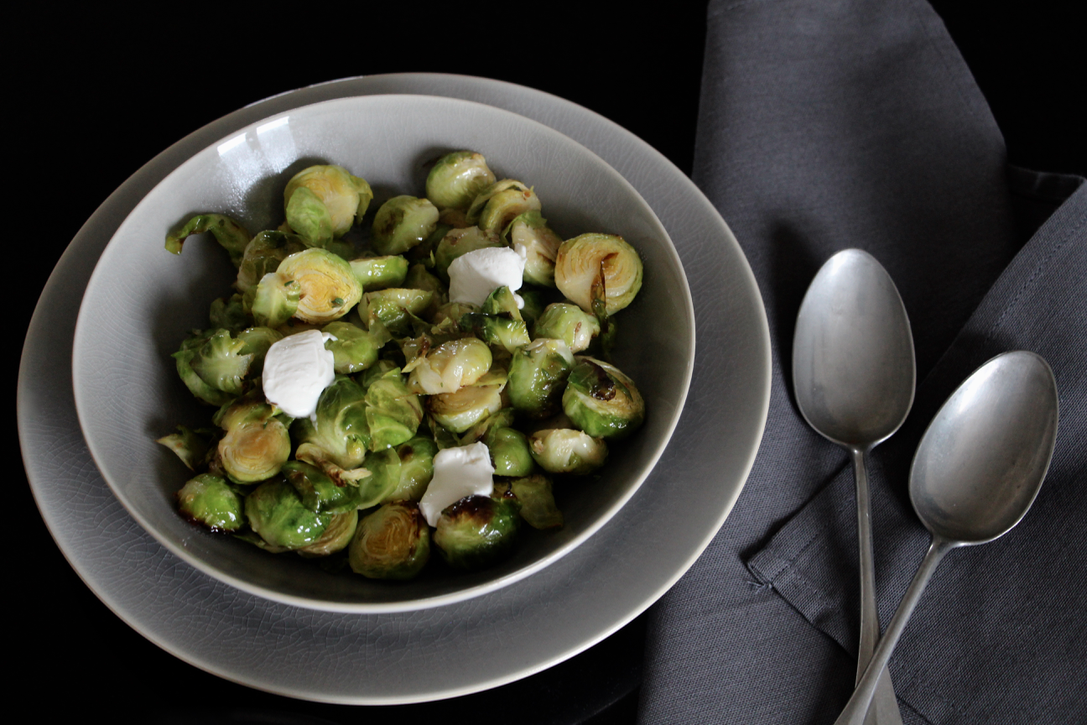 Print Recipe
Ingredients
400 g Brussel sprouts
2 tablespoons olive oil
30 g butter
4 cloves of garlic
1 teaspoon cumin seeds
1 teaspoon fresh thyme
4 teaspoons mascarpone
Salt
Pepper
Instructions
1
Preheat your oven at 220 degrees.
2
Wash the Brussel sprouts, cut them in half and place them in a large bowl.
3
Add 2 pinches of salt and the olive oil. Mix.
4
Place them on your oven tray, previously covered with a baking paper sheet.
5
Cook in the oven for 15 minutes. Your Brussel sprouts should get gloden.
6
A few minutes before the end of cooking, put the butter in your sauce pan and cook at medium heat. Mix from time to time.
7
Add the Brussel sprouts, the grated cloves of garlic, the cumin seeds and thyme. Add salt, pepper and mix.
8
After one minute, add 5 cl of water and cover.
9
Stop cooking after 3 minutes. Add the mascarpone, mix. Serve.