Hello my dear food lovers!
Today it's veggie day.
Taste, flavors, yumminess… Here is my express vegetable couscous!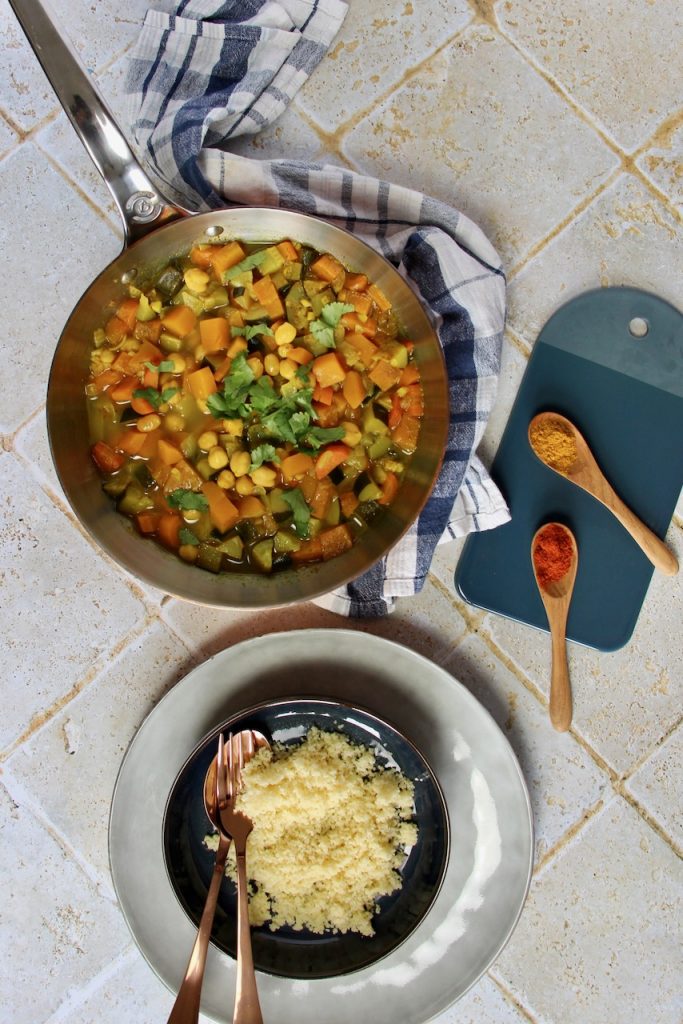 I guess your days are similar to my days: bringing the kids to school, work, bringing to kids from school, with several schedule (otherwise it wouldn't be fun, right?), then drive one to the football training, the other one to the Athletics stadium or to the Theater lesson, or maybe go to the supermarket to fill in a desperately empty fridge!! Sounds familiar?? 😉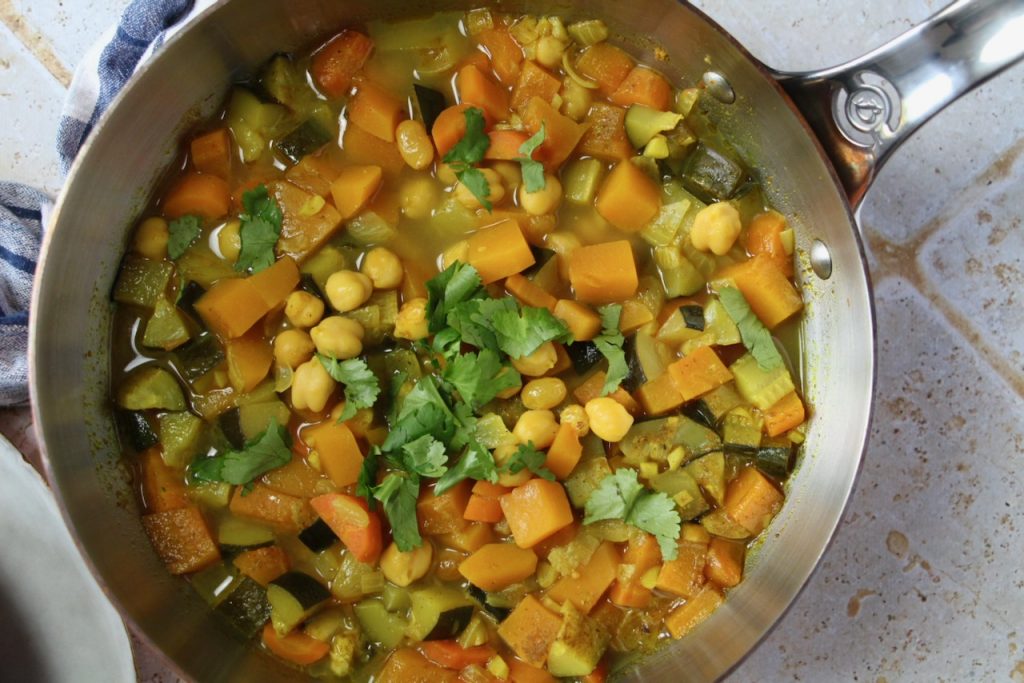 I feel I'm running out of time (or against time!!) constantly!! And in the middle of this chaos, you have to make meals for the family! So I try to anticipate as much my cooking, I think easy, quick yet delicious!!
And that's where my express vegetable couscous comes. You can have the vegetables ready in 5 or 10 minutes, the first cooking will require no more than 10 minutes of your time and after you just leave it gently on the stove!! It's a dish that can be made one step at a time and that cooks by itself.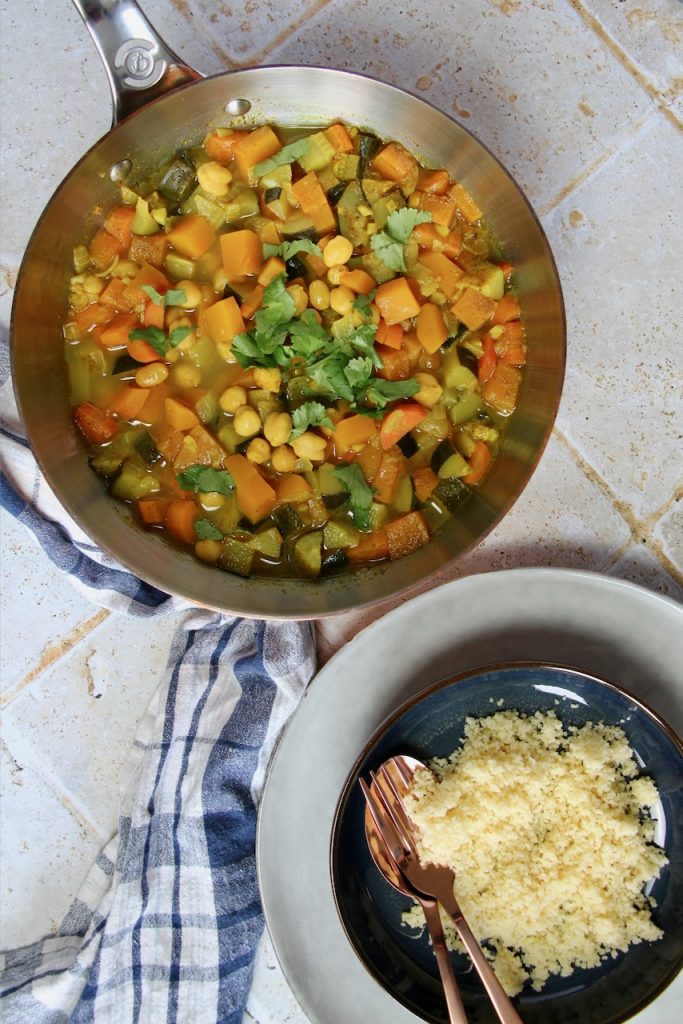 As far as flavors are concerned, I used only seasonal veggies such as butternut, carrots and the last zucchinis, then I added a good mix of spices and a touch of honey. Sounds good to you? Mouthwatering or not?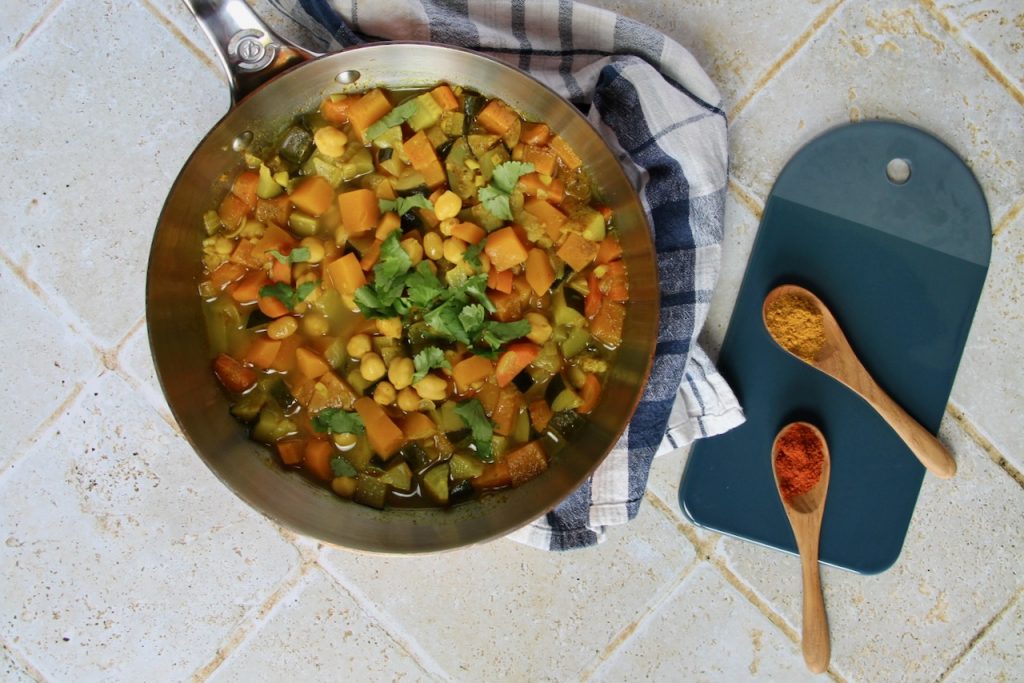 I told you previously in this post that it's a vegetarian meal. I love meat and seafood, but I try to reduce our consumption, and keep them for family weekend meals . From Monday to Friday, it's mostly vegetables on the table (with pasta, rice, potatoes), especially since the kids will have had already proteins at school for lunch.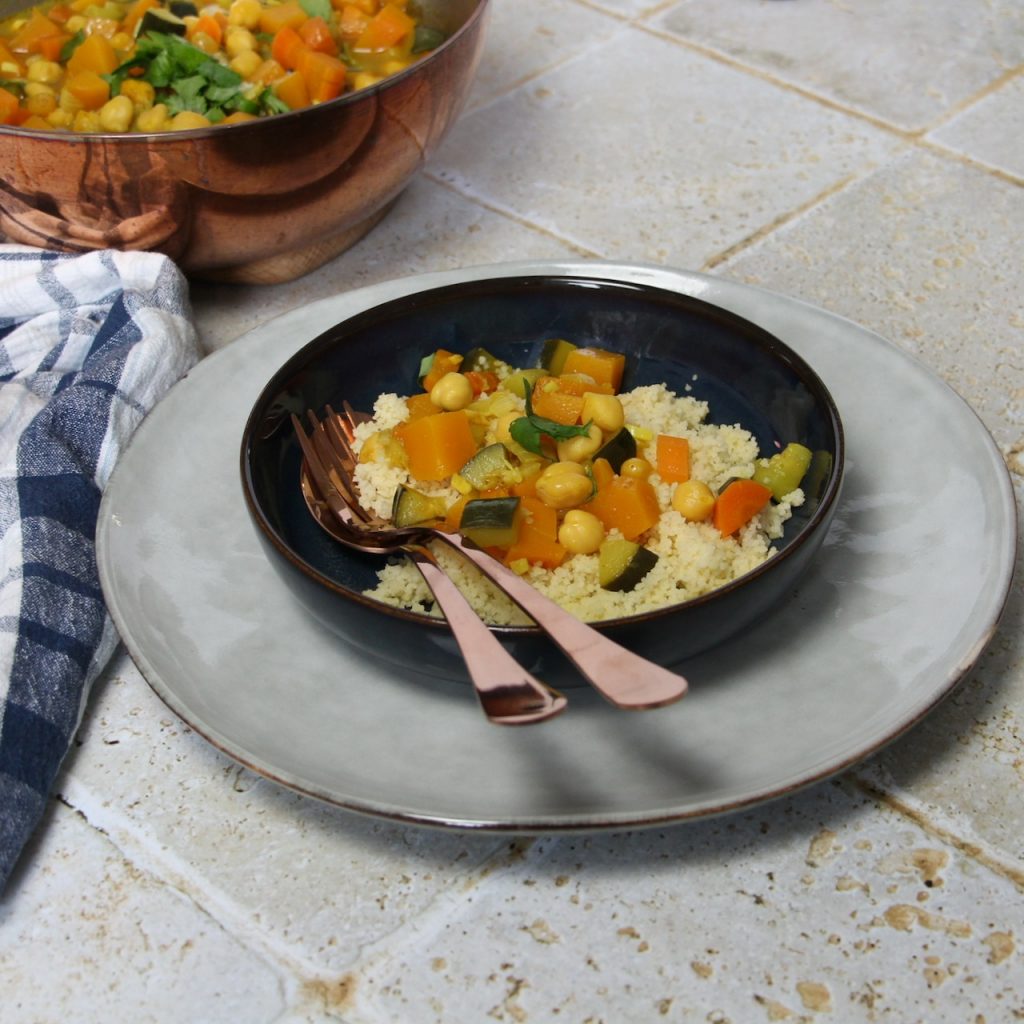 You can add chopped coriander and roasted pine pinions to this recipe. It will be a nice add on!
The utensils you will need:
A sauté pan (here my Prima Matera by De Buyer),
A cutting board
And a sharp knife.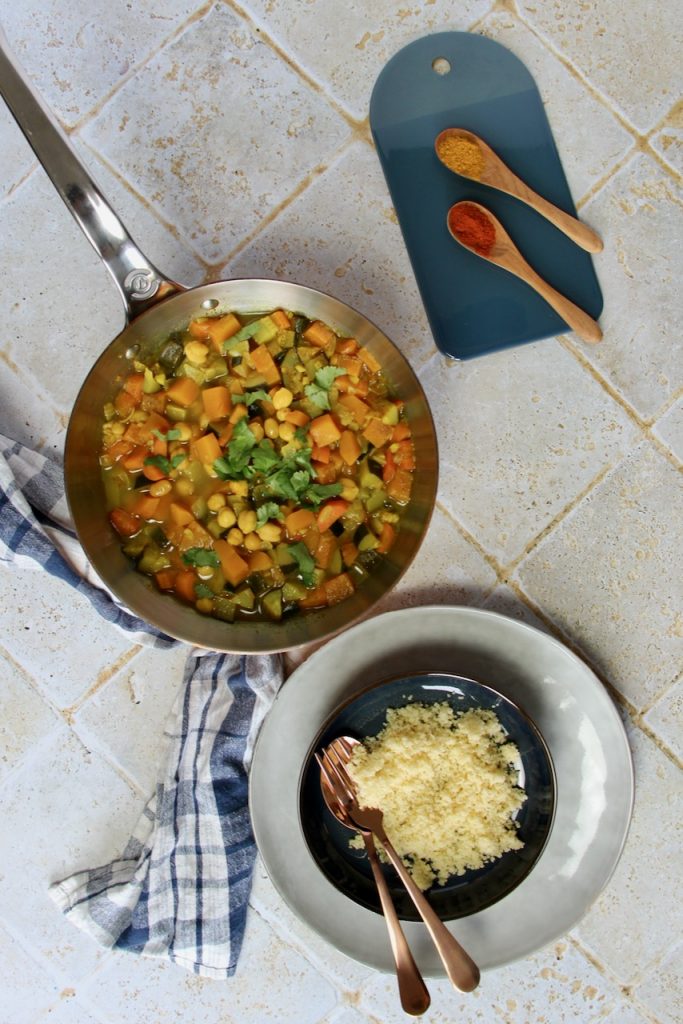 And that's about it… Shall we do this express vegetable couscous?
The reicpe, Chef!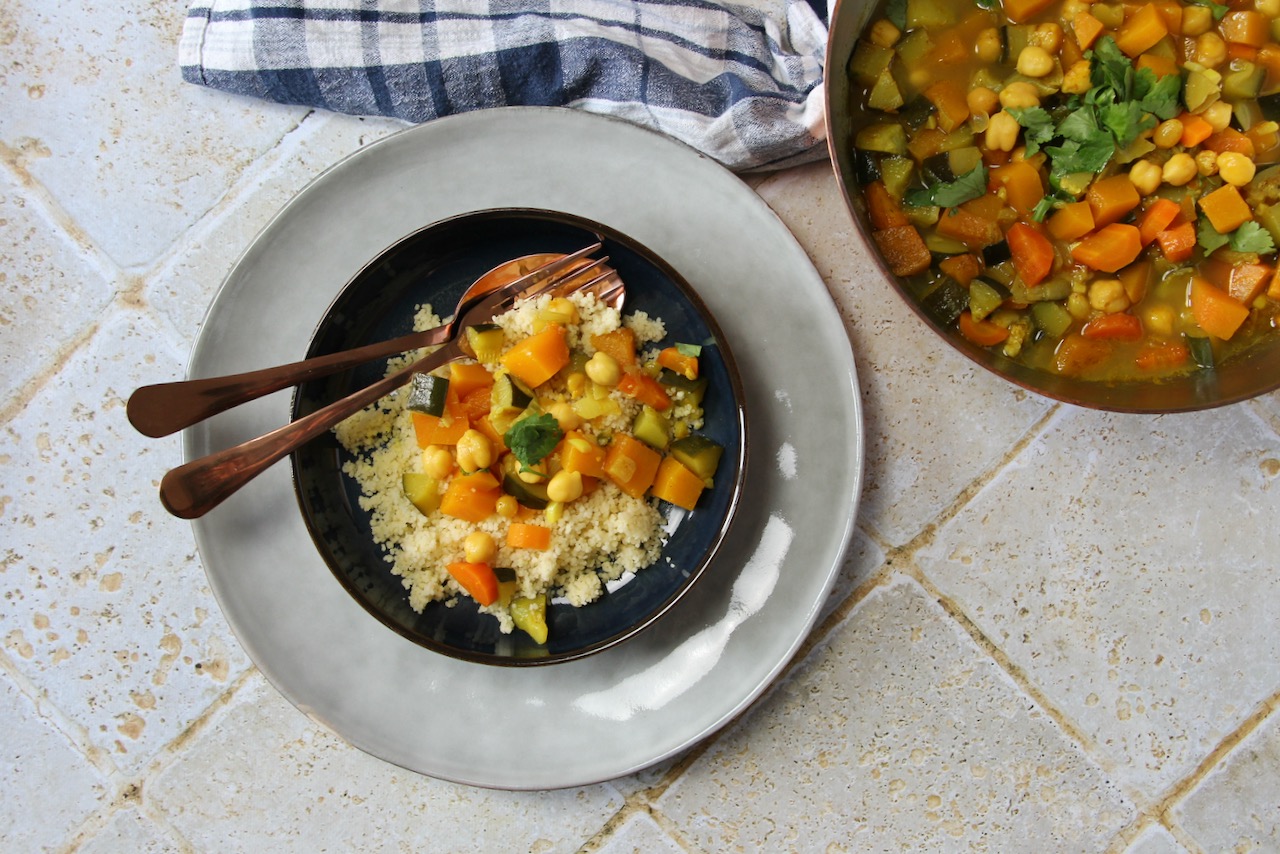 Print Recipe
Express Vegetable Couscous
Ingredients
1 carrot

1 zucchini

1/4 butternut

100 g canned chickpeas

1/2 onion

2 tablespoons raisins

1 garlic clove

2 cm fresh ginger

2 tablespoons oil

1 large tablespoon honey

1 teaspoon ras el hanout

1 teaspoon curcuma

1 teaspoon ground cumin

1/4 teaspoon Espelette pepper

Salt

Pepper

250 g semolina
Instructions
1
Pour the oil in your sauté pan and heat at meadium heat.
2
Add the onion thinly chopped, and the grated ginger and garlic. Spread ras el hanout.
3
Add the butternut and carrot cut in small cubes.
4
Add the zucchini cut in cubes, the drained chickpeas and raisins.
5
Spread the rest of spices, add salt, honey and a large glass of water.
6
Cover with lid and cook 40 minutes at low heat. Add more water if necessary.
7
Cook the semolina according to the instructions on the package.
8
At the end of cooking, adjust seasoning and add pepper.
9
Serve right away with semolina.