Hello my friends!
My mind just got blown away! Big time!!
Most of the time, sweet is my weakness (you know how much I admire Chefs Conticini and Felder), but this time, I felt into a savory trap. Savory recipes by Yotam Ottolenghi!! Hence my sea bream, Yotam Ottolenghi style!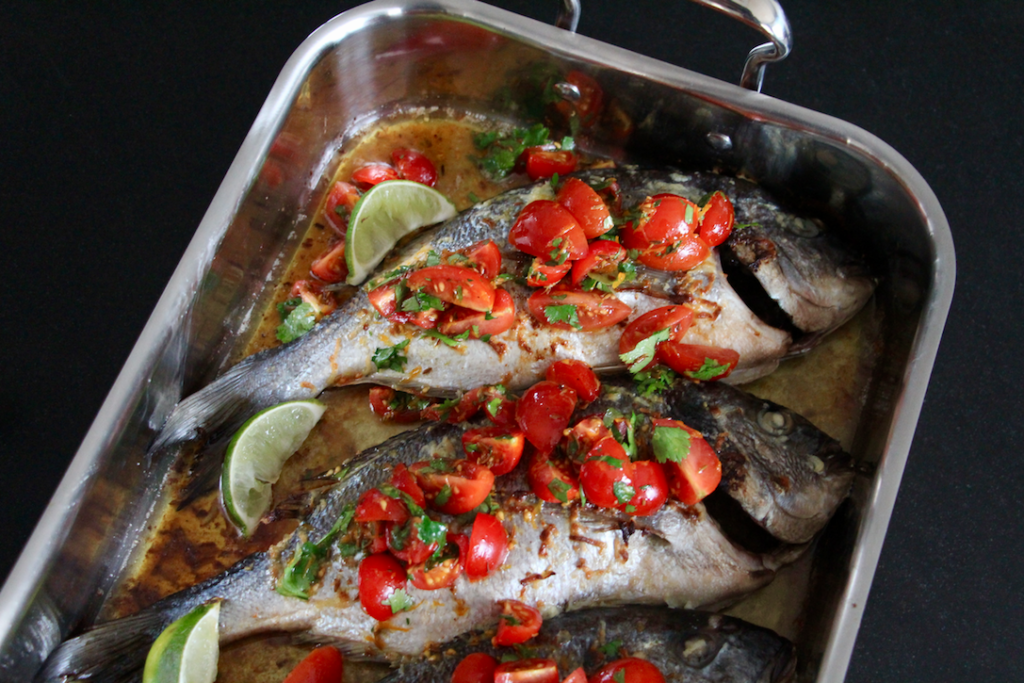 Yotam Ottolenghi is already very famous in Anglo-Saxon countries, not yet in France. But he will be very popular soon!!
At least, French people will hear from him here on the blog!! I just bought his cook book "Simple" and I am already a huge fan! I strongly recommend it!!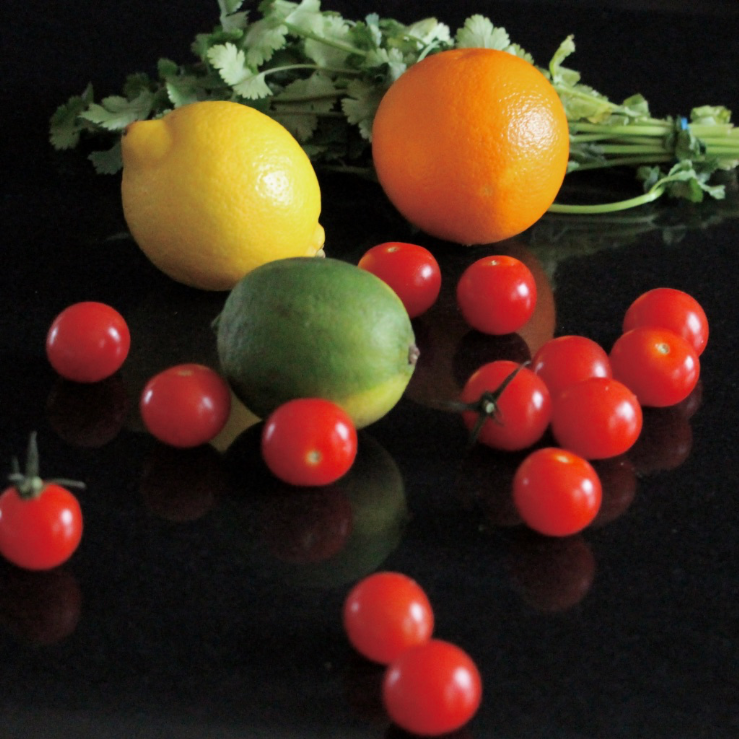 Few ingredients, most of them are the ones we regularly buy  (with a few key elements like Zaatar), modern recipes, that you may not expect and what about the taste… so delish!!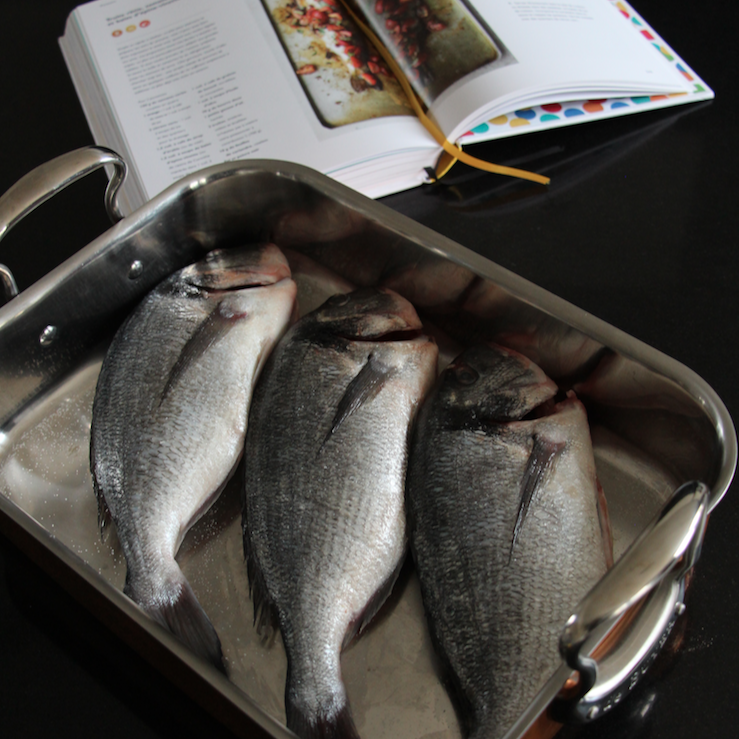 The first recipe to catch my attention was the roasted trout with tomato and orange, logically this is where I decided to start…
I did it my way as always because 1/ I couldn't find trouts when I went to my fishmonger's, 2/ he had wonderful sea breams, and 3/ because I was missing some of the ingredients…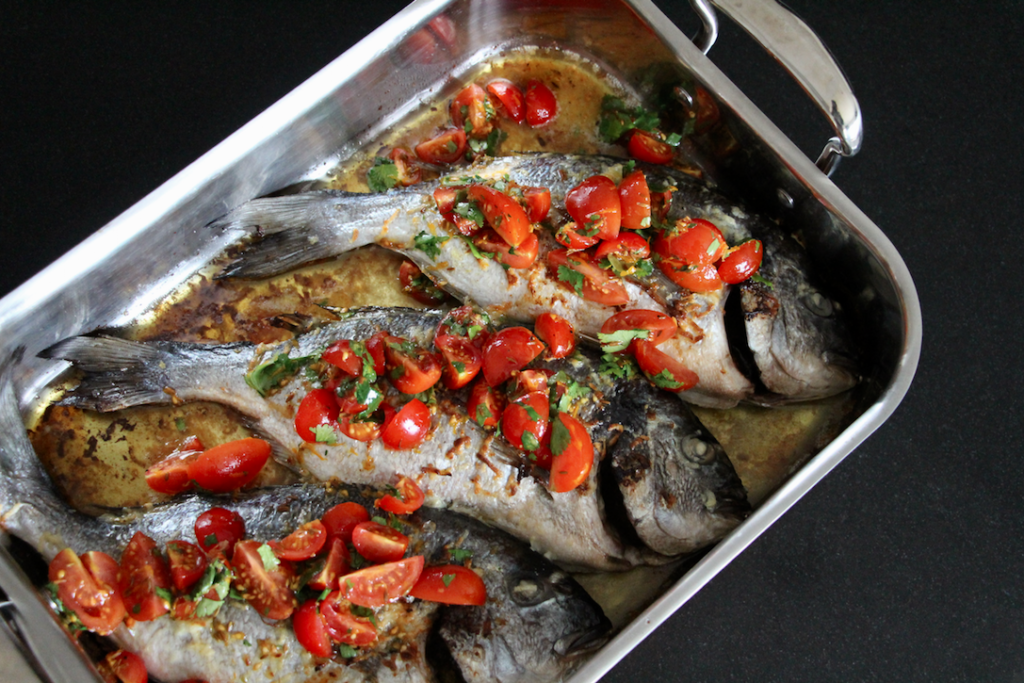 I made an Ottolenghi recipe Casserole&Chocolat(e) style!!
This recipe, which is to die for, can be prepared in 10 minutes (I promise!! I'm not even exagerating here…), cooked in 20-25 minutes depending on the size of the fish and that's it! You just have to ask your fishmonger to empty the fish and chip it.
The utensils:
A good knife,
A cutting board
And a large oven dish.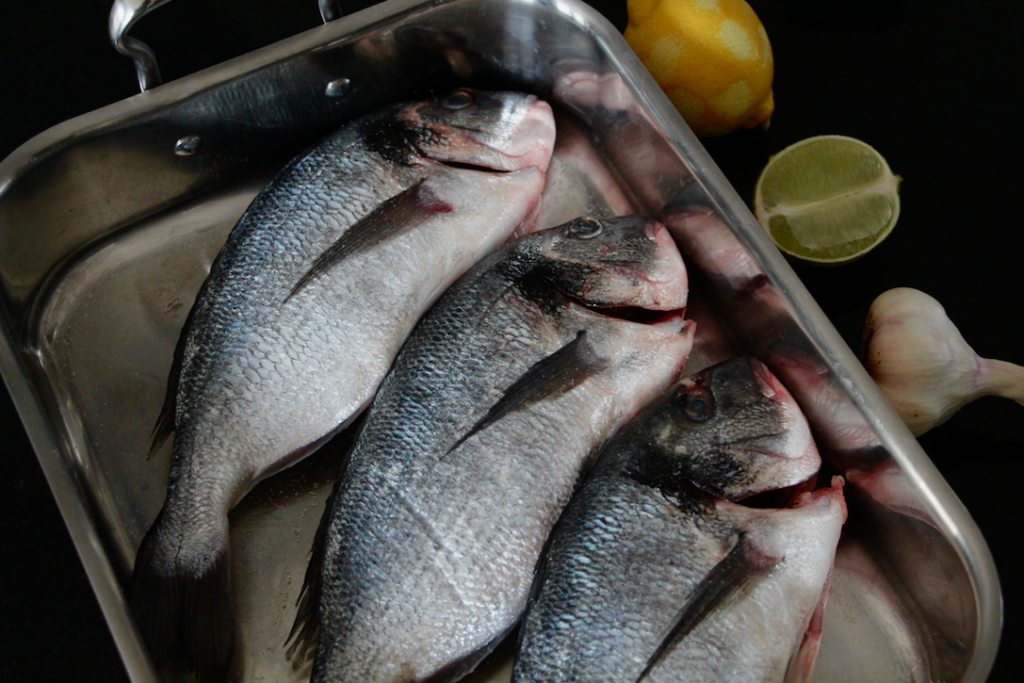 That's it. Shall we now?
The recipe, Chef!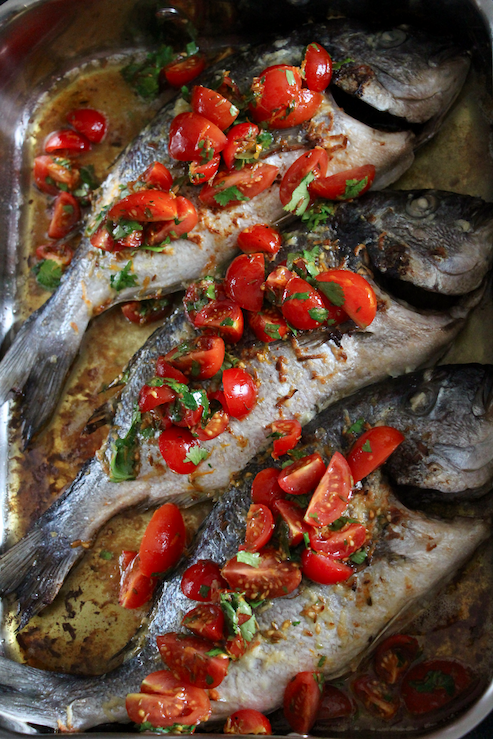 Print Recipe
Sea Bream, Yotam Ottolenghi style
Ingredients
3 sea breams

300 g cherry tomatoes

1 orange

1 lime

1 lemon

4 teaspoons maple syrup (or honey)

3 teaspoons fennel seeds or cumin seeds

3 tablespoons olive oil

100 g butter

2-3 cloves of garlic

A handful fresh coriander

Salt

Pepper
Instructions
1
Preheat your oven at 230 degrees.
2
Stir fry your seeds of fennel or cumin in a frying pan for 3 minutes (without fat). Set aside.
3
Dry the sea breams with absorbing paper and place them in your oven dish.
4
Melt gently the butter and add the grated garlic. Cook at medium heat for 5 minutes. Mix from time to time.
5
Spread the butter on the fishes, add salt and cook for 22 to 25 minutes depending on the size of your fishes (with trouts cooking time will be 18 to 20 minutes).
6
Meanwhile, cut the cherry tomatoes in 4 and put them in a bowl.
7
Add the orange, lime and lemon zests.
8
Add the maple syrup, olive oil, 3 tablespoons of orange juice, 2 or 3 tablespoons of lime juice (use lemon juice if you prefer).
9
Season with fennel or cumin seeds, salt and pepper.
10
After 12 minutes of cooking, spread butter sauce on the sea breams.
11
Just before the end of cooking, rinse, dry and chop the coriander. Add to the tomatoes.
12
When you serve, pour the tomatoes mixture on the sea breams.
Notes
Serve with white rice or steamed potatoes.