Hello my dear food lovers!
Today's recipe is definitely for chocolate lovers, but mainly for peanut butter lovers… Here is my chocolate and peanut butter brownie!!
I was happy to discover quite recently the Dakatine peanut butter, a peanut butter made in France. Yay!! It even means more to me since this peanut butter is made in Alsace, by the "Grands Moulins de Strasbourg", since 1952!
Combined with my Gruau D'Or flour, it is the best of Alsace in one single recipe!!
People usually think that peanut butter has more fat than butter itself or oil, it isn't true actually. So why not use it more in our daily baking?
I had in mind my chocolate brownie recipe, I adjusted it in order to make a super delicious one, the chocolate and peanut butter brownie.
The utensils:
My hand mixer by Moulinex, my kMix by Kenwood or my professional whisk by De Buyer
My Zenker enamel roasting dish by Fackelmann France
This recipe works well in a 25×31 cm mold (it works too with a smaller mold, in such case bake it a little longer).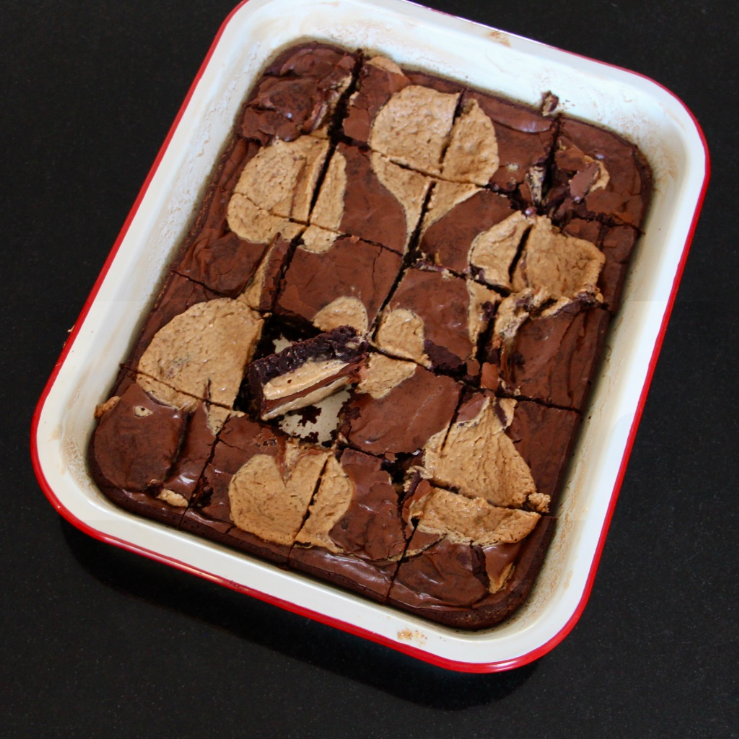 Ready to make a brownie?
The recipe, Chef!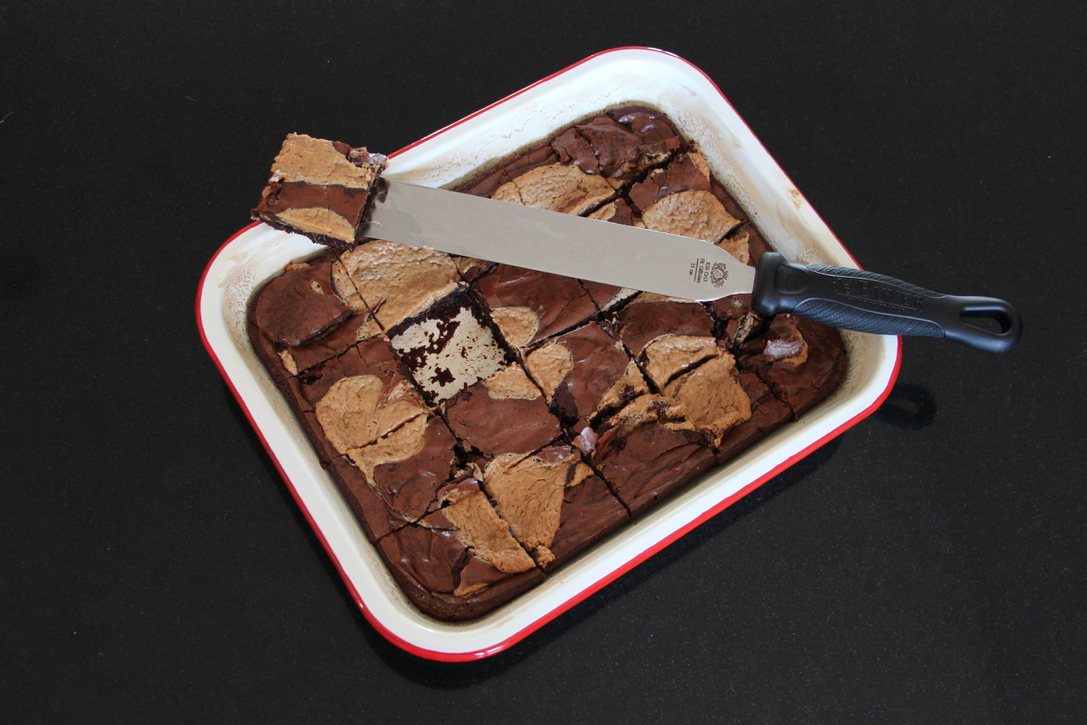 Print Recipe
Chocolate and Peanut Butter Brownie
Ingredients
1 egg
1 egg white
100 g butter
160 g dark chocolate
30 g cocoa powder
100 g flour
2 g baking powder (or 1/2 teaspoon)
1 or 2 pinches of flower salt (according to your taste)
150 g sugar
120 g peanut butter
40 g butter at room temperature
50 g icing sugar
1 pinch salt
Butter for the mold
Instructions
1
Preheat your oven at 180 degrees.
2
Melt gently the chocolate and butter in a sauce pan.
3
During that time, whisk the egg, egg white, sugar until you get a light yellow mixture.
4
Add the chocolate/butter. Mix.
5
Add the sifted flour, cocoa and baking powder. Add the flower salt. Whisk gently until you get an homogeneous mixture.
6
Pour half of the batter in your buttered mold.
7
Mix the soft butter, the peanut butter, the icing sugar and pinch of salt.
8
Spread tablespoons on the chocolate batter. Cover with the remaining half of batter, then spread tablespoons of peanut butter mixture again.
9
Make swirls with a knife.
11
Unmold after 10 to 15 minutes of cooling.