Hello, hello!
We will soon be able to enjoy vegetables that remind us about sunshine and summer. True, but I had a cauliflower in my fridge, requiring an urgent care.
Frederic Anton came to the rescue…
Here is the creamy cauliflower soup by Frederic Anton.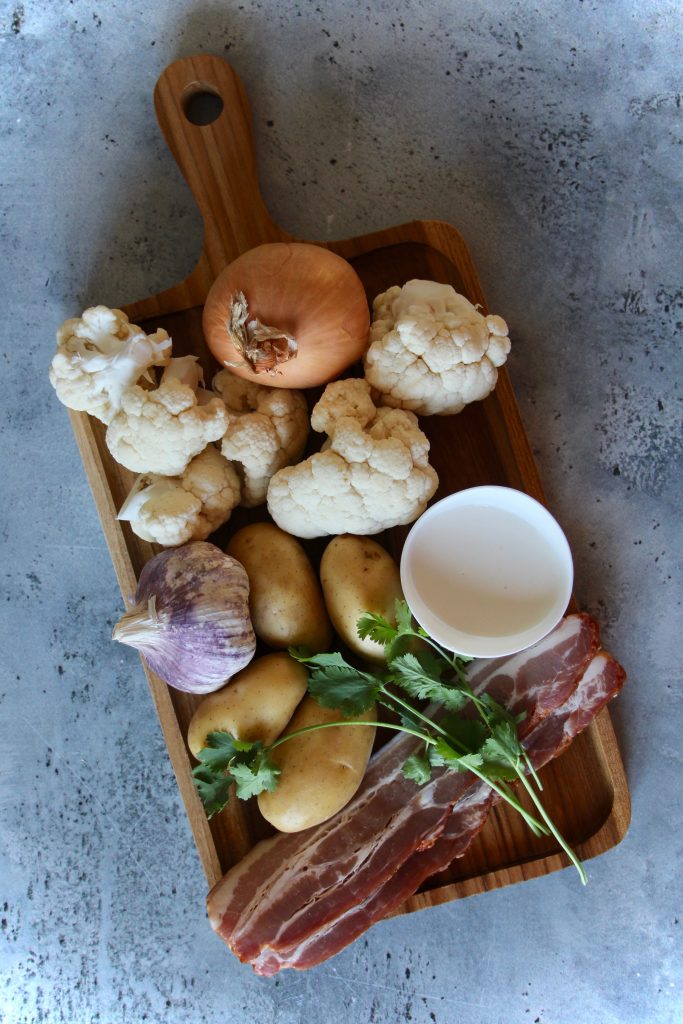 If you're looking for advantages of this super weird time of confinement, you will have already noticed that quite a few famous Chefs share many of their easy yet yummy recipes on social networks. And that's quite pleasing!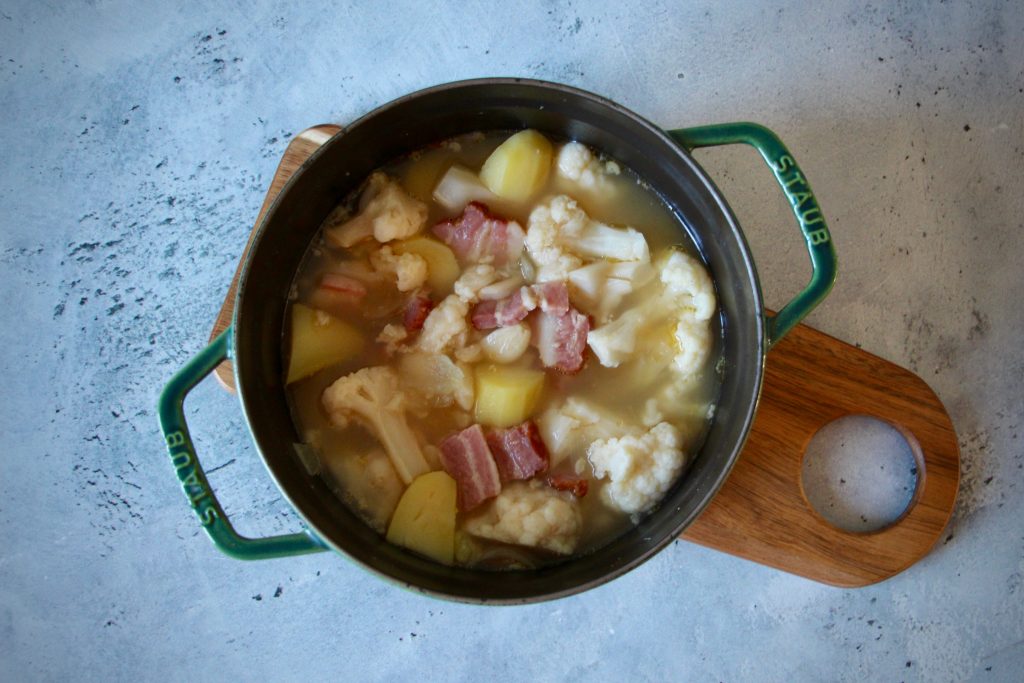 Frederic Anton, Meilleur ouvrier de France, three stars at the Guide Michelin since 2007 at his restaurant, in the 16th arrondissement of Paris, the Pré Catelan and one star since 2020 at his restaurant Le Jules Verne, is fully playing the game.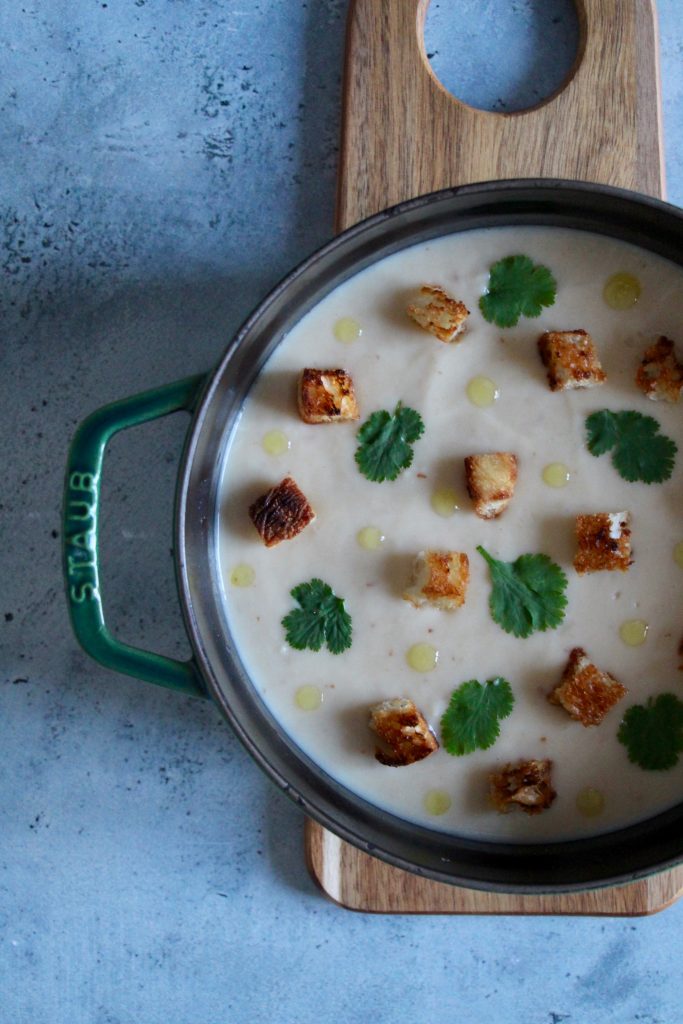 He shares some of his recipes on his Instagram account with pics. You don't have the recipe itself, but enough to make it work.
I analyzed his (amazing!) photos and tried to evaluate the ingredient quantities, and also the way to cook them in order to make this creamy cauliflower soup by Frederic Anton, Casserole & Chocolat style!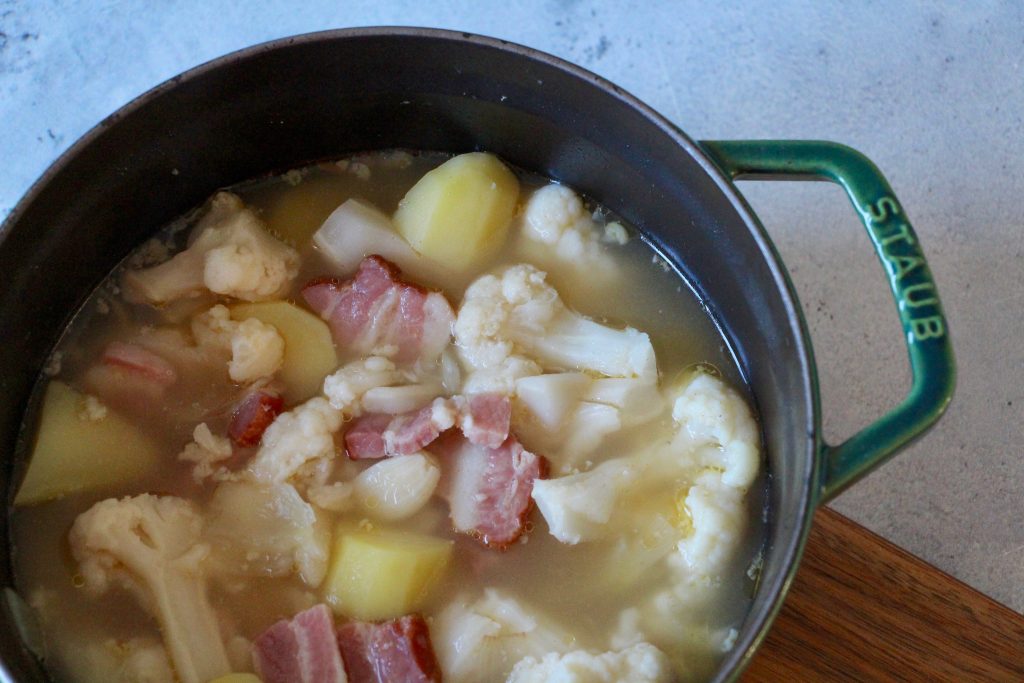 I have probably made a more traditional recipe than he did. His soup is so precise and elegant… But as far as taste is concerned, I think it's pretty good… really good actually!!
The step by step is quite simple you will see… This recipe will be among my basics for sure.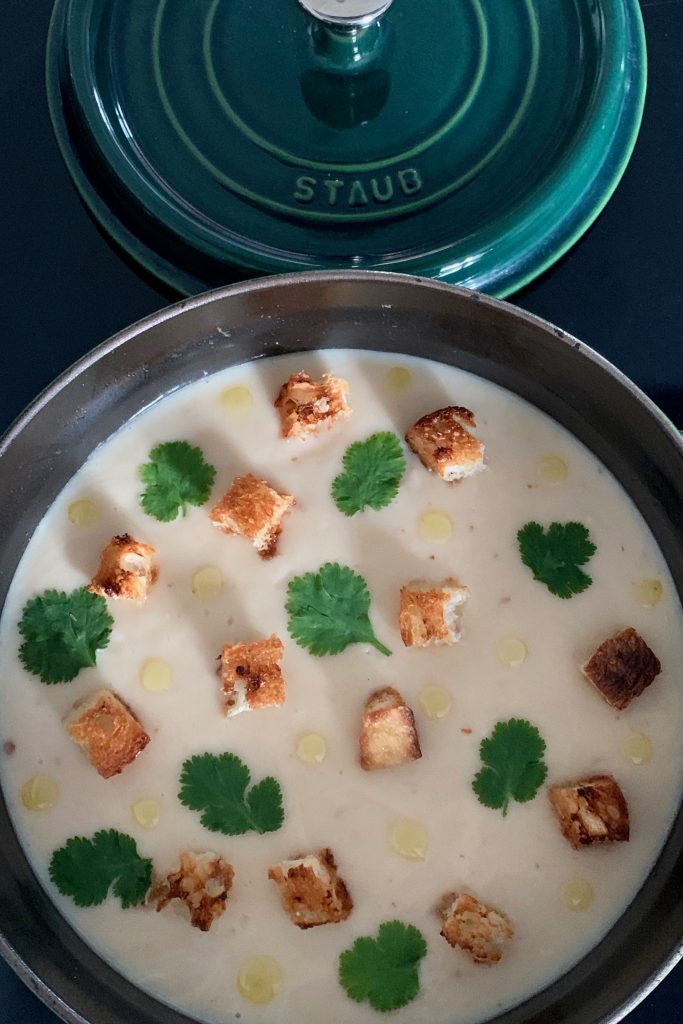 The utensils:
A 24 cm diameter cast iron cocotte (here my Staub),
A cutting board,
A sharp knife,
A small frying pan if you make your homemade croutons with some baguette as I did
And a mixer or a blender.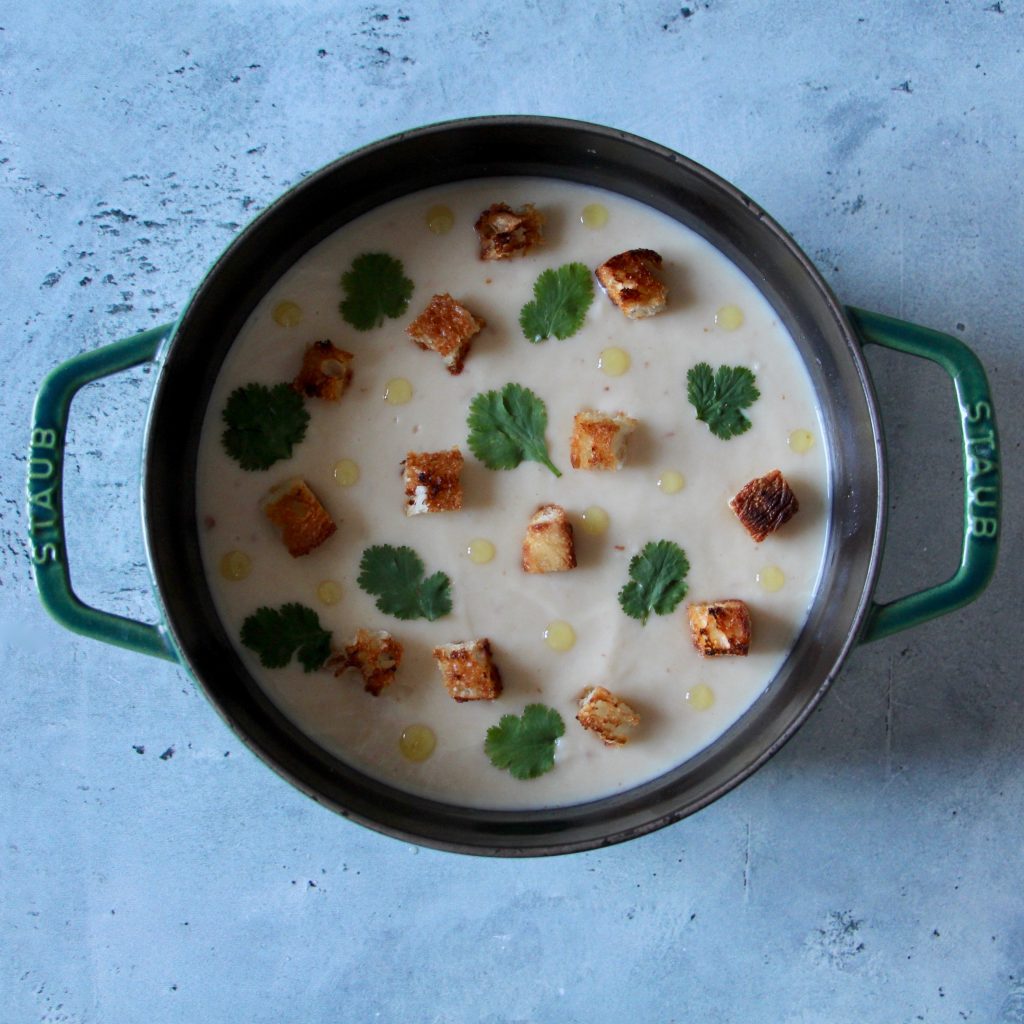 (Presentation: my Staub cocotte, color "basil")
And now, let's enjoy!
Shall we?
The recipe, Chef!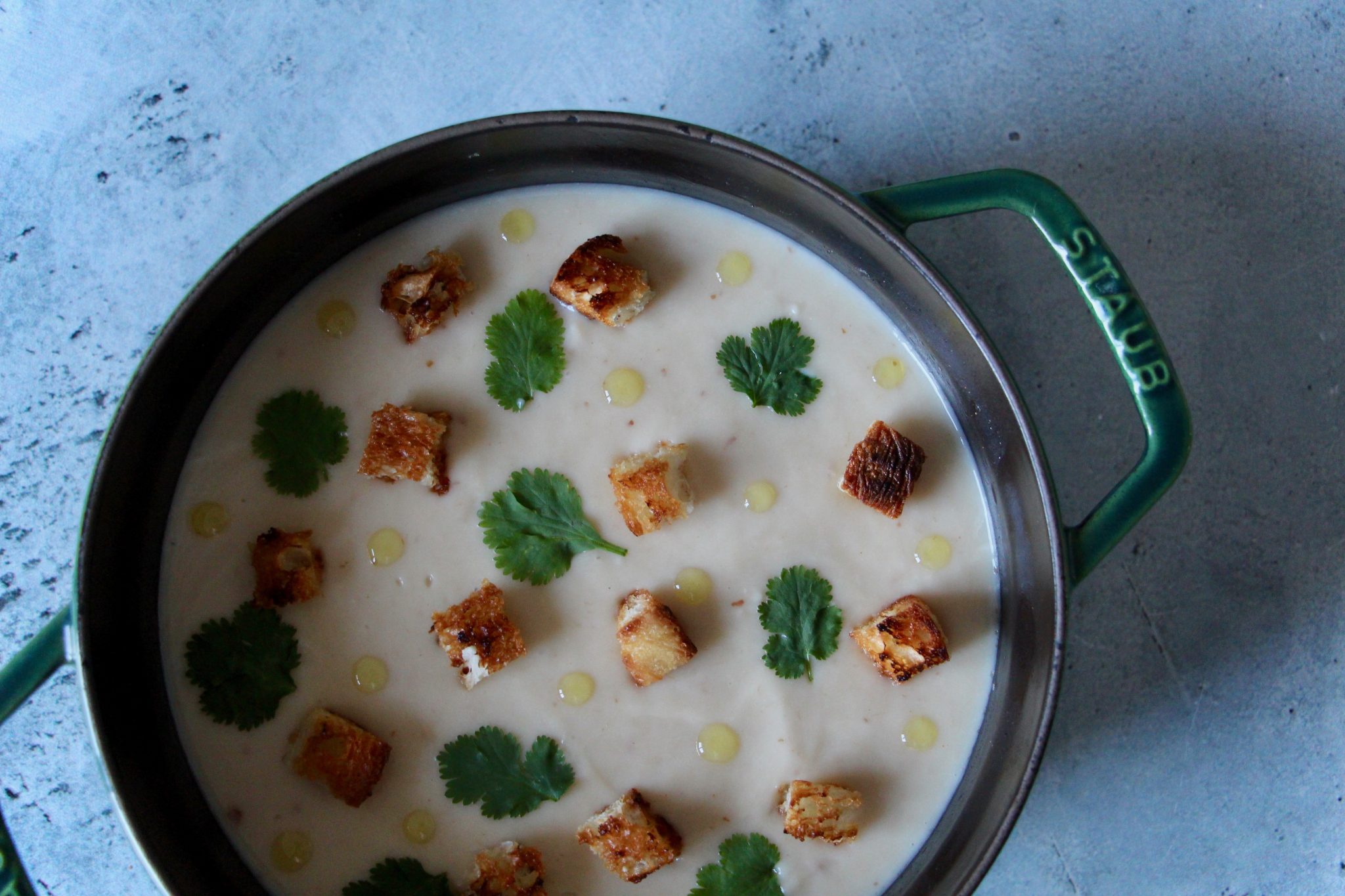 Print Recipe
Creamy Cauliflower Soup (by Frederic Anton)
Ingredients
600 g cauliflower

4 small potatoes

1/2 onion

130 g pork belly

2 garlic cloves

15 g butter

50 g cream

Bread croutons

Coriander leaves

Ground ginger

Paprika

Salt

Pepper
Instructions
1
Melt the butter in your cocotte at medium heat. Add the onion roughly chopped.
2
Cut the pork belly in pieces and add them to the cocotte.
3
Add the garlic cloves peeled and cut in two, then the potatoes also peeled and cut.
5
Add the cauliflower washed and cut in 3 inches pieces. Cover with water.
6
Add salt, ground ginger and paprika. Cook at low heat with lid for 40 minutes.
7
Once the vegetables cooked, mix with your blender, add cream, adjust seasoning with salt and pepper, serve with chopped coriander and bread croutons.