Hello my lovelies!
Today I will share a very yummy recipe that you will enjoy any time of the day.
Here is my strudel blueberry cake.
So first the strudel. For those who don't know it, strudel is a kind of crumble. I made it with flour here but you can mix hazelnut powder or almond powder with flour if you like it, just keep in mind to have a total weight of 45 g as the recipe mentions it.
To be completely honest (always! always! 😉 ), I have to admit that the recipe is already on the blog… What???? True… It's the same recipe as my blueberry muffins like at Starbucks that I switched into my strudel blueberry cake. When you don't have muffins cups or just for a longer preservation, this way is much better.
You will be stunned because this cake is really super moist and can be stored for 3-4 days with the same flavors.
If you don't have blueberries, that's okay. You can adjust the recipe with other fruits or simply with chocolate chuncks. They will do the trick for sure!!
The specific part of the process of the recipe stands in the way that you will add the powders (flour, salt, baking soda) and the milk. You will proceed alternately (first powders, you mix, then milk, you mix and so on) to avoid making lumps. It's actually a technique that you should keep in mind, especially if you mix by hand.
One more specific point regarding the ingredients, you will need 14 g of baking soda with is more than for usual recipes.
The utensils:
A large bowl,
A good whisk (if you mix by hand) or a food processor
And a cake mold.
Nothing more.
Let's make cake now!!
The recipe, Chef!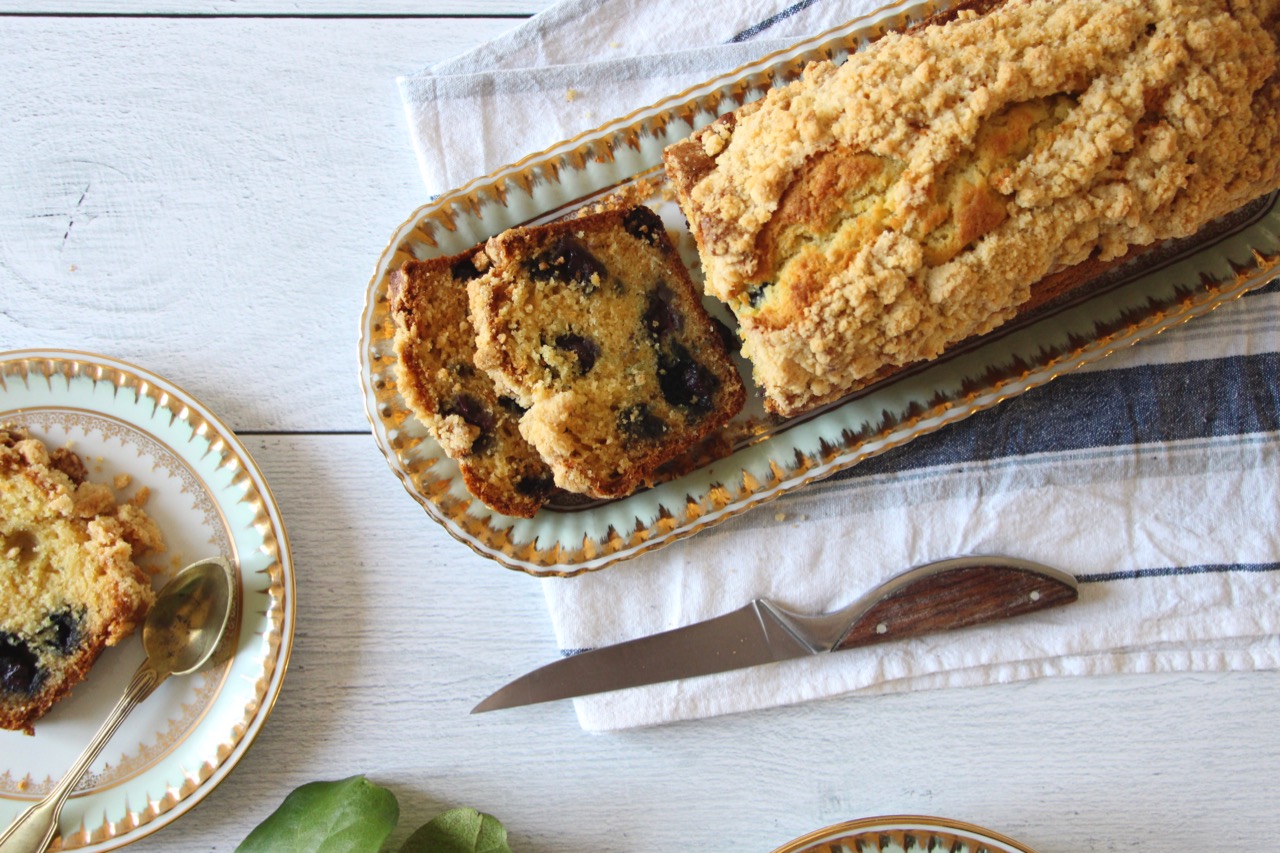 Print Recipe
Ingredients
45 g flour
15 g sugar
15 g brown sugar
30 g cold butter
100 g butter at room temperature
180 g sugar
1 pinch of vanilla powder
2 eggs
350 g flour
2 g salt or 1/2 teaspoon
14 g baking powder
250 g milk
180 g blueberries
Instructions
1
Mix the 45 g of flour with 15 g of sugar and brwon sugar.
2
Add the cold butter and mix with your fingers.
3
When you get the crumble texture, set aside in your fridge.
4
Preheat your oven at 180 degrees.
5
Whisk the butter at room temperature, the sugar and vanilla powder.
6
Add one egg. When you get an homogeneous mixture, add the second egg.
7
In a seperate bowl, mix the flour, salt and baking powder.
8
Add 1/4 of the flour/salt/bakingpowder to your mixture. Mix.
9
Add 1/3 of the milk and whisk.
10
Start again with 1/4 of the powders, 1/3 milk, 1/4 of the powders, 1/3 milk and finally the rest of the powders. At each step, make sure to have an homogeneous mixture.
11
Add the blueberries and mix with a spatula.
12
Pour into your mold (buttered).
15
Wait 15 minutes before unmolding and let cool down on a grid.