Hello food lovers!
Today we will continue with the celebration meals! We have to get ready for Christmas!! Let's have scallops with creamy girolles … Yum!!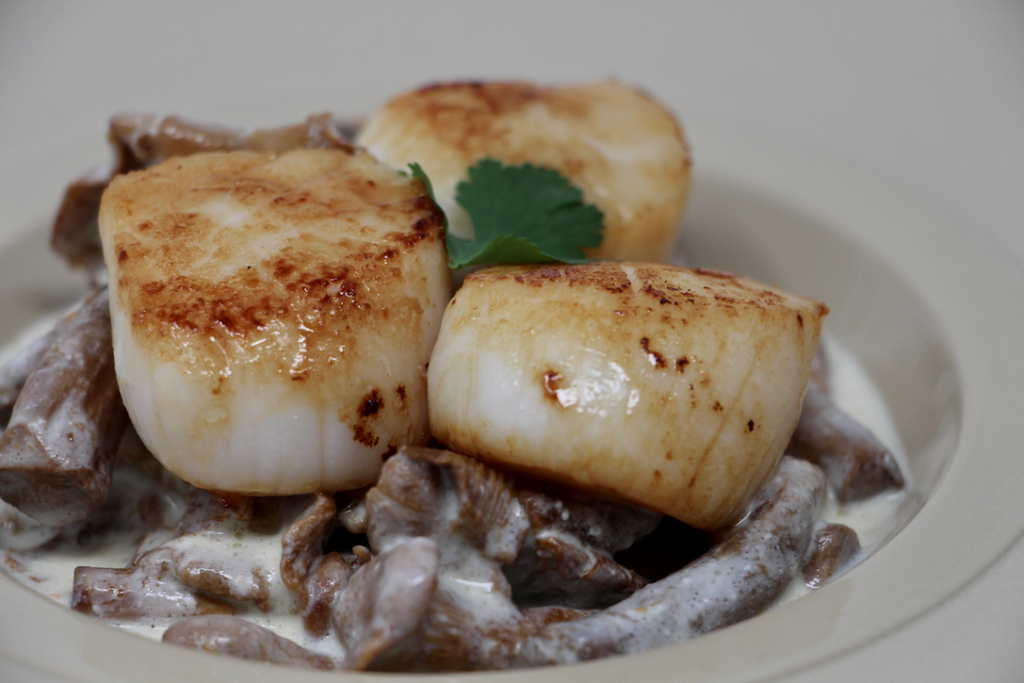 Choosing scallops is quite obvious for celebration meals. I chose to cook them with girolles as a starter. The combination is just amazing!!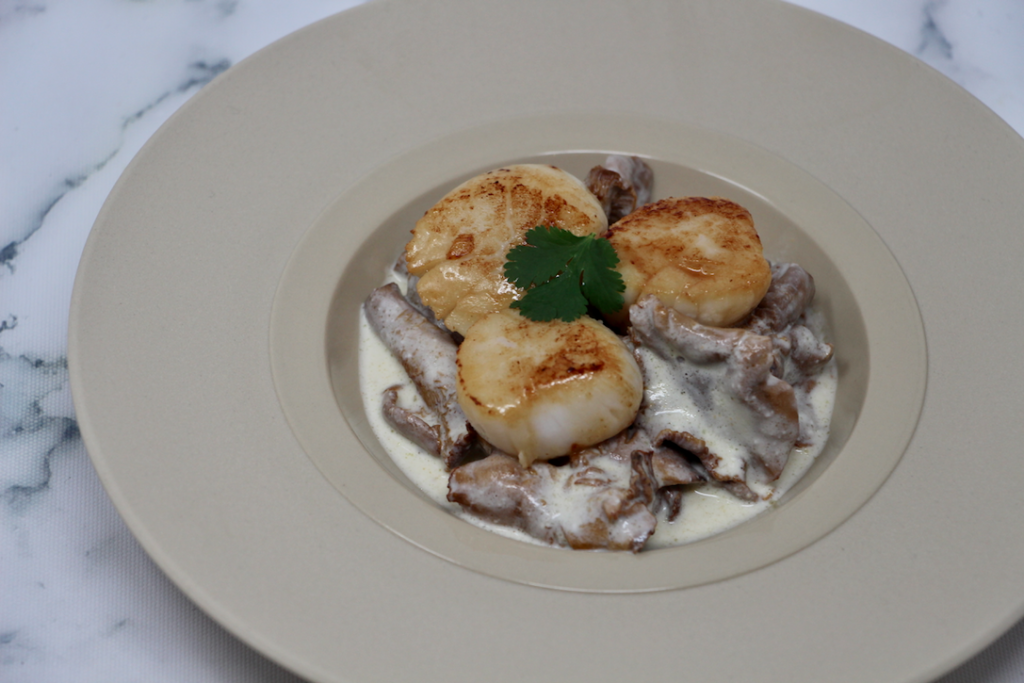 But you can also have it as your main dish. In such case, add 2 or 3 scallops per person and serve rice on the side. It will be great!!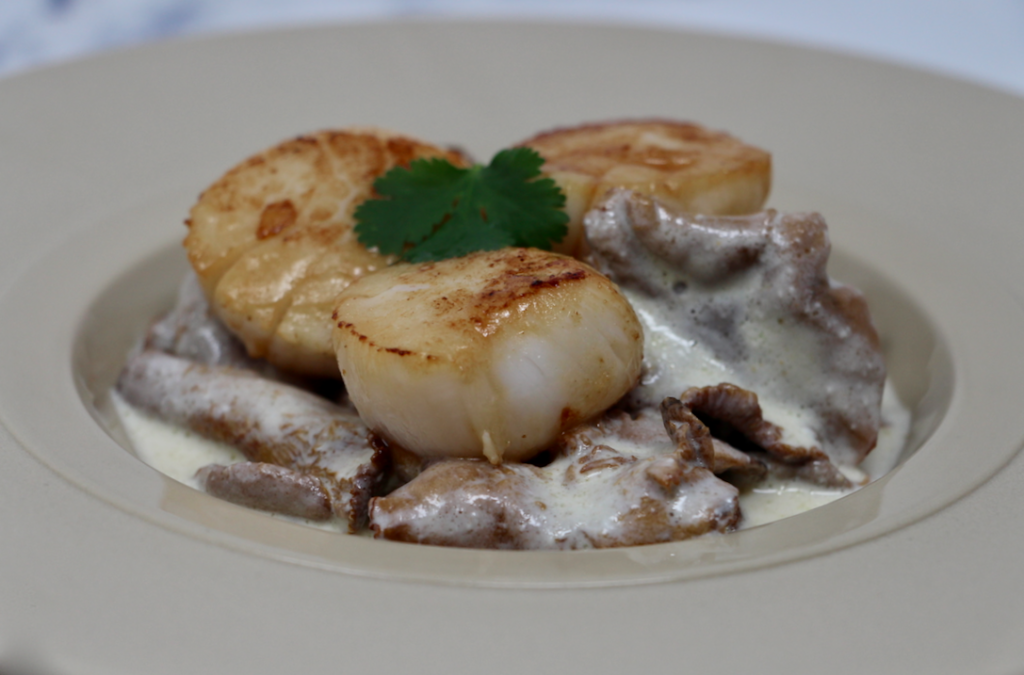 The recipe isn't that complicated, you just need to have the right cooking method for your scallops, they deserve it. And the rest of the recipe will follow, just take your time and do it step by step!!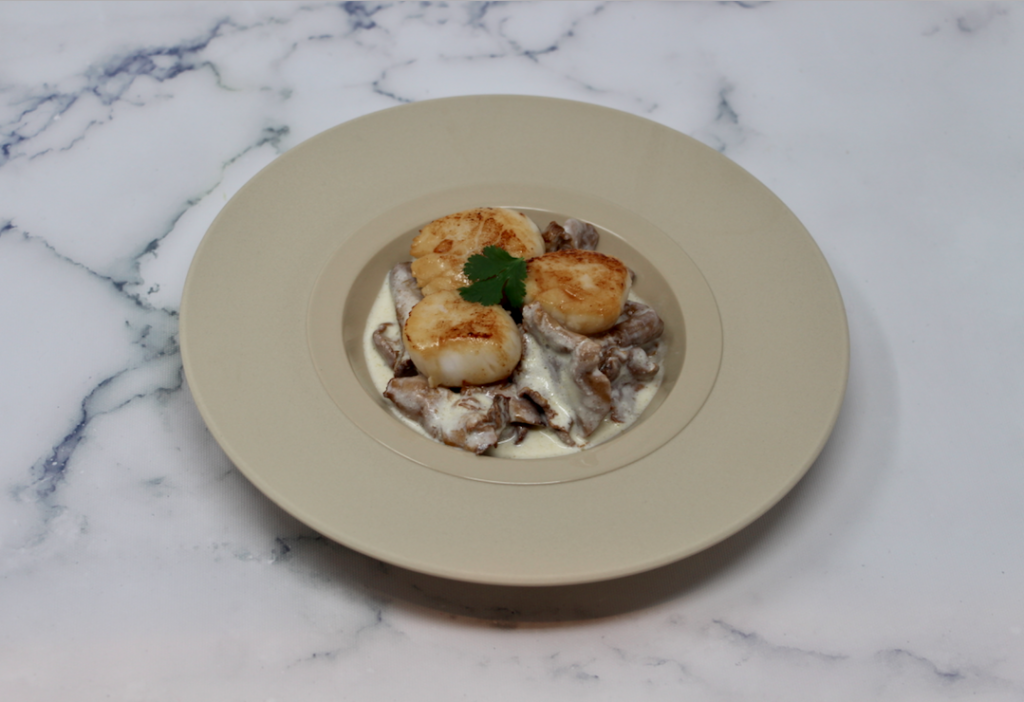 (Presentation : beige Gourmet Bahia plate by Degrenne Paris)
As far as organization is concerned, which can be a key point during Christmas season, you can prepare everything in advance. You will just stir fry the scallops a few minutes before serving.
The utensils:
My Staub cast iron pan (diameter 22 cm) for the sauce
My Affinity frying pan by De Buyer
A good knife to clean the scallops.
Shall we make scallops with girolles?
The recipe, Chef!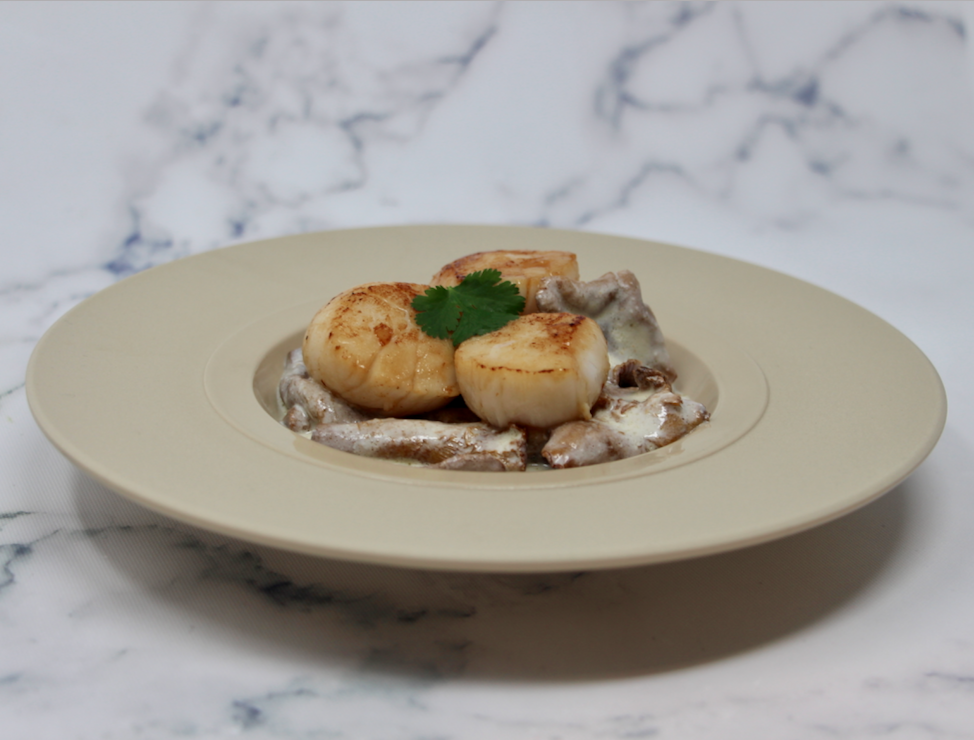 Print Recipe
Scallops with creamy Girolles
Ingredients
18 scallops with coral crescent part

400 g girolles

2 shallots

50 g butter

20 cl cream

A large glass of white wine

Salt

Pepper

Thyme

Laurel
Instructions
1
Clean your scallops, remove the coral crescents parts. Set the scallops aside in your fridge.
2
Melt 10 g of butter in a sauce pan, add the peeled and minced shallots, then the coral parts.
3
Add the wine, thyme, laurel, salt (no pepper at this point) and cook with little bubbles for 15 minutes with cover.
4
Add the cream and cook some more with cover for 10 minutes.
5
Clean the girolles and stir fry them without fat for 5 minutes.
6
If there is juice, add it to the creamy sauce.
7
Add 20 g of butter to the girolles, add salt and pepper, stir fry for 5 minutes.
8
Sift the sauce and keep it warm.
9
Stir fry the scallops in a frying pan with the remaining butter (20 g), add the juice to the sauce.
10
Adjust seasoning of the sauce (salt, pepper).
11
Place the girolles in the plates, add the scallops and a bit of sauce. Serve!