Do you want a meat less recipe, healthy and made with plenty of veggies? Do you want a warming recipe?
Do you want a recipe that will make you travel? You do?
Here is my veggie curry!!
This recipe will be perfect at any time of the year, you will just have to change the vegetables according to the season. You have probably guessed that I made this recipe a while ago, hence the chosen vegetables…
For now, do not hesitate to add butternut for instance, it will be delicious! If you have frozen vegetables during summer, you will be able to use them in this veggie curry.
I recommend to add coconut milk but you replace it with more vegetable broth or more poultry broth . It's up to you. You get it, it can be a vegetarian dish, gluten free and dairy free. This is perfect for a diet with style…
For a richer dish and smoother too, you can add fresh cream or cream cheese such as Philadelphia for example.
I usually make this meal as a main but this veggie curry can be served with rice, pasta, grilled fish or meat.
My only advice for a tasty veggie curry is the way you will cook your vegetables: start with the one requiring the longest cooking time, then add the others and let cook slowly at low temperature. This way, your vegetables will be cooked perfectly.
Lots of possibilities here!
The utensils:
A large frying pan,
A cutting board
And a sharp knife.
There you go! Feel like cooking a curry?
The recipe, Chef!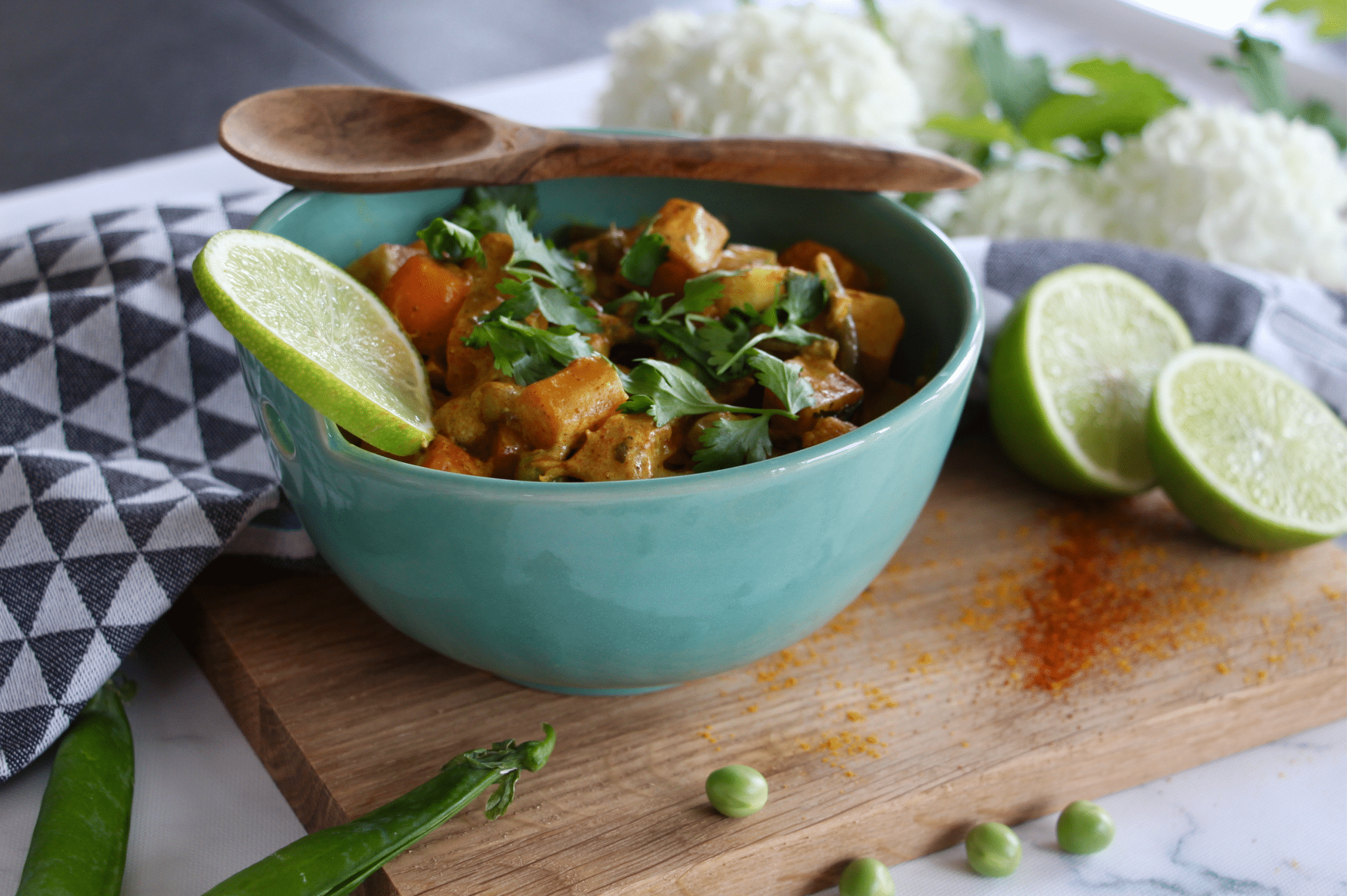 Print Recipe
Ingredients
4 carrots
2 potatoes
1 mini cauliflower
50 g green beans
100 g green peas
1 onion
Coriander leaves
2-3 tablespoons vegetal oil
1/2 stock cube (poultry or veggie)
1 teaspoon curry
1 teaspoon curcuma
1/2 teaspoon ground ginger
1/2 teaspoon ground coriander
20 cl coconut milk
Instructions
2
Heat the oil in your frying pan and add the finely choped onion.
3
Add the vegetables that require more cooking (carrots, cauliflower, green beans).
4
Let cook at medium heat with lid for 5-10 minutes.
5
Add the rest of the vegetables.
6
Pour a glass of water and the stock cube
7
Let cook at medium heat with lid for 5 minutes.
8
Add the coconut milk and spices, salt, pepper.
9
Stew 30 minutes with lid at low heat.
10
Add chopped coriander and cream before serving.
Notes
You can add lime juice when serving.