Hello my friends!!
Today I will give you a very easy recipe, delicious and healthy too: my red lentil dahl!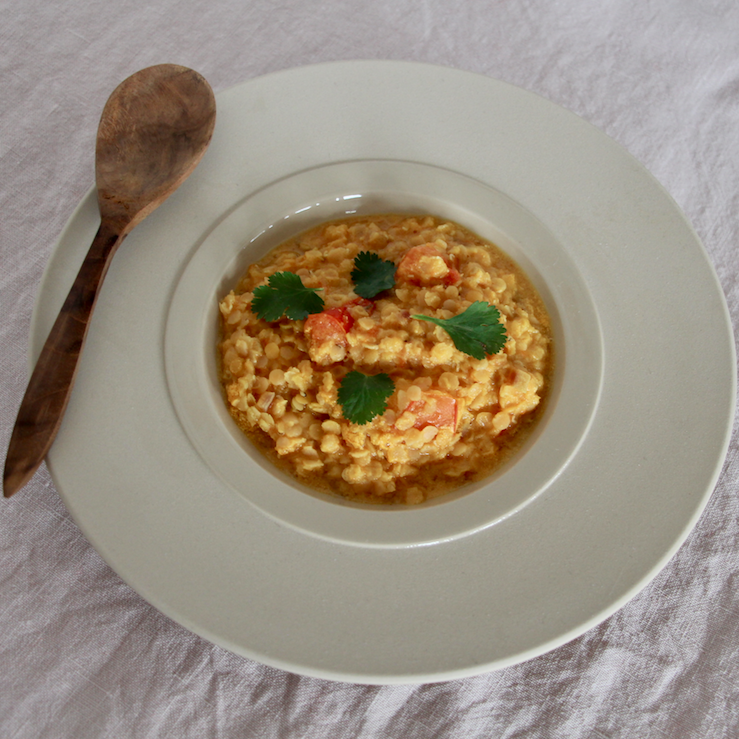 Looking for something different? Looking for an enjoyable dish with no guilt? This recipe is definitely the one you're looking for!
But first a "let's learn something" time with our friend Wikipedia … 😉
Dal (also spelled daal, dail, dhal, dahl) is a term used in the Indian subcontinent for dried, split pulses (legumes) (that is, lentils, peas, and beans). The term is also used for various soups prepared from these pulses. These pulses are among the most important staple foods in South Asian countries, and form an important part of the cuisines of the Indian subcontinent.
The word dal derives from the Sanskrit verbal root dal- "to split".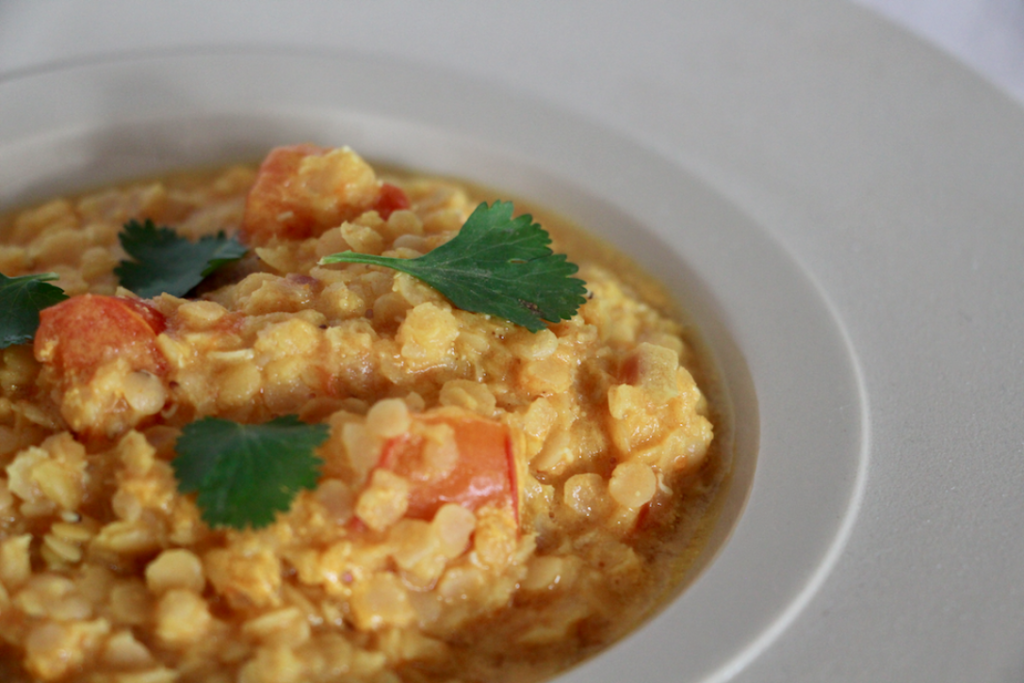 You can eat this red lentil dahl as a side dish of a grilled meat or fish for instance, with rice for a vegan meal, or with naan bread… A delight…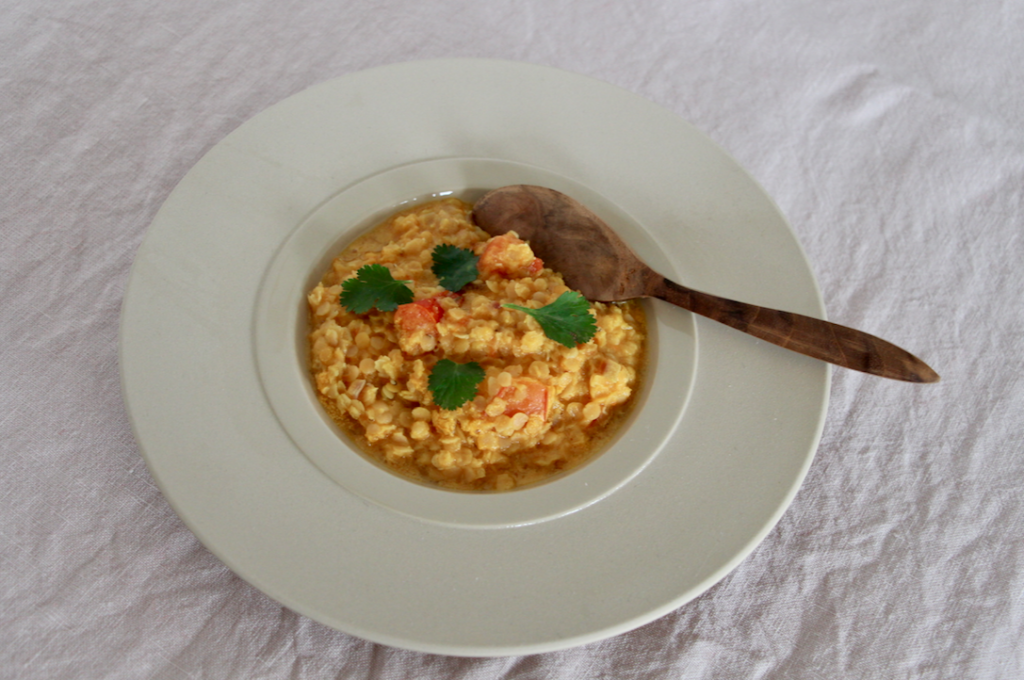 And cherries on the cake: it's a cheap meal, easy to cook, and super quick!! What more could you possibly want?
Okay, no more useless talking…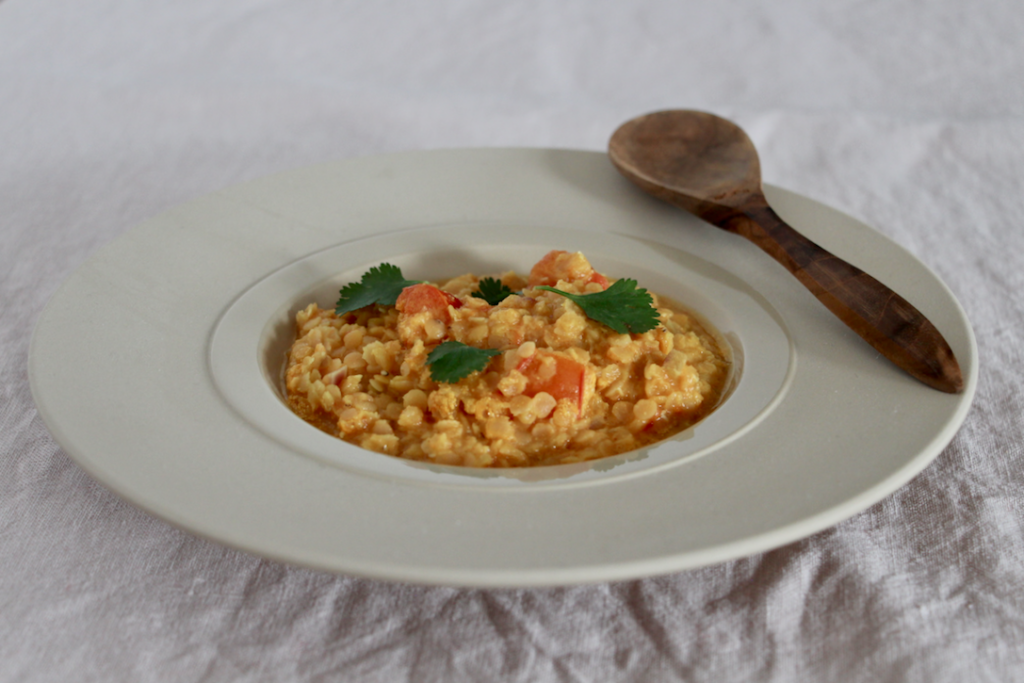 (Presentation: Gourmet Bahia plate by Degrenne)
So grab your casserole or your frying pan!
The recipe, Chef!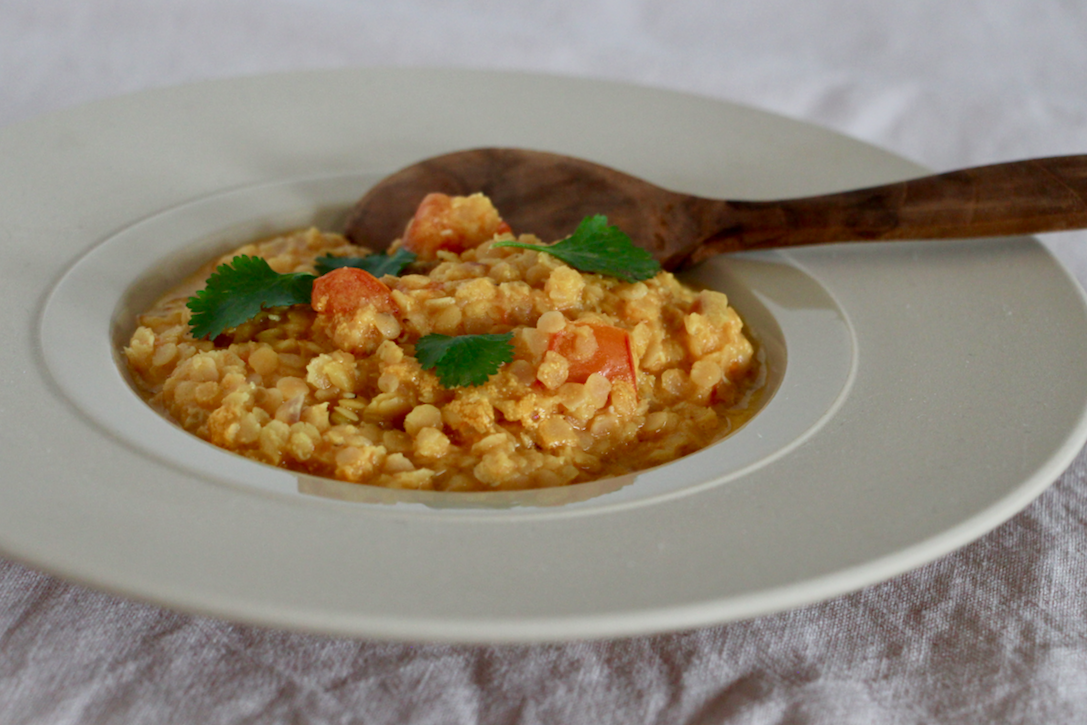 Print Recipe
Ingredients
250 g red lentils

20 cl coconut milk

1 onion (red if you have)

2 tablespoons vegetal oil

1 tablespoon curry powder

1/2 tablespoon curcuma powder

1/2 tablespoon ground ginger

1 tablespoon tomato concentrate

5-6 cherry tomatoes

1 clove of garlic

1 piece of fresh ginger (2-3 cm)

1 handful fresh coriander

Salt

Pepper
Instructions
1
Cook the red lentils in a large salted volume of water according to the instructions on the pack.
2
Peel and mince the onion. Grate the garlic and piece of fresh ginger.
3
Stir fry the onion, the garlic, the ginger in a frying pan with the oil. Add the curry, curcuma and ground ginger and cook at medium heat for 2-3 minutes.
4
Add the tomato concentrate and coconut milk, cook at medium heat 5 minutes.
5
Add salt and pepper, then the cherry tomatoes cut in halves.
6
Pour the drained red lentils and mix gently.
8
Chop the fresh coriander on top and serve.