Hello my lovelies!
Who doesn't like Italian food here? What about the famous focaccia? So yummy, right?
My latest addition to the blog is my cherry tomato focaccia. A must try…
Let's see the recipe, Chef!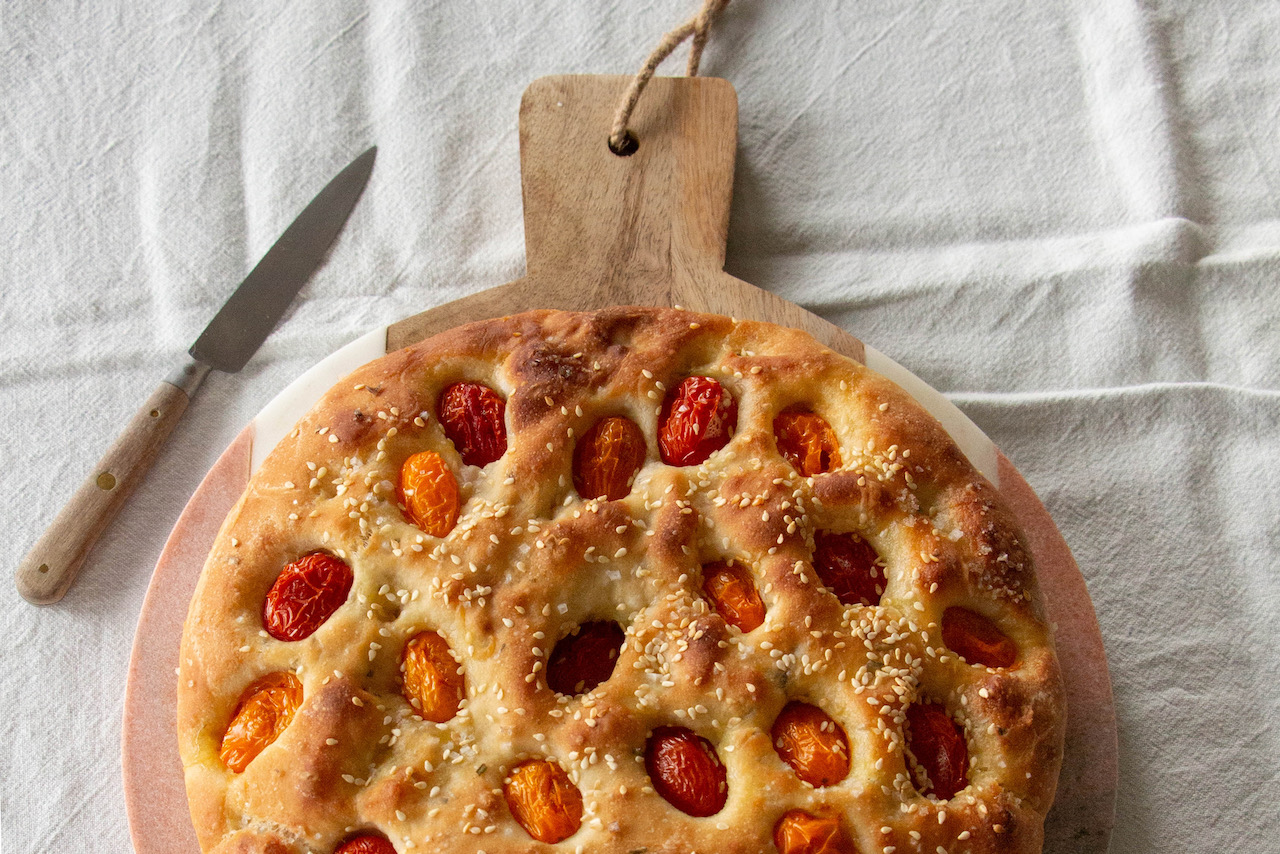 Print Recipe
Ingredients
450 g allpurpose flour

5 g dehydrated yeast or 10 g fresh yeast

330 g cold water

5 g salt

5 g sugar

Rosemary

2 slices smoked pork belly

20 cherry tomatoes

1 tablespoon sesame

Flower salt

3-4 tablespoons olive oil
Instructions
1
Combine water and yeast in your food processor bowl.
2
Add the flour and knead at speed 2 (on a scale from 1 to 6) until homogeneous.
3
Add the salt, chopped rosemary and sugar, knead 5 minutes at speed 3.
4
Finally, knead 5 more minutes at speed 4/5. At this point, you will have a sticky dough, it's normal.
5
Spread a tablespoon of olive oil in a large bowl and pour the dough in it. Cover with a humid linen.
6
Let rise 30 minutes in a warm place (and humid if possible).
7
After 30 minutes, "spread" the pork belly cut in sticks on the dough and fold the dough like an envelope (4 edges at the center).
8
Turn the dough upside down and let rise 30 minutes.
9
Pour the dough in a tart mold covered with parchment paper. Pour the remaining olive oil and spread the dough with your fingers. Place the cherry tomatoes.
11
Before the end of rising, preheat your oven at 230 C / 445 F degrees. Place a baking tray at the bottom of the oven.
12
Spread flower salt and sesame seeds. "Throw" 5 cl of water on the baking tray and cook the focaccia for 15 minutes.