Hello my lovelies!
So, what's going to be on the table tonight??? Tha't the endless question you have to ask yourself when opening your fridge everyday, looking desperatley for inspiration… Does this ring any bell to you? 😉
Well today, I will suggest a super simple dish, super good, easy to cook and perfect for winter dinners: the potato pancakes.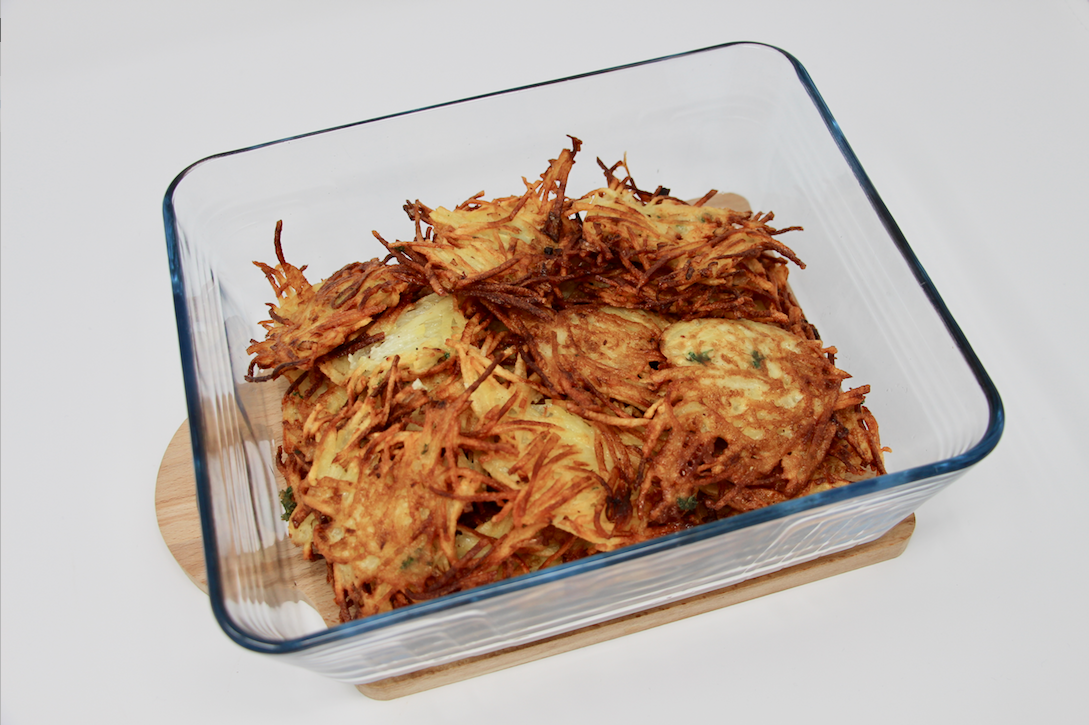 This dish is a winner, and you know why? Well, I would say that first it's because it is an Alsatian recipe (yes, one more!!) and second because it's made with potato!!! 😉
I can not resist the fun to tell you those potato pancakes name in Alsatian: the grumbeere kiechele !!! Come on!! A little pronunciation exercise!! "Grumbeere" means potato and "Kiechele" means little cake.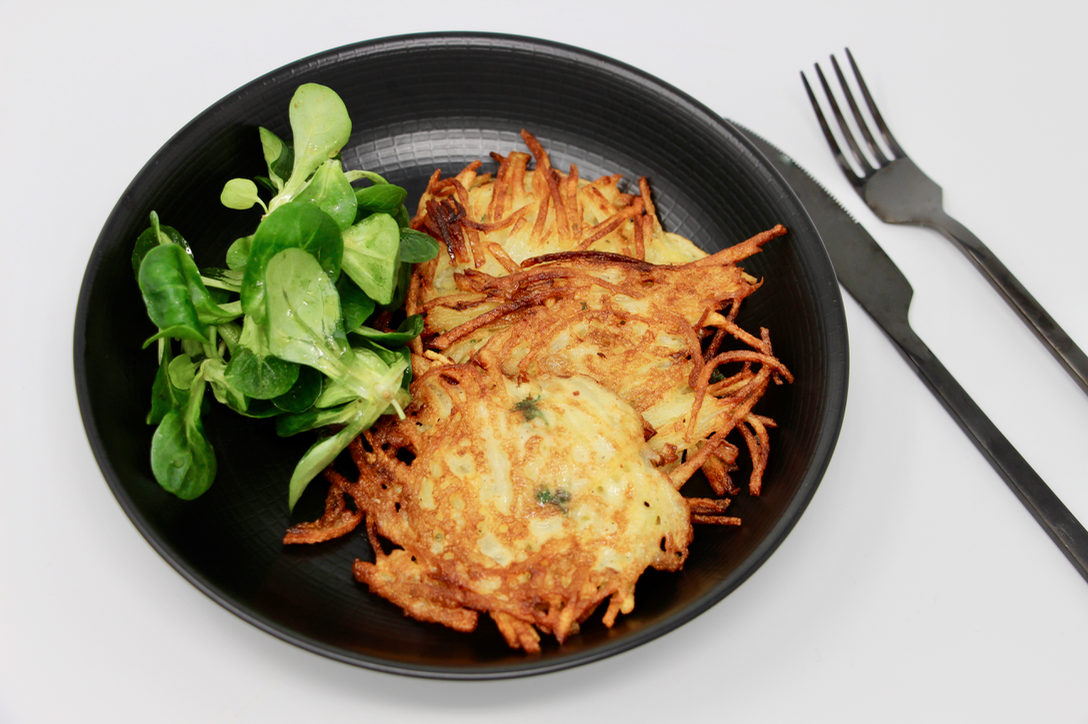 As I mentionned earlier, this dish is very easy to cook, you just need to have enough time ahead of you to fry your potato pancakes. I use two frying pans in the same time in order to be more efficient and to calm down the little monsters around me!!
It is also a very cheap meal, a little fat that's true but so good with an endive salad! In Alsace, in the winstubs (typical restaurants from my region), they may be served with cream cheese dip sauce.
You will find variations of this dish in Switzerland, Germany or Poland: rösti, plenze, kartoffelpuffer …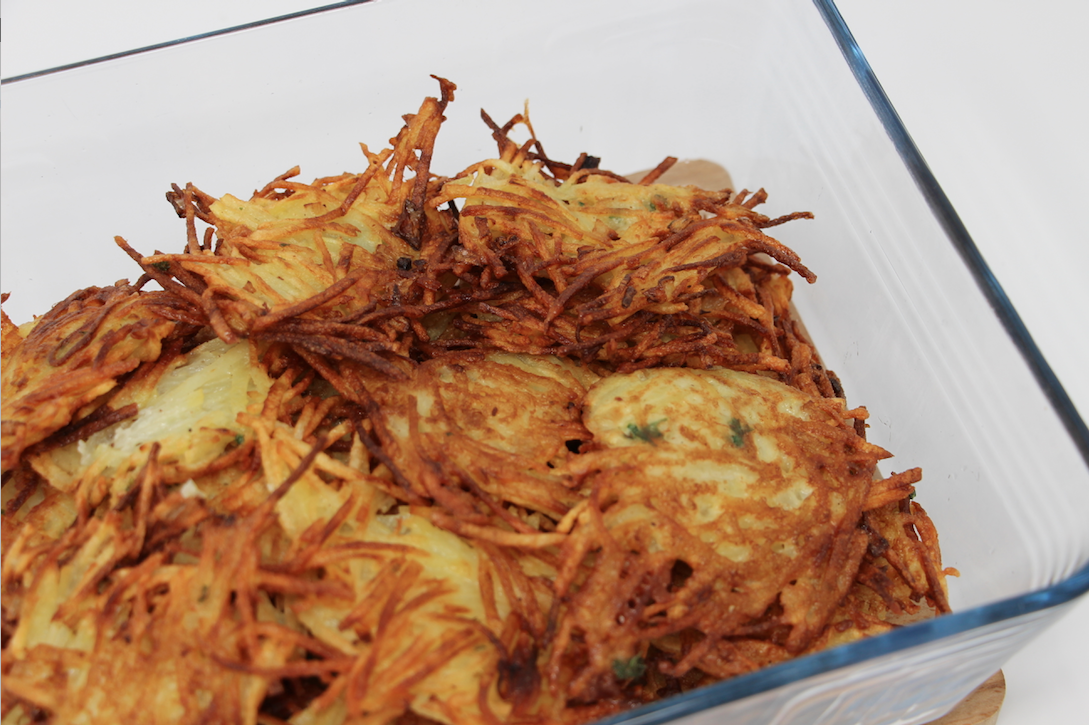 The little extra something I add: nutmeg powder from the brand Albert Ménès to bring a delicious spice taste!
Are you mouthwatering nowv??
The recipe, Chef!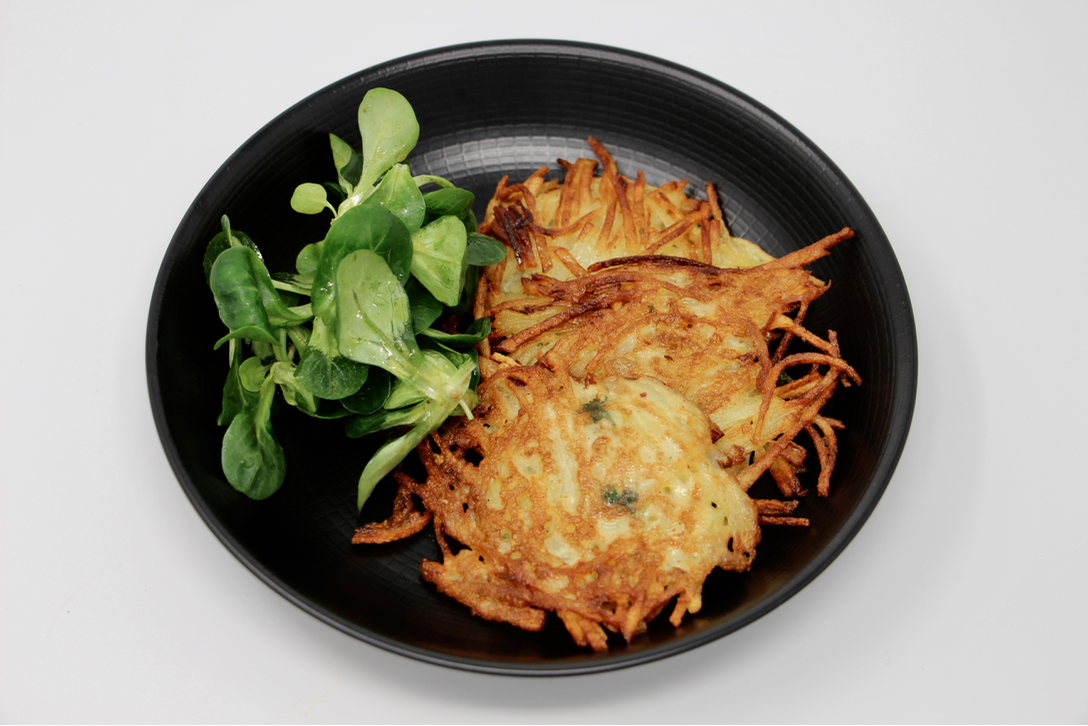 Print Recipe
Ingredients
1 kg potatoes

1 onion (big if possible)

2 big eggs

2 1/2 tablespoons of flour

Salt

Pepper

Minced parsley

Nutmeg powder

Vegetal oil for frying
Instructions
1
Peel and grate the potatoes and onion (thin like grated cheese).
2
In a large bowl, put the potatoes and onion.
3
Add the beaten eggs and mix.
4
Sift the flour on top and mix again.
6
Season with salt, pepper and nutmeg.
7
Heat your frying pan with 10 cl of oil.
8
Place 3 to 4 large tablespoons (according to your frying pan size) of your mixture in the frying pan, and flatten in order to get 8-10 cm diameter pancakes.
9
Fry until the boarders get golden, flip and fry again .
10
Once cooked, set aside in an oven dish covered with aluminum in your oven at 100 degrees.
11
Start over until you finish your mixture. You will have to add oil once or twice.
Notes
You can season your mixture with curry, curcuma or ground ginger.