Two years ago, I found, just by coincidence, the hotel and restaurant Frères Ibarboure, the Ibarboure brothers. I was looking for a quiet and lovely place to stay with my family, where we could also enjoy nice dinners.
This summer, I came back with desire and impatience.
This 4 star hotel is located in Bidart, in the French basque region. A perfect location since you're just a few kilometers away from amazing places such as : Saint Jean de Luz, Biarritz, Anglet, Espelette, Ainhoa, San Sebastiàn in Spain, Hendaye, Bayonne …
Right in the middle of a gorgeous wooded area, this hotel is a listed Relais du Silence establishment, with a philosophy being "a noteworthy restaurant, eco-commitment, wellness and more".
The rooms will be perfect for you whatever your travelling conditions : for two or more … Elegance and charm … with a view … Waking up with a smile on your face …
But "Les Freres Ibarboure" is also a gastronomic experience. And it starts with your breakfast.
Breads and homemade pastries, fresh orange juice, jams, yogurts, fresh fruit salad, a variety of local charcuteries and cheeses, eggs, hot drinks including a lovely selection of teas from Dammann Frères.
Once you've enjoyed your amazing breakfast, the choice you have to make is so hard … Enjoy a lovely moment at the pool or go for the discovery of one of the amazing spots around.
I chose both!! My fun day started at Saint Jean de Luz beach – I had to work on my suntan !! – with a quick stop at "maison Pariès" to get our picnic, a nice shopping moment in the pedestrian city center. I had, of course, to make another foodie stop at Maison Adam to try the basque macarons, the house specialty …
Back to the Freres Ibarboure, I spent the rest of the afternoon at the pool. It was mandatory to get psychologicaly ready for my evening : dinner at the gastronomic restaurant, Michelin starred for 30 years.
La Table des Freres Ibarboure, is a long established restaurant run by two brothers: Xabi handles the "savory" dishes and Patrice the "sweet" dishes. The two brothers bring a modern perspective to a local gastronomy. Creativity rimes with the respect of local products and homegrown herbs.
"La carte" offers a wide range of dishes and daily suggestions that always bring the final touch to a menu that will definitely give you an appetite. The hardest part will be to make your choice, after it will be just pleasure !
The chef's amuses-bouche are fantastic, you'll find yourself with a content smile on your face. There it is : delicacy, creativity, great taste, beautiful plates.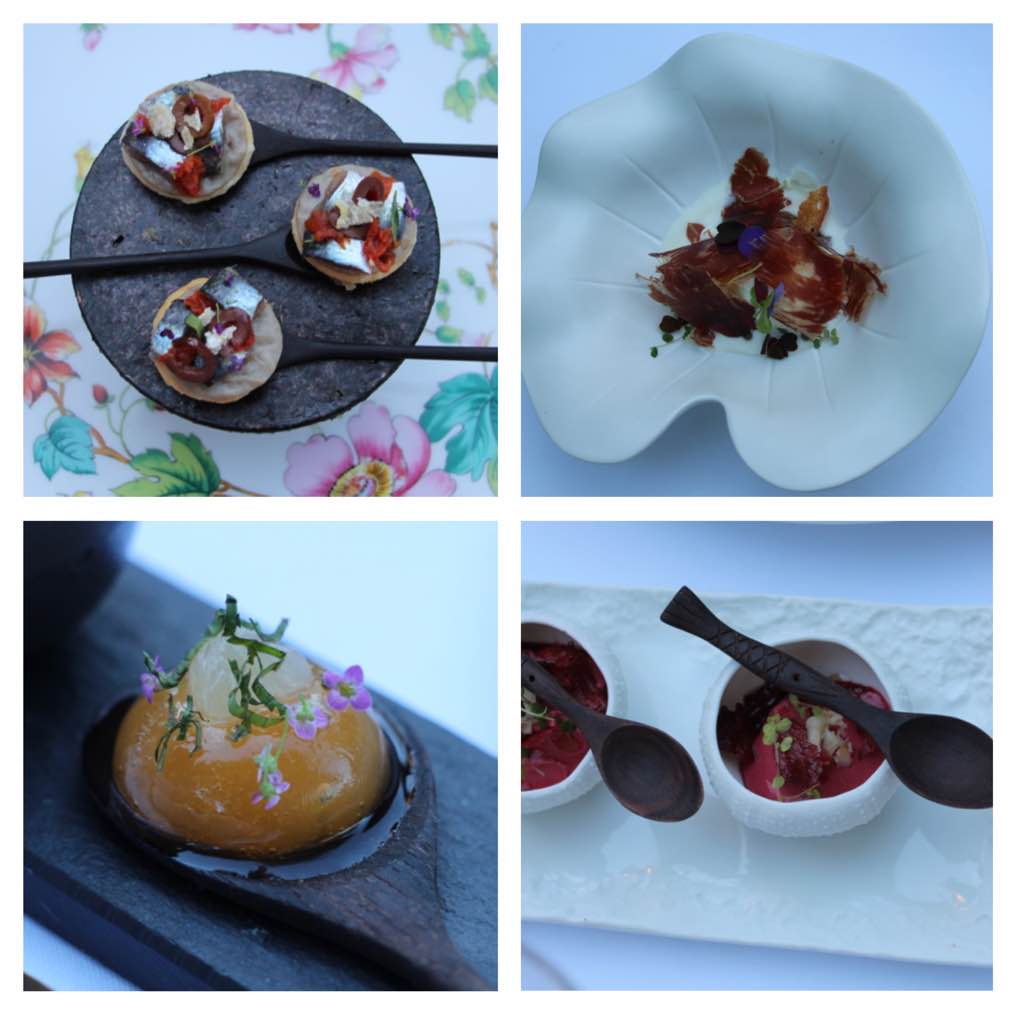 I chose the chef's suggestion for starter : tuna with seasonal vegetables. Then « Kintoa » pork tasting: glazed breast, "lepoa" roasted in chorizo oil, ears millefeuille, blood sausage cromesqui. And an outstanding Puligny-Montrachet white wine in my glass …
For dessert, harmony of Tursan raspberries with tarragon from the garden …, like a vacherin.
Chosen by my family, carpaccio of scampi from Galicia, blancmange with citron, crustaceans consommé, sorrel, black garlic and Aquitaine caviar,
the famous and so local foie gras !
the roasted half-wild duckling, foie gras, olives, rocket salad; confit leg, clam, shellfish juice and crunchy toast,
a warm Bergeron apricot soufflé, traditional French parfait with olive oil and lemon thyme, nougat ice cream,
and a sampling of grand cru chocolates, in various textures and shapes.
As far as prices are concerned, it will be in the average price range of a  1 star Michelin. A la carte, a starter will cost you between 29 and 37 euros, a dish from the sea or the land between 43 and 57 euros and between 16 and 21 euros for the sweet touch.
You can also choose the gastronomic tasting menu, 104€ for 2 straters, 2 dishes and 2 desserts.
This menu may be served in: 5 courses : 90€, 4 courses : 76€ or 3 courses : 63€.
I had then the chance to make a quick kitchen tour, cooks and pastry chefs were still in the heat of the action at 11 pm !! Behind the scene … Fascinating !
An expresso and sweet treats … it's the end of my dinner.
This place will remain among my favorites in the French basque region … I'll be back !!
What about you ? Tempted ?
Xoxo my lovelies !
Enregistrer
Enregistrer
Enregistrer
Enregistrer
Enregistrer
Enregistrer
Enregistrer
Enregistrer
Enregistrer
Enregistrer
Enregistrer
Enregistrer