Childhood memories…
This recipe brings me back a few decades when I was a kid (and I won't be more specific about the number of decades!! 😉 ).
Let me introduce my shortbread cookies with jam!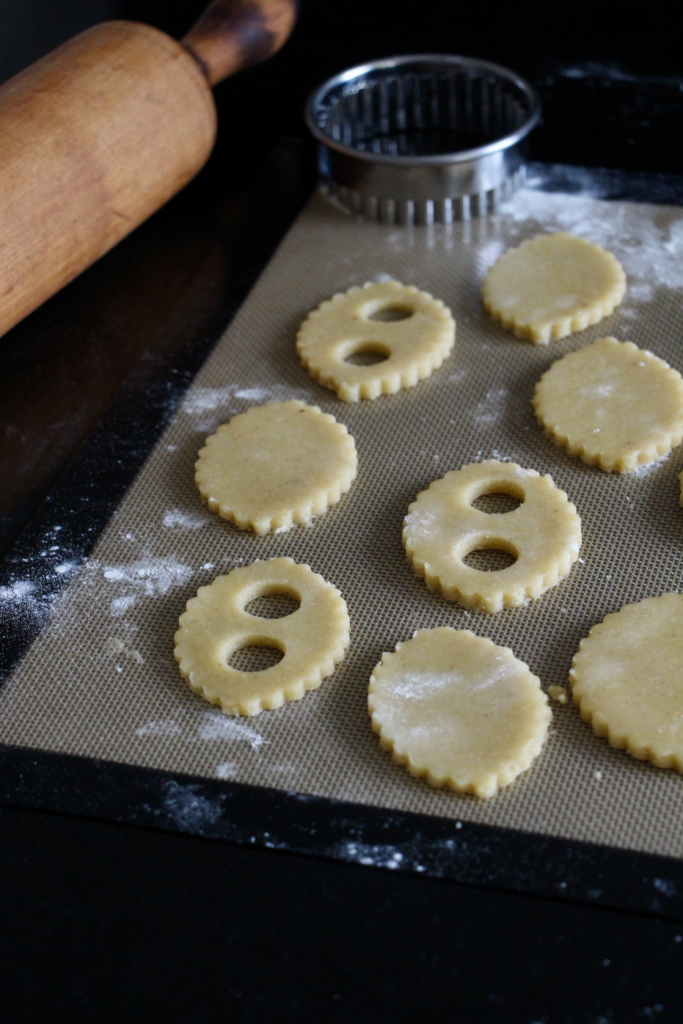 In Alsace, when I was in high school, it was one of my favorite snacks. We call them "glasses with jam" because of their shape …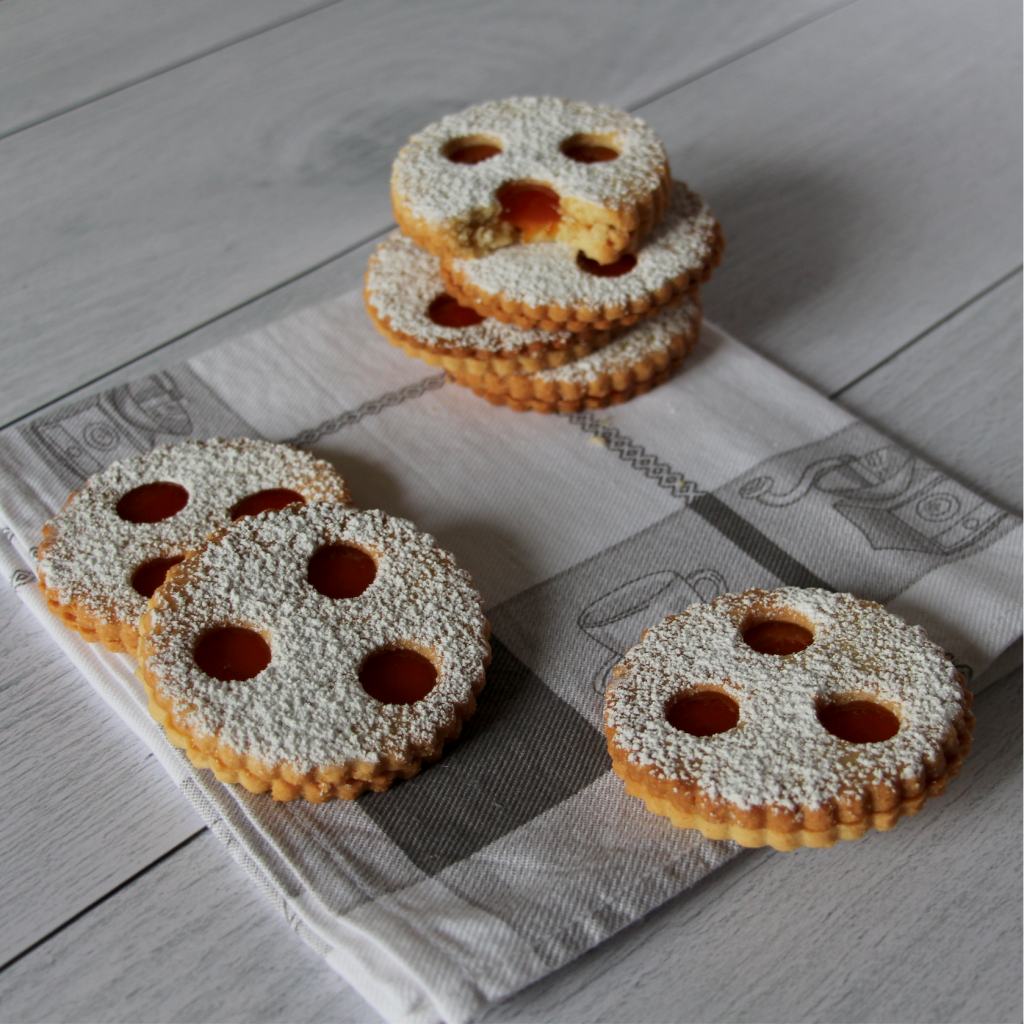 At 10 am, during our morning break, the baker used to come to our school yard with her food truck full of danish or any kind of pastries … We would queue, hurry, reach out in order to be lucky enough to buy one of her baking!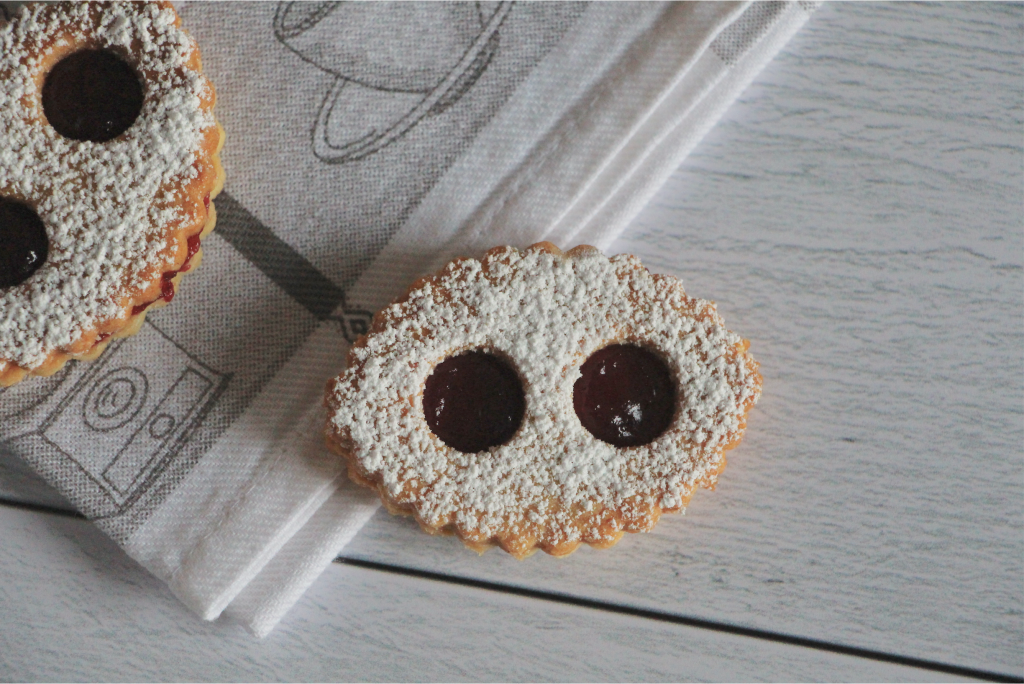 Those shortbread cookies with jam, most of the time raspberry jam, were definitely my favorite.
Nowadays, we care more about what kind of food we give to our children, and how much we give them. The morning break snacks have disappeared but we have kept the afternoon snack!!!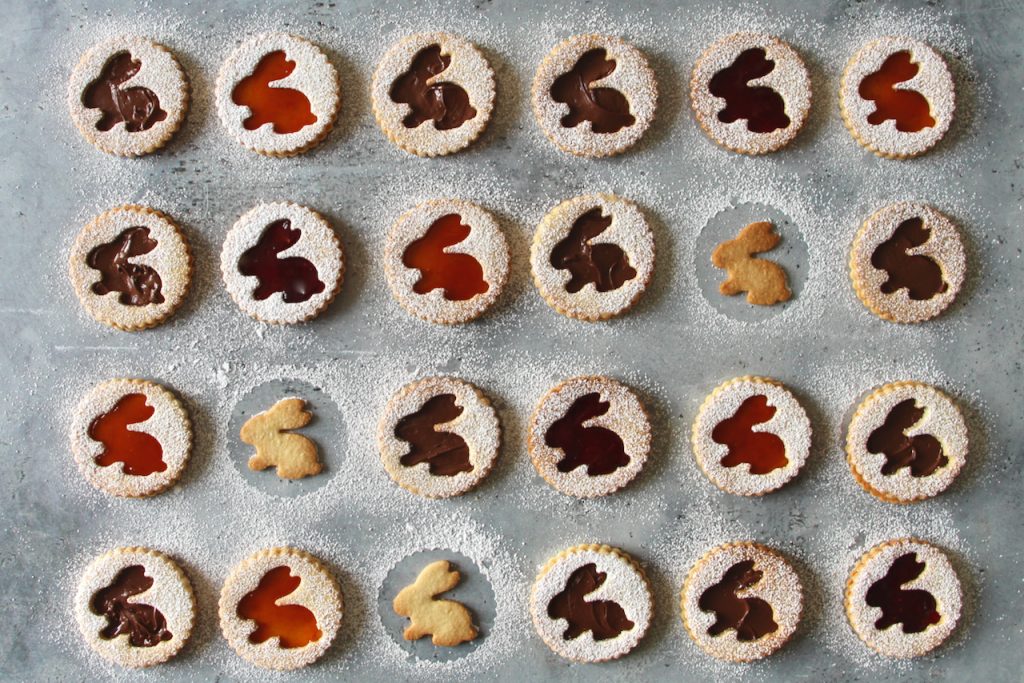 You were maybe waiting for such a nice treat!!
So you will first make an almond shortbread pastry (you can go for a hazelnut one if you prefer) and you will add jam. I made quite a few jars of raspberry and also apricot jam this summer… I'm all set…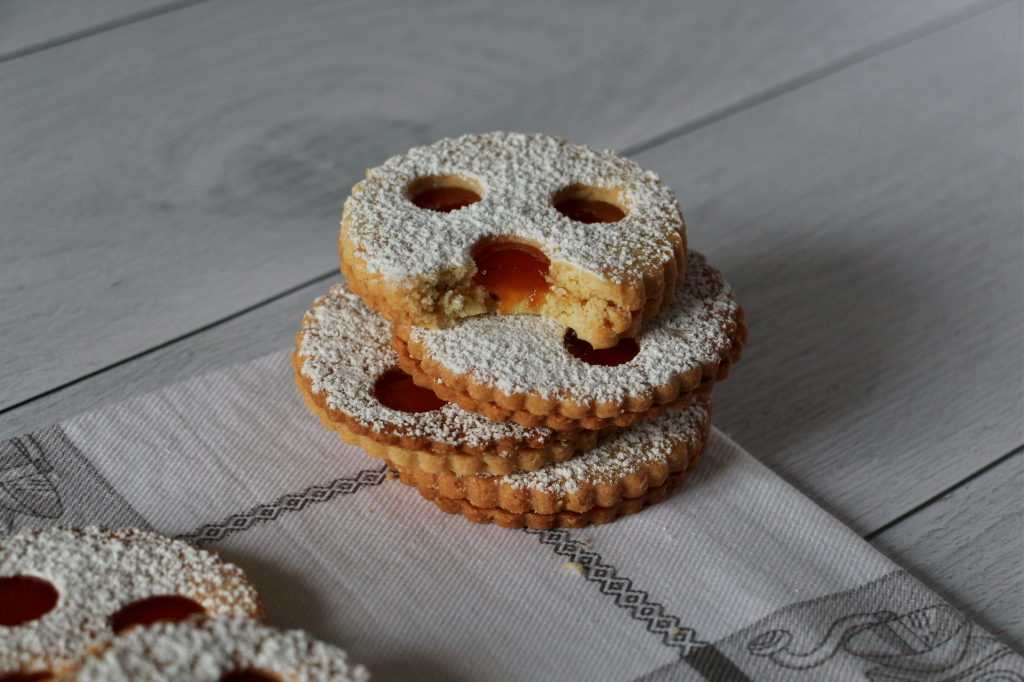 The good point with those shortbread cookies with jam is that it is a delicious snack, and you can make quite a large batch since you can store them several weeks in a metal box. To be honest, at home they won't last more than 2 or 3 days… (you will be able to make approximately 20 pieces diameter 10-12 cm with this recipe)
Those shortbread cookies with jam will be great too with a good cup of tea or coffee.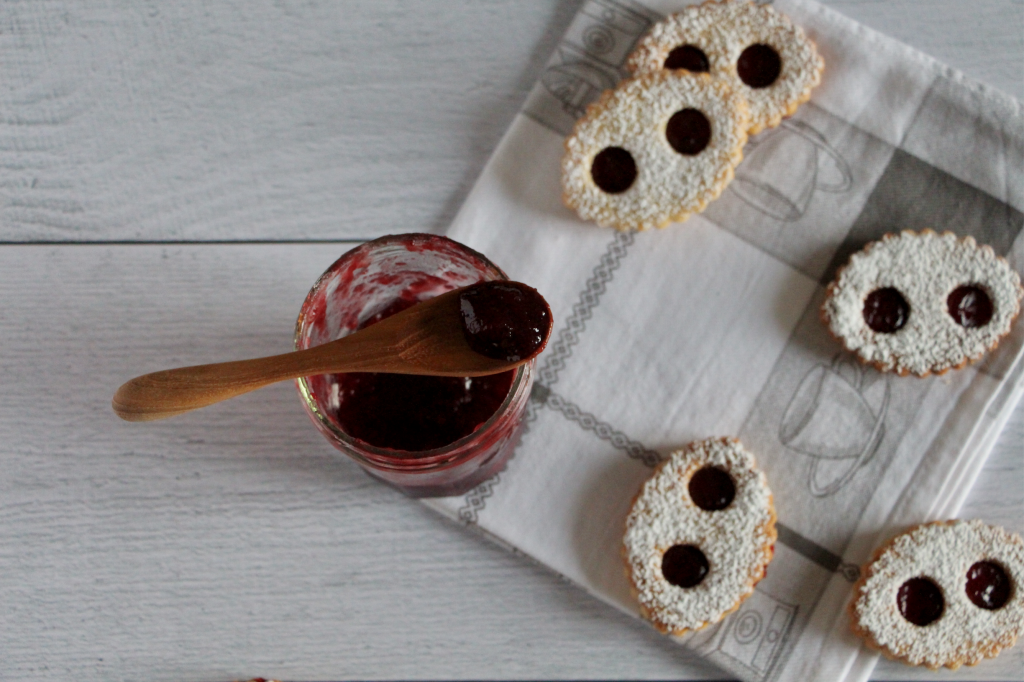 The utensils:
A food processor for the pastry (or a large bowl and muscles!!),
Oval cutters (or round ones) to make the shapes (I take a nozzle to make the holes),
A baking mat or baking paper,
A little spatula or a knife to spread the jam
And a small strainer to spread the icing sugar.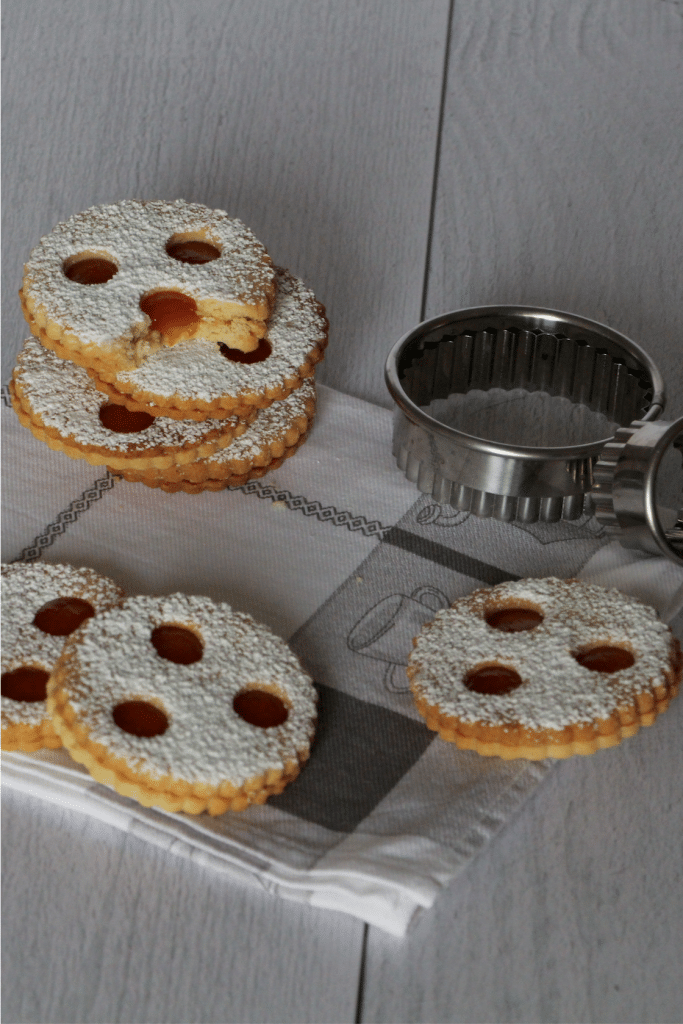 I think you're ready to make a good snack!!
The recipe, Chef!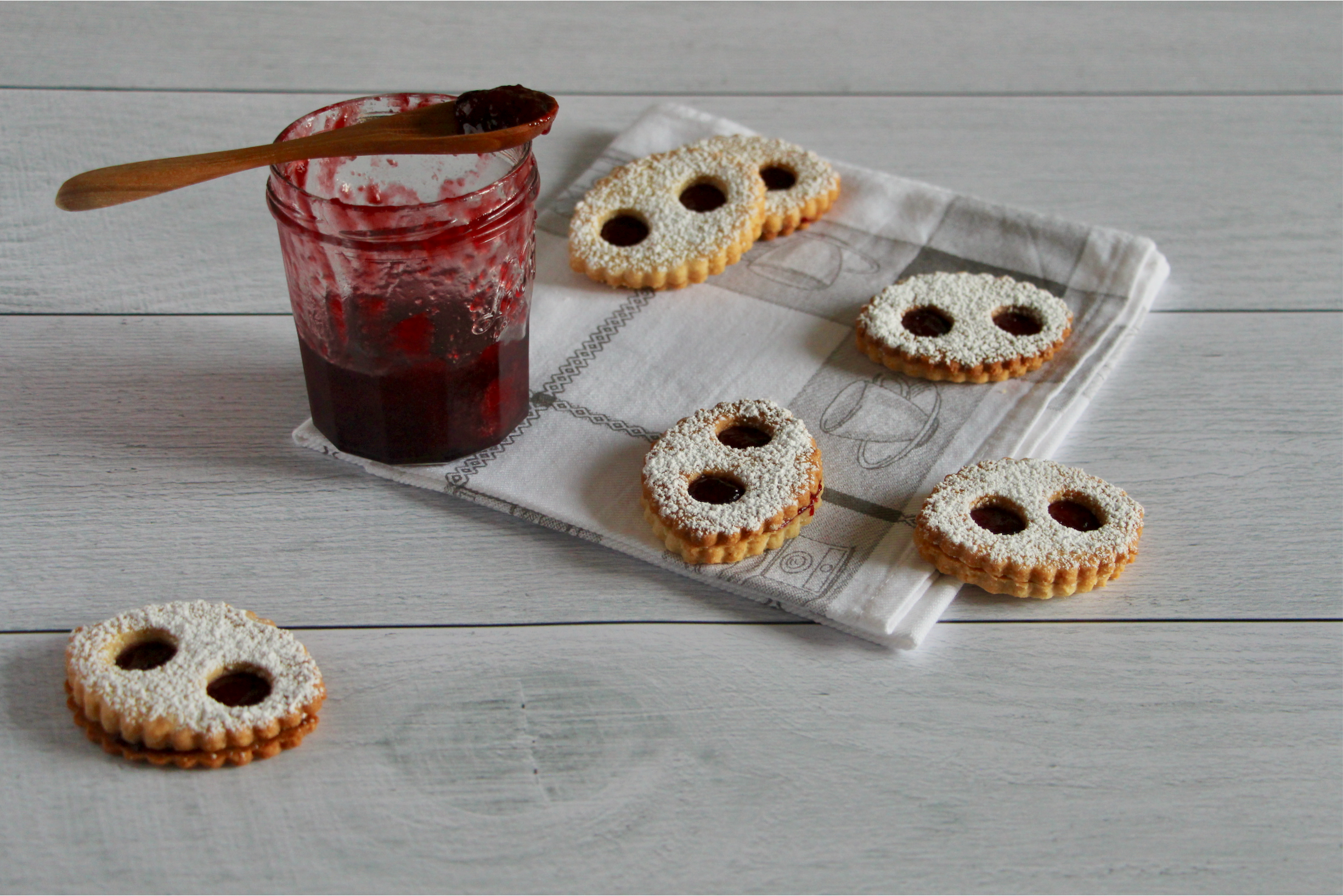 Print Recipe
Shortbread Cookies with Jam
Ingredients
300 g flour
75 g iced sugar
150 g almond powder
1/2 teaspoon of salt (2 g)
1 teaspoon of vanilla extract
1 egg
1 egg yolk
225 g butter at room temperature
Jam or jelly (approx 100 g)
Instructions
1
Mix the flour, salt, almond powder, iced sugar and vanilla extract .
2
Add the butter and mix until you get a sandy mixture.
3
Add the egg and the egg yolk.
4
Mix. Once the mixture is homogeneous, stop mixing, put the batter in a food cling film and set aside in your fridge for at least 1 hour 1/2.
5
After such time, preheat your oven at 175 degrees.
6
Spread the batter, shape your cookies (half of them with 2-3 holes in the center) and place them on a silicon mat or a food paper.
7
Bake 13-15 minutes and let cool down on a grid.
8
When your cookies are cold, fill with jam the "no hole" pieces. Spread iced sugar on the ones with holes.
Notes
Those cookies can be kept a few weeks in a metal box. It's easier to shape the cookies with a cold batter. I oftent put it back in the fridge or even in the freezer a few minutes.