Hello pastry lovers!
Today I'm sharing a recipe that was inspired by Yohann Caron, Cedric Grolet's pastry chef! Yes!! just that!!
Here is my mille feuille with filo pastry. Interested ?
Let's see the recipe, Chef!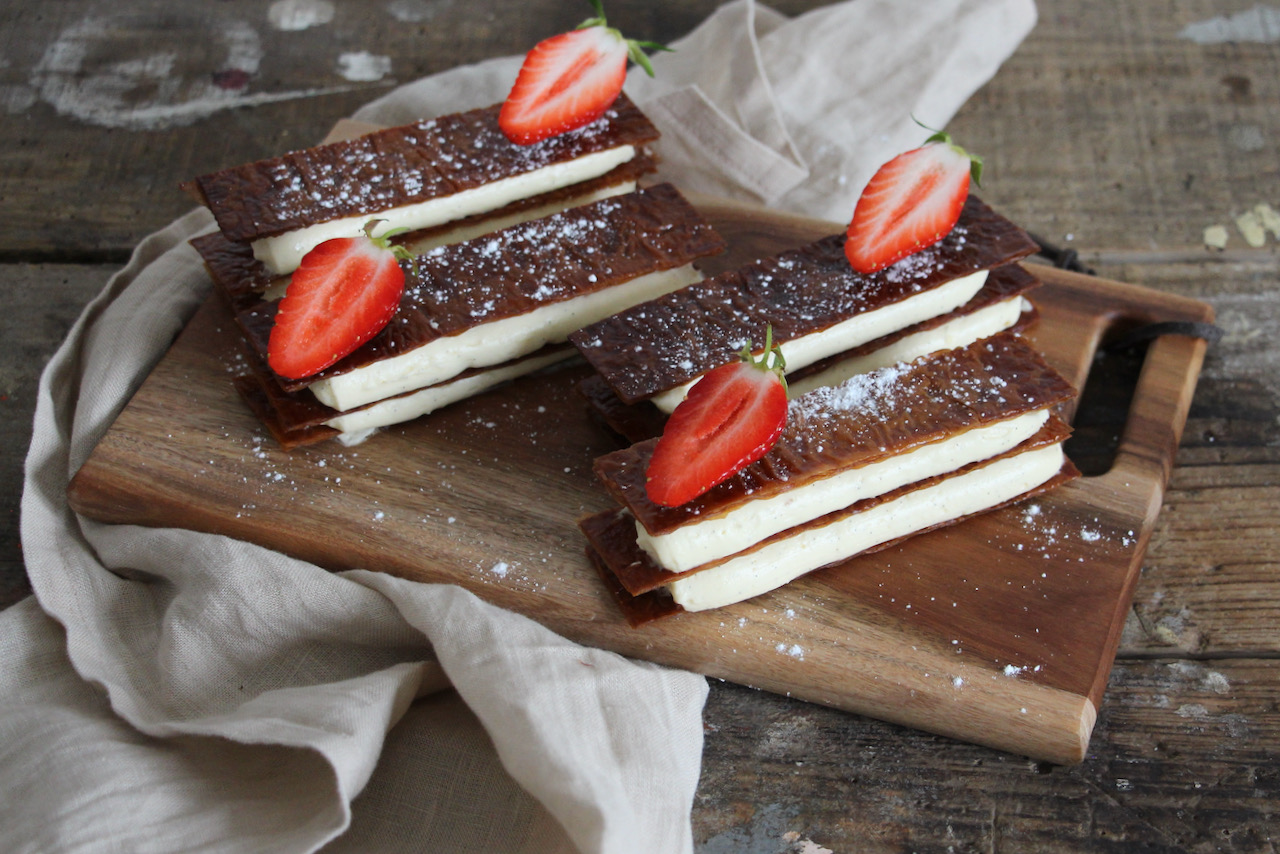 Print Recipe
Mille Feuille with Filo Pastry
Ingredients
Strawberry concentrate

75 g strawberries

1/2 tbsp lemon juice

10 g sugar

1 g gelatine sheet

Vanilla curd

125 g milk

1 egg yolk

22 g sugar

12 g corn starch

1/2 vanilla pod

2 g gelatine sheets

10 g butter

Chantilly cream

50 g liquid cream 30% fat

35 g mascarpone

Mille-feuilles

6 filo pastries

40 g butter

2 tbsp honey

Icing sugar
Instructions
1
Place the gelatine sheet in cold water.
2
Cut the strawberries in cubes.
3
Place them in a sauce pan with the sugar and lemon juice.
4
Heat until it starts boiling. Let cook with little bubbles for 5 minutes.
5
Remove from the stove then mix with your hand mixer.
6
Add the drained gelatine.
7
Set aside at room temperature.
8
Pour the milk in a saucepan with the vanilla pod cut in two.
9
Boil and remove immediately from the heat. Set aside for 15 minutes.
10
During that time, whip the egg yolk with the sugar until it whitens.
11
Add the corn starch and whip again.
12
Pour half of the milk on your mixture and mix. Pour the other half, mix again.
13
Pour back in your saucepan and boil for 2 minutes while whipping with energy.
14
When the cream has the right consistency, add the butter, mix well. Add the drained gelatine, mix.
15
Pour it in a plate and cover with a clingfilm. Set aside in your fridge.
16
When the vanilla curd is cold, whisk the liquid cream and mascarpone into chantilly.
17
Set aside in your fridge.
18
Whisk the curd for one minute to get a smooth texture. Add the chantilly gently with a spatula.
19
Set aside in your fridge.
20
Melt the butter and honey in a sauce pan at medium heat.
21
Spread a filo pastry on your baking mat.
22
Spread butter and honey with a brush.
23
Place another filo on top, brush again.
24
Start over until you put the last filo.
25
Set aside in your freezer for 10 minutes.
26
Preheat your oven at 180 C / 355 F degrees.
27
Remove the filo pastries from the freezer, cut 12 rectangles 3 cm by 15 cm.
28
Place the rectangles on the baking mat and cook for 18 minutes.
29
When your filo pastries have cooled down, pipe two raws of diplomate cream on 12 of them.
30
Pipe the strawberry concentrate in the middle of the 2 raws.
31
Place one garnished filo pastry on top of another one, then finish with a non-garnished filo.
32
Start over with the other ones.
33
Spread icing sugar and serve.