An easy recipe for you today my friends… Let me introduce the chocolate shrotbread cookies!!
Are you interested?? Well let's give it a look!
You may have already tested my regular version of what we call Brittany shortbread cookies, chef Christophe Felder's recipe is already on the blog…
Here, no radical change. Just a little adjustment to make this chocolate version.
You will get delicious cookies or the base for a more elaborate dessert if you add a fruit mousse or a whipped vanilla ganache.
So I won't make a long speech now…
The utensils:
My kMix food processor
A good rolling pin (I still have my grandmother's one, it's the best!!)
My cutters by De Buyer to make nice shapes (or a glass if you don't have cutters).
The recipe, Chef!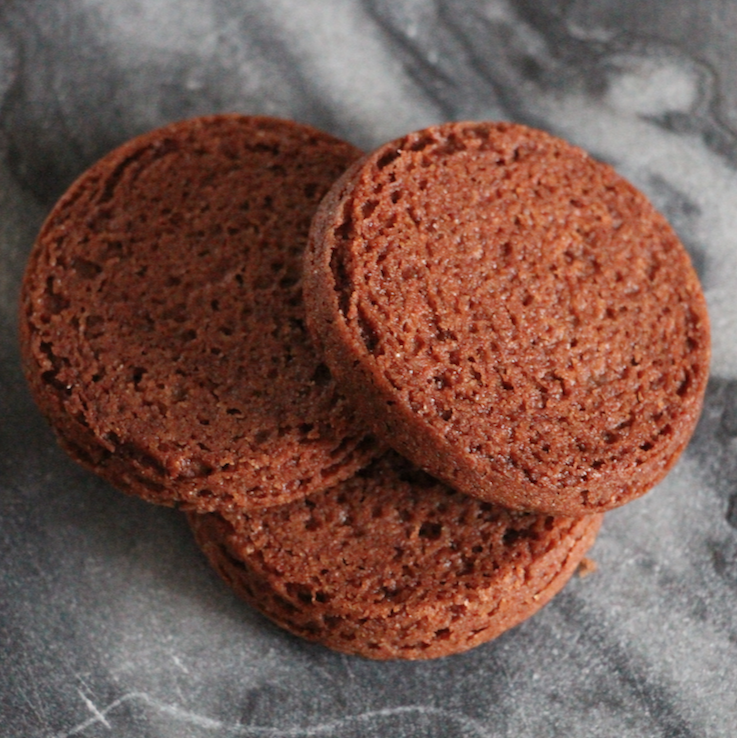 Print Recipe
Chocolate Shortbread Cookies
Ingredients
180 g flour
3 egg yolks (60 g)
130 g sugar
150 g butter at room temperature
2 tablespoons of cocoa powder
1/2 teaspoon flower salt
11 g baking powder
Instructions
1
Mix the egg yolks and sugar until it gets white and foamy (I use my hand mixer with whip accessory).
2
Add the butter and mix until you get an homogeneous mixture.
3
Add the sifted flour and cocoa, salt and baking powder. Mix until you get a nice and smooth pastry.
4
Wrap it in clingfilm and set aside in your fridge for 2 hours.
5
Preheat your oven at 180 degrees.
6
Spread the pastry with 1 cm thickness.
7
Cut round shapes with a steel cutter diameter 3 or 4 cm (measure the diamater of your silicon mold) and place them in your silicon mold.
9
At the end of baking, wait for 1 minute before unmolding and let cool down on a grid.