Hello my dear friends!
I'm a huge fan of pavlovas. I already shared my mango pavlova and my berry and lime pavlova. This time, I changed a bit the meringue recipe and added lemon curd. And guess what? It's delicious!!
Let's see the recipe, Chef!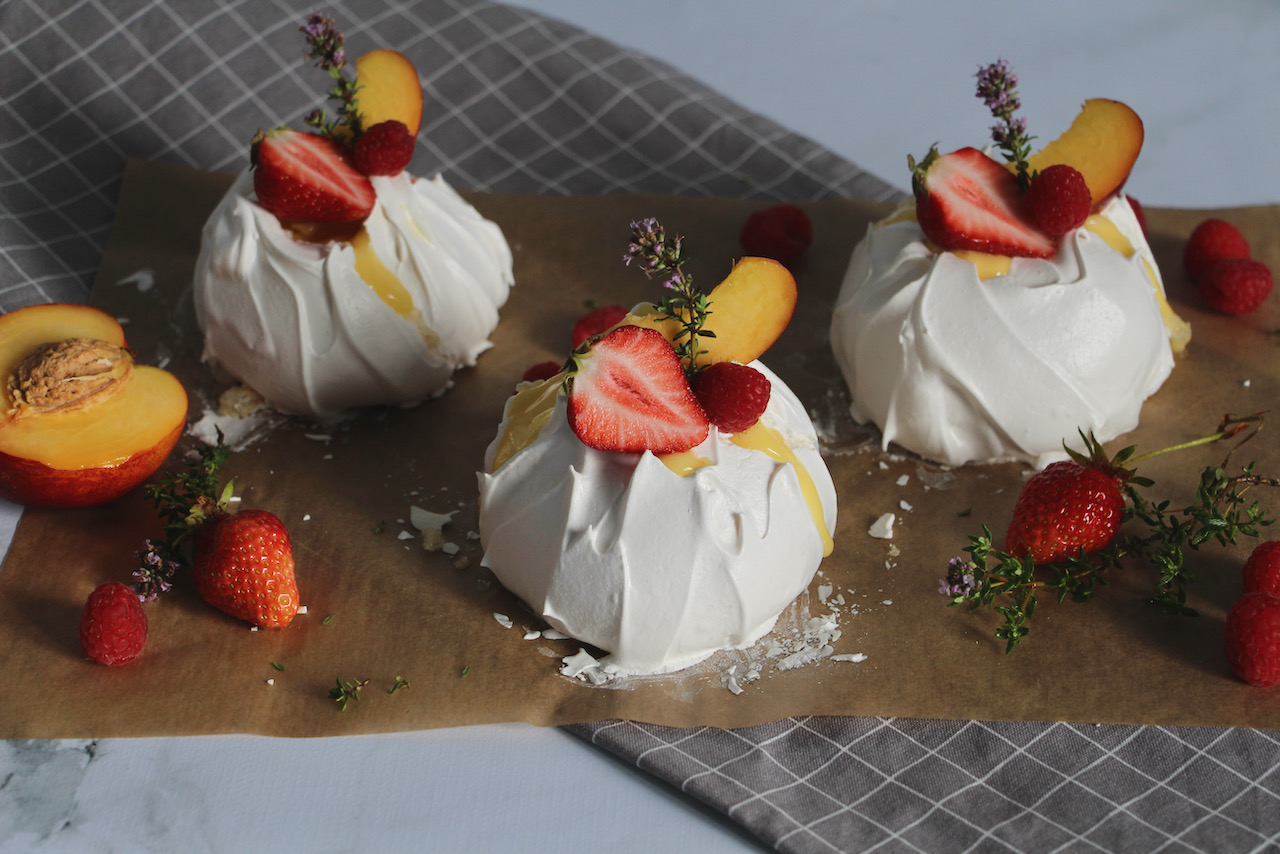 Print Recipe
Ingredients
130 g egg whites (approx 4 whites)

260 g caster sugar

1 tbsp corn starch

1,5 lemons

30 g butter

1 egg

1 egg yolk

75 g sugar

Fruits for decoration

Fresh thyme leaves
Instructions
2
Preheat your oven at 100 C / 210 F degrees.
3
Pour your egg whites (at room temperature) in your foodprocessor and start whisking.
4
When the whites start to be foamy, add 1/3 of sugar.
5
Whisk and add another third of the sugar.
6
Whisk and add the rest of sugar and the corn starch. Keep on whipping for 10 minutes until you get a compact mixture.
7
Make 3 piles of meringue on a baking paper and shape them with a spatula.
9
Remove the meringues form the oven, let them cool down on a grid.
11
Pour the lemon juice, the lemon zests, the sugar and butter in a sauce pan. Cook 3 minutes at medium heat (3 on a scale of 1 to 6) and whip gently.
12
Add the egg and the egg yolk and cook at higher heat (4 on a scale of 1 to 6) and whip more vigorously for 2 minutes. Your lemon curd should get thicker.
13
Pour the lemon curd through a strainer to remove the solid parts.
14
Let your lemon curd cool down.
16
Crush gently the upper center part of the meringues. Pour lemon curd.
17
Place fruits according to your decoration idea and spread thyme leaves.