Hello my friends!
I'm pretty sure you love pizza as much as I do! So the following might get your attention…
Here's my parmesan cream, prosciutto and burrata pizza.
Let's see the recipe, Chef!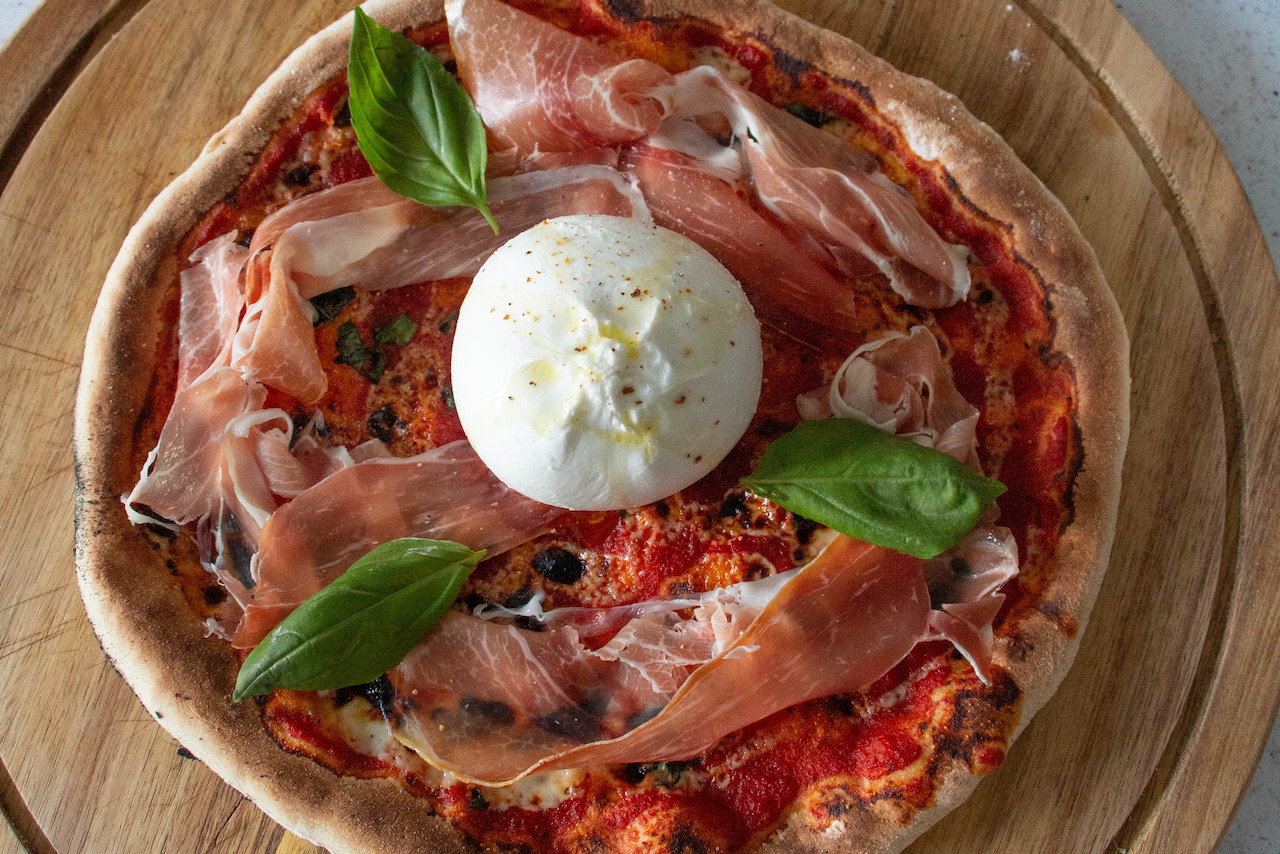 Print Recipe
Parmesan Cream, Prosciutto and Burrata Pizza
Ingredients
Pizza dough

500 g flour

10 g dehydrated yeast or 20 g fresh one

4 tablespoons olive oil

250 g lukewarm water

1 teaspoon salt

1/2 teaspoon sugar

Filling

40 g parmesan

100 g liquid cream (30% fat)

400 g pizza tomato sauce

A few basil leaves

150 g prosciutto

1 burrata

Salt

Pepper

Olive oil
Instructions
1
Mix gently the water and yeast.
2
Pour the flour, olive oil, salt and sugar in your food processor bowl.
3
Start kneading at low speed (2 on a scale from 1 to 6) and pour slowly the water/yeast.
4
Keep kneading and increase gently the speed to 4, your should get a firm dough.
5
Cover with a linen and let rise for one hour.
6
Shape 3 pizza doughs, place them on your floured working table. Cover with a clean linen and leave to rise for 20 minutes.
7
Pour the cream in a sauce pan, add the grated parmesan.
8
Heat, whilst mixing, until the parmesan is fully melted.
11
Work it by hand gently, press in the center to enlarge it keeping a bit more thickness on the boarders. You should get a 25 cm diameter dough.
12
Add the tomato sauce, the parmesan cream and chopped basil.
14
Place immediately in your pizza oven heated at 400 C / 750 F degrees and cook for 2 minutes.
15
Start again with the two other doughs and filling.
16
When out of the oven, add thin slices of prosciutto, place the burrata in the center of the pizza and pour a bit of olive oil on top.