Hello my dear foodies!
Bringing color into the plate… That was my motto when I thought about this recipe. Red risotto with shrimps. Color, Italy, the sea… Well, a dish which could be an invitation for travel!
Are you ready to travel?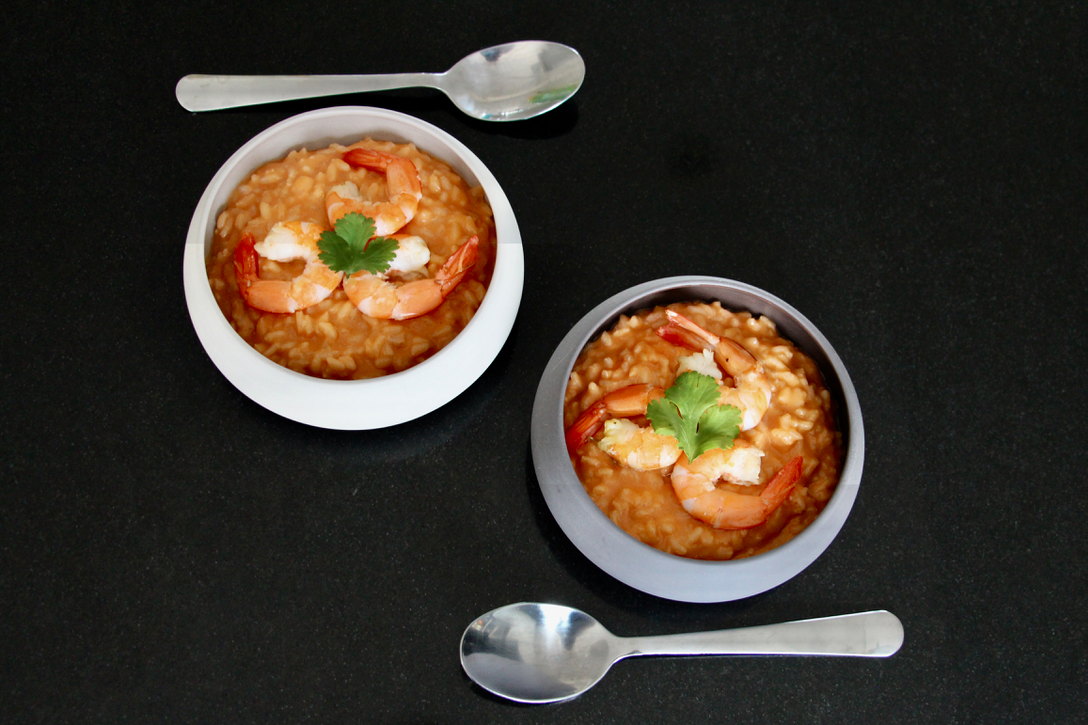 This dish can either be a starter or a main course, it's up to you… I took 3 rather big shrimps (size 50/70 if my memory isn't failing me),  feel free to adjust this number depending on how much you like shrimps, on your guests' appetite, your budget (shrimps are not very cheap) or simply the size of your shrimps.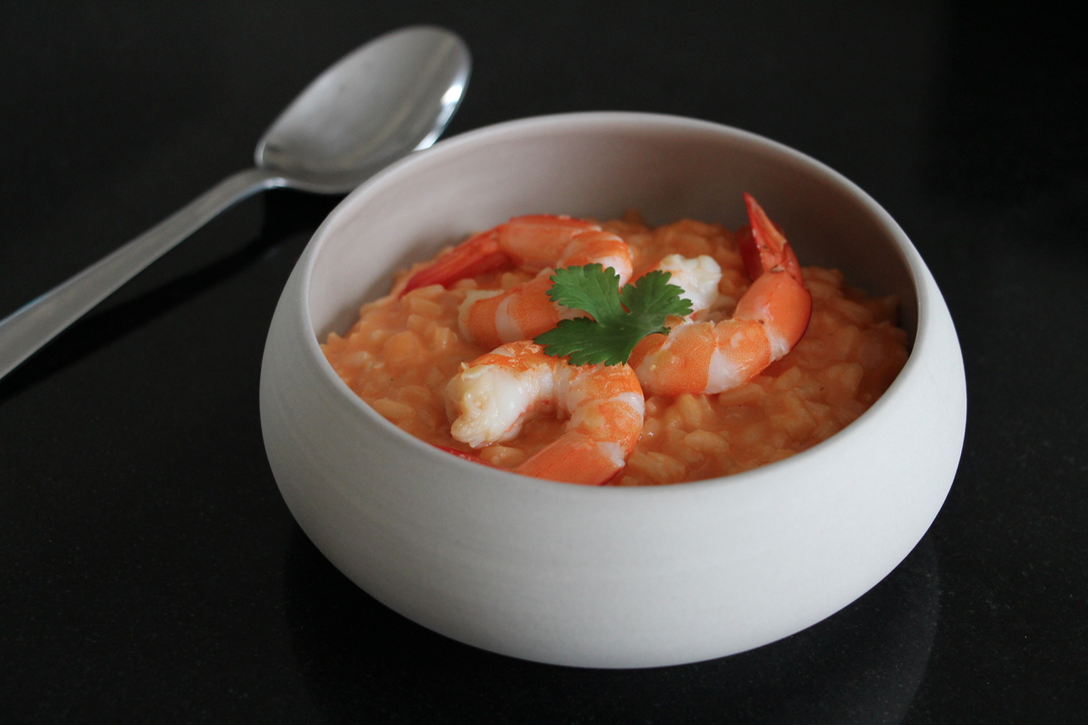 Do not buy shelled shrimps, you will need the heads to make a broth… It's a little  extra work I know, but it is so much worth it for a delicious risotto…
You can also make the same recipe with prawns or scallops. In this case, you'll cook the broth with the scallop corals.
One recipe, three dishes… Not bad, right?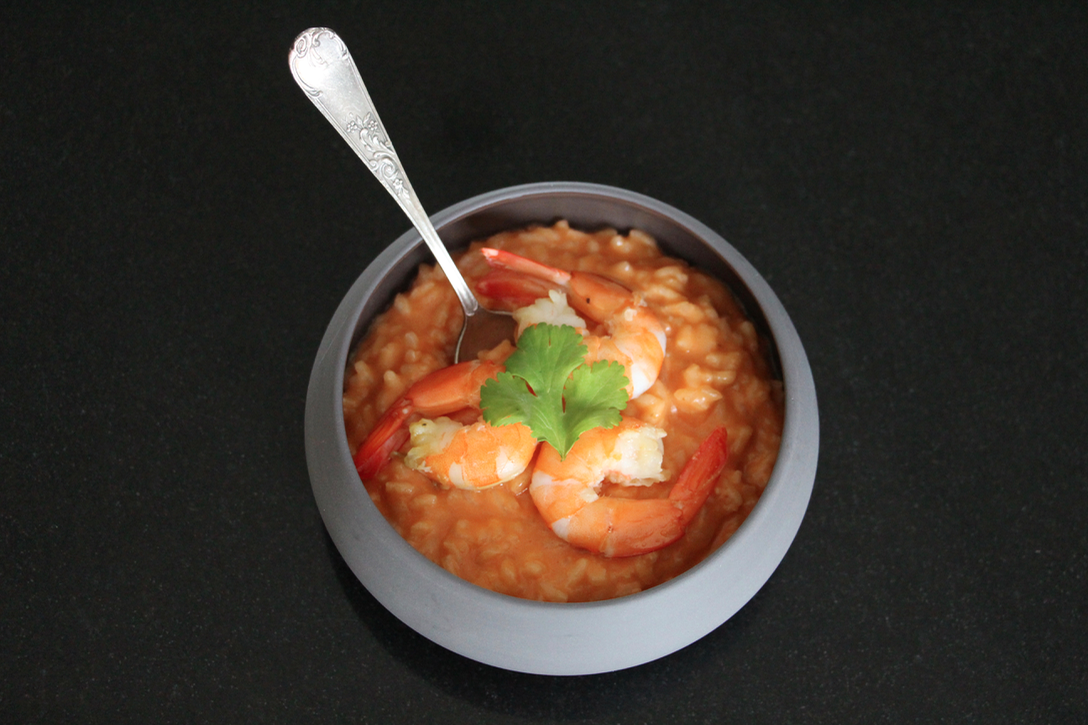 Finally, I always choose carefully my ingredients and I have my usual brands… Albert Ménès for the spices, Mutti for the tomato puree and Taureau Ailé for the risotto rice.
And now… The recipe, Chef!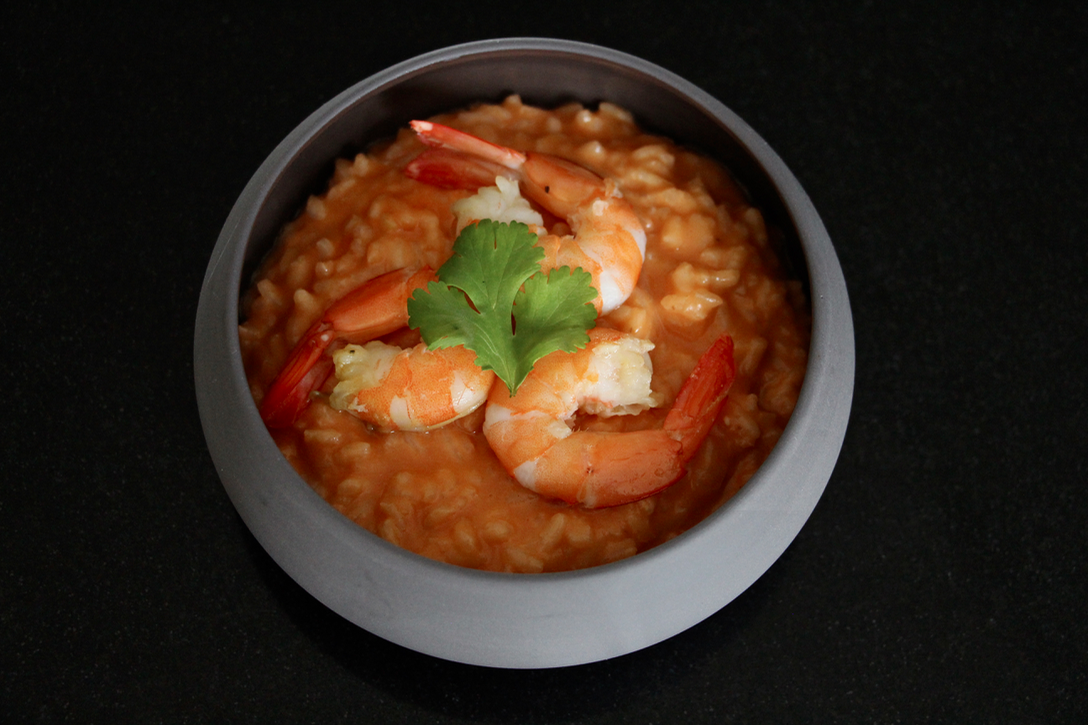 Print Recipe
Ingredients
360 g risotto rice

18 shrimps

1 onion

1 carrot

1 tomato

10 cl white wine

10 cl tomato puree

75 g grated parmesan cheese

Sunflower oil

1 liter chicken broth

Salt

Pepper

Red mild pepper

Espelette pepper

Paprika
Instructions
1
Cook gently half of the minced onion with one tablespoon of oil in a pan.
2
Add the carrot cut into pieces and the tomato.
3
Add the shrimp heads. After 2-3 minutes, pour 30 cl of water.
4
Leave in the pan at low heat.
5
After 15 to 20 minutes, pour through a strainer and set the broth aside.
6
Meanwhile, cook gently the other half of the minced onion with one tablespoon of oil in a pan. After 2-3 minutes, set aside the onion.
7
Add one more tablespoon of oil and the rice. Cook until the rice gets translucent (use regularly a spatula to mix your rice, it shouldn't get brown). This step will take a few minutes.
8
Add the white wine to the rice. When there's no wine left, add the onion.
9
Then, pour two ladles of broth and cook until it is fully absorbed by the rice.
10
Add the shrimp broth and the tomato puree. Wait it is fully absorbed by the rice.
11
When it's done, add more chicken broth until your rice is cooked.
12
To finish with, add the parmesan cheese.
13
Add salt, pepper, red mild pepper, Espelette pepper and paprika.
14
Warm up gently your shrimps in a pan with one tablspoon of oil.
15
When your shrimps are warm, serve and enjoy !
Notes
You can put cream instead of parmesan cheese. Be carefull, the chicken broth can be already salty. You may not need to add as much salt as you usually do. Taste the rice before adding more salt ...