Hello, hello!
As an official fan of "l'apéro" as we say in French (you know this time when you gather with friends or family, and have good drinks and appetizers 😉 ), I will give you today a very easy recipe, a simple recipe, a highly appreciated recipe…
Let's make parmesan and black olives savory shortbread biscuits.
This recipe is the one you're going to make when you just have a few minutes ahead of you, that you can freeze very easily when the pastry isn't already cooked and that you will enjoy just like this or with something good to spread on!! 😉
For the spreading part, you already have quite the choice here on the blog! A good tapenade, which will remind the olive of the shortbread biscuits, a guacamole, tuna rillettes, a red pepper cream or cream cheese. This list isn't complete as it is and if you have good ideas to share, please write them down in the comment section of this article. 🙂
You are going to make the pastry, then leave it to rest in your fridge (cold is really key for a good pastry), then you will spread it (very cold again otherwise it will crumble a bit), you will shape your biscuits with a cutter and you will cook them. That's what I call an easy recipe!
I made this recipe based on the thyme shortbread biscuits that I make all the time (I always have raw thyme shortbread pastry in my freezer, ready to be cooked!!), I made a few adjustments and voilà!!
This pastry can also be the one used for a savory veggie summer tart for example! A nice change to the usual savory shortcrust pastry …
The utensils:
A food processor,
A rolling pin
And a cutter (here the range of fluted round pastry cutters by De Buyer).
(Presentation: Bahia bleu de roche cutting board  by Degrenne)
Shall we now?
The recipe, Chef!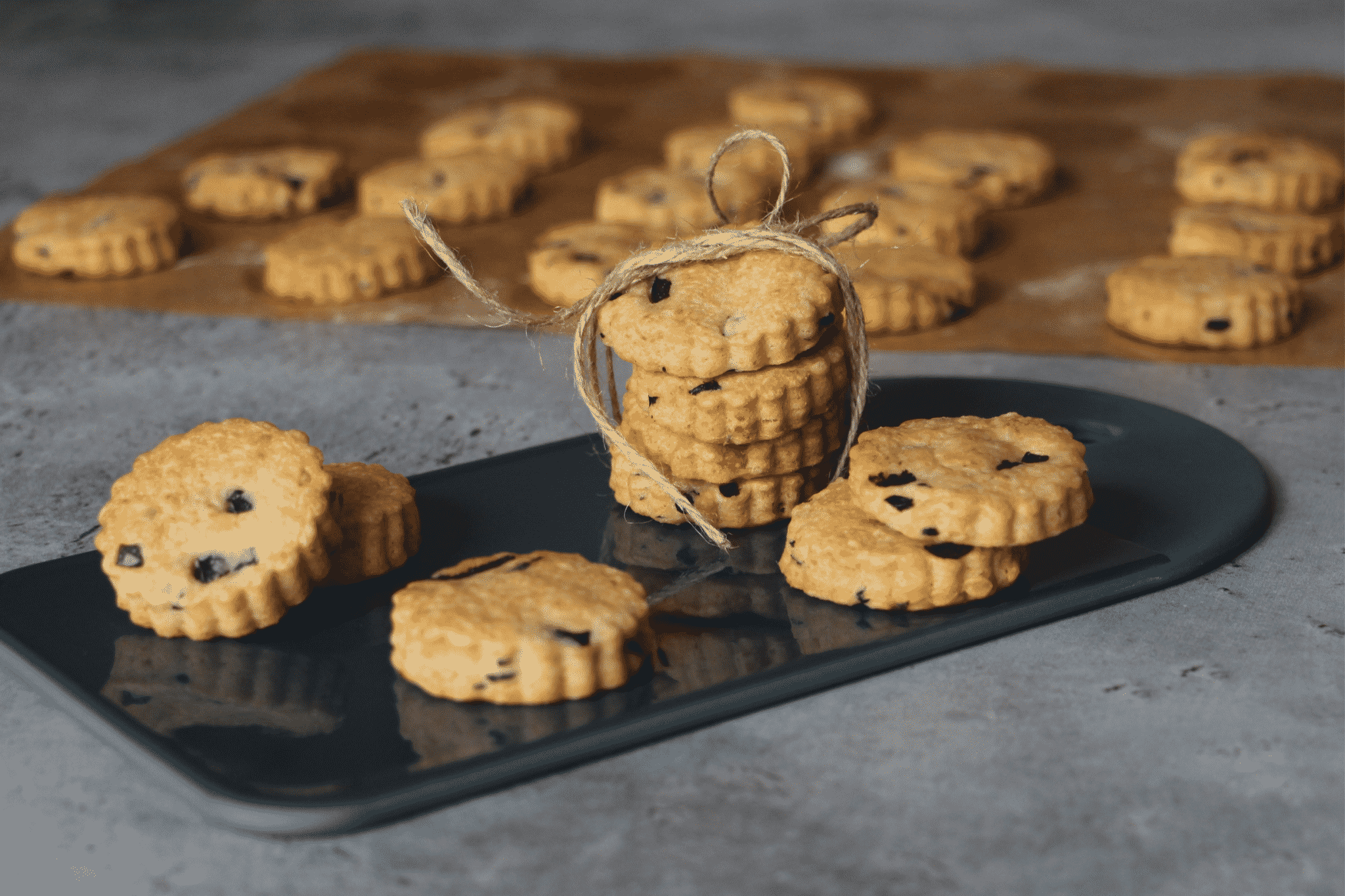 Print Recipe
Parmesan and black Olives savory Shortbread Biscuits
Ingredients
140 g unsalted butter
130 g flour
30 g grated Parmesan cheese
5 g baking powder
40 g egg yolks (2 pces)
2 tablespoons of milk
1/2 teaspoon flower salt
Thyme
60 g black olives
Instructions
1
Mix the soft butter with the flour, Parmesan cheese, baking powder and thyme leaves until you get an homogeneous mixture.
2
Add the egg yolks, the milk and mix.
3
Chop roughly the olives with a knife and add to the pastry.
4
Spread between 2 baking sheets until you get 0.5 cm thickness.
5
Set aside in your fridge for 1 hour.
6
Preheat your oven at 200 degrees.
7
Cut with 4 cm diameter steel cutters in order to get 40 to 50 pieces. If your pastry begins to be too soft, put back in your fridge for a few minutes.
8
Cook for 10 to 12 minutes.