Hello my friends!
Who likes pizza here? I'm sure everybody does!! And today, I'm sharing my white pizza recipe…
I made those white pizzas with my brand new Ooni pizza oven and I'm stunned!! It's like having a pizza made in a great Italian restaurant! I just couldn't believe it. The crust is amazing, cooking is really fast. Honestly, you have to get a Ooni pizza oven if you're a pizza fan such as myself!
Let's see the recipe, Chef!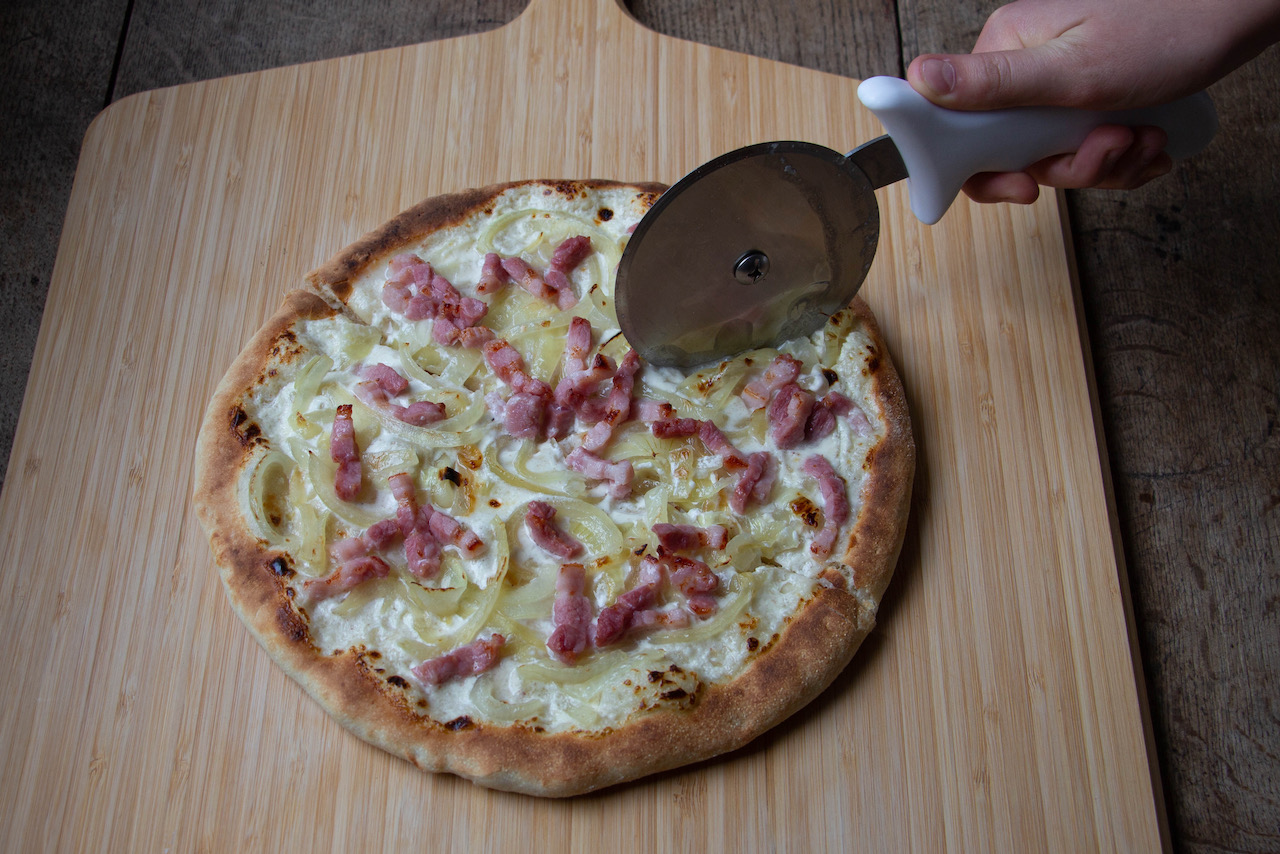 Print Recipe
Ingredients
Pizza dough

500 g flour

10 g dehydrated yeast or 20 g fresh one

4 tablespoons olive oil

250 g lukewarm water

1 teaspoon salt

1/2 teaspoon sugar

Filling

150 g cream cheese

100 g liquid cream

1 tbsp vegetal oil

Salt

Pepper

1/4 tsp ground nutmeg

2 onions

10 g butter

300 g smoked pork belly
Instructions
1
Mix gently the water and yeast.
2
Pour the flour, olive oil, salt and sugar in your food processor bowl.
3
Start kneading at low speed (2 on a scale from 1 to 6) and pour slowly the water/yeast.
4
Keep kneading and increase gently the speed to 4, your should get a firm dough.
5
Cover with a linen and let rise for one hour.
6
Shape 3 pizza doughs, place them on your floured working table. Cover with a clean linen and leave to rise for 20 minutes.
7
Combine the cream cheese, cream and oil.
8
Add salt, pepper and ground nutmeg.
9
Melt the butter in a frying pan at medium heat, add the peeled and sliced onions. Add 1/2 tsp salt.
10
Cook for 10 minutes. at low/medium heat, stir from time to time.
11
Cut the pork belly in bits.
13
Work it by hand gently, press in the center to enlarge it keeping a bit more thickness on the boarders. You should get a 25 cm diameter dough.
14
Add the cream cheese mixture, the onions and pork belly.
15
Place immediately in your pizza oven heated at 400 C / 750 F degrees and cook for 2 minutes.
16
Start again with the two other doughs and filling.