Mum! You made a pie like in the movies!!
Yes I did… I switched into Bree Vandekamp mode… and voilà!
My American caramel apple pie!!
Do you see me? As Bree Vandekamp??
Actually, I wanted to bake such an American caramel apple pie since I was a kid, watching Disney movies… Snow White and her apple pie, does this ring a bell? 😉
I have to admit too that I see very often such pies on Instagram, Pinterest…  most of the time before cooking, when the crust is perfect, that the juice of the fruits isn't all over the pie, well… when the pie is still "instagramable"!!
That's my challenge!! Will I be able to make a pie that still looks good after baking?? My apron, my rolling pin and there I go!!
So why with caramel? I could answer "why not? It's a great combo with apples!!". True, the combination is really good! The real reason (I always tell you the truth!!) : I had salted butter caramel in my fridge and each time I opened it, I wanted to grab a spoon!!
I found a solution to this unbarable problem with this recipe!! Quick look around the kitchen, organic apples there… That was enough to me!!
As far as the recipe itself is concerned, there's nothing very complicated: we are going to make a nice crust, then we will add the caramel, then the apples, make a few strips and in the oven!
I used a ravioli cutter to make the strips. Honestly, you won't see the details after cooking, so it's not a mandatory utensil.
I used organic apples because I kept the skin. After cooking, the texture of the skin feels weird compared to the soft apple flesh. It makes a nice photo but next time I make an American caramel apple pie, I will peel the apples. I'm telling you everything… 100% transparency!
The utensils:
A food processor for the crust,
A 22 cm mold (I took my round pastry mold by De Buyer),
A rolling pin,
A sharp knife
And a pastry brush.
Let's do this now!!
The recipe, Chef!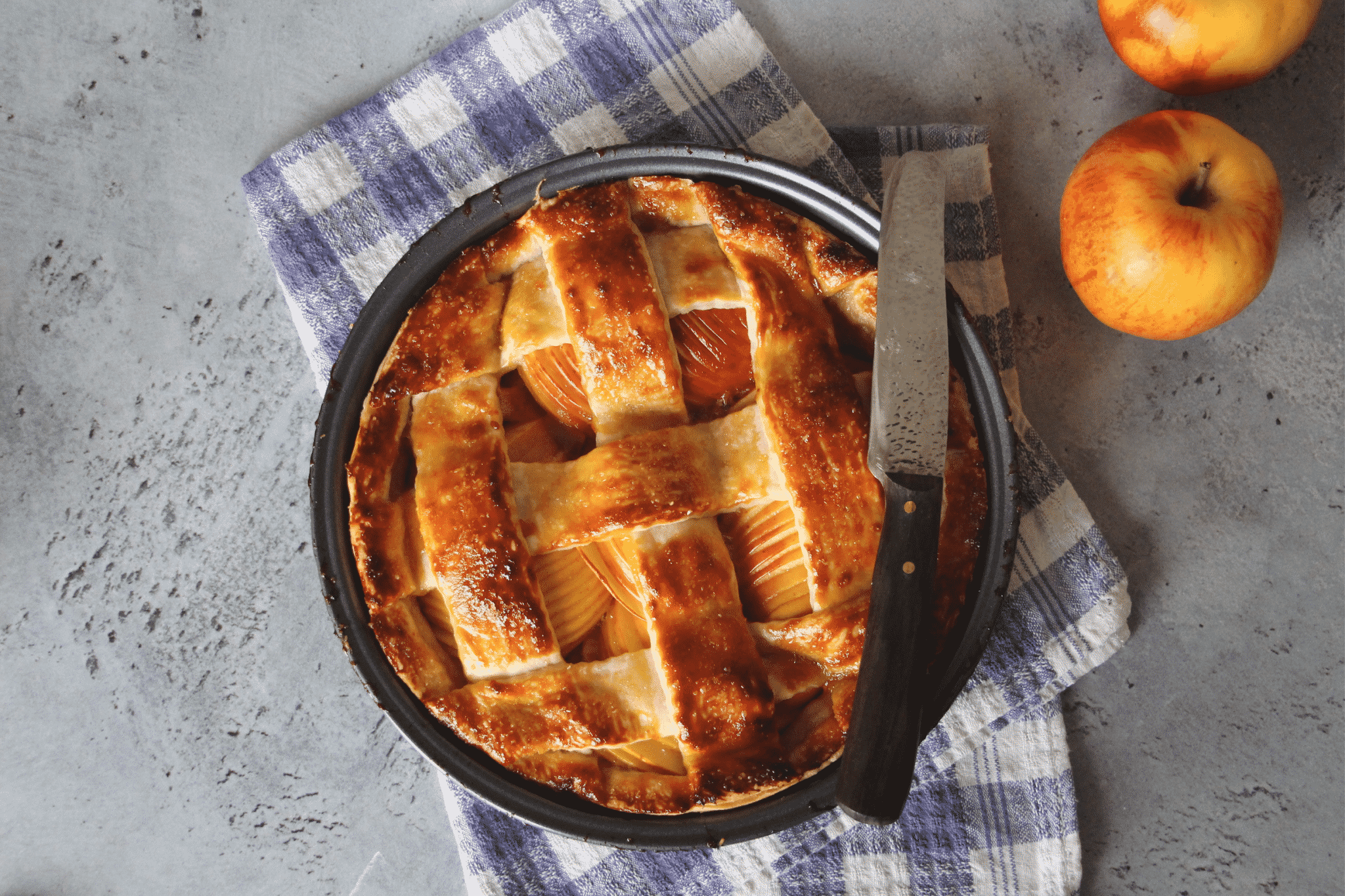 Print Recipe
American Caramel Apple Pie
Ingredients
300 g flour
210 g cold butter
2 teaspoons sugar
1 teaspoon salt
70 g cold water
2 or 3 apples
80 g caramel
1 tablespoon apricot jam
1 tablespoon brown sugar
Instructions
1
Place the flour, butter cut in cubes, sugar and salt in your food processor. Mix until it's like a crumble.
2
Add slowly the water. Mix until homogeneous.
3
Spread the pastry on a floured baking sheet.
4
When you get 7 mm thickness, put the pastry in your buttered mold.
5
Cut the boarders and spread them into a rectangle. Set aside in the fridge.
6
Spread the caramel on the bottom of your mold, place the apples cut in thin slices.
7
Make 6 or 7 strips of pastry with your rectangle and braid. Cut the boarders as your roll your rolling pin gently on the boarder.
8
Set aside in your fridge 15 to 20 minutes.
9
Preheat your oven at 180 degrees.
10
Spread the jam on the strips and boarders of the crust, spread brown sugar and bake for 40 minutes.
Notes
You can serve with a tablepoon of cream or with vanilla ice cream.