Hi everyone ! Now it's for sure, sunny days are back ! We will make barbecues with friends and family again. Salads will be the side dish for sure and we'll enjoy a nice glass of rosé !
You know it if you've read the "About me" section of the blog, I am 100% Alsatian, turning into Alsace forever mode as much as I can !! And of course, my cooking is often inspired by my roots. Especially since food is so important where I come from … So let's be clear, in Alsace salads are quite a treat … A mixed salad includes sausage, tomato, cheese and eggs. The only green part is the parsley … Today, I'm going to introduce the potato salad. It's not super light but it's so delicious ! The secret stands in the dressing of course, you'll tell me about it !!
This salad will be perfect with cold meat (such as beef, veal or pork) or your weekend barbecue. And that's great news since we have, in quite a few countries, 4 days off coming up …
And if I tell you that my kids would rather have this salad that homemade french fries, you'll imagine just as good as it can be!!
Just a comment before we start cooking, the choice of the potato variety if very important for both taste and texture. You'll find informations here about what kind of potato to choose.
And that's it ! Let's cook ! And don't forget to post a comment once you'll have tested it !
Note : I always use the mustard l'Originale from Maille because of its delicate taste. Anyhow, I advise you to take a good mustard. As far as the vinegar is concerned, and th'ats the specific part of the recipe, I use honey vinegar from Melfor.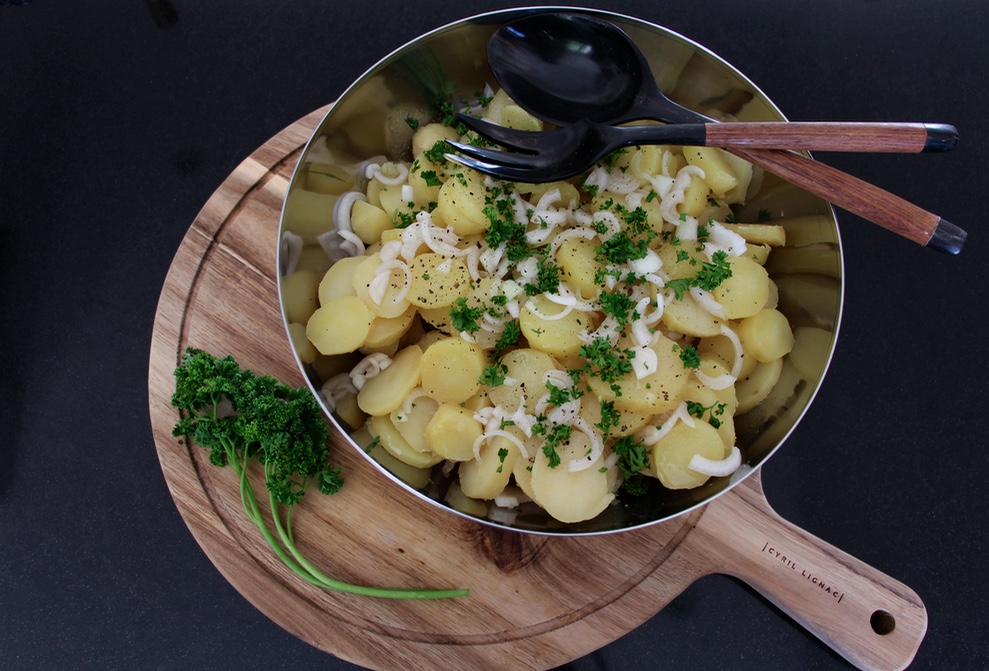 Print Recipe
La salade de pommes de terre alsacienne
Ingredients
20 medium size potatoes (I usually buy Charlotte or Amandine)

3 fresh onions

1 teaspoon of Dijon mustard

150 ml honey vinegar

200 ml sunflower oil

1/2 beef broth

10 cl liquid cream

Parsley

Salt

Pepper
Instructions
1
Cook your potatoes with their skin in a large pan of salted boiling water. Check if it's cooked with a sharp knife.
2
When you potatoes are cooked, wait a few minutes so they cool down a bit, peel them and cut them in 5-6 mm thick slices.
3
Place them into your salad bowl.
4
Add the minced onions and parsley.
5
Prepare your vinegar sauce : mix the mustard, vinegar and oil.
6
Pour half of your vinegar sauce on the potatoes.
7
Melt the beef broth in 1/2 l of boiling water.
8
Pour half of the warm broth on your salad.
9
Mix gently and add the cream.
10
Taste it and finalize your dressing (salt, pepper, vinegar sauce or beef broth depending on how you like it).
Notes
This salad can be kept in your fridge for 2 days. To give it its particular taste again, make again a bit of beef broth and pour some on your salad just before serving. You can keep at room temperature your vinegar sauce until the next salad you'll make.