Hey guys!
It's winter!! And during winter, it's cold, it's grey, it rains, it's windy, it's dark all day long… To summarize, during winter I enter into a wheather depression!!! So I put my apron on, and I decide to put sunshine back on the table!! Today, we will cook minestrone soup!!
Let's go to Italy! The South! The sun! I want something good, something fun, something colorful!
This meal is 100% veggies, except if you add the famous little pastas (I always take the Ditali from Barilla), 100% vitamins, 100% healthy!
I also add a chicken stock cube from Maggi, it brings a delicious extra taste to this minestrone soup.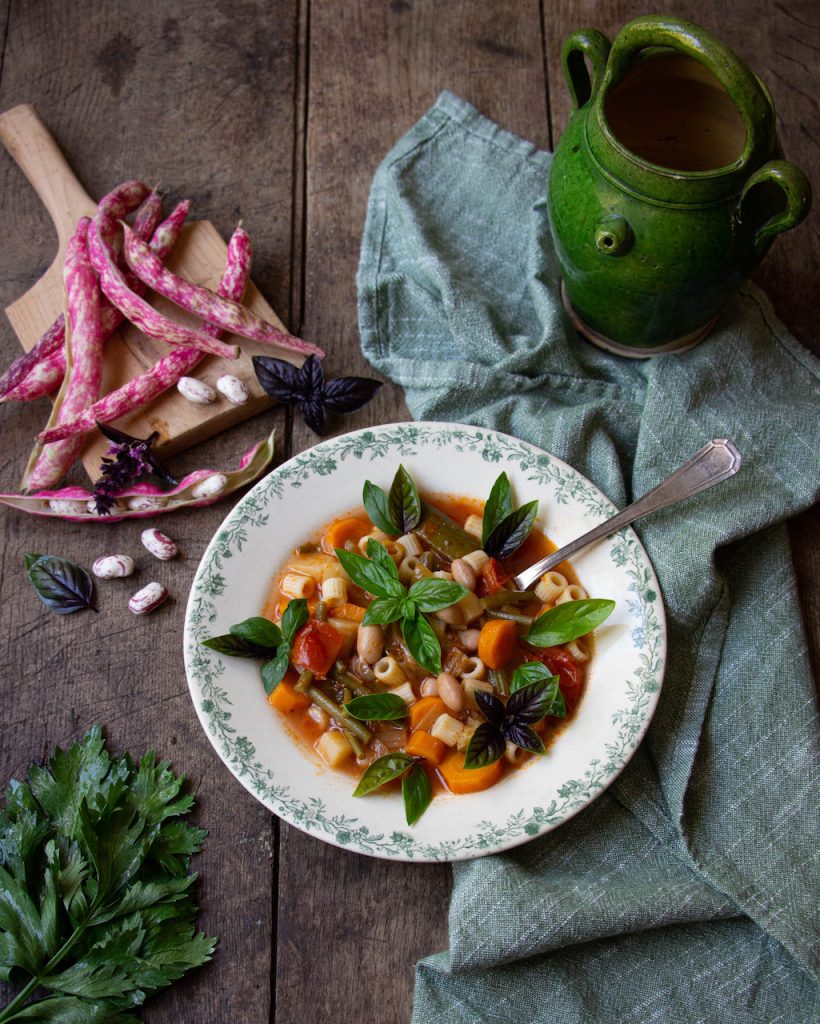 And if you add my pesto sauce that you will find on the blog, you will just have an amazing dish!! Main dish or starter, whatever you choose, the minestrone soup is delicious.
You will cook it very slowly so that your vegetables will keep a good texture. You have already understood it now, it's not a last minute dish… Minestrone soup plays is hard to get while spreading a delicious smell in your kitchen!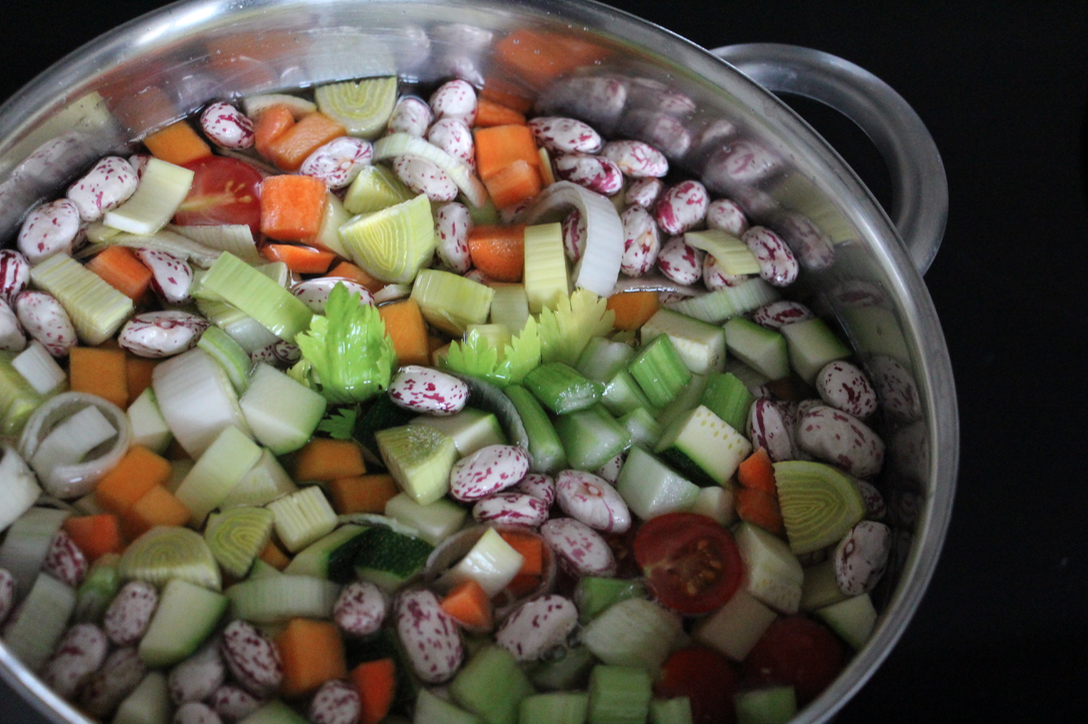 With the quantities I suggest, you'll get a large volume of soup, it is almost impossible to prepare just 5 or 6 portions. You can easily keep the minestrone soup in the fridge or in your freezer. I often take half of the soup and freeze it. In both cases, avoid leaving pastas in your soup otherwise they will get very flabby.
To defrost your minestrone soup, you can either put it in your fridge the day before or leave it at room temperature. There again, take your time. Do not put a frozen soup block in your casserole!!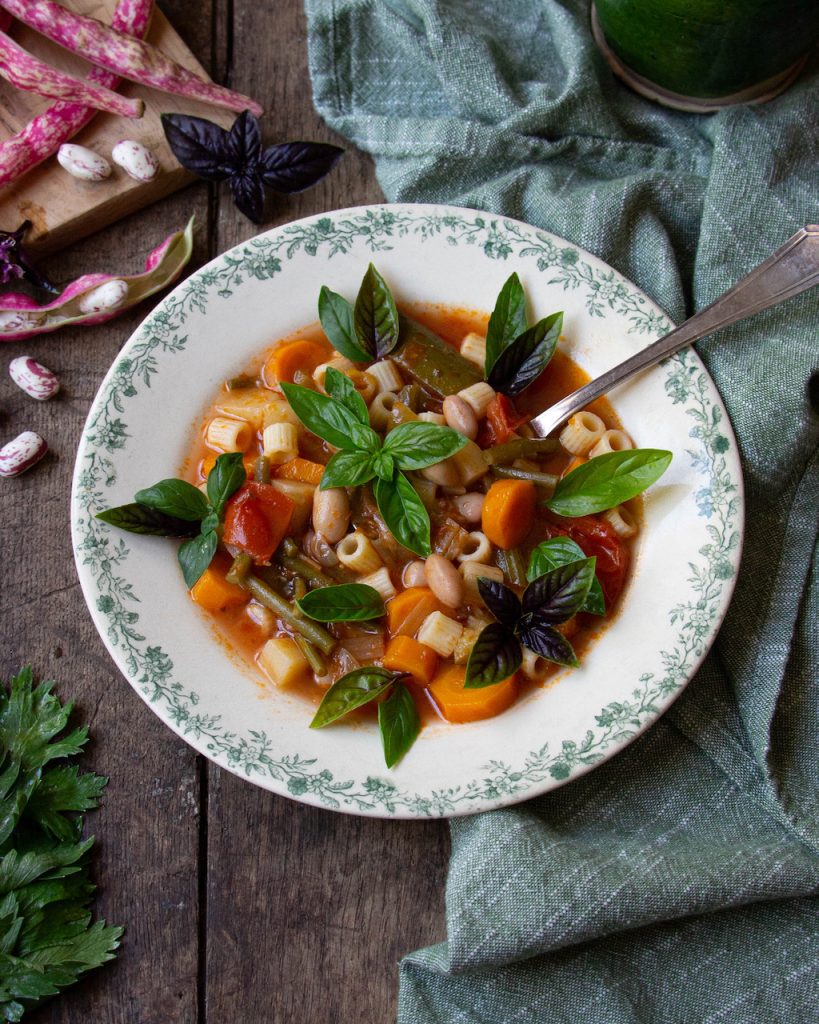 Finally, I recommend to spread grated cheese or parmiggiano on your soup. You are going to love it!!
Okay, now you know everything you need to. Let's do this! The recipe, Chef!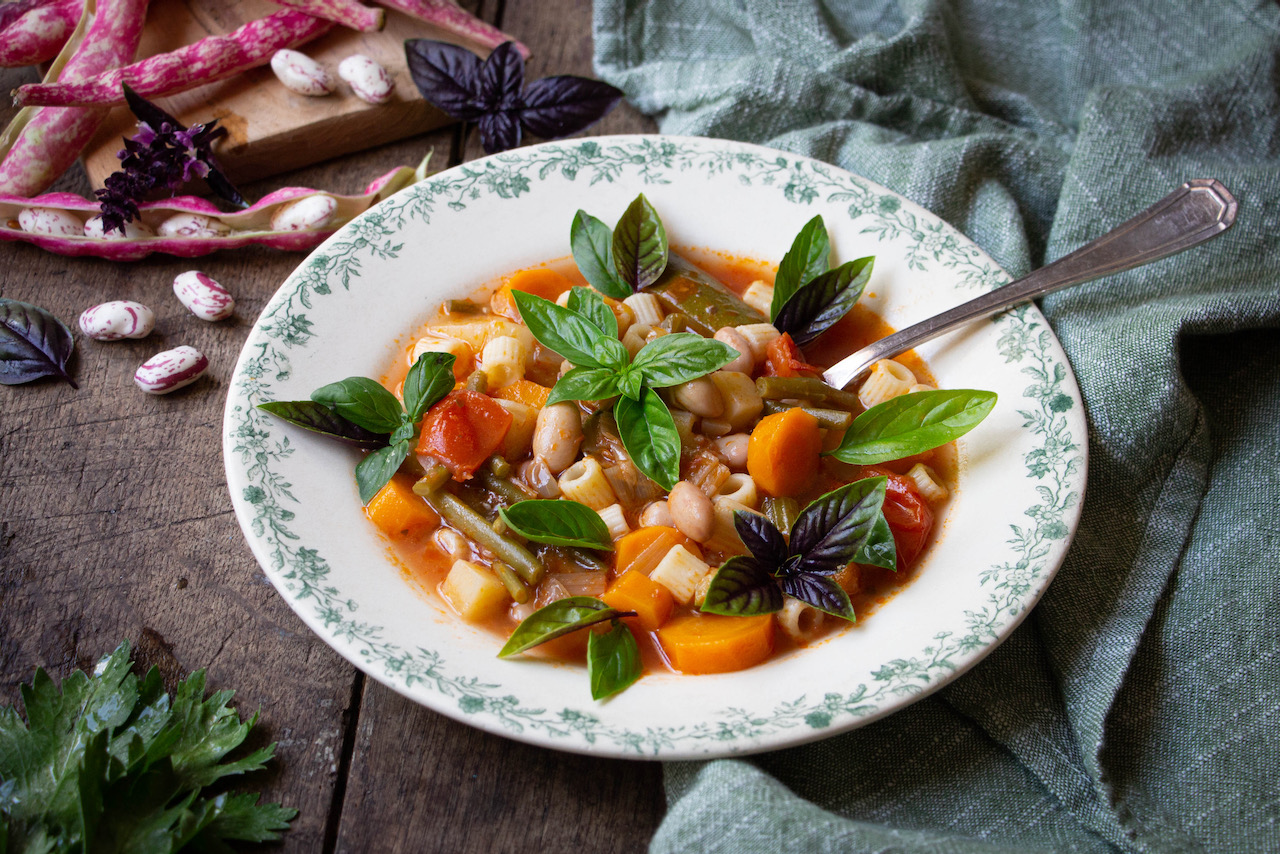 Print Recipe
Ingredients
1 slice of butternut or pumpkin

1 carrot

2 potatoes

100 g fresh green beans

1 zucchini

150 g white beans

1/2 leek

1 celery branch

10 cherry tomatoes

1 or 2 basil branches

1 chicken stock cube

1 teaspoon of coarse salt

Salt

Pepper

Pesto sauce (recipe on the blog)

Grated cheese
Instructions
1
Clean, peel and cut your vegetables in small cubes (set aside the celery leaves)
2
Place them in a large saucepan.
3
Add the celery leaves, the coarse salt, the chicken stock cube and fresh basil.
4
Cover with a large volume of cold water and heat until it boils.
5
When the water starts boiling, reduce the heat to low heat (2-3 on a scale from 1 to 9).
6
Let cook with cover for at least 2 hours.
7
When time to serve, check seasoning (salt and pepper).
8
Add little pastas and grated cheese on your minestrone soup once served in your plates.
9
Add pesto sauce and enjoy!
Notes
The vegetable list can be changed: you can add some more (turnip, parsnip) or remove a few. But keep in mind that this minestrone soup is really tasty when you have at least 6 or 7 kind of vegetables.