Skewer and barbecue lovers, I salute you!!
Today let's have sunshine, heat, and travels!
Here are my chicken souvlaki (skewers)!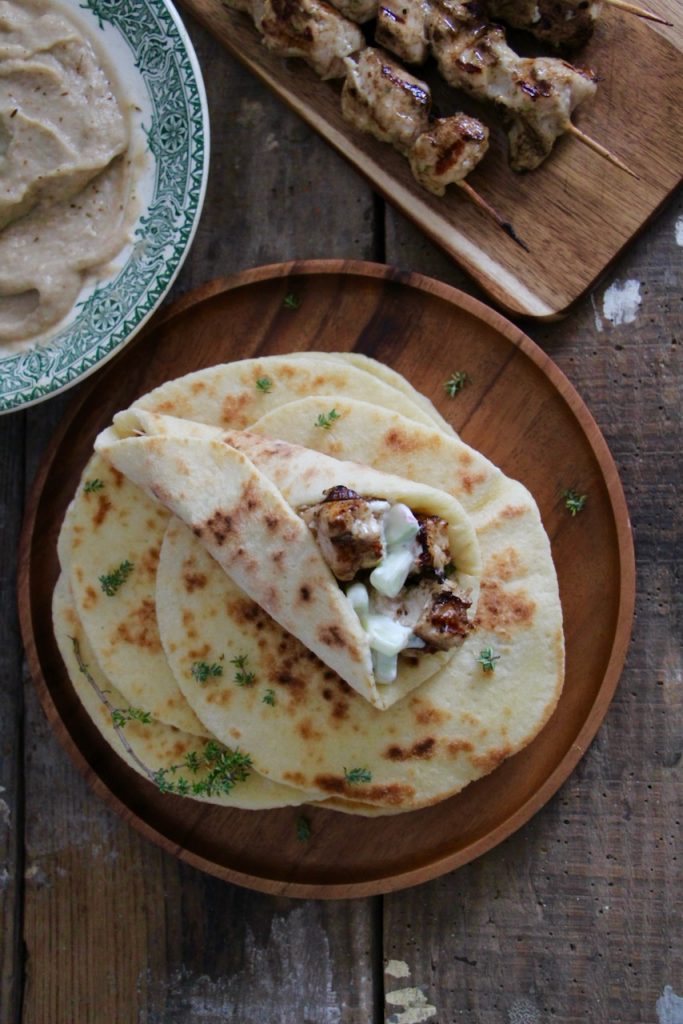 Souvláki is a traditional Greek dish made with pieces of meat and vegetables, most of the time cooked as skewers. You can have it as fingerfood (hence the skewer), with pita bread or in a plate with side sishes. Most the time in Greece and Cyprus, the meat is pork.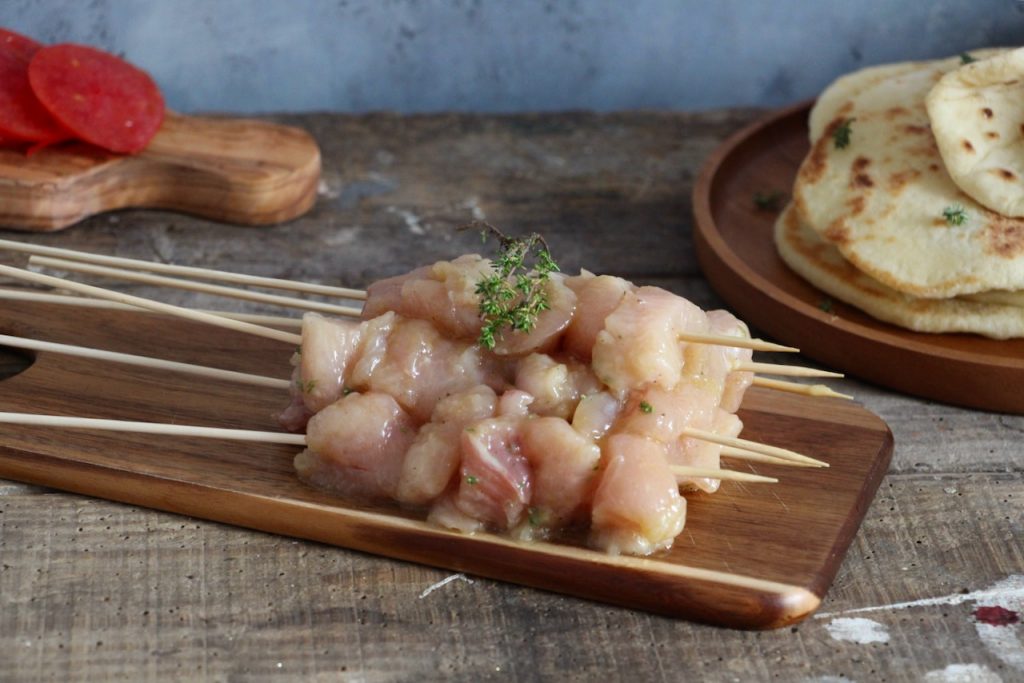 For this recipe I chose chicken which is less fat than pork, but you can replace and have the traditional pork instead. Anyway, you won't be disappointed. The meat is super tender, has a delicious taste thanks to the marinade made with olive oil, lemon juice and thyme. The best option is to go for fresh thyme if you have some. You can also add rosemary, it will be great too.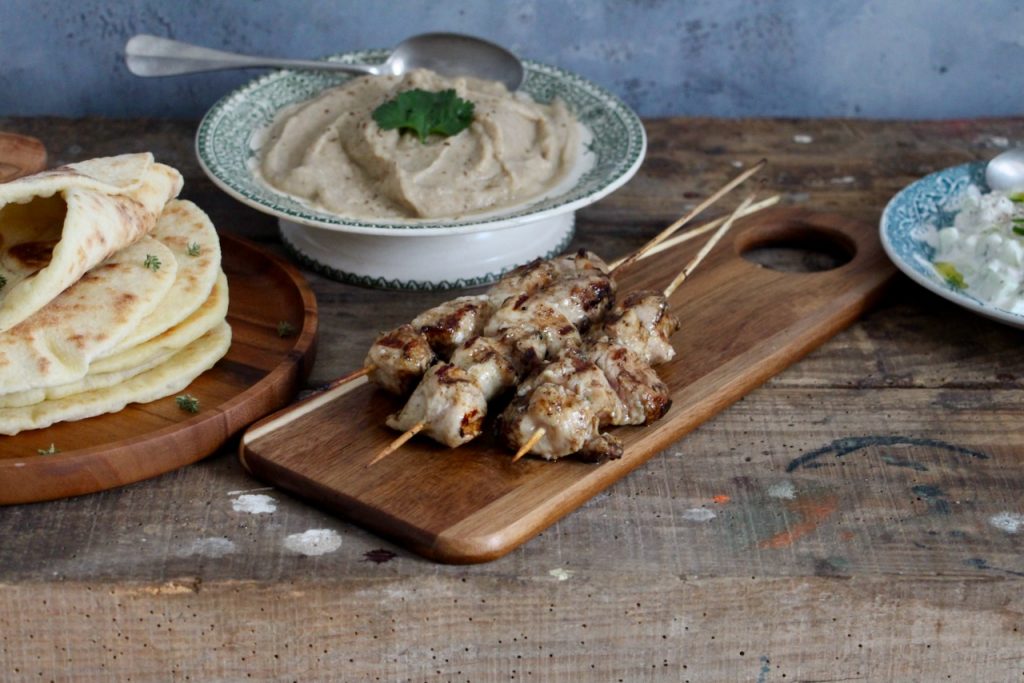 I served those chicken souvlaki (skewers) with a delicious Gyros pita bread, baba ganousch, cucumber raïta and tomatoes just harvested in my garden. It was great! Normally you would also serve French fries or simply fried potatoes. So you have a wide range of options here! It will also be perfect with plain rice, grilled zucchinis or green beans.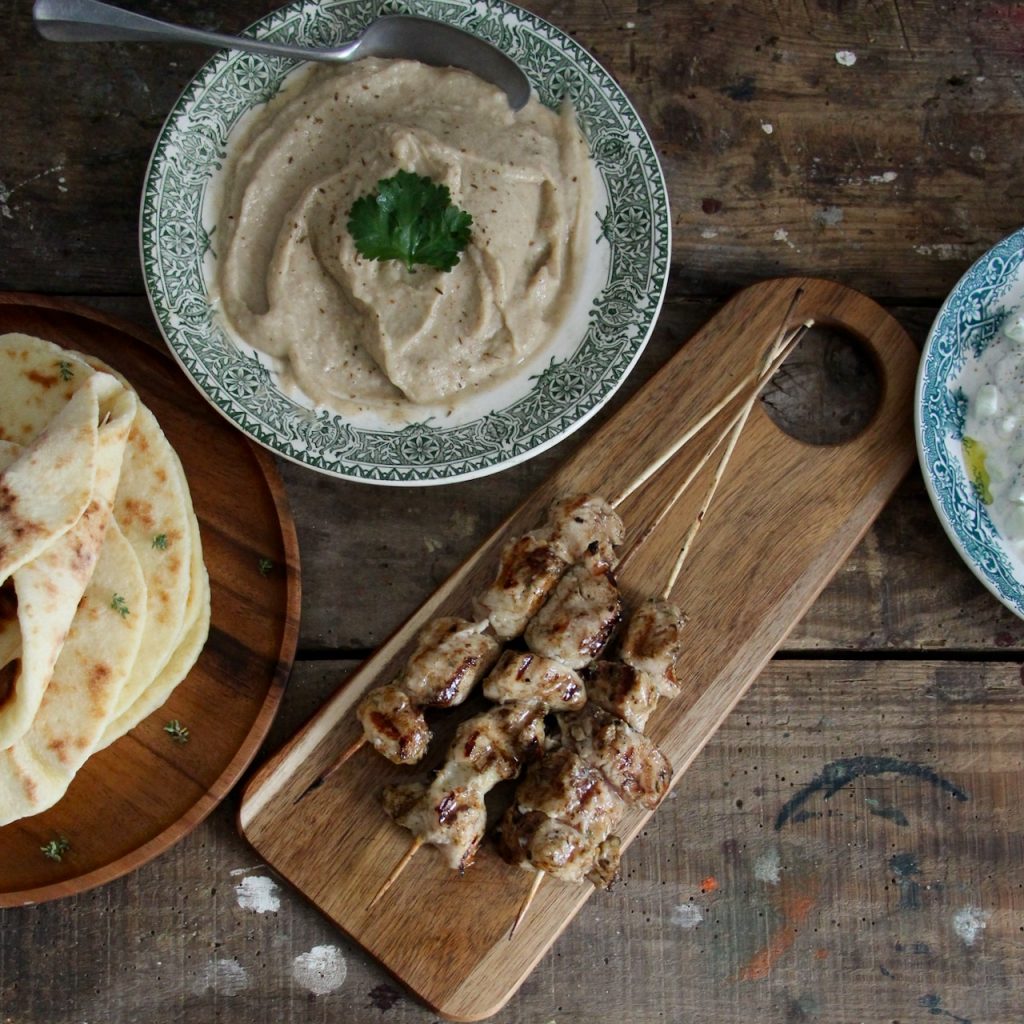 You'll see, the marinade makes the chicken tender and tasty. It's really good…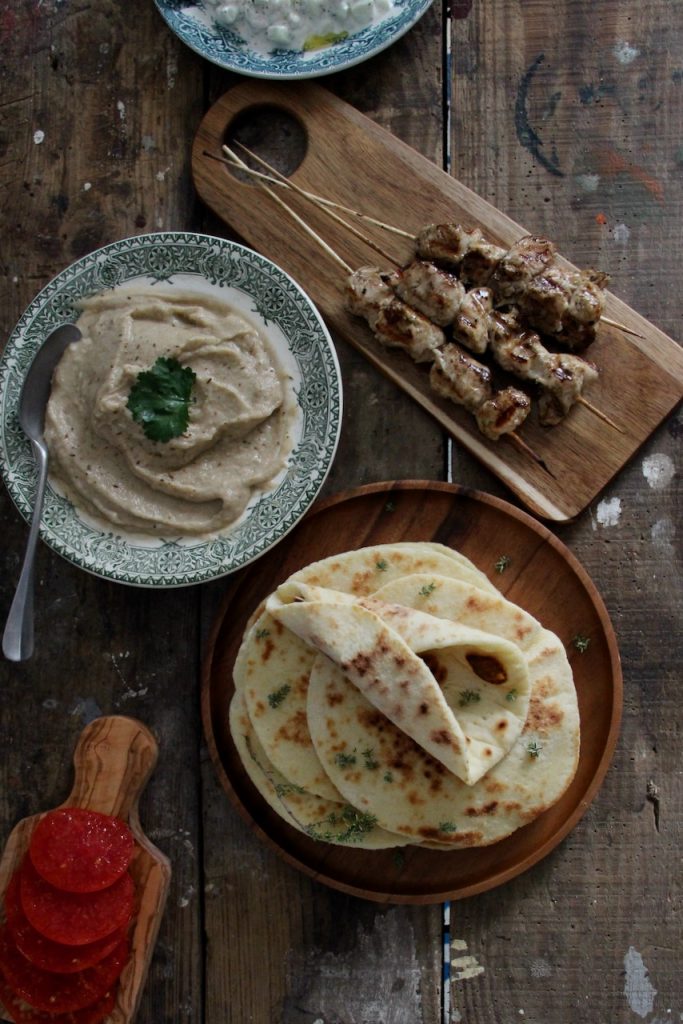 The utensils:
A large bowl for the marinade,
A sharp knife,
A cutting board,
8 wooden or metal sticks to make the skewers
And a barbecue or a large frying pan.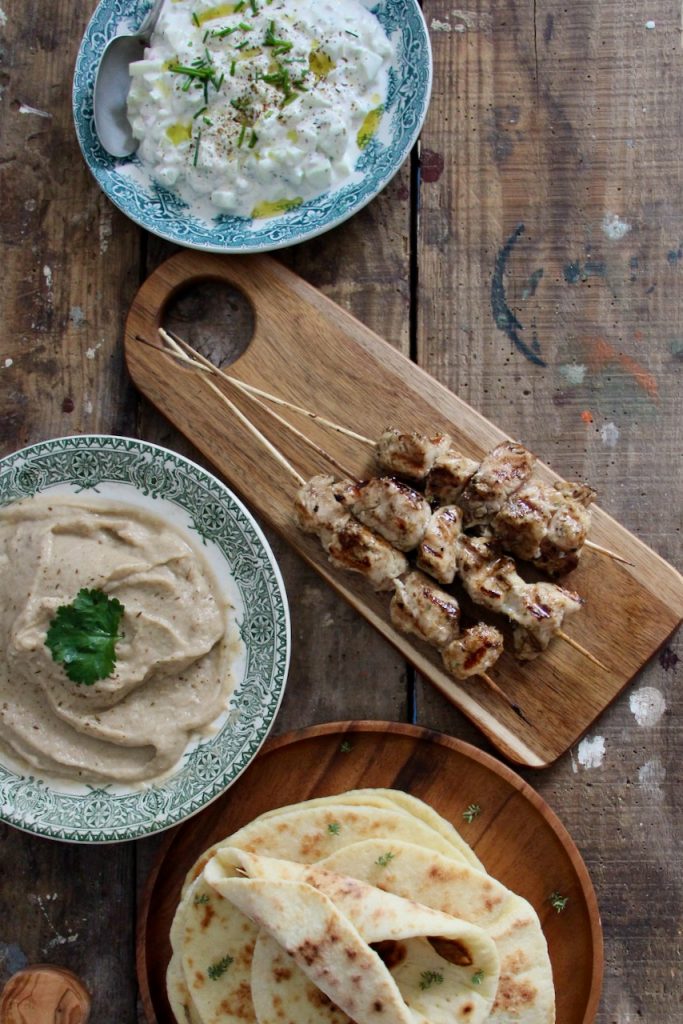 Ready to travel to Greece?
Let's make chicken souvlaki (skewers)!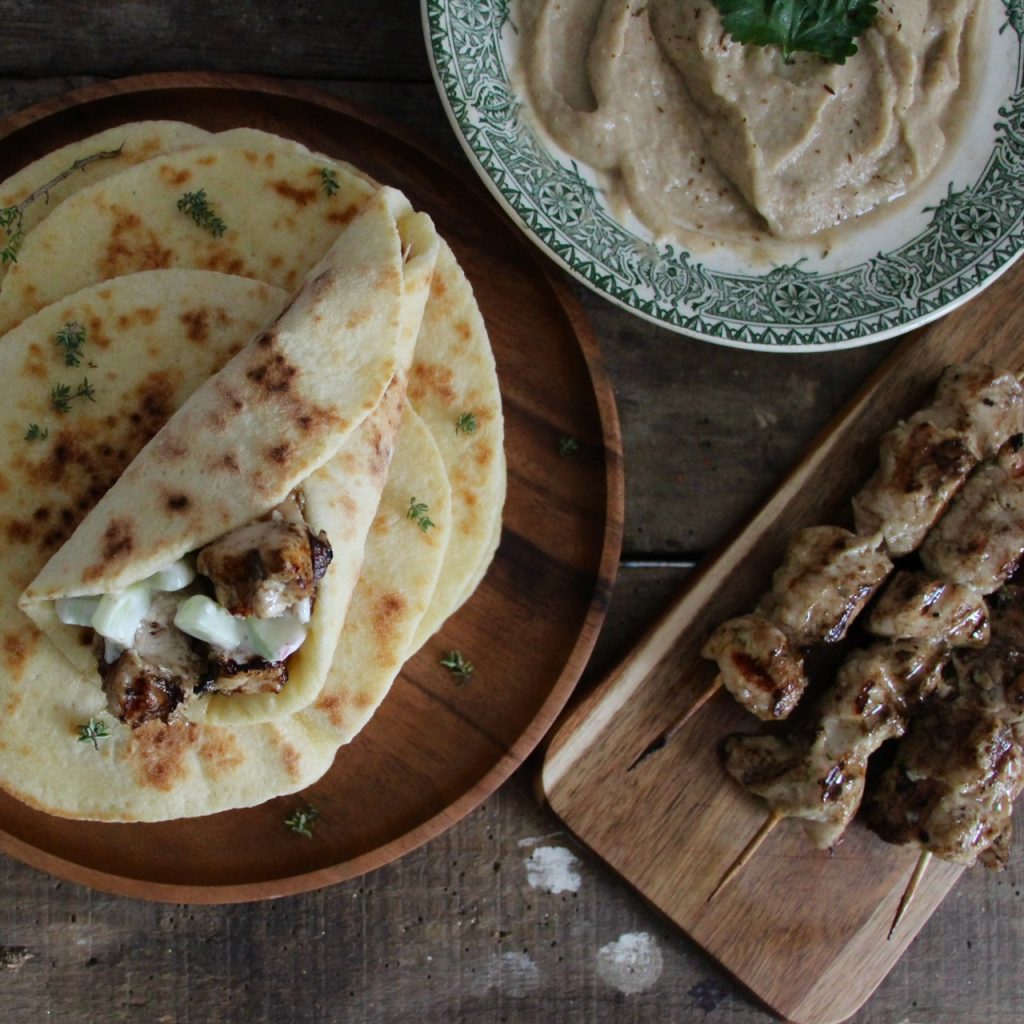 The recipe, Chef!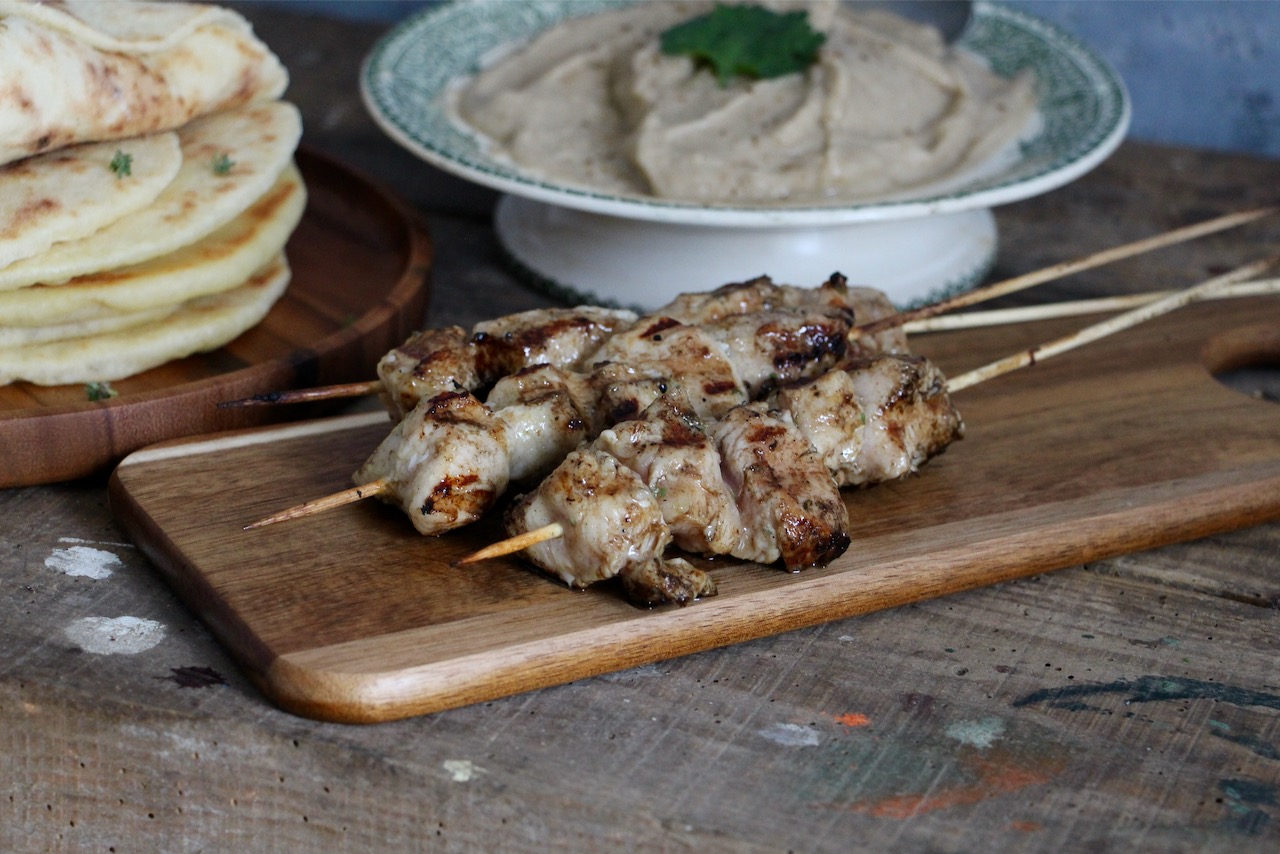 Print Recipe
Chicken Souvlaki (Skewers)
Ingredients
600 g chicken fillets
4 tablespoons olive oil
1 tablespoon honey
1/2 lemon
4-5 fresh thyme stalks
1 rosemary stalk (optional)
Salt
Pepper
Instructions
1
Mix the oil, lemon juice and honey in your bowl.
2
Add salt, pepper, thyme and rosemary.
3
Cut your chicken fillets in cube and place them in the bowl.
4
Mix well and set aside in your fridge for at least 2 hours.
5
After that, make the skewers.
6
Cook 10 minutes on your barbecue.