Hello my friends!
I want to travel with you today. I want to follow the spice route, far away…
And for that matter, I suggest a delicious cucumber and coriander raita.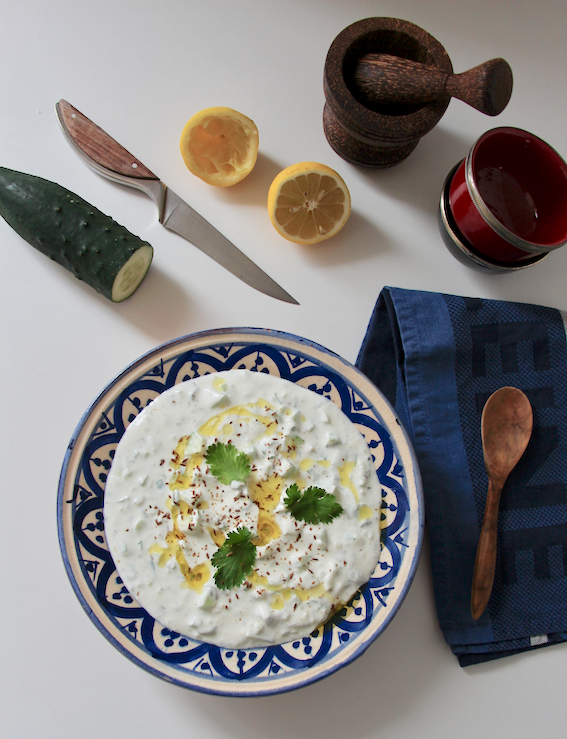 Raita is a sauce that you will find in Indian cuisine or Pakistanese cuisine, made from yoghurt and vegetables. It is often served with spicy dishes in order to soften their taste.
According to which raita you decide to make, this sauce can be very close to the Greek tzatziki. That's what happens here with this cucumber and coriander raita , inspired from the cookbook "Simple" by Yotam Ottolenghi.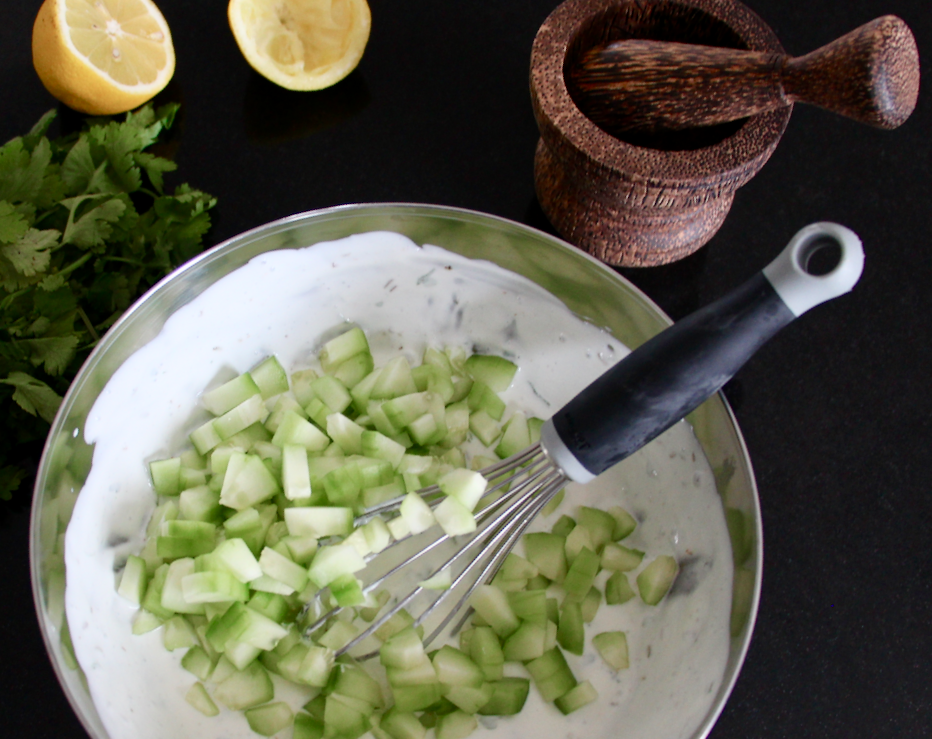 This recipe is to die for!! Prepare it a few hours in advance (this can be helping some days!!), and herbs and spices will have time to spread their flavors… It's delicious!
The Greek yoghurt brings a smooth taste, this dish changes from what I usually cook…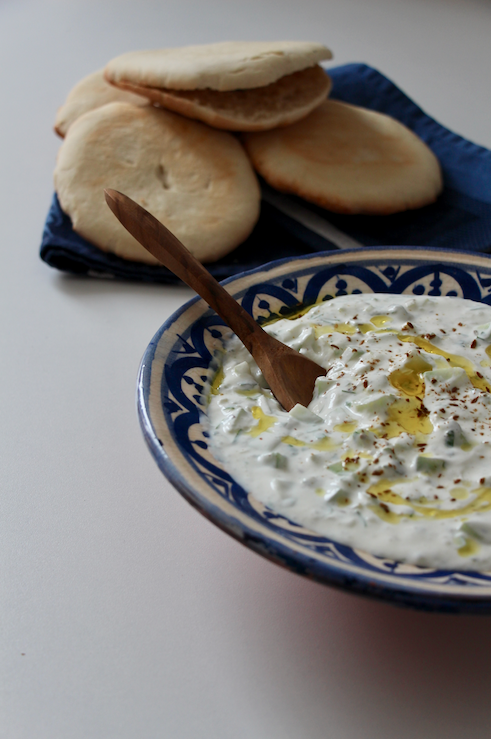 I suggest to eat it with blinis, naans, pita bread or simply a few slices of baguette! It will be delicious too as a starter for a mezze buffet (those Oriental dishes to share such as humus for instance or the mechouia salad), it's surprisingly fresh and tasty!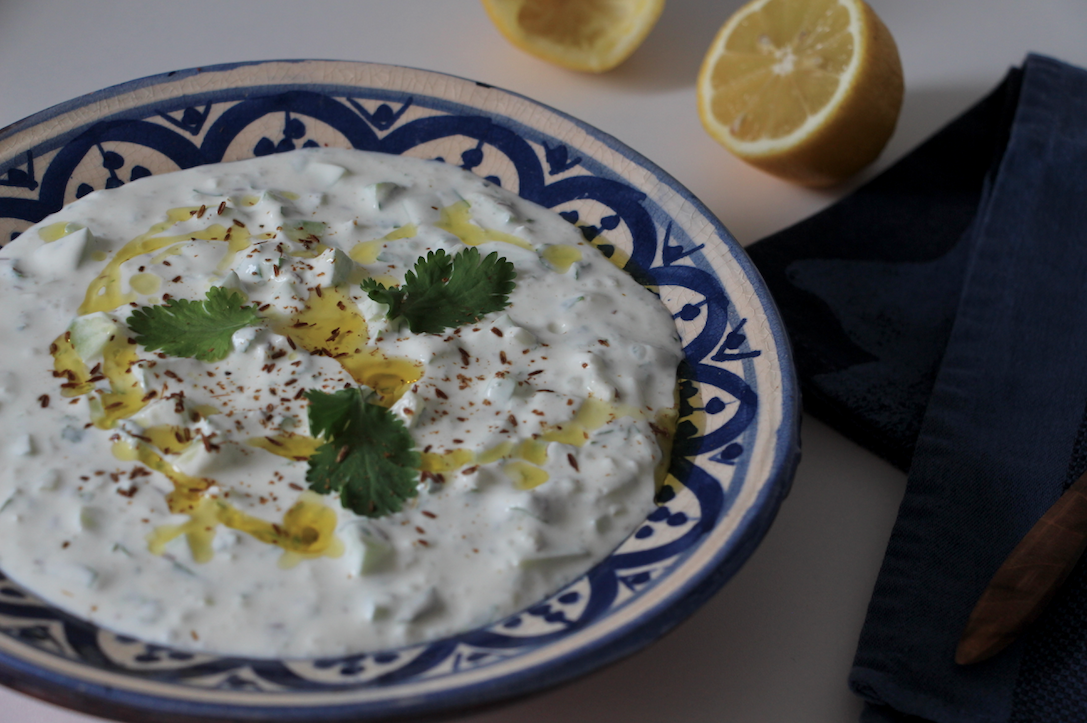 And if I tell you that it is ready in less than 10 minutes and that it's cheap, you can not refuse trying it…
I recommend this recipe for 5-6 people. It's true when served as an appetizer. If you're thinking to serve it as a starter, make a little bit more.
The utensils:
A small frying pan
A large mixing bowl
And a pestle for the cumin seeds.
(If you don't have one, you can crush your cumin seeds with a rolling pin, that will do!).
Ready for the taste travel?
The recipe, Chef!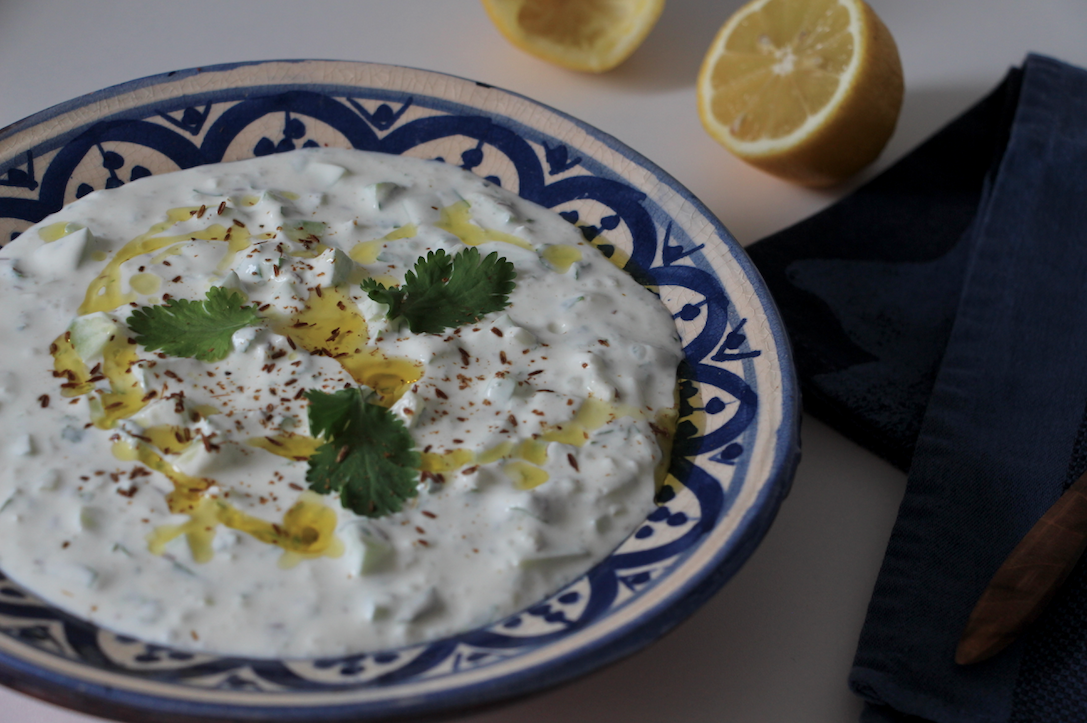 Print Recipe
Cucumber and Coriander Raita
Ingredients
300 g Greek yoghurt
15 leaves fresh coriander
1,5 tablespoons lemon juice
3 teaspoons cumin seeds
1 cucumber
1/4 onion (fresh if possible)
Salt
Pepper
1 teaspoon olive oil
Instructions
1
Roast your cumin seeds in your frying pan for 3-4 minutes.
3
Pour the yoghurt in a bowl.
4
Add the chopped coriander leaves, the lemon juice, 2 pinches of salt and 3/4 of the crushed cumin seeds. Mix.
5
Add the minced cucumber and onion. Mix.
6
Adjust seasoning with salt and pepper.
7
Set on a dish, pour the olive oil and the remaining cumin seeds.
8
Serve or set aside in your fridge.
Notes
You can use mint instead of coriander.