You are amazing!! Yes you are and I'm repeating it! I feel so lucky to have such a wonderful community!
A few weeks ago Amina was asking me a question about my waffle recipe. I answered and we started chating about recipes in general.
Amina likes my recipes and offered to share recipes from where she comes from, Morocco. I loooove Moroccan cuisine and I replied "yes please" right away!! Next step, you get it…
Here is the candied tomatoes and lamb tajine by Amina!!
I was immediately enthousiastic about the recipe! Lamb, I really like this meat, spices (obviously!!!), candied tomatoes (I was intrigued … how would that turn out??) …
And since I'm a bit of a gambler, I decided to give it a try for a dinner with a few friends, 17 at my table…
It had to be delicious!!
But Amina was kind enough to be there for me and answered via Facebook to all of my questions… And I will share all her secrets with you today!
The evening came, I served my candied tomatoes and lamb tajine by Amina, and bam!! Score!! Everyone asked for more!! As a good mother, I had made enough to keep a few shares for my kids who enjoyed the delicious smell all day long at home without being allowed to taste it… I know my friends quite well, and I was right to be foresighted since I made lots of it!!
To make this tajine you won't need very specific cooking skills, but time, a lot of time…
Your tomatoes will be cooked for at least 2-3 hours. If you buy varieties that give a lot of water when being cooked, it can even be longer. For that reason, I recommend to make this dish the day before and take your time. This is what I always do, with any of my tajine recipes, I think it's best to leave it to rest and re-heat it the next day with seasoning adjustment.
(You will get a lot of tomato water after plunging them into boiling water. Keep this water to make a delicious granita.)
So those tomatoes… First: do not put salt. That's surprising but you will serve them without a single grain of salt. Second: you are going to cook them with olive oil only and when the color will turn orange, and only at this moment, you will add honey and cinnamon. Cinnamon???? Yes!! It will balance the flavors without being too present. Last: you will stop cooking your tomatoes when there won't be a single drop of water. Zero! nada! zip!
For the rest, just follow the recipe. Just one last advice: I use the same large frying pan for all of the cookings (28 cm) (my Affinity frying pan by De Buyer), without washing it in between. This way you keep 100% of all the flavors (tomato, lamb, onion, etc…).
This is my way to get a really delicious tajine!
As side dish, serve semolina. I added curcuma here to get this lovely golden color.
I believe you're hungry now…
The recipe, Chef!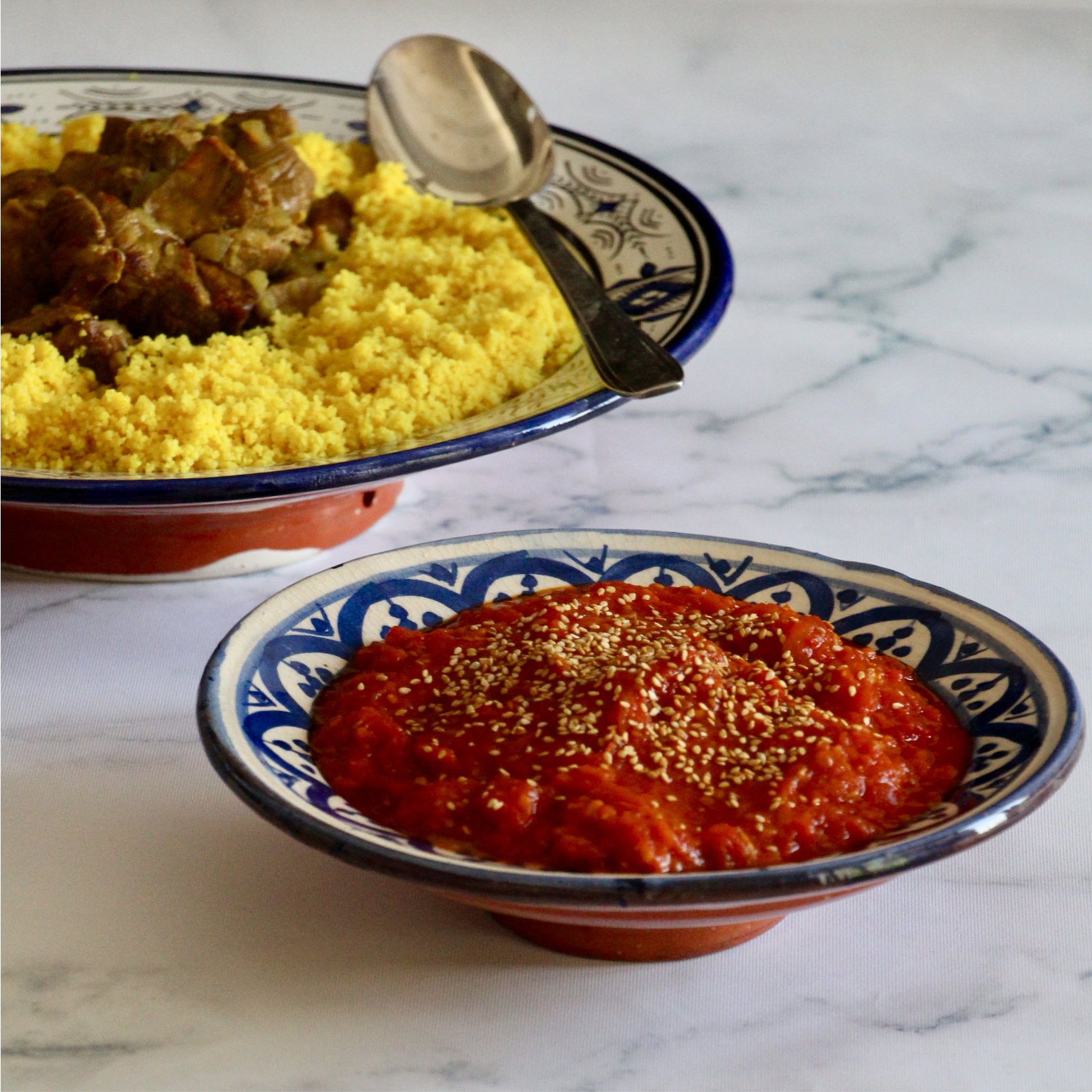 Print Recipe
Candied Tomatoes and Lamb Tajine by Amina
Ingredients
3 kg tomatoes
7 cl olive oil
2 tablespoons honey
1 tablespoon ground cinnamon
1,5 kg lamb
25 g butter
3-4 tablespoons vegetal oil
2 large onions
4-5 garlic cloves
1 tablespoon ground ginger
1 tablespoon curcuma
1/2 tablespoon ground coriander
1/2 tablespoon ground cumin
Salt
1 liter water
1 tablespoon sesame seeds
Instructions
1
Plunge the tomatoes into boiling water for a few minutes. When the skin cracks, remove from the water.
2
Once cooled down a bit, remove the skin and cut the pulp.
3
Heat the olive oil in a large frying pan. Add the tomato pulp (not the tomato water).
4
Cook without lid at medium heat.
5
Once your tomatoes get orange, add the honey and ground cinnamon. Cook until there's no liquid anymore. This will take 2 or 3 hours. Mix from time to time.
6
Set aside this tomato preparation.
7
In the same frying pan (do not wash it), put the butter and vegetal oil.
8
Stir fry the lamb pieces with salt until golden.
9
Set the pieces aside in a large casserole.
10
In the same large frying pan, stir fry the chopped onions and grated garlic.
12
Fry the spices in the frying pan and add 1/2 liter of water.
13
Pour the liquid in the casserole. Add 1/2 liter water and a teaspoon of salt.
14
Cook at medium heat with lid for 1 hour or more.
15
Taste the sauce and adjust seasonning.
16
When it's time to serve, heat the tomatoes. Spread sesame seeds.