I wanted to make this recipe for a long time. I just needed to stop by my fishmonger to be sure to get extra fresh fish and my salmon, avocado and pomegranate tartare was on its way!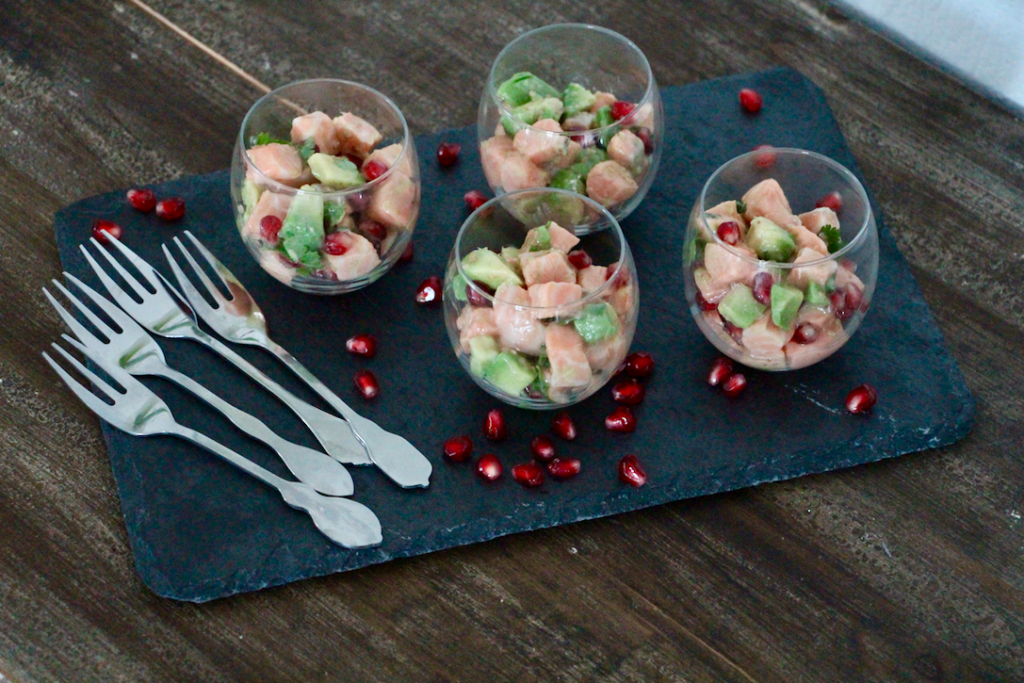 I suggest to serve it in little jars for as a nice appetizer (you know by now that I love appetizers!!). And with the quantities mentionned below, you will have enough to make 8 jars (12 cl).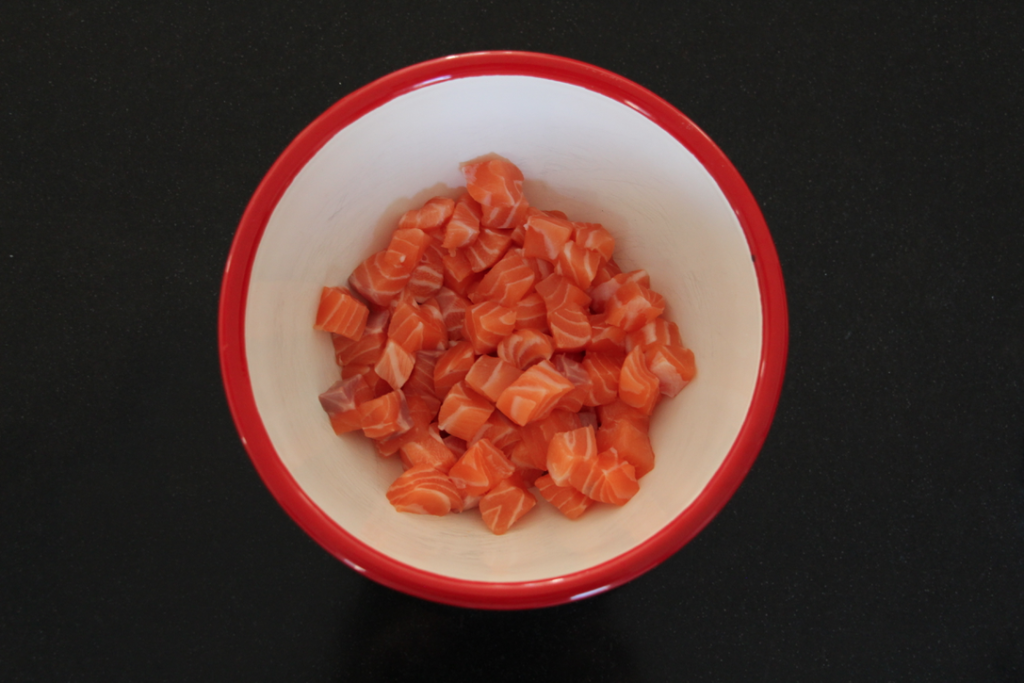 If you prefer to make a starter, you will have enough to make 4 portions. A lettuce and grilled toast on the side and it will be perfect.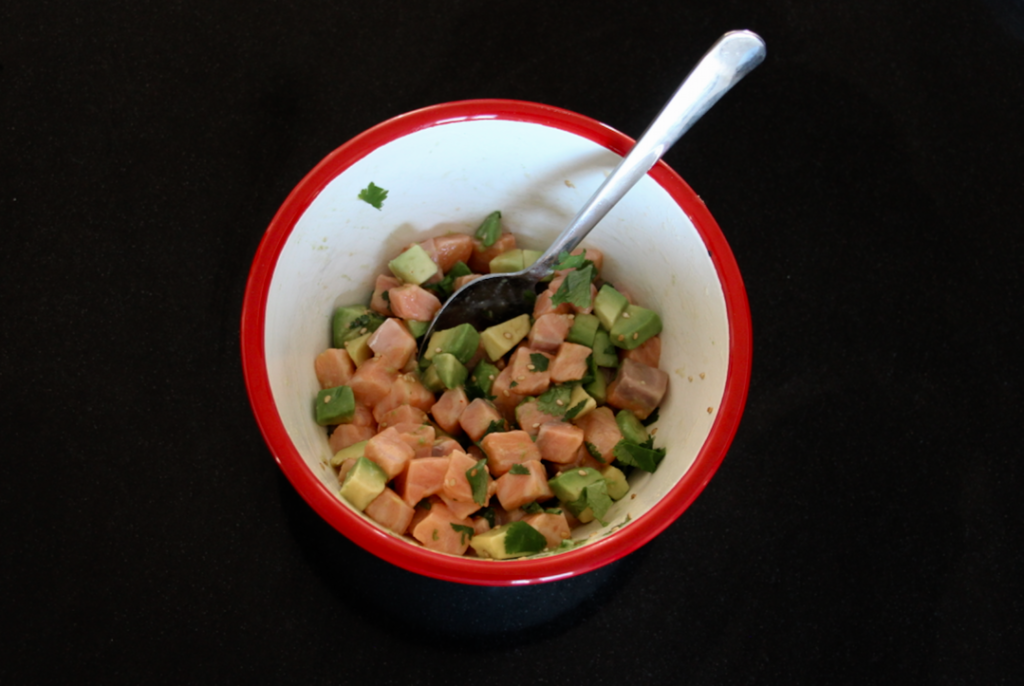 This recipe is really great: it is ready in a very short time, it does not require cooking, it's fresh and light! What could be better?? Aww… I just forgot! You can prepare it in advance!! Wonderful when you have guests!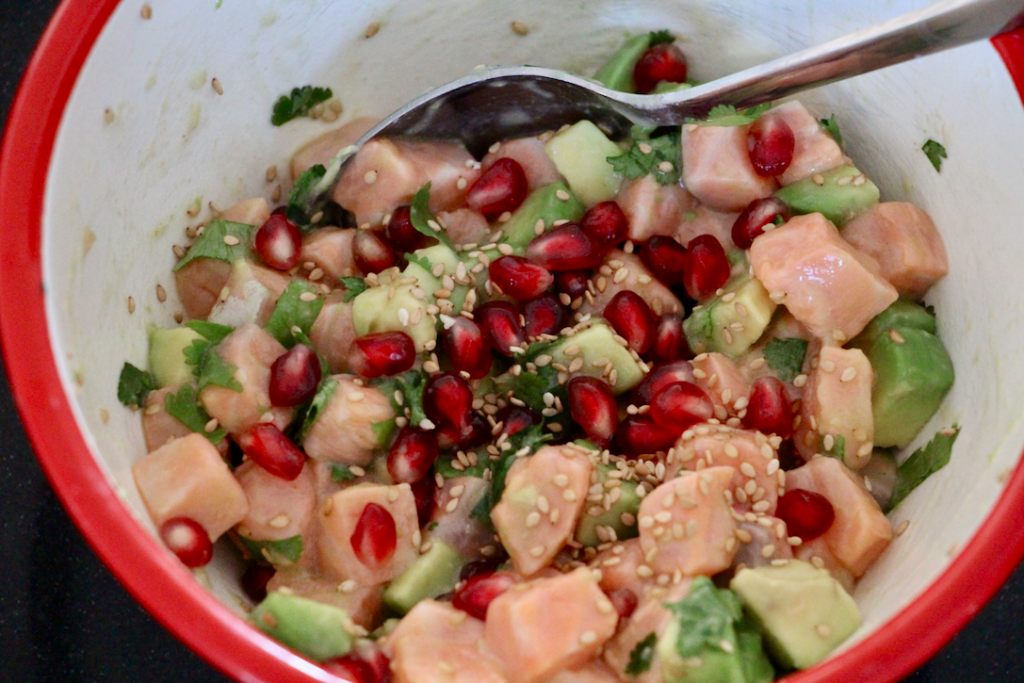 You will enjoy the subtle taste of salmon marinated in lemon juice and fresh coriander, the sweetness of the avocado, the delicate taste of spices… As far as spices are concerned by the way, I took a mix by Maison Roellinger: "Poudre des Alizes". It was delicious!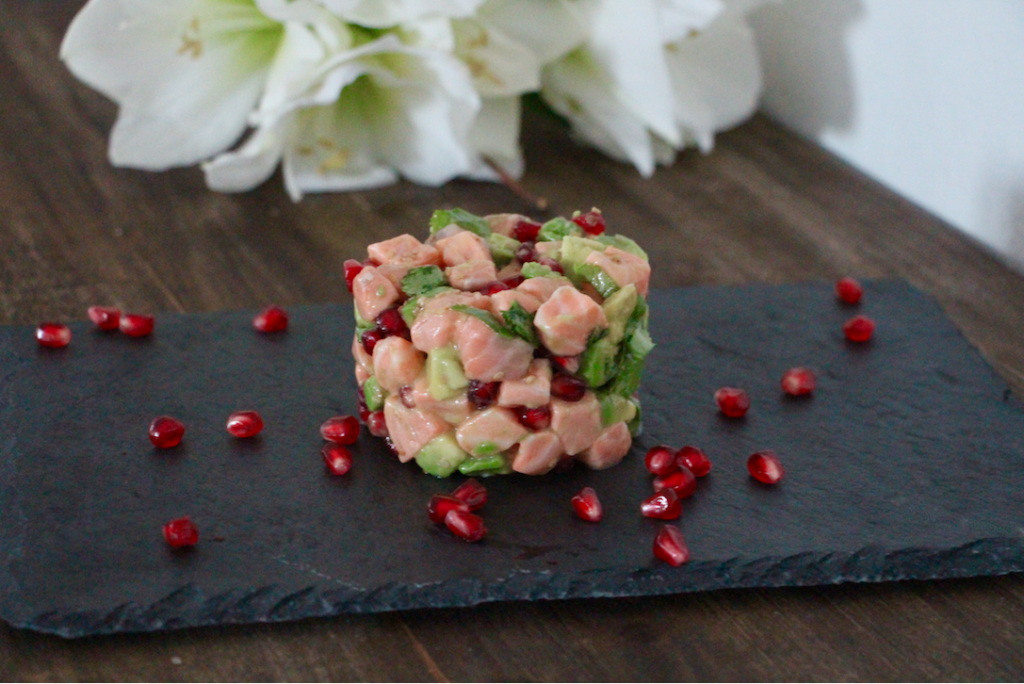 Nevertheless, you can make your own mix: ground ginger, ground coriander, paprika, red pepper, … Season as you like it! The thing is to taste in order to be sure to get the right balance. I wrote down the quantities I put, but everyone likes it in a different way.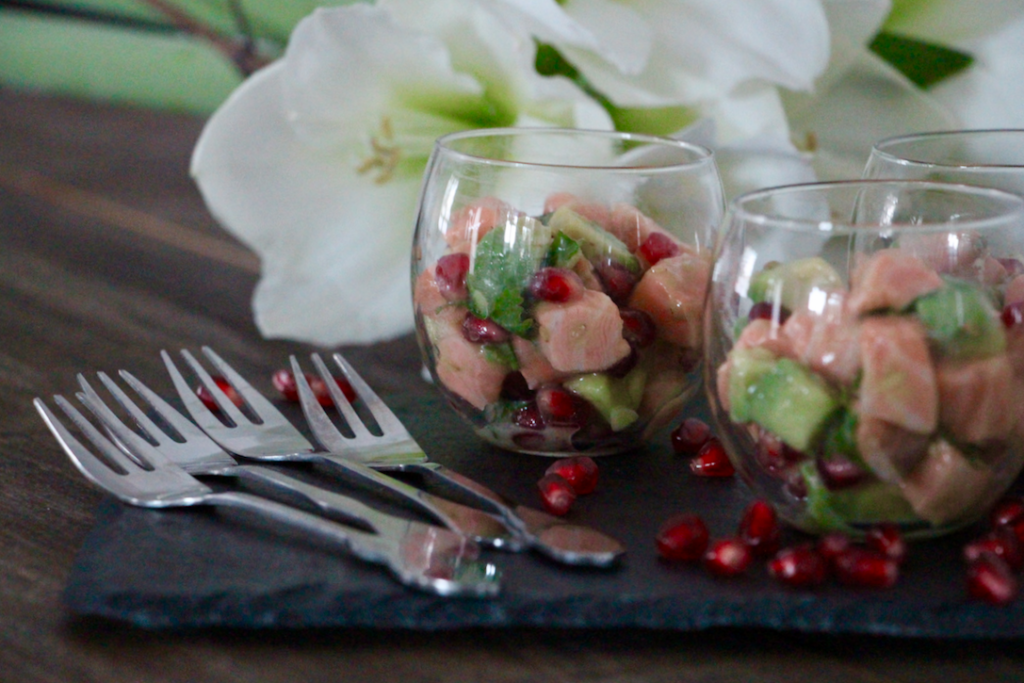 The utensils:
My cutting board by Fackelmann
And my auto-sharpening Santoku knife by Fackelmann too.
I think you're ready to cook…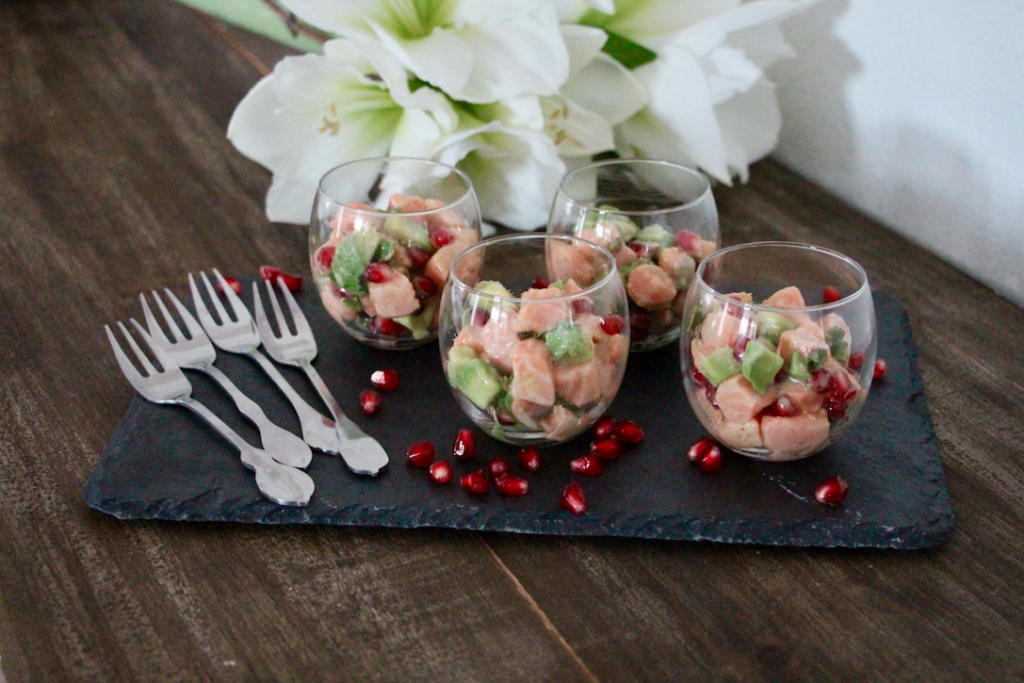 The recipe, Chef!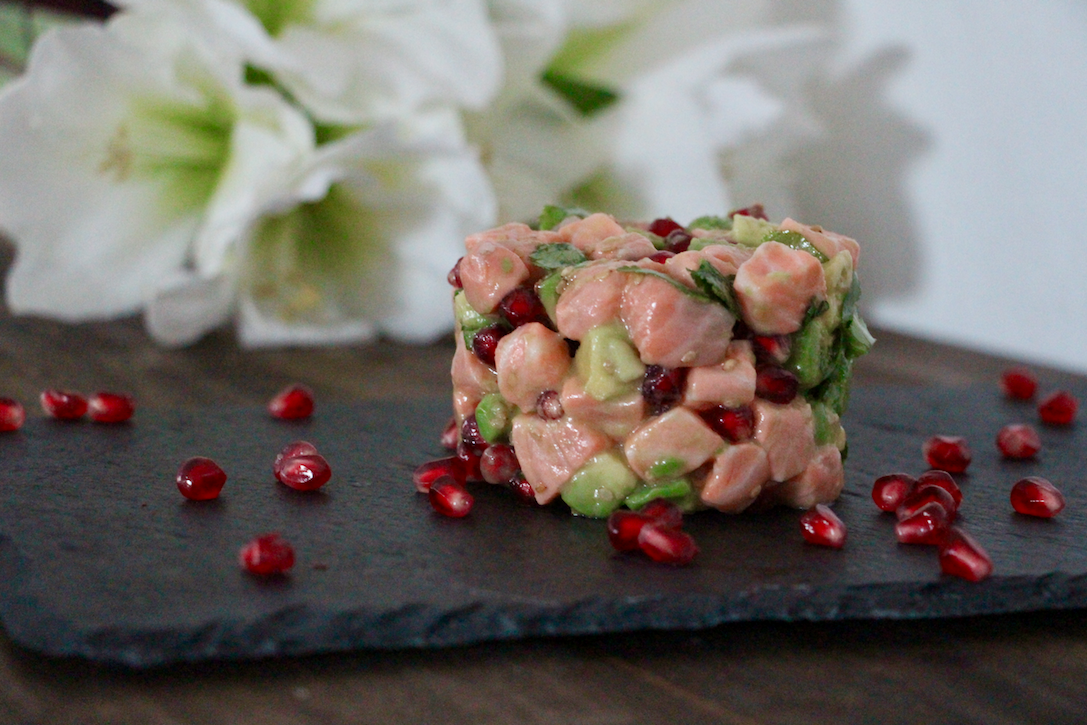 Print Recipe
Salmon, Avocado and Pomegranate Tartar
Ingredients
400 g fresh salmon

1 avocado

1 lemon

1/6 pomegranate

2 tablespoons olive oil

1/2 teaspoon spices

1 teaspoon sesame seeds

1 pinch flower salt

Pepper

Fresh coriander leaves
Instructions
1
Cut the salmon in small pieces.
2
Do the same with the avocado.
3
Remove the seeds from the pomegranate (apron mandatory here!)
4
Rince and dry the coriander leaves.
5
Place the salmon and avocado in a bowl, add the pomegranate seeds and chopped coriander.
6
Season with flower salt, pepper, sesame seeds and spices.
7
Pour the olive oil and 2/3 of the lemon juice. Taste and add lemon juice if you want to.
8
Mix gently and set aside in your fridge until serving.
Notes
You can put basil or chive instead of the coriander if you wish. Mango will be a nice add on.