Hello my friends!
Today's recipe will be perfect for the holiday season or whenever you want a nice and yummy dessert on your table.
Here are my chocolate and praliné tartlets!
Let's see the recipe, Chef!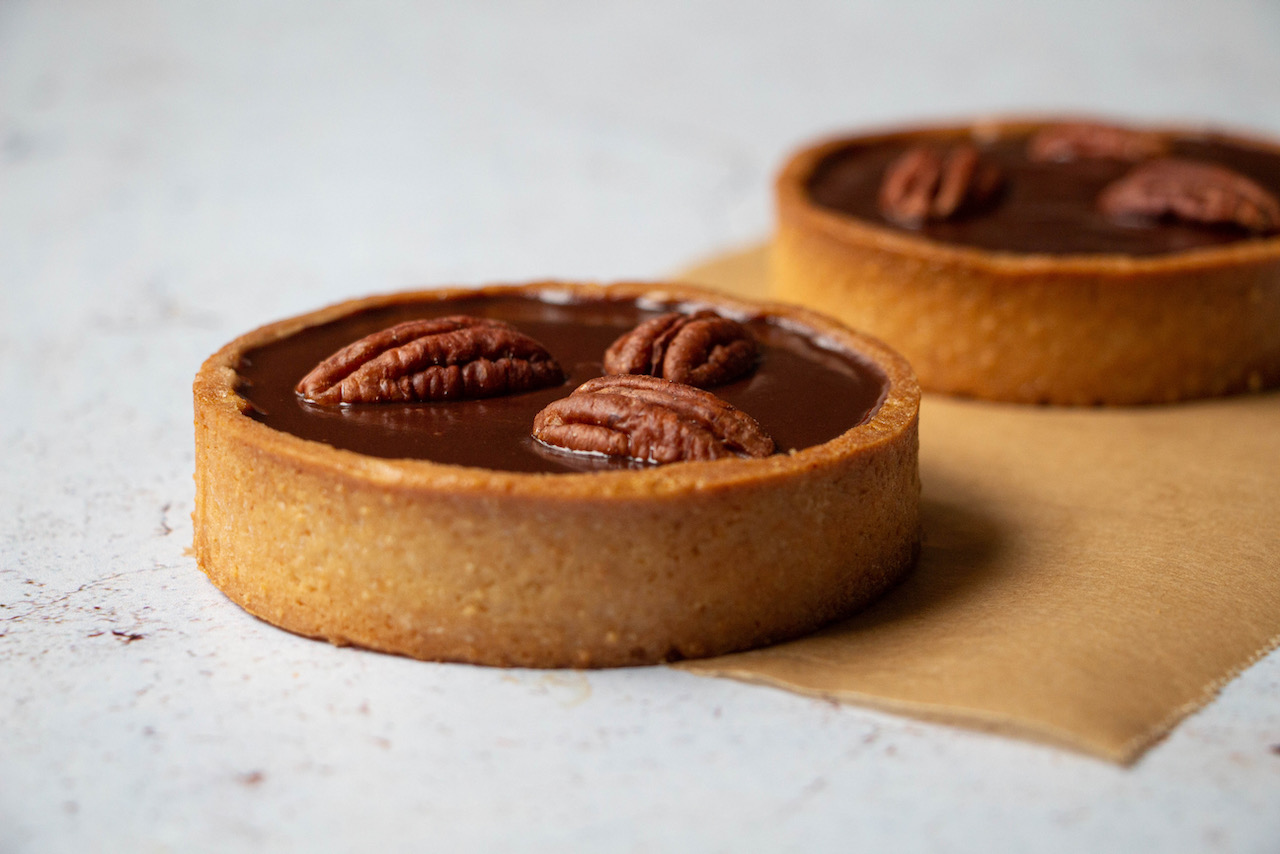 Print Recipe
Chocolate and Praliné Tartlets
Ingredients
Almond pastry

120 g flour

1 tbsp milk

65 g butter at room temperature

25 g ground almond

1 pinch of salt

65 g icing sugar

1 egg yolk (approx 20 g)

Chocolate ganache

95 g milk

95 g cream

35 g sugar

1 egg yolk (10 g)

130 g chocolate
Instructions
1
Combine the flour, salt, almond powder and sugar.
2
Cube the butter and mix medium speed until it resembles breadcrumbs.
3
Add the egg yolk and milk until it comes together.
4
Wrap it in clingfilm and set aside in your fridge for at least one hour.
5
Preheat your oven at 180 C / 355 F degrees.
6
Spread the pastry and place it in your tartlet rings. Cook for 18 to 20 minutes.
7
Once cooked and cooled down, pour the praliné equally on each one.
8
Heat the milk and cream in a saucepan up to a boil.
9
Combine the egg yolk and sugar until you get a foamy mixture.
10
Add the milk / cream and pour back in the saucepan.
11
Cook at medium heat for 4-5 minutes and keep whisking. You should get a very smooth mixture.
12
Remove from the heat and add the chocolate pieces. Wait 2-3 minutes for the chocolate to melt and mix.
13
Pour the ganache still warm on the tartlets.
14
Place 3 pecan nuts on each and set aside at room temperature until serving.