Hello my foodie friends!
I hope you're hungry for healthy deliciousness today! Let me take you on a trip…
Here are my eggplants, Lebanese style! You need to tell me about them!!
Let's see the recipe, Chef!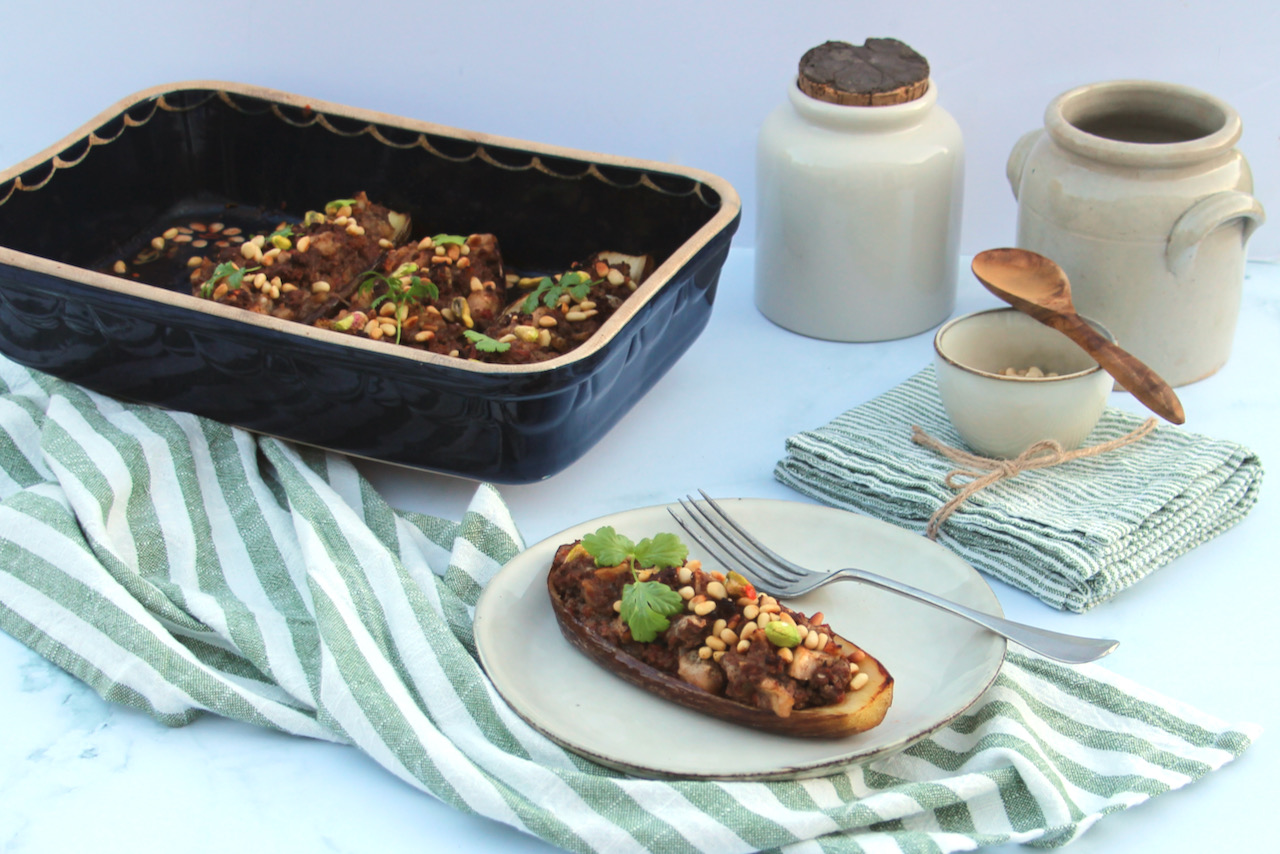 Print Recipe
Eggplants, Lebanese Style
Ingredients
6 eggplants (aubergine)

1 onion

400 g minced beef

1/2 tomato pulp can (200 g)

1 tablespoon maple syrup

2 tsp zaatar

2 tsp ground cumin

2 tsp ground cinnamon

Olive oil

Salt

Pepper

150 g Greek yogurt

1 teaspoon tahini

Fresh coriander (optional)

1 handful pistachios

1 handful pine pinions
Instructions
1
Preheat your oven at 220 C / 430 F degrees.
2
Clean the eggplants, cut the ends and cut them lengthwise.
3
Make braces, pour 2 tablespoons of oil on a parchment paper put on a tray. Add salt and pepper. Place your eggplants cut face on the oiled paper.
4
Cook in in the oven for 20 to 25 minutes (depending on the size of the eggplants).
5
In the meantime, stir fry the minced onion in a frying pan with 3 tablespoons of oil, during 3 minutes.
7
Add the maple syrup, cinnamon, ground cumin, zaatar.
8
Add the tomato pulp, salt and pepper.
9
Leave on the stove at low heat for 2-3 minutes.
10
When your eggplants are cooked, let them cool down a bit and remove the center. Chop roughly this pulp and add it to the meat ragu.
11
Preheat your oven at 180 C / 355 F degrees.
12
Place the half eggplants in your roasting pan.
13
Adjust the meat seasoning and fill in the eggplants.
15
In the meantime, mix the Greek yogurt with tahini.
16
Stir fry the pistachios and pine pinions 2 or 3 minutes in a frying pan.
17
Serve your eggplants, spread with pistachios, pine pinions and chopped coriander, with the yogurt dip.