Hello my dear food lovers!
Today, I summonded up my courage and had a little moment with my freezer. When I say "had a moment" I obviously meant I cleaned my freezer!!
And bam! I found Norway lobsters!
There I go, making a Norway lobster soup!!
That's the proof, if needed, that cleaning can be worth it!! 😉
So I'm just half joking here since you can not keep ingredients in your freezer for ages. It is a serious health matter.
Here are a few info about food preservation found on a French health website:
Fruits and veggies: 1 year
Meat pieces: 6 to 8 months
Minced meat: 2 to 3 months
Fish and seafood: 3 to 4 months
Cooked meals: 3 to 4 months
Breads: 1 month
Pancake batter: 2 months
Cakes : 3 months
Butter and grated cheese: 3 months
Now that we have that in mind, we can get back on this Norway lobster soup!
We are goint to cook all the non edible parts of the Norway lobsters (or shrimps, prawns, etc, it will be the same recipe) with veggies, seasonings, spices, broth and cognac. Then we will pour the whole thing through a strainer to get all the juice: that will be the soup.
The cognac (or whiskey) isn't mandatory yet it really gives a great taste to the soup, and the alcohol  itself will have disappeared once you flame the brandy.
It will be a delicious starter, that you can make in advance (except for the last minute lobster cooking).
The utensils:
A cast iron pan or a sauté pan (I take my De Buyer sauté pan),
A frying pan to stir fry the Norway lobsters (I take my Mineral B by De Buyer)
And a strainer.
There you go! You can start!! It's going to be so delicious!!
The recipe, Chef!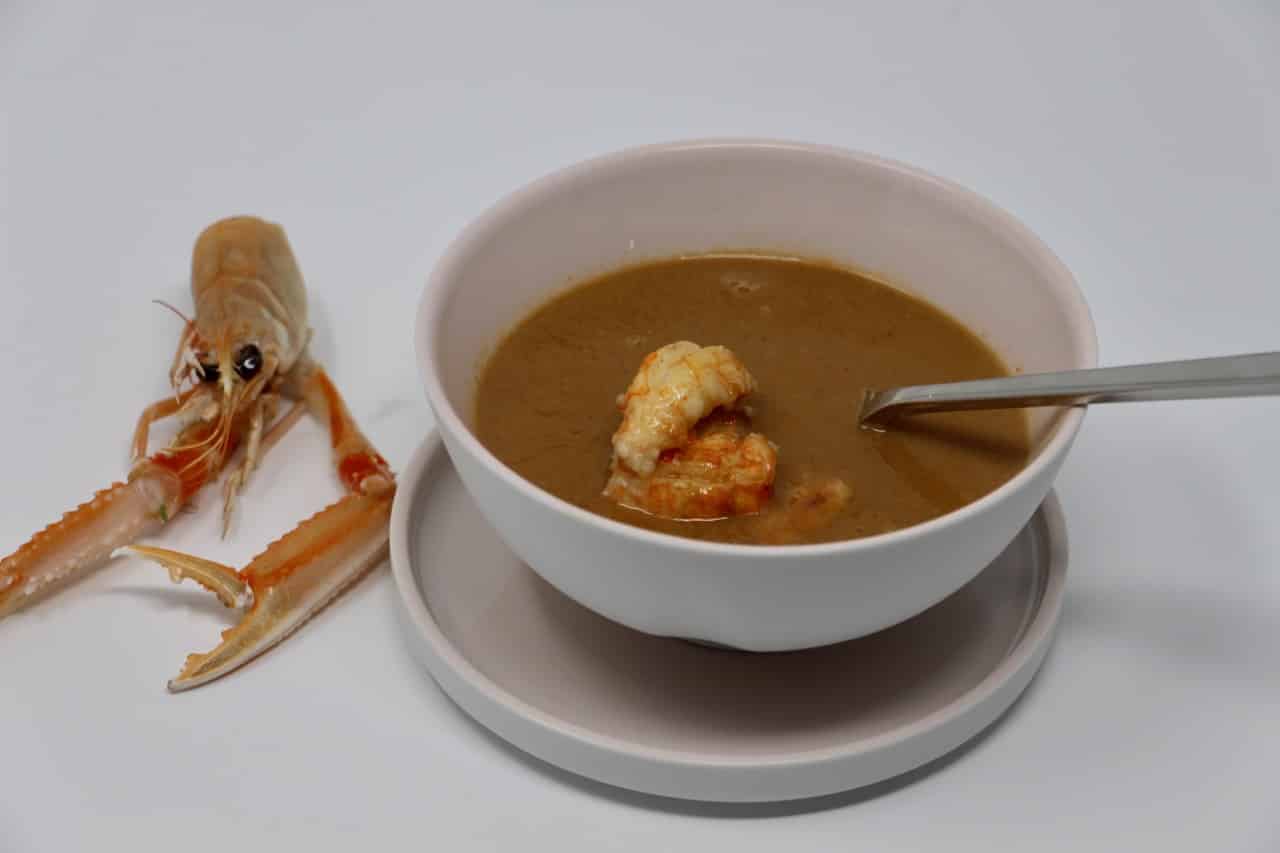 Print Recipe
Ingredients
15 Norway lobsters
1 l water
5 cl cognac (or whiskey)
1 small can of tomato concentrate
1 stock cube
2-3 stalks fresh thyme
1 stalk fresh rosemary
1 carrot
1 onion or shallot
Fresh cream
Olive oil
Salt
Pepper
Paprika
Red chilli pepper
Instructions
1
Pull off the heads of the Norway lobsters, set the edible parts aside in your fridge (remove the gut).
2
Stir fry the chopped onion and 2 tablespoons of olive oil in a large sauté pan. Add the Norway lobsters heads, the claws and shells.
3
After 2-3 minutes of cooking, add the cognac and flame it.
4
Then add the water, the stock cube, the tomato concentrate, the peeled and cut carrot, the rosemary and thyme.
5
Add 1/2 teaspoon salt, 1/2 teaspoon paprika and a pinch of red chilli pepper.
6
Let cook with lid for 45 minutes.
7
Pour the sauce through your strainer, crush the solid parts in order to get as much juice and sauce as possible.
8
Pour the sauce back in your cocotte, adjust seasoning and add water according to the consistency you want.
9
Before serving, stir fry your Norway losbters in a frying pan with 1 tablespoon of olive oil and a pinch of salt, high heat, 2-3 minutes.
10
Add a bit of cream to your soup. Add pepper.
11
When serving, place 3 Norway lobsters per plate.