Hey guys !
Here is another yummy suggestions for your Christmas dinner (or actually any kind of meal …).
My chocolate and praline brownie…
Mouthwatering or what?? 😉
The recipe, Chef !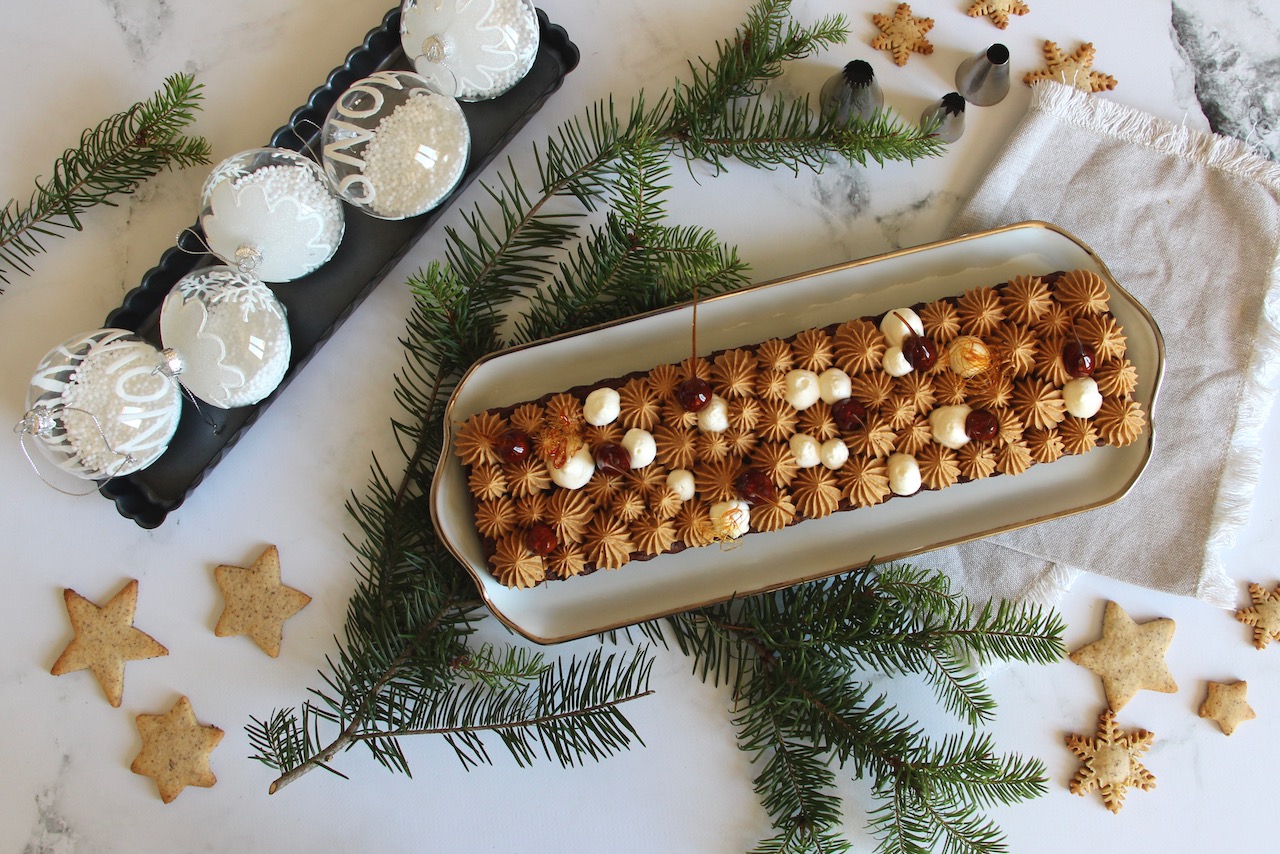 Print Recipe
Chocolate and Praline Brownie
Ingredients
80 g white chocolate (for the ganache)
50 g + 150 g cream (for the ganache)
65 g praline paste (for the ganache)
30 g praline paste (for the final assembly)
1 egg (for the brownie)
65 g butter (for the brownie)
100 g dark chocolate (for the brownie)
20 g cocoa powder (for the brownie)
65 g flour (for the brownie)
2 g baking powder (or 1/2 teaspoon) (for the brownie)
1 pinch of flower salt (for the brownie)
100 g sugar (for the brownie)
20 g hazelnuts (for the brownie)
Butter for the mold (for the brownie)
10 g hazelnuts (for decoration)
30 g sugar (for decoration)
Instructions
1
The day before, prepare the ganache.
2
Pour 50 g of cream in a saucepan.
3
Heat until it boils. Stop heating immediately.
4
Add the white chocolate. When it's melted, mix. Then add the praline paste.
5
Add the 150 g of cream, mix.
6
Place a clingfilm directly on the mixture so that there's no air remaining.
7
Set aside in your fridge for the night.
8
The next day make the brownie.
9
Preheat your oven at 180 degrees.
10
Melt gently the chocolate and butter in a sauce pan.
11
During that time, whisk the egg and sugar until you get a light foamy mixture.
12
Add the chocolate/butter. Mix.
13
Add the sifted flour, cocoa and baking powder. Add the flower salt. Whisk gently until you get an homogeneous mixture.
14
Chop roughly your hazelnuts with a knife, add to the batter.
15
Pour in your butter mold and bake 16-18 minutes.
16
Unmold after 10 to 15 minutes of cooling.
17
Spread 30 g of praline paste on your brownie, leave 1 cm on the boarders.
18
Place the bowl and whisk in your freezer for a few minutes.
19
When the bowl is cold, pour the cream inside and whisk for a few minutes. You should get a firm and compact ganache.
20
Garnish immediately your brownie with a nice piping. Set aside in your fridge.
21
Pour 30 g sugar in a small sauce pan and put at medium heat, do not mix.
22
Keep an eye on your sugar until it turns caramel, mix at the end to make sure all the sugar turns into caramel. Leave the pan on the turned off stove.
23
Place a stick in each hazelnut. Soak into the caramel, remove gently and plant into a polystyrene.
24
When the caramel is hard, cut the string, remove the hazelnut from the stick and place on your cake.
Notes
I piped a bit of chantilly to bring a white touch. It's not included in the ingredient list.