Are you all set for your Christmas desserts? If not, this recipe is right here for you!!
Let's make a tiramisu yule log!!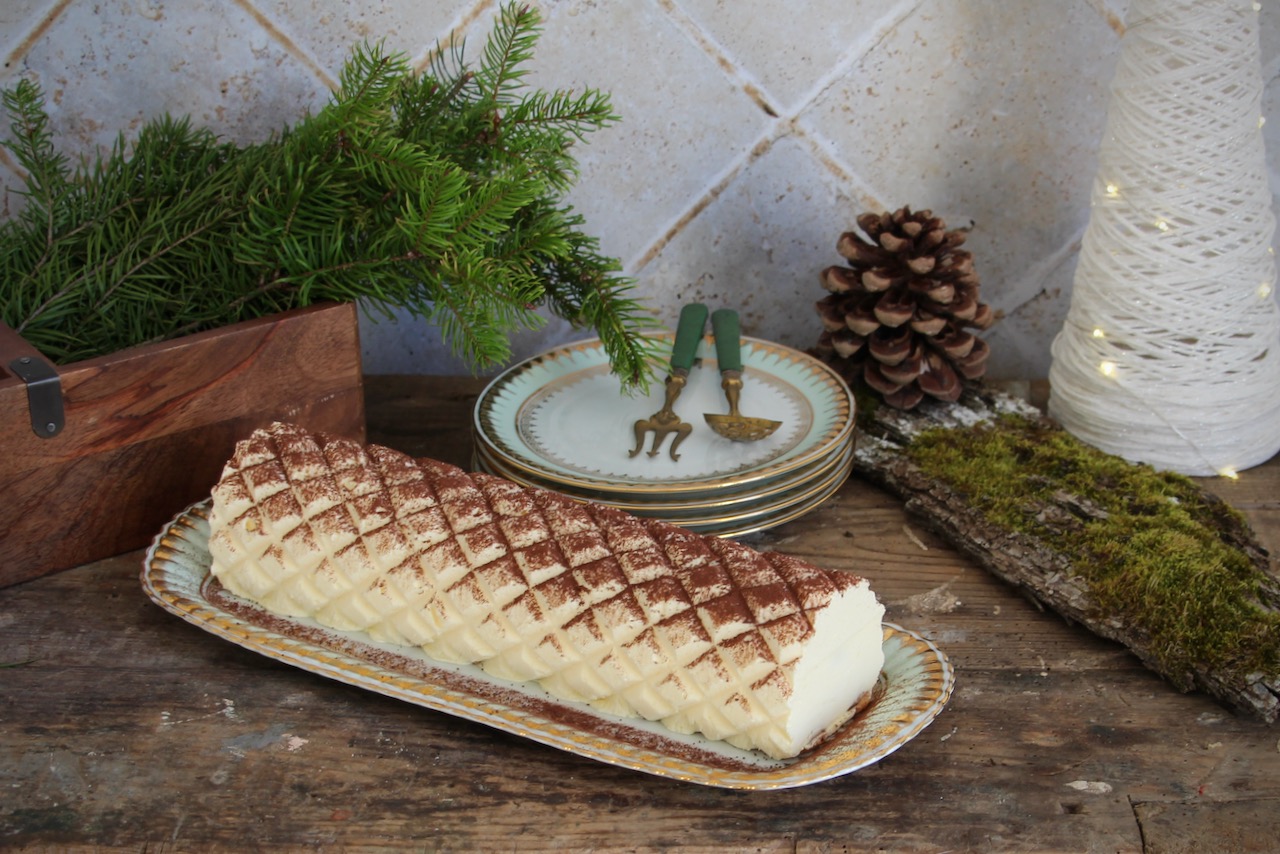 Print Recipe
Ingredients
15 ladyfingers

Cold expresso

2 g gelatine sheet

114 g sugar

34 g water

4 egg yolks (80g)

250 g cold mascarpone

200 g cream

1 tablespoon iced sugar

2 tablespoons cocoa (non sugared)
Instructions
1
Make a large mug of dark expresso and put it in the fridge.
2
Place the gelatine sheet in cold water.
3
Heat the water and sugar in a small sauce pan. Heat until you get a syrup making little bubbles (2 minutes should be enough).
4
Add the syrup to the egg yolks in a bowl, mix a bit and add the softened gelatine sheet. Whisk with your electric mixer for 5 to 6 minutes. The mixture should cool down. Put in your freezer for 2-3 minutes.
5
Add the mascarpone to the syrup and eggs and mix with a spatula until you get a creamy and homogeneous mixture.
6
Set aside in your fridge.
7
Make a firm chantilly cream with the cream and iced sugar.
8
Add the chantilly cream to the mascarpone mixture (use a spatula).
9
Set aside in your fridge for 1 hour.
10
After that time, spread half of the batter on the surface of your yule log.
11
Soak lady fingers into the cold expresso and make 2 rows of lady fingers in the center (I made only one row, that was not enough).
12
Cover with the rest of mascarpone cream.
13
Finish with a whole layer of soaked lady fingers.
14
Covers with cling film and set aside in your freezer for at least 12 hours.
15
The day you plan to eat your yule log, place it still frozen on your serving plate and let defrost in your fridge for 4 hours.
16
Just before enjoying your tiramisu, spread cocoa over the yule log.