Hello my friends!
I have prepared a new recipe that you will enjoy (I'm pretty sure !!) any time of the day!!
Here are my chocolate, cranberries and praline cookies.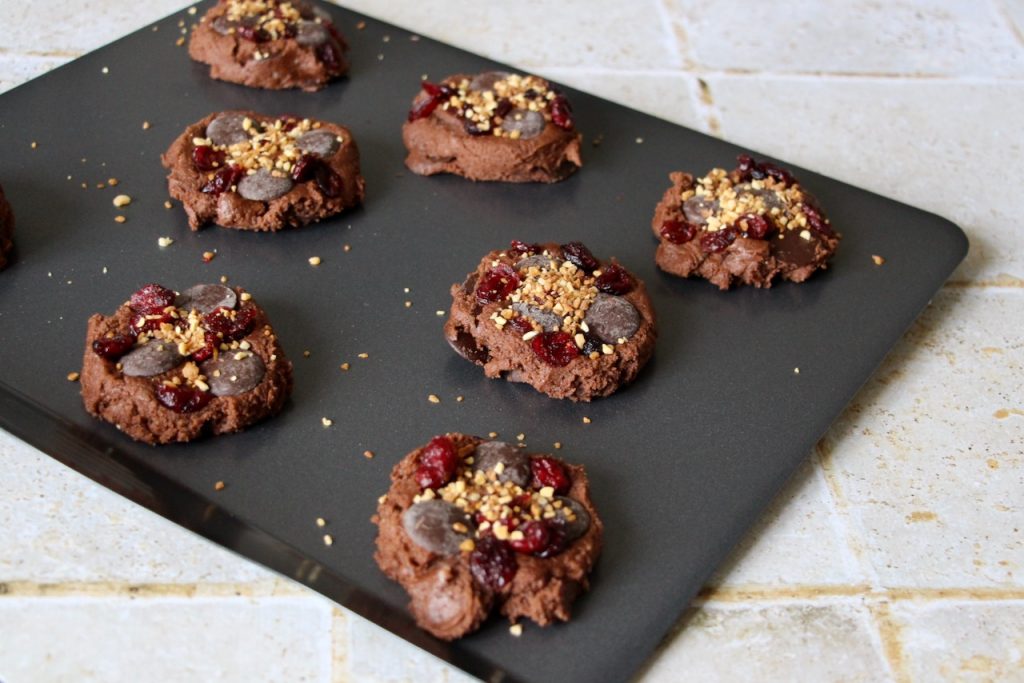 The preparation of those cookies is quite similar to my American cookies, crunchy on the outside, super smooth inside. The praline makes them even crunchier and the cranberries bring a touch of acidity that works pretty well in this recipe. And there's chocolate… well chocolate… what can I possibly say??? so good…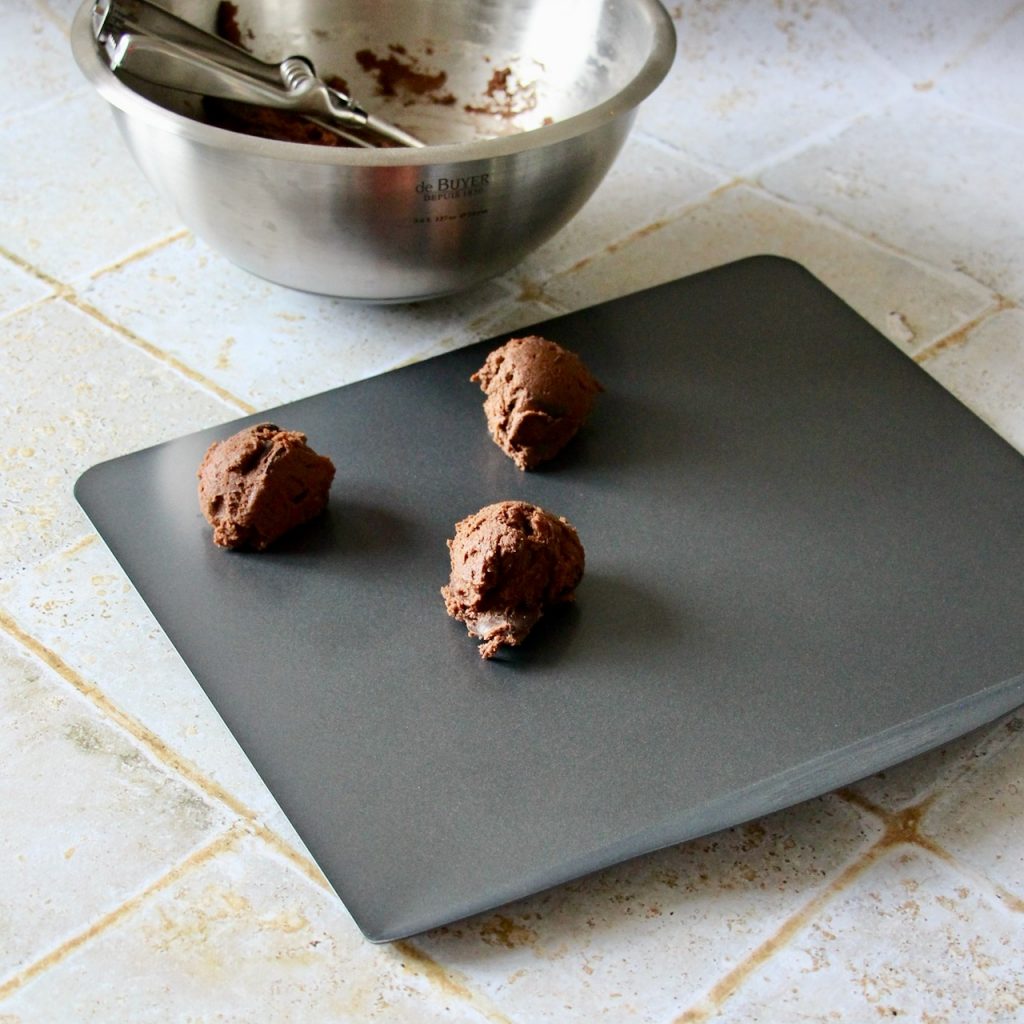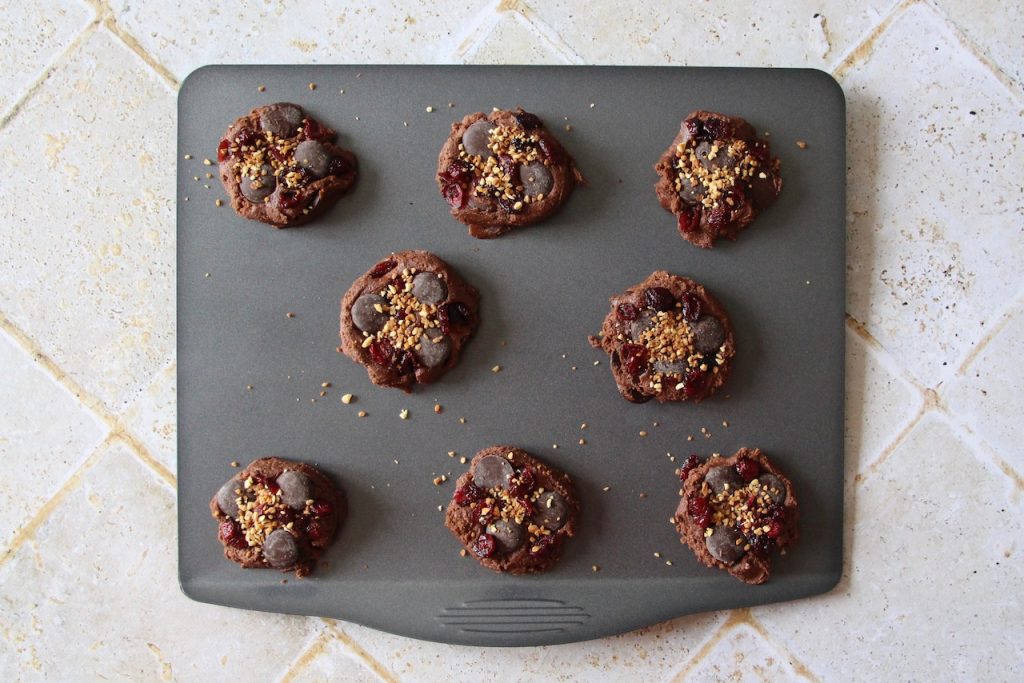 I used my new tray with insulated double wall by De Buyer and I was stunned by it. Those chocolate, cranberries and praline cookies have the perfect cooking! Even crunchier than with my regular De Buyer baking mats (which are great already) and thicker. I will definitely use it with my other cookies recipes.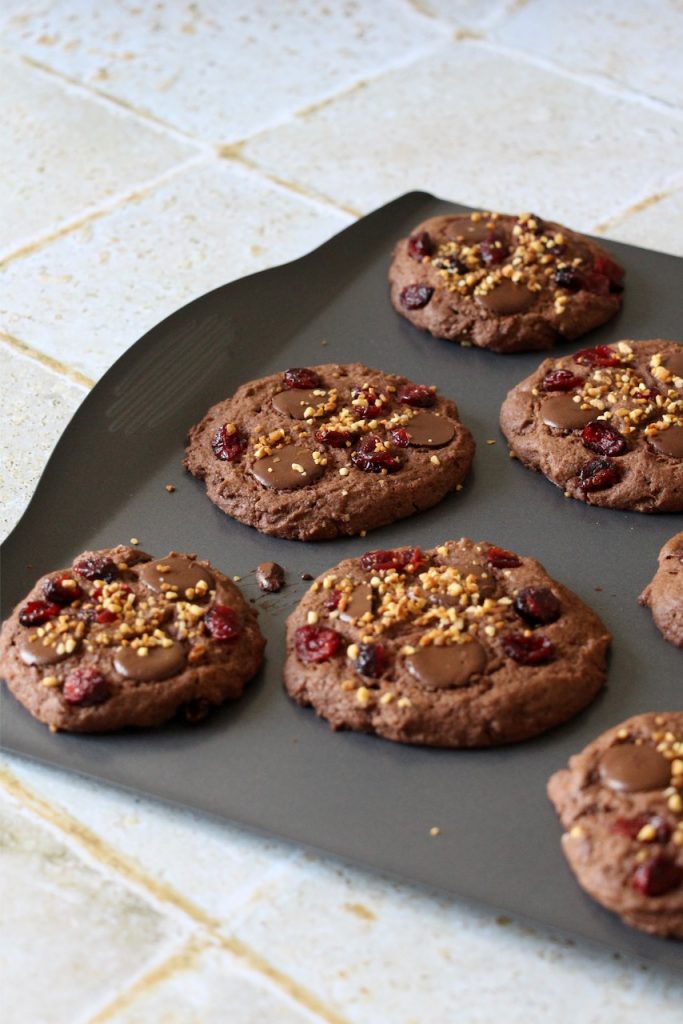 You can obviously adapt this chocolate, cranberries and praline cookies recipe. Remplace for instance praline with hazelnuts, unsalted cashew nuts, macadamia nuts, etc. In this case, you will just need to cut the nuts with a sharp knife. And for an even sweeter taste, you can go for raisins instead of cranberries.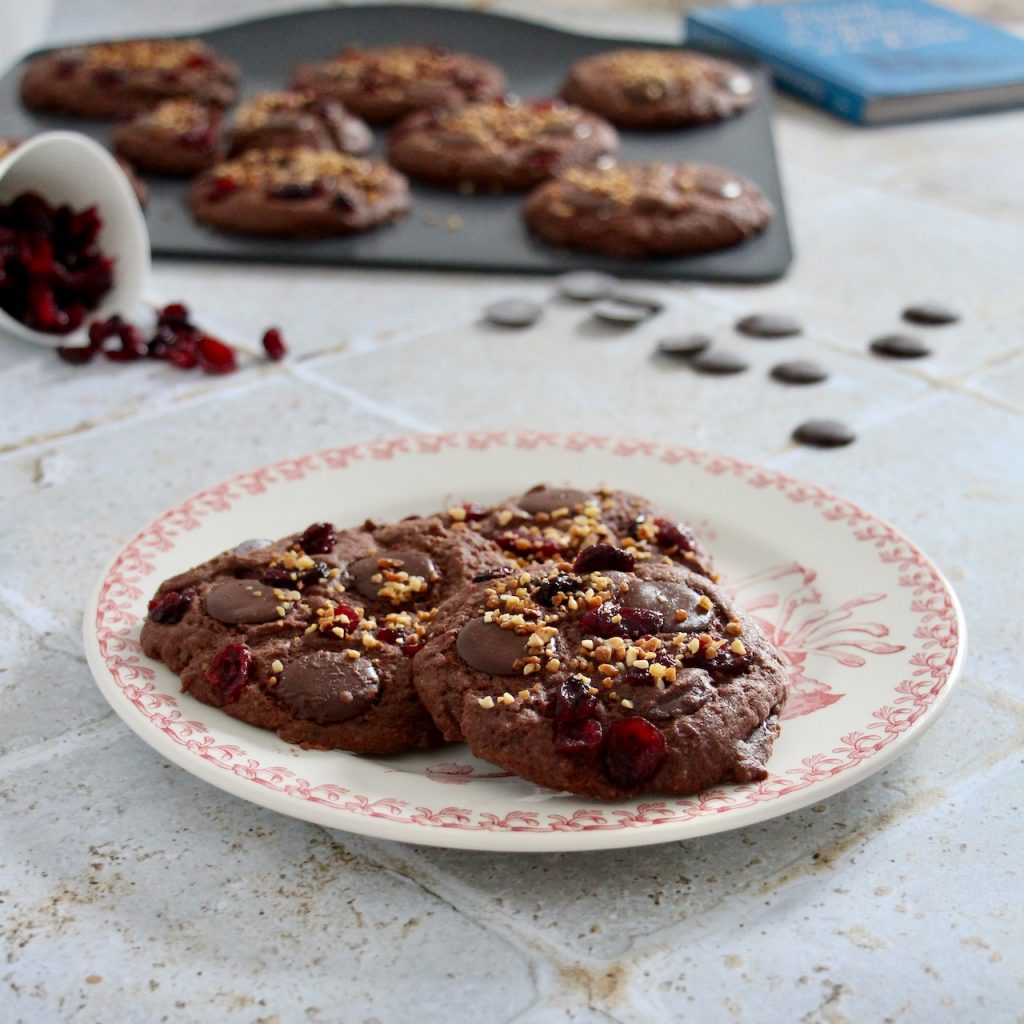 See, as often with my recipes, one recipe can be transformed in so many!! 😉 Open your cupboards and adjust.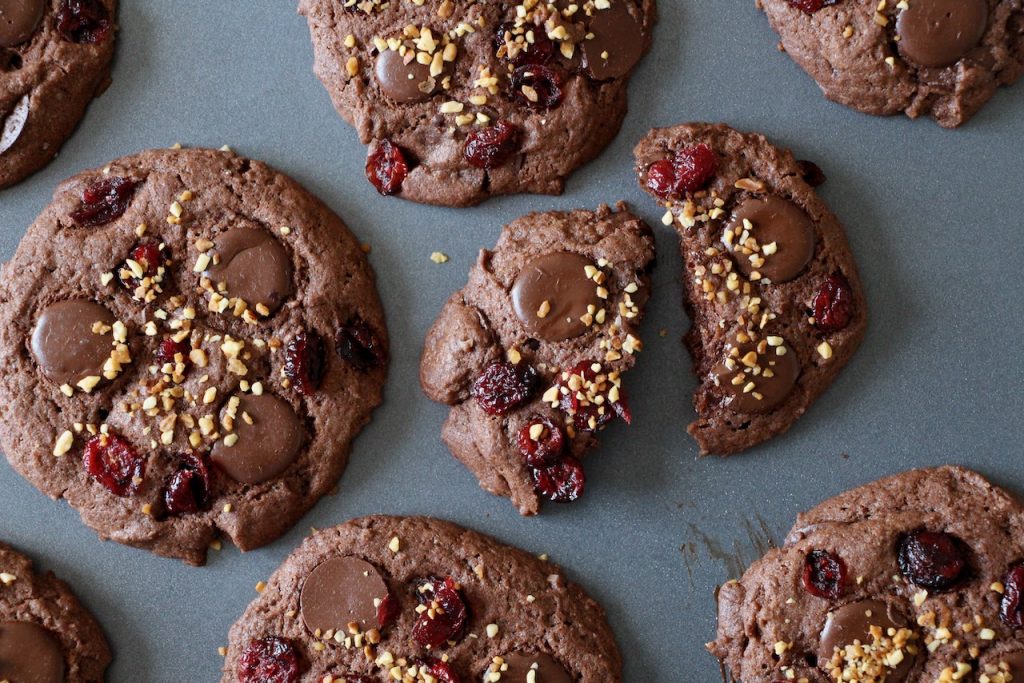 If your chocolate, cranberries and praline cookies aren't eaten within the minute, I suggest you store them in a metal box.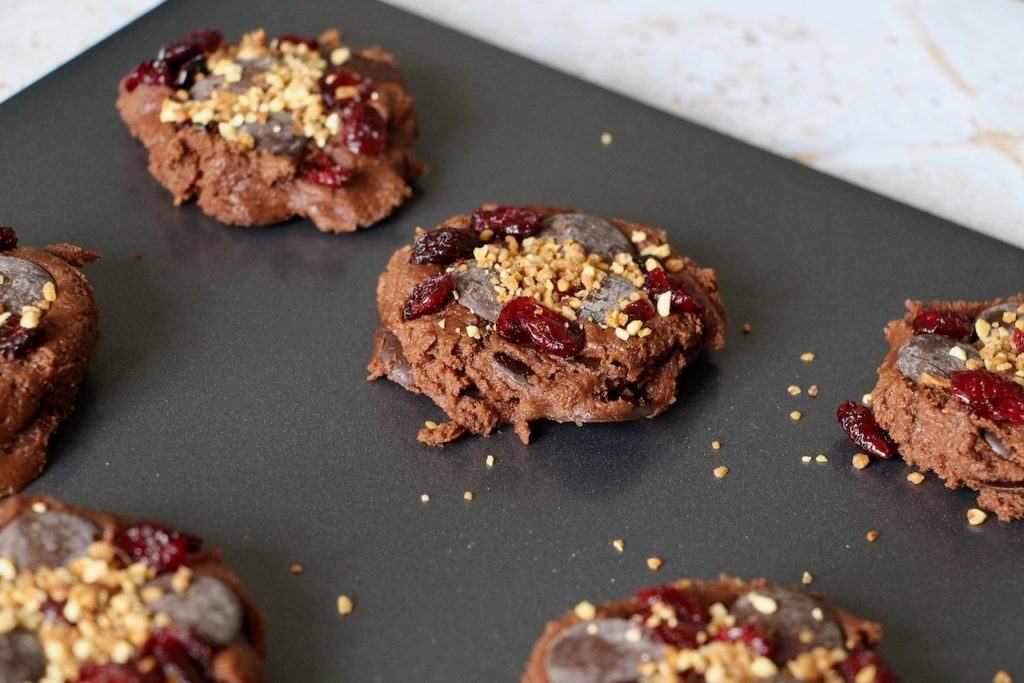 The utensils you will need:
A large bowl,
A good whisk,
An ice cream spoon
And two baking trays.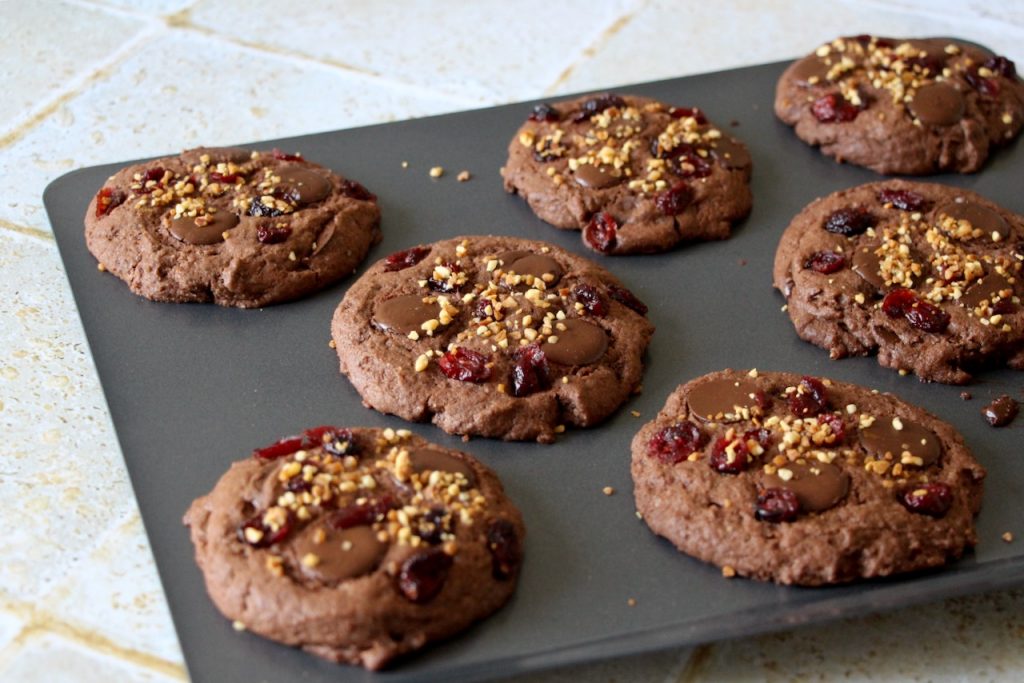 I told you everything. Let's move to the kitchen now…
The recipe, Chef!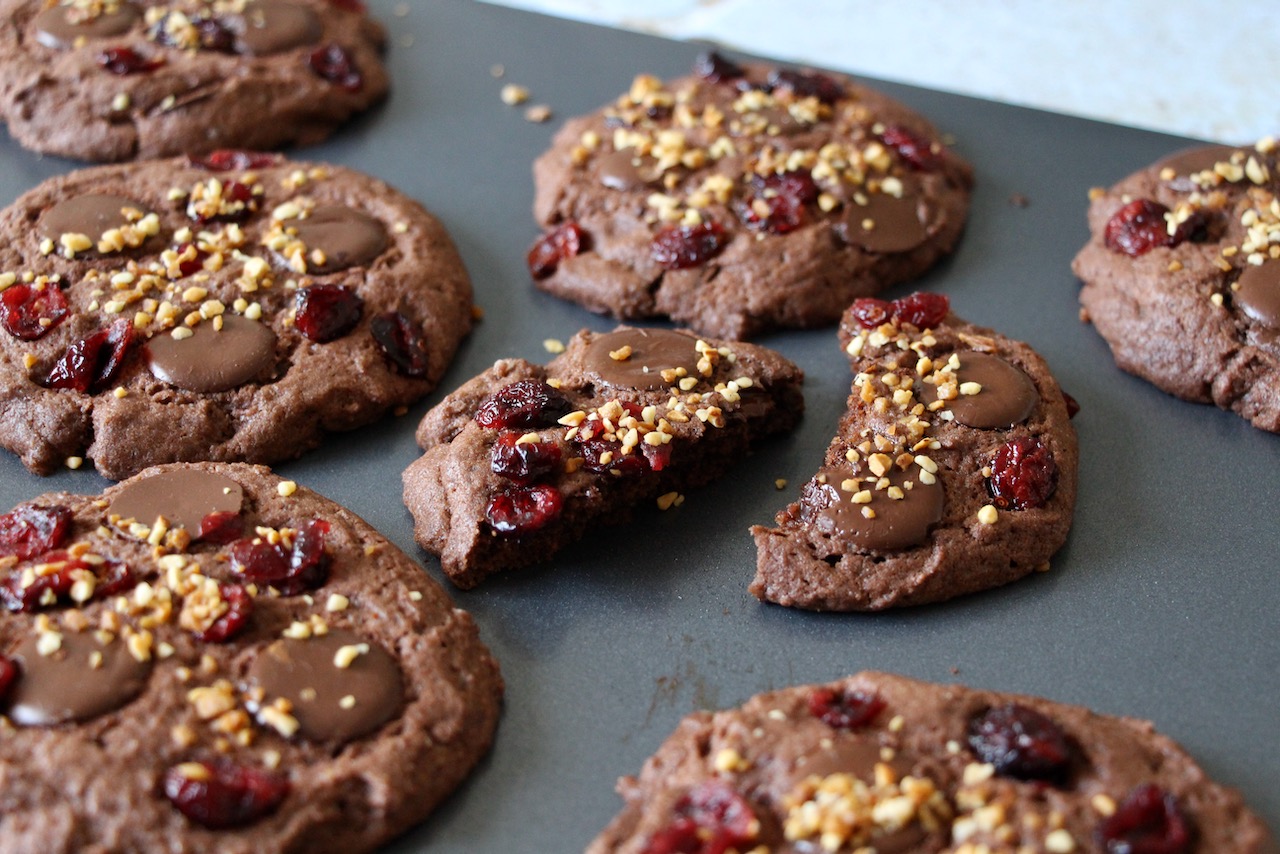 Print Recipe
Chocolate, Cranberries and Praline Cookies
Ingredients
110 g butter at room temperature

1 egg

20 g caster sugar

110 g brown sugar

200 g flour

20 g unsweetned cocoa

1 teaspoon baking powder

1 pinch flower salt

140 g dark chocolate chips

50 g cranberries

50 g praline
Instructions
1
Preheat your oven to 155 C / 310 F degrees.
2
Whisk together the butter, sugar and egg until smooth.
3
Add the flour, baking powder, cocoa and salt and mix well.
4
Then add around half of the dark chocolate chips. Mix with a spatula.
5
Using an ice cream scoop or a tablespoon, make 15 balls and place them on the baking trays, well spaced out.
6
Flatten the balls slightly with your fingertips, then spread the cranberries, the rest of the chocolate chips and the praline.
7
Cook for around 18 minutes.
8
Leave to cool on a rack before eating.