Hello, hello!
Christmas is just around the corner and you may be looking for easy but yummy appetizer ideas. Here is one! My Christmas appetizer ring!
Let's see the recipe, Chef !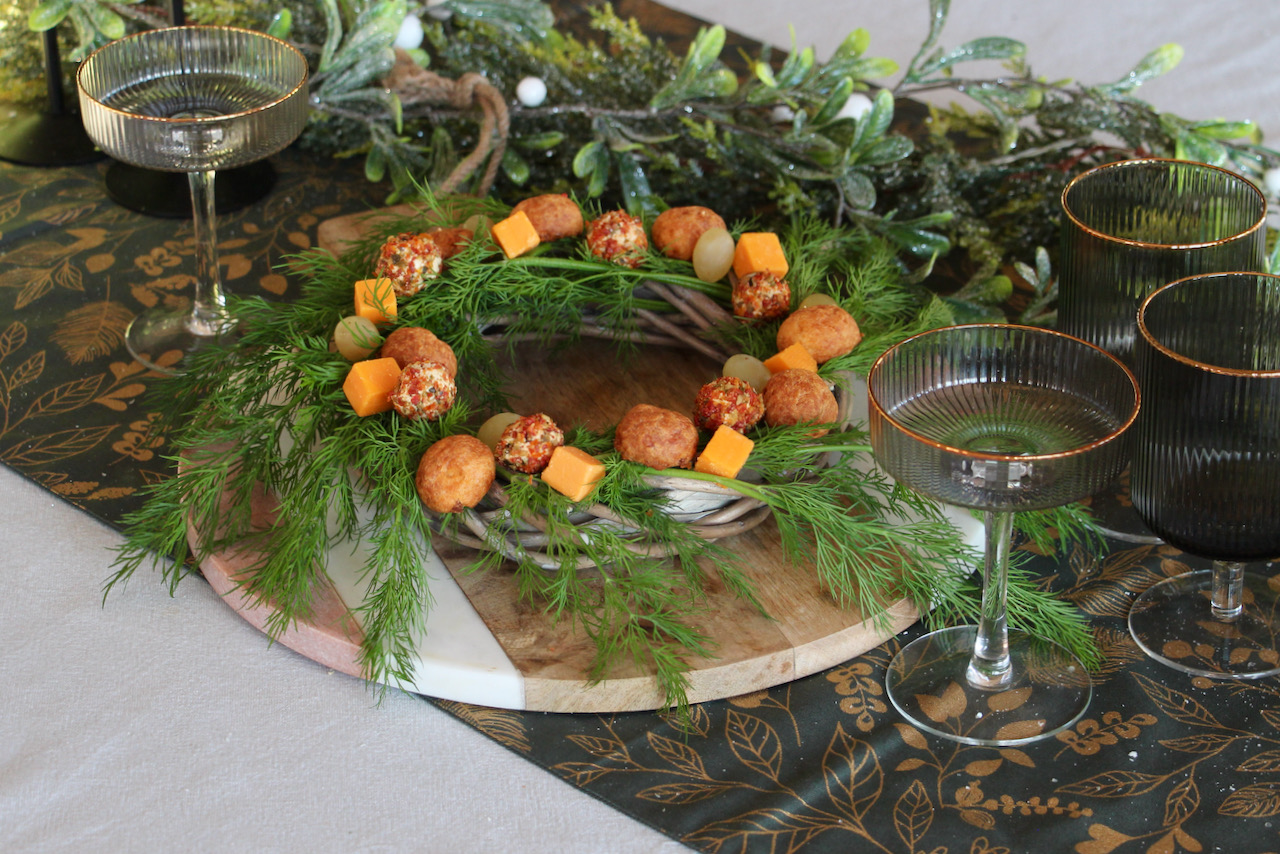 Print Recipe
Ingredients
Savory choux

85 g eggs

48 g milk

48 g water

48 g butter

54 g flour

40 g chorizo

50 g grated cheese

1 tsp salt

1/2 tsp sugar

Goat cheese balls

150 g goat cheese

1 tbsp golden sesame seeds

1/2 tsp paprika

1/4 tsp ground ginger

Decoration

150 g gouda cheese cubes

Fruits or vegetables of your choice

Aneth, laurel or rosemary stalks
Instructions
1
Preheat your oven at 160 C / 320 F degrees.
2
Heat the butter into a sauce pan with the milk, water and chorizo cut in quarters. Stop heating when the butter has melted and leave to rest for 10 minutes.
3
Remove the 4 chorizo pieces and heat to a boil.
4
Lower to medium heat and add the flour, sugar and salt. Mix vigorously with a spatula until homogeneous.
5
Keep on mixing while your sauce pan is still heating slowly for 2 minutes and make sure that the pastry won't stick to the bottom of your pan.
6
Remove the pan from the heat and add one egg and whisk until homogeneous.
7
Add the second egg and whisk.
8
Add the cheese and chorizo cut in small pieces, combine.
9
Pour the pastry into your pastry bag and pipe small doughs on a silicon baking mat or a baking paper.
10
Cook for 25 minutes (a little bit longer if you make large doughs).
11
When cooked, place on a cooling rack.
12
Combine the sesame seeds, paprika and ground ginger in a bowl.
13
Make balls of cheese with a teaspoon.
14
Roll each cheese ball in the bowl.
15
Place the aneth stalks as a ring on your serving plate.
16
Add the savory choux, goat cheese balls, gouda cubes and your fruits.